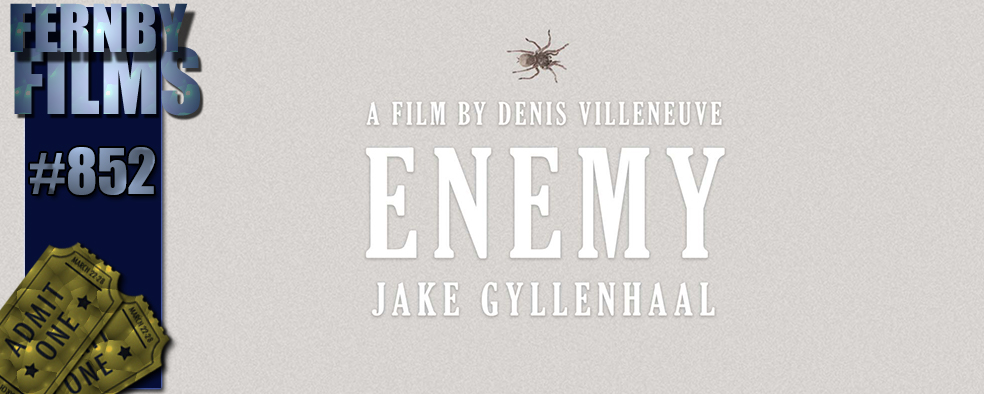 - Summary -
Director :  Denis Villeneuve
Year Of Release :   2013
Principal Cast :  Jake Gyllenhaal, Melanie Laurent, Isabella Rossellini, Sarah Gordon, Megan Mane, Stephen R Hart.
Approx Running Time :   90 Minutes
Synopsis:  A man becomes obsessed with his physical doppelganger after seeing him in a movie.
What we think : Hard to watch "thriller" delivers few actual thrills, depending instead on its visual aesthetic and a worthwhile leading performance from Gyllenhaal to generate any momentum whatsoever. In light of an opaque set of characters, no explanation to anything whasoever (something I find to be annoying) and an ending that will have many simply scratching their heads, Enemy is in no way recommended to anyone other than hard-core cinephiles.

**********************
Intsy Wincy Spider.
Folks who caught the Hugh Jackman-starrer Prisoners in 2013 would know the skill of Canadian director Denis Villeneuve to craft a terrific story from a hugely divisive premise, carried largely by some equally terrific acting. In a significant one-two punch for Villeneuve, his low-key thriller Enemy, which debuted during the 2013 Toronto International Film Festival, snagged the director a Canadian Screen Award (equivalent of the Oscars, only for Canadians!) for Best Director. Both films star Jake Gyllenhaal, and both films use a fairly downcast visual style that cements each story in a grim reality of our world, unmistakeably brimming with flavor and squalid social nuance. After my shocking encounter with Prisoners (seriously, it's a ripping film, albeit a fairly depressing one) I went into Enemy with expectations suitably elevated – I hoped that Villeneuve could maintain his keen eye for human frailty, and hope in the face of utter ruin, and continue with putting films forward that had ambivalent moral messages entangled within desperate ethical dilemmas. Or, a good fight scene. I'd be happy with a good fight scene.