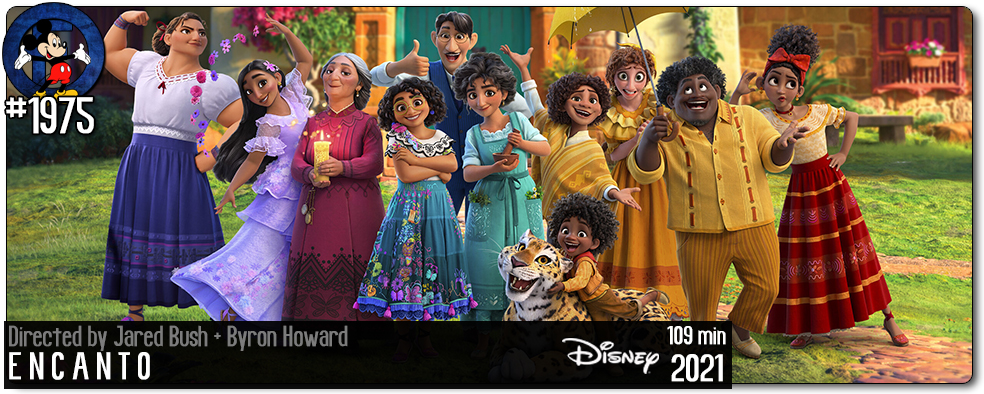 Principal Cast : Stephanie Beatriz, Maria Cecilia Botero, John Leguizamo, Mauro Castillo, Jessica Darrow, Angie Cepeda, Carolina Gaitan, Diane Guerrero, Wilmer Valderrama, Adassa, Rhenzy Feliz, Ravi-Cabot Conyers, Alan Tudyk, Singing Voices of Noemi Josefina, Olga Merediz.
Synopsis: A young Colombian girl has to face the frustration of being the only member of her family without magical powers.
********
Disney Animation's 60th full-length feature is a blast of enthusiasm, warmth, joy and family, a perfect blend of songs, animation and a captivating story that will dazzle throughout. Layered by the studio's attentive storytelling, which has basically been faultless for the last decade, some terrific toe-tapping tunes by Hollywood wunderkind Lin-Manuel Miranda, and crisp, evocative vocal performances, Encanto strikes yet another notch on the belt of a creative team firing on all cylinders, delivering plenty of laughs, some tears, and an engaging and wondrous journey into a mythical Colombian landscape that's as fully formed as anything we saw in Arrendele, Motunui or Kumandra, and sits comfortably inside among the very best feature films of 2021.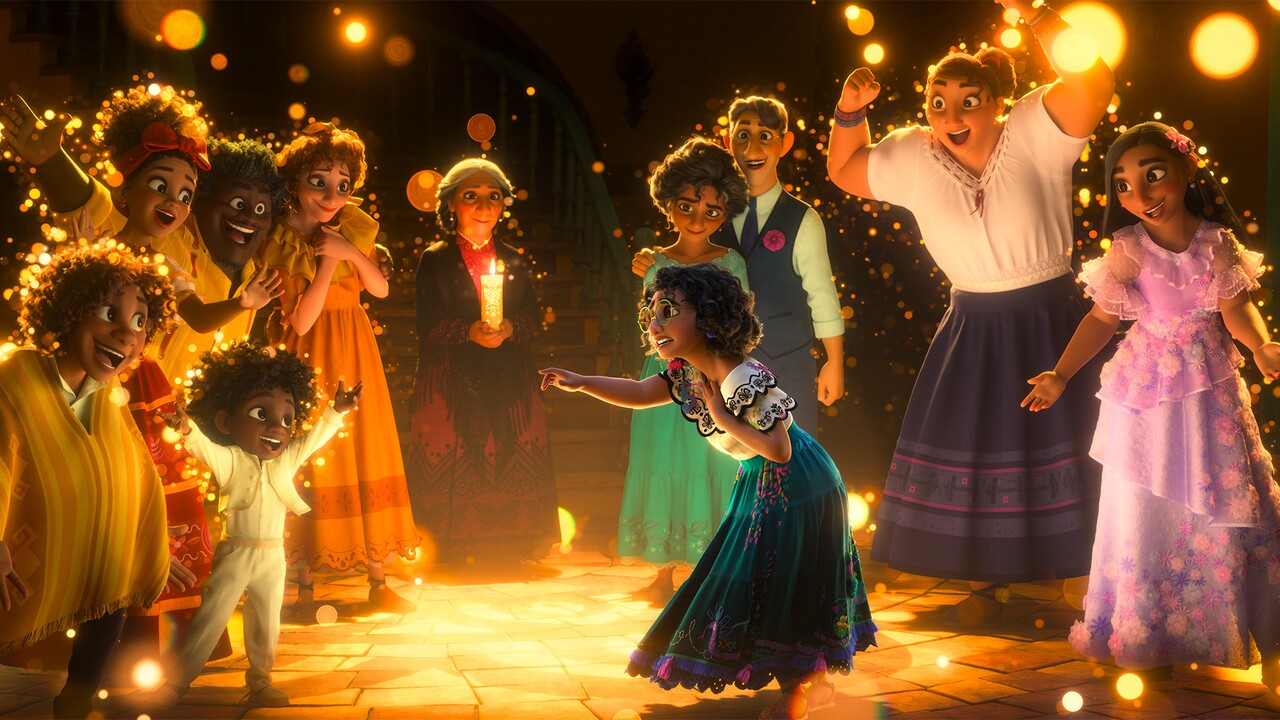 Young teenager Mirabel Madrigal (Stephanie Beatriz) lives with her Abuela (Maria Cecilia Botero) and their sprawling family in a magical, sentient house, the "Casita", in a far-off village surrounded by impassable mountains. Each member of the family has some form of powers, or gifts – Mirabel's sisters Luisa (Jessica Darrow) and Isabela (Diane Guerrero) have superhuman strength and an ability to cause flowers to bloom everywhere respectively, whilst her Aunt Pepa (Carolina Gaitan) controls the weather, although she is conspicuously emotionally fragile. Mirabel's mother, Julieta (Angie Cepeda) has the ability to heal through her cooking, whilst Mirabel's cousins, Dolores (Adassa) and Camilo (Rhenzy Feliz) have both super-hearing and the ability to shapeshift, respectively. Missing from the family troupe is Mirabel's ostracised uncle, Bruno (John Leguizamo), whose power to see into the future formed a rift with the rest of the family and he hasn't been seen in years. Their powers are granted by a magical candle, which burns in the Abuela's window, although Mirabel has begun to see visions of the Casita being torn asunder and the flame extinguished. Mirabel herself, however, has no powers; hoping to ascertain the truth behind her vision, she sets out to find Bruno and determine the fate of her family.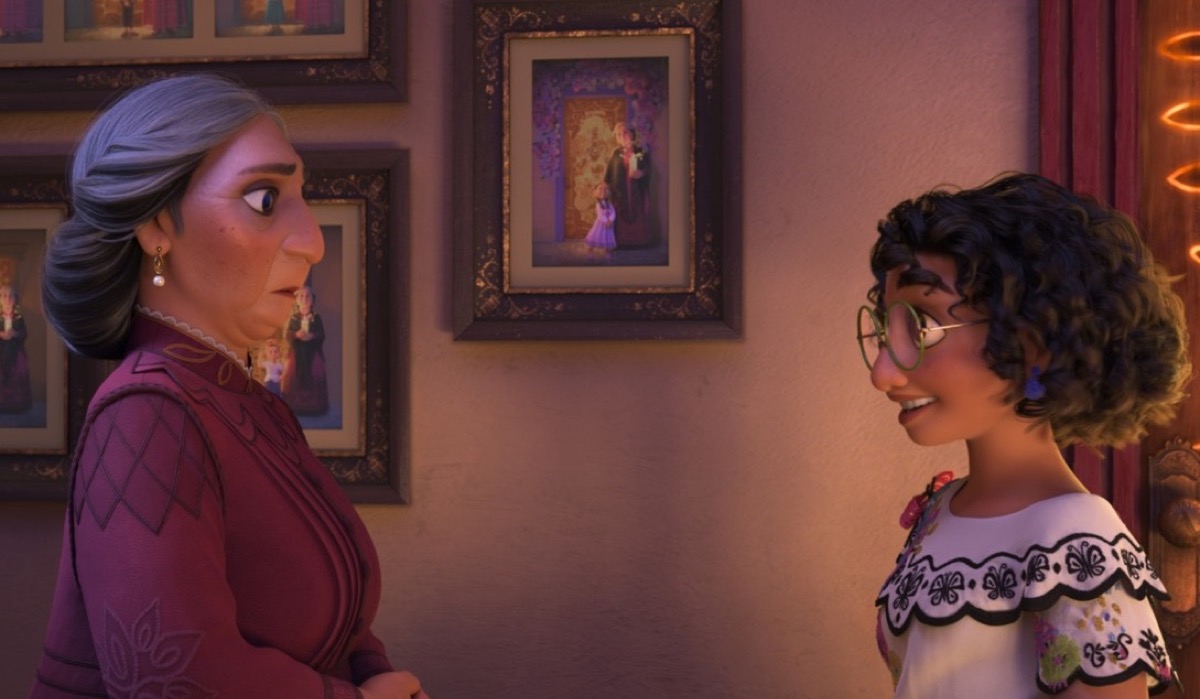 Brimming with energy and delivering every moment with a flourish, Disney's Encanto is easily their best film since Moana. That's not saying Ralph Breaks The Internet, Frozen II or Raya & The Last Dragon were shit, because they were anything but, but watching Encanto's dynamic story, pleasant and engaging characters and non-stop humour unfold the film gives that feeling of brilliant effortlessness very few movies – animated or otherwise – manage to convey. There's a joy to Encancto, whether it comes from the hilarious cast, the enjoyably memorable roster of characters – all of whom are given moments to shine – or Miranda's astonishing songs, you just can't help but be wrapped up in it all. I know, a traditional Disney film with it's five-song mandate and requisite happy-ever-after endings might seem cynically out of touch these days, but the script, the spot-on casting and the pitch-perfect animation (gosh, this film is beautiful!) make for an all-too-brief venture into the world of the Madrigal family.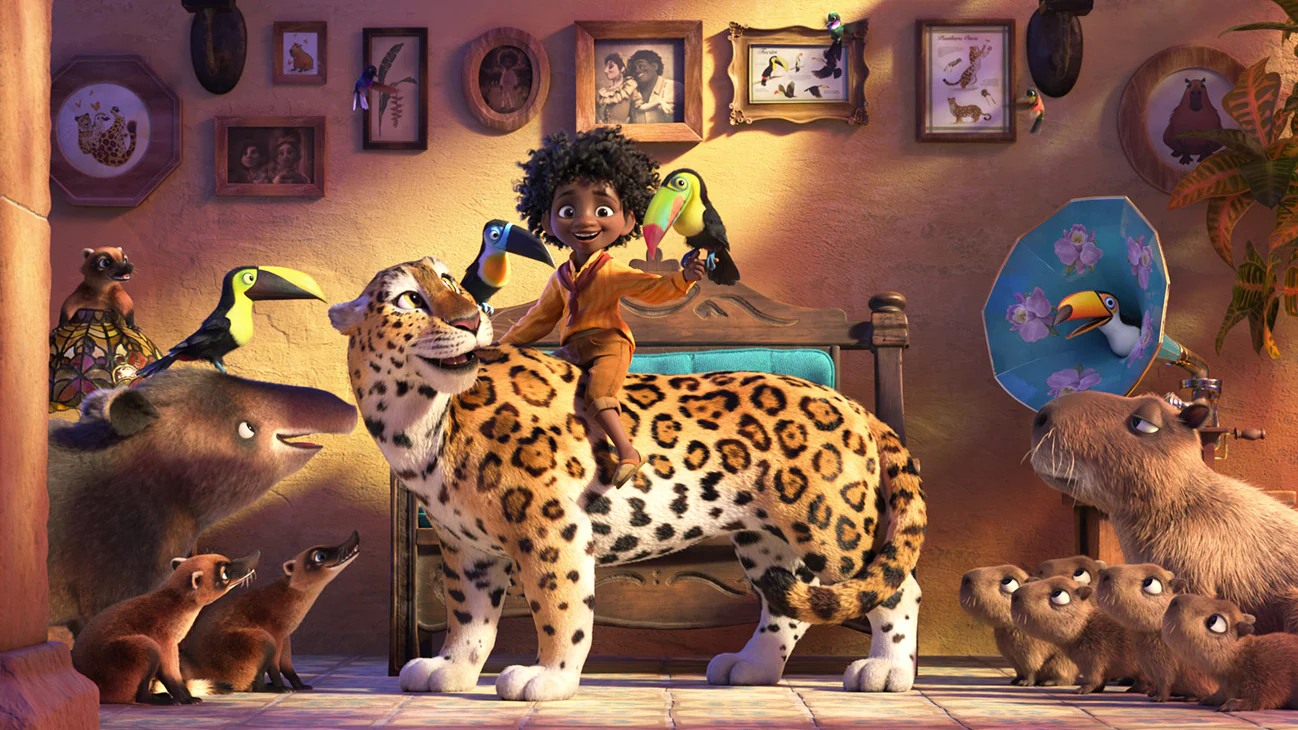 Written by Charise Castro Smith and co-director Jared Bush, and understanding that the script-by-committee formula under Disney overseer Jennifer Lee had a fair degree of input behind the scenes, Encanto's familial story and push-pull angst between siblings and parents resonates perfectly with viewers young and old alike. While my kids were dazzled by the sublime animation, complex song lyrics and terrific action sequences, I found myself engaging surprisingly deeply (for a Disney film) with the subtext of family and weight of expectation. The film's core dynamic is the relationship between Abuela and her offspring and various hangers-on, and the expectation that they all be granted magical powers to help their family and the village they protect to survive. Everyone has some tangible derivation with this kind of narrative, for we've all wanted to live up to our parents or children's expectations of us at some point, and Encanto utilises this strong emotive trigger to weave its beautiful story of growth, failure and acceptance within a widescreen ensemble cast and Disney's ubiquitous soft-edged character design.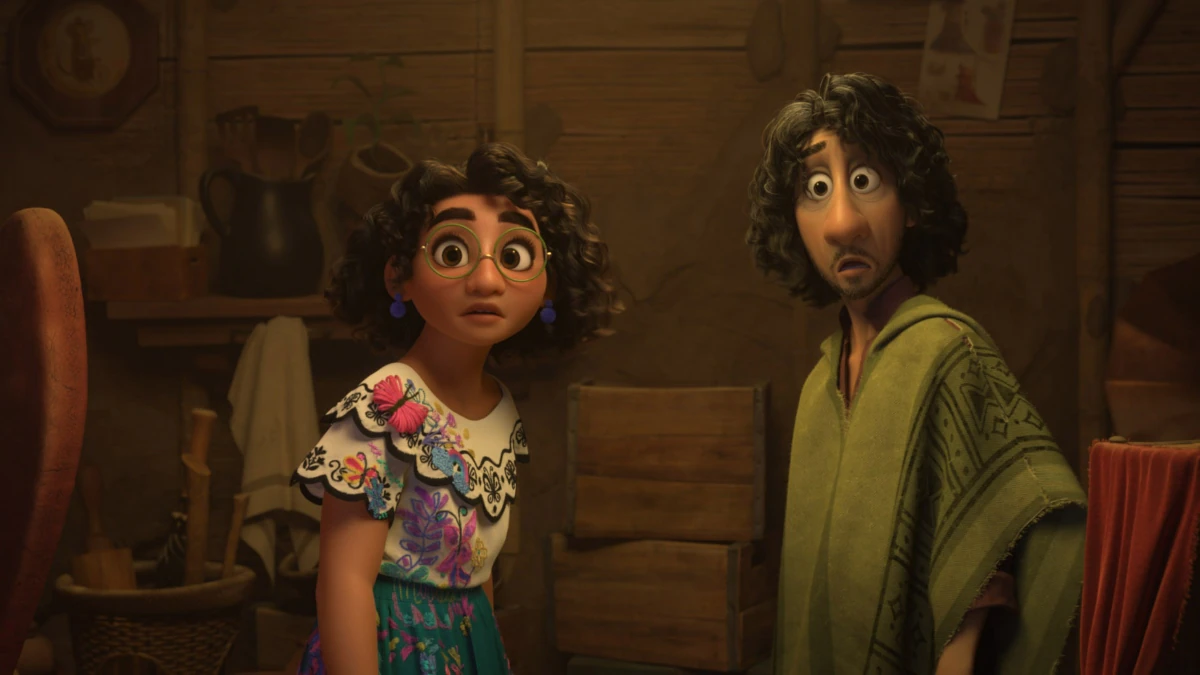 It's rare that I suggest that the screenplay isn't the strongest aspect of a film's production for a film this good, either. Encanto sits largely on the shoulders of Mirabel, voiced by Stephanie Beatriz. As with most Disney heroines, Mirabel is a strong-willed, if not entirely confident, protagonist who obviously forms the core around which her family swivels. She is despondent about not being given any special powers, although throughout the film we're given glimpses into the troubles her sisters and cousins have with theirs, making it seem as if Mirabel may have got lucky in being comparatively normal. She sees the quest to stop her family's destruction as a personal mandate, refusing to either accept help or seek advice, other than to locate the whereabouts of Bruno, voiced by a solid John Leguizamo. Beatriz isn't a slouch in the vocal department, delivering a respectable leading lady role that's both wilful and soulful. She's abetted by Maria Cecilia Botero as Abuela Alma, the matriarch of the family, and Botero's work rings with a behind-the-screen truth to it, it's so honest. Encanto may not have the most well-known voice cast going around, at least for Western audiences, but Disney sure know how to cast each role to suit a specific style and type. Honestly, the voice work in Encanto is beautiful.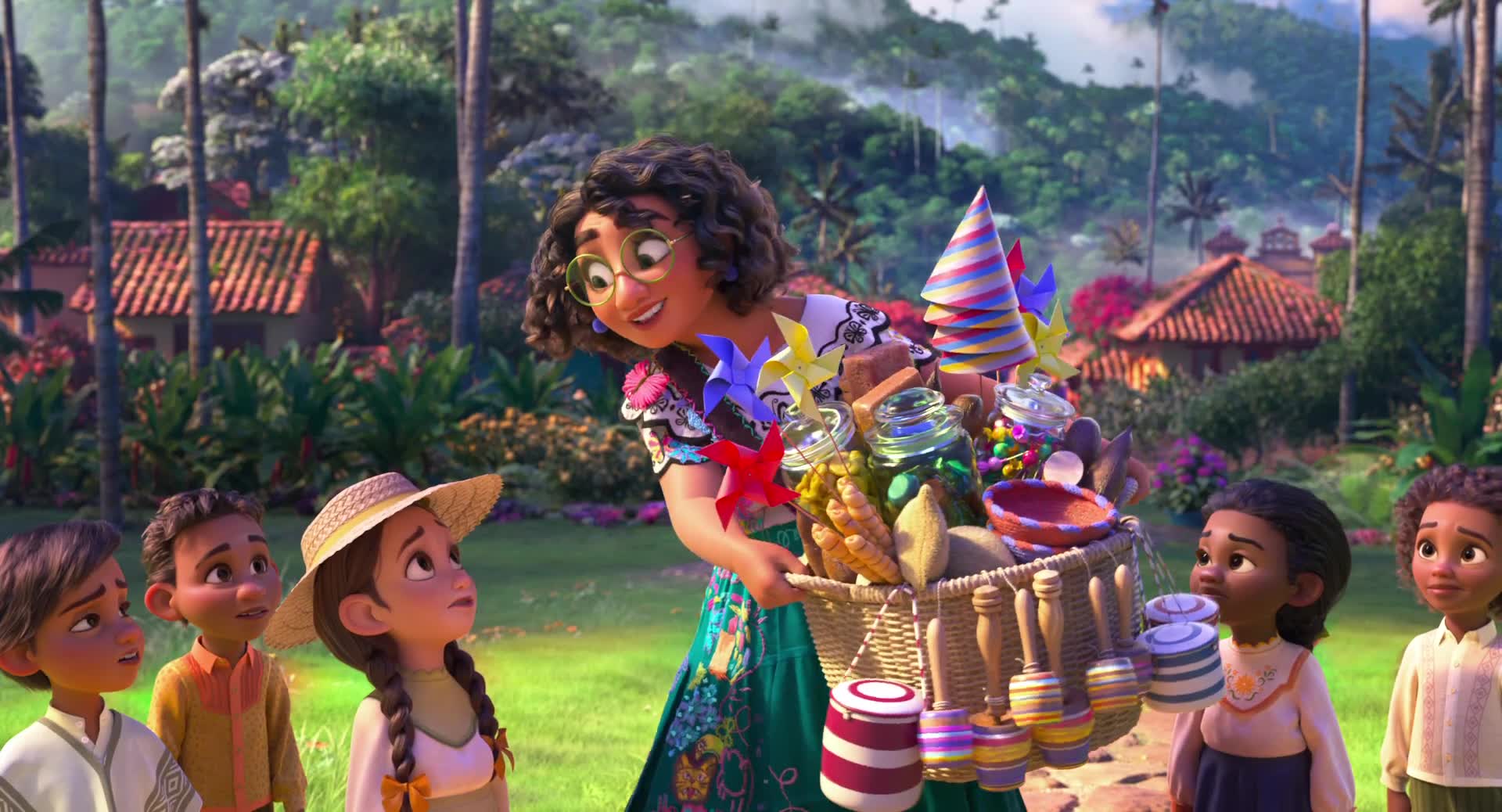 Augmenting this is, obviously, the music. And oh boy, what joy! Encanto's soundtrack is one for the all-time hall-of-fame lists; with Lin-Manuel Miranda composing eight new original songs, and Coco composer Germaine Franco providing the score, Encanto is a foot-tapping, heartstring-yanking aural delight. It will take me several viewings and the inclusion of subtitles to get all of Miranda's lyrics – I had similar issues with both Hamilton and In The Heights at times, it's all sung so fast! – but the delivery and musicality of his work here is sublime. Little wonder he's become the virtuoso master of his artform. The score itself tends to be outweighed by Miranda's songs but Franco's subtle and sprightly musical accompaniment during quieter moments between the action is the stuff of genius.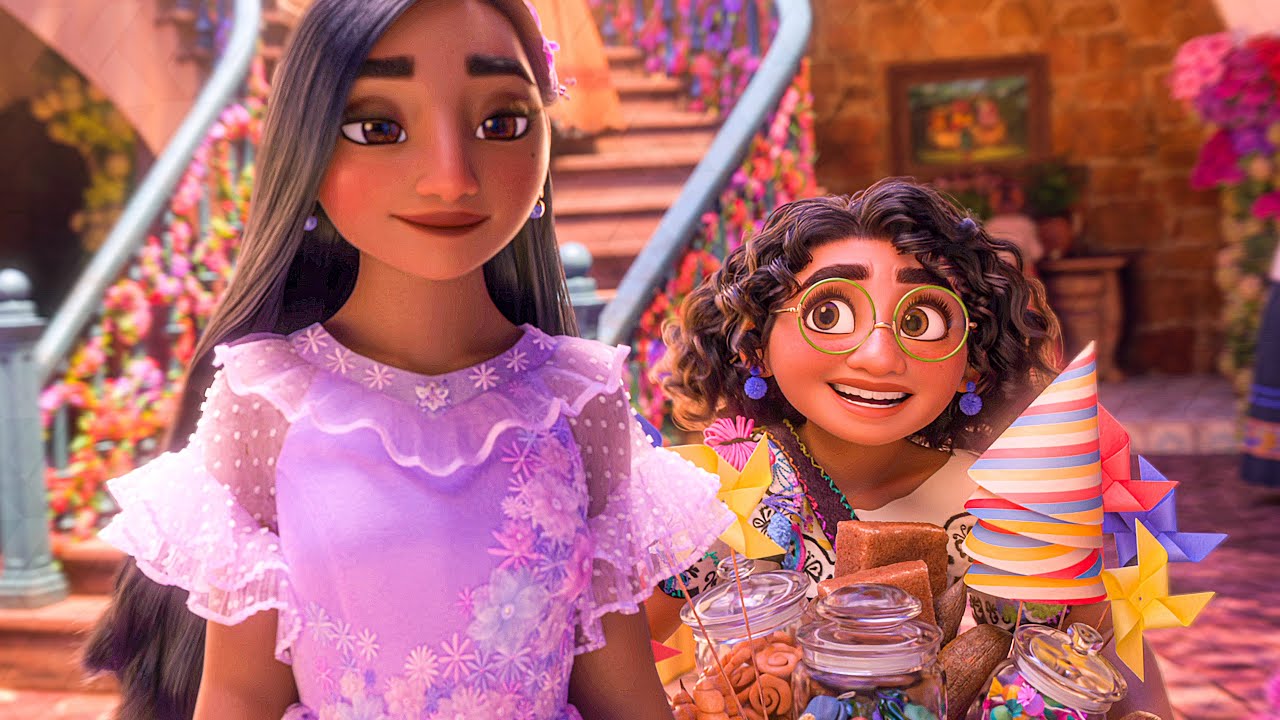 If I had any quibble with Encanto it might be the production and character design overall. Unfortunately, a lot of Disney's animated product is starting to look quite similar from one film to the next. The character designs of Frozen, Moana and Encanto could very easily be interchangeable and almost nobody would notice. By comparison, the artwork in Snow White, Sleeping Beauty, Dumbo and Pinocchio all look like completely different films, easily identifiable and almost impossible to confuse. The trouble with digital animation is the designs have to inform the animation, rather than designing something for a specific look, and the downside to this is a rather homogeneous visual palette that is hard to differentiate between projects. That said, the art in Encanto is colourfully buoyant, an uplifting and dexterously animated movie with zest, wit and charm to spare. The film positively sparkles, it's so beautiful, and at times I just found my mouth agape at how lush and lovely it all looked. I just wish Encanto had taken a liberty with its visual style; you look at films like Kubo & The Two Strings, or 2014's Book Of Life, both animated films boasting an incredibly individualistic aesthetic that stands out because it looks different from anything else, and when you compare this to, say the character designs in Raya, Moana, Frozen and Zootopia, things don't stray too far from the path. I'm not suggesting Disney are starting to look bland, but their character design work needs a little… well, work.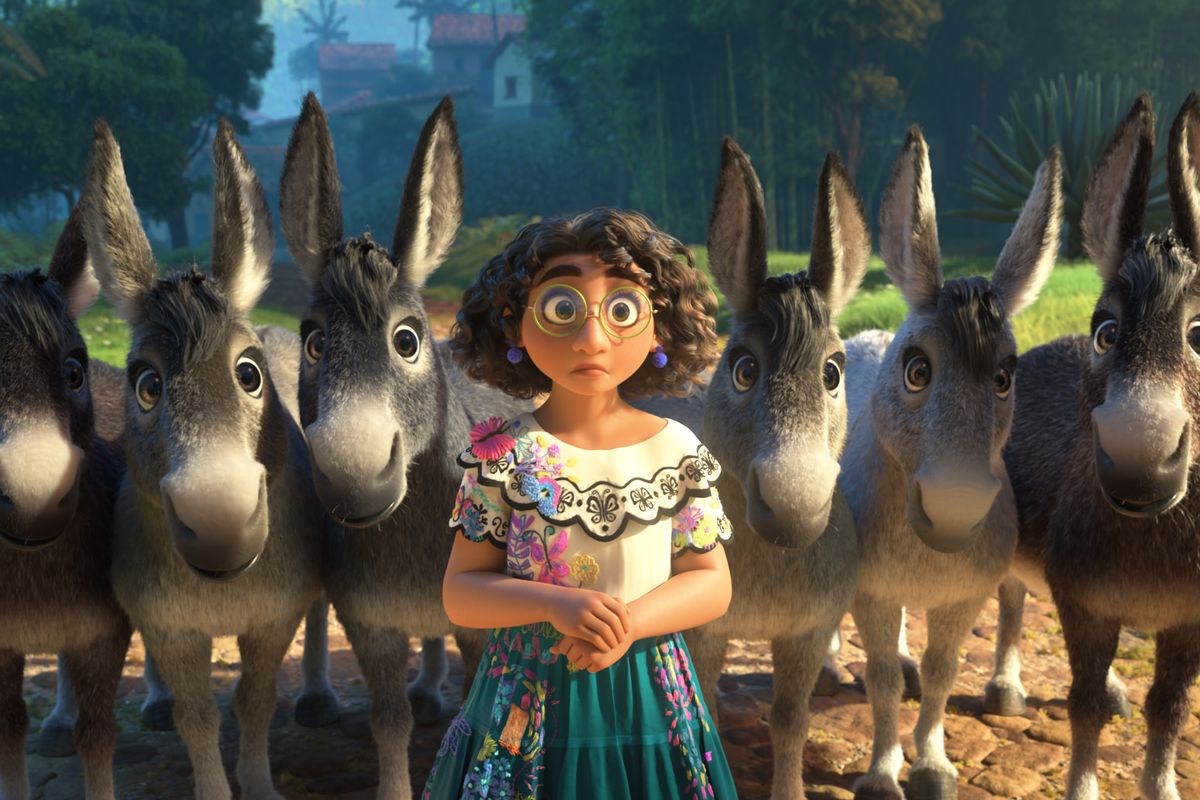 Mind you, this is a minor quibble best suited to a larger argument about the animation genre; Encanto is arguably the best animated film of 2021 with the possible exception of Mitchells Vs The Machines, and is so enrapturing, so engaging and all-encompassing in its world-building and ostensibly small-scale subtext, I would almost declare it the best Disney Animation film of the last fifteen years. With its terrific score and songs, superb vocal cast and the studio's typically beatific animation work, Encanto is absolutely not to be missed.
Who wrote this?