Movie Review – Insidious: The Last Key

Principal Cast : Lin Shaye, Angus Sampson, Leigh Whannell, Spencer Locke, Caitlin Gerard, Bruce Davison, Josh Stewart, Kirk Acevedo, Tessa Ferrer, Aleque Ried, Javier Botet, Ava Kolker, Hana Hayes, Pierce Pope, Thomas Robie.
Synopsis: Parapsychologist Dr. Elise Rainier faces her most fearsome and personal haunting yet – in her own family home.
******
It's amazing to think that Aussie director James Wan has effectively created three enduring, commercially successful horror franchises during his relatively short time in the industry. Not only do we have the continuing Saw saga, the critically acclaimed Conjuring franchise (including the varied Annabelle spin-offs), but also the continually reinventing Insidious brand that star Lin Shaye has made her own. Given the likes of Wes Craven, George Romero or John Carpenter only ever managed one or two long-term film series this makes Wan's stamp on popular culture all but assured for the rest of time. Insidious: The Last Key is the fourth instalment of this trembling ghostbuster saga, returning Lin Shaye's spirit-attuned Elise back to her roots to unlock (ha) a mystery that's been shut away (ha) for a very long time, and while not directed by Wan himself (he produced, along with the team from Blumhouse) his stamp of storytelling is all over this one.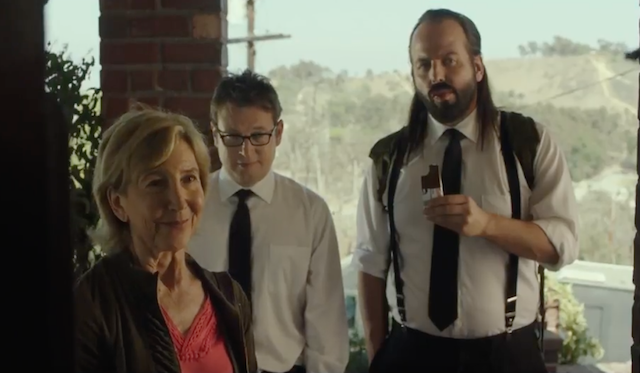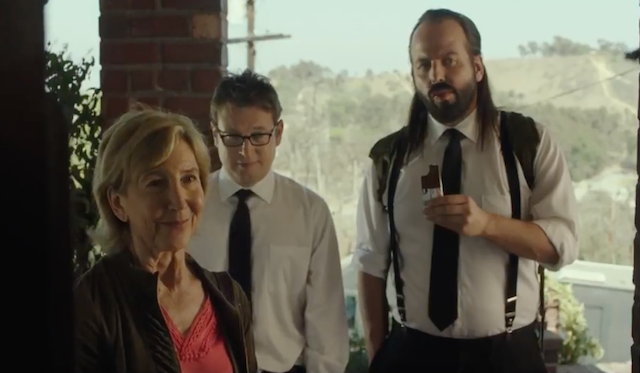 Psychic Elise Rainier (Shaye) begins to suffer more dreams about the spirit world, this time involving her childhood, particularly the brutality of her abusive father (Josh Stewart) and her accepting mother (Tessa Ferrer), and her abandonment of her younger brother Christian. After receiving a call to attend a haunting at her old home in Five Keys, New Mexico, Elise and her two assistants, Tucker (Angus Sampson) and Specs (Leigh Whannell), arrive to discover new resident Ted Garza (Kirk Avocedo) haunted by a spirit Elise herself let into the world all those years ago. Hesitant to help, an older Christian (Bruce Davison) harbours deep resentment, but his daughters Melissa (Spencer Locke) and Imogen (Caitlin Gerard) become involved and eventually the battle for the family's future begins to take shape.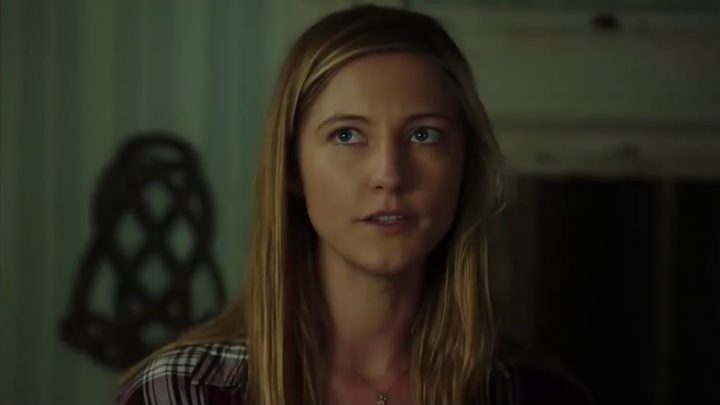 The Insidious franchise continues to impress with The Last Key, an effective if low-key (ha) entry into the saga, with Lin Shaye once again providing far more depth and nuance to her character than we really deserve. Sticking with the successful formula of this against-the-grain supernatural spirit hunter in Elise, The Last Key throws family bonds and generational torment into the mix to a degree of success a fourth film has no right to expect. The film's story is written by long-time Wan associate (and franchise co-star) Lee Whannell, who again appears as one of the film's comedy relief pairings with fellow Australian Angus Sampson. Expecting anything particularly fresh with The Last Key isn't going to do you any favours, and the film typically evokes darkened creep and shadowy twitching with ease, and for a change isn't solely reliant upon cheap jump-scares (although there are a few here). Instead, Whannell taps into a childhood nightmare and inserts it into a modern context, able to parallel the young Elise's experience with her heinous father and the older version's guilt at unresolved family issues. It's a clever twist on the franchise's overall aesthetic, and where the final third of the film takes several giant leaps in logic, there's enough goodwill here to overlook a few of the more problematic flaws.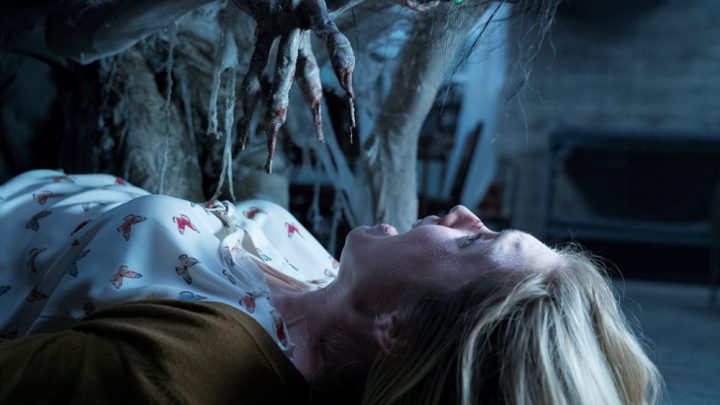 A directorial change-up sees both Wan and Whannell (who helmed the third film) step away from behind the camera and welcome newcomer Adam Robitel (The Taking of Deborah Logan) to the series, and he elicits a macabre sense of melancholy through the film's drab, bluey-green visual tones. Robitel's sense of timing is also on-point, stretching out the tension in a given scene with acute use of sound and camera angles, not to mention editorial verve, and the film's patently ludicrous story suddenly feels authentic and layered in feelings of a documentary. Okay, maybe not, but Robitel's work here is really well done considering the plethora of similarly overworked films of this subgenre we have on offer these days, and how well-mined the genre is overall. The Last Key isn't the kinetic rush of adrenaline Wan's own Conjuring franchise established, but in its own quiet way it delivers the story, does it well, and doesn't feel either pretentious or salacious.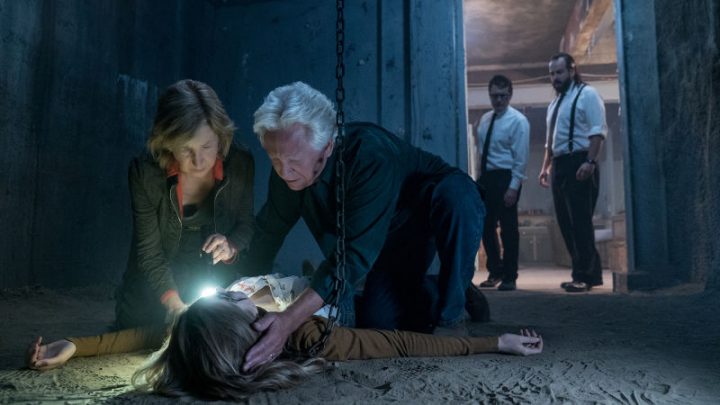 Key (ha) to this is the performance of Lin Shaye, whose work as Elise is by far the only reason the franchise is holding together this long. While she doesn't exactly have the physical prowess to be some screen super-heroine, Shaye's thin frame and elderly, frail mannerisms make her a tremulously fearful central character – she's not some muscle-bound hulk or nubile nymphette running from the ghastly spirits conjured up here, but rather an Everywoman doing her best with an ability it's her burden to bear. Shaye's performance is strong here, as is was in the previous two films at least, and the progression of her character's arc across the series has proven to be the highlight of the four films thus far. Whannell and Sampson are decent as the laugh-track comedy relief, Bruce Davison continues to look more like a mid-transition version of his mutant character in X-Men, and Spencer Locke and Caitlin Gerard find mixed blessings as the aforementioned nubile nymphettes the saga has thought to include to step forward into the future. Josh Stewart and Kirk Avocedo play particularly bad men in the film – Stewart as Elise's violently deranged father, and Avocedo as a creepy, deranged occupant of Elise's house now – and the film's central entity, a key-fingered black corpse-trashpile played by Javier Botet offers symbolic yet confusing references to even more insane adventures in The Further.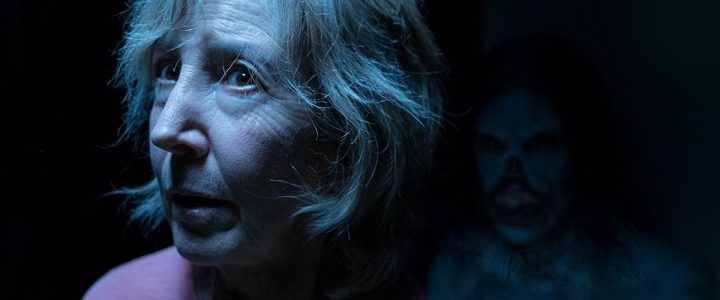 Insidious: The Last Key fails to capture the bubbling essence of the scintillating original, but it does do a lot in widening the scope and broadening the backstory of the franchise's leading lady, Elise. There's some nice moments of abject terror, few moments of true gore (if any), and a sense of oppressive resistance to the idea that every film ought to end with bright lights, smiles and happy hand-holding. Entertaining, often scary, although lacking the pizzazz or panache of a seasoned horror director to really make it sing, The Last Key is worth a look for a film that delivers a nice spin on an old idea, and offers a divergent experience from the series' norm.
Who wrote this?