Movie Review – Minions: The Rise of Gru

Principal Cast : Steve Carrell, Pierre Coffin, Taraji P Henson, Michelle Yeoh, RZA, Jean-Claude Van Damme, Lucy Lawless, Dolph Lundgren, Danny Trejo, Russell Brand, Julie Andrews, Alan Arkin, Will Arnett, Steve Coogan, Michael Beattie.
Synopsis: The untold story of one twelve-year-old's dream to become the world's greatest supervillain.
********
The fifth film in the inexplicably popular Despicable Me franchise, following 2015's spin-off Minions, The Rise of Gru is a typically well-animated, superbly produced film from Illumination and Universal Pictures that sees itself rooted firmly in the 1970's, with a young Gru (voiced by Steve Carrell with a bizarre chipmunk vocal filter applied to his performance) finding his way from young lad to accomplished supervillain alongside the titular yellow henchmen he calls his friends. Although a slight story and predictable character beats work against the film's rewatchability, The Rise of Gru is pleasant and meandering enough to satisfy the most undiscerning audiences (kids) although some (many) adults may find things a bit of a slog as the ubiquitously raucous climax roars onto the screen.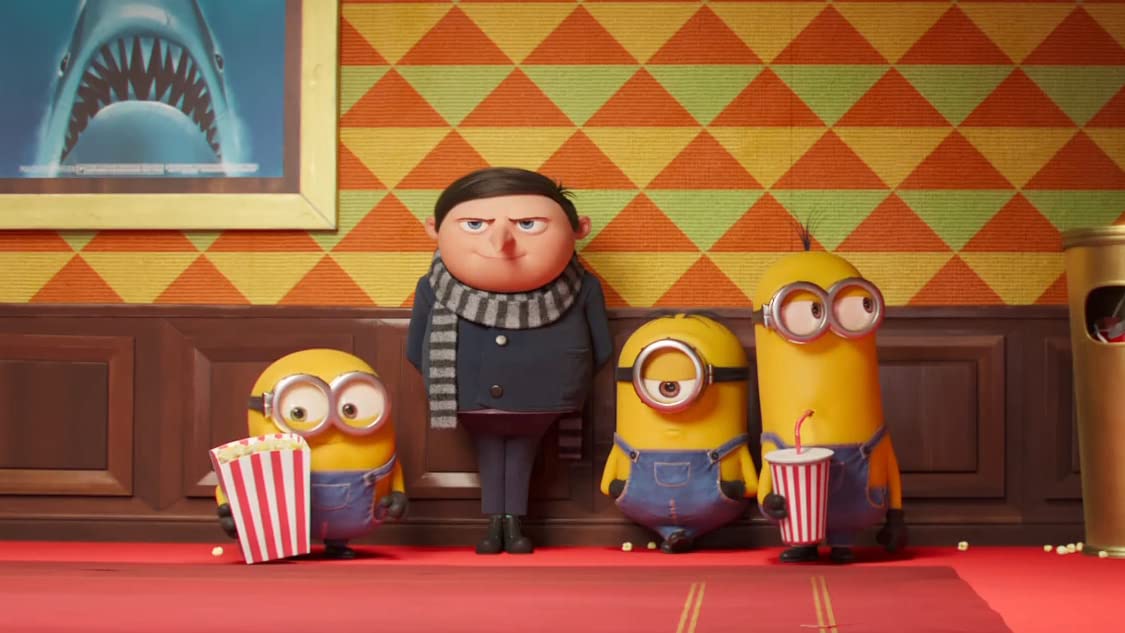 It's 1976, and 11-year-old Gru (Carrell) dreams of becoming a supervillain, and joining infamous bad guy team the Vicious Six, following the apparent demise of founder and defacto leader Wild Knuckles (Alan Arkin). The Vicious Six are led by Belle Bottom (Taraji P Henson), who has designs on a magical gem, the Zodiac Stone, stolen from Wild Knuckles in an entertaining pre-credit sequence, and along with the four other members – Jean-Clawed (Jean-Claude Van Damme), Nun-chuck (Lucy Lawless), Svengeance (Dolf Lundgren) and Stronghold (Danny Trejo) – hope to gain incredible powers using the device at the commencement of Chinese New Year. A still-living Wild Knuckles, meanwhile, wants revenge on his former team, and finds an ally in the young Gru; together with the multitude of minions (all voiced by French animator Pierre Coffin), the pair concoct a genius plan to regain control of the Zodiac Stone and (save the day) gain their revenge.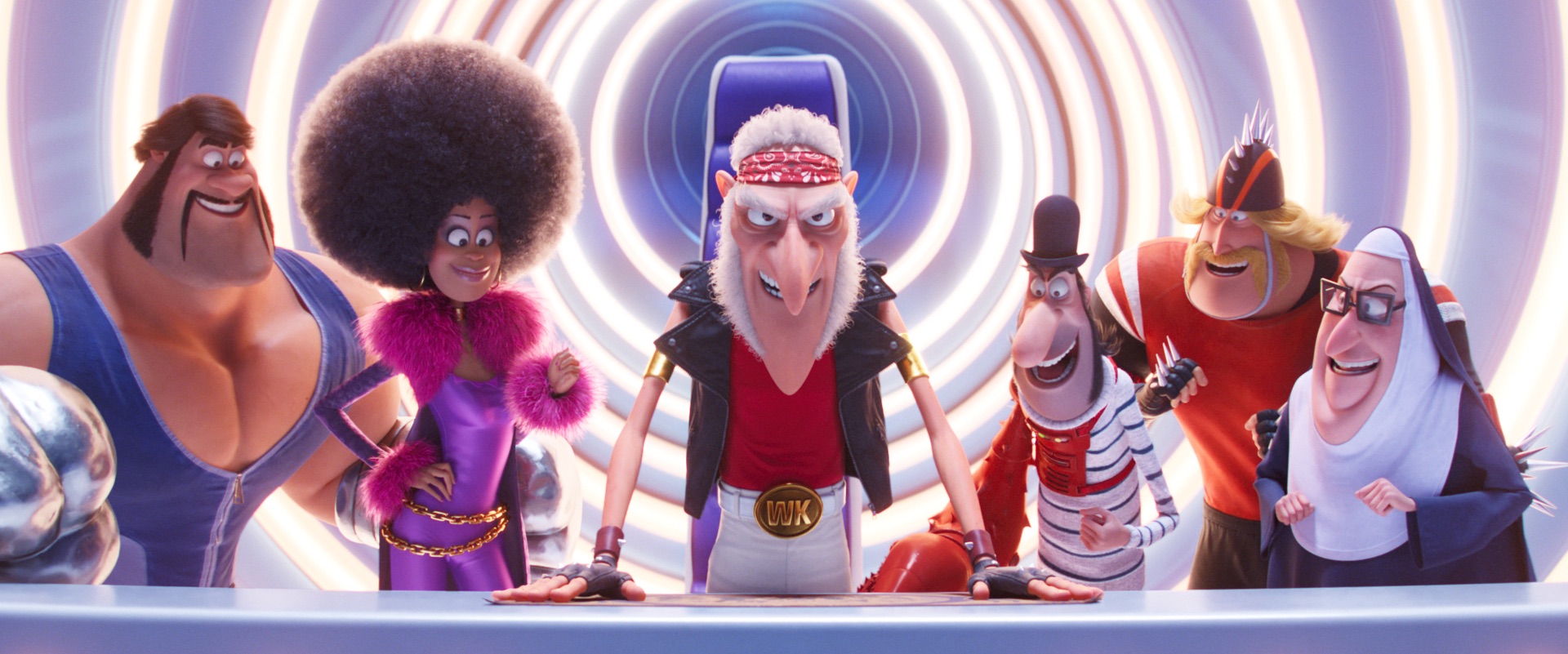 The Despicable Me films were a reasonably entertaining example of throwaway cinema; diverting, brightly coloured and generally engaging in a turn-off-the-brain kind of way, the franchise has since grown to become a mainstay of Universal's animated output thanks in large part to the bright yellow jellybean-shaped gibberish-speaking minions Gru employs in his various dastardly schemes. Unlike, say, the films of Pixar or Disney Animation, Illumination's prerequisite for family entertainment skews to a less refined sense of humour, in which fart gags, slapstick humour and wanton physics-defying violence all vie for attention at disparate moments of their films. Think Bugs Bunny short toons stretched out to feature length; it might seem appealing, but for adults is legitimately quite wearying after a while. This isn't necessarily a bad thing, because different strokes for different folks and all that, but one should factor in established canon and stylistic choices when taking in a Minions film and deciding to endure it.
Minions: The Rise of Gru is eminently facile entertainment. It ruggedly advances the cause of simplistic, indifferently bawdy kids-humour, in which plentiful bodily harm, continued references to farts and other fluids, and a nonsensical, cartoonish roster of characters run roughshod over subtlety and intricacy of thought. As with the previous film, The Rise of Gru is largely centered around the minions themselves, although thankfully the film gives over to English-speaking human characters with enough proficiency to mitigate the nonsensical gibberish spoken by our yellow heroes. This is a still a film that at no point needed to be a 90 minute feature, and suffers from hackneyed character tropes and silly plot points that offer little to the main story – a sidebar with an Asian kung fu master now working as an acupuncturist is redundant to the central plot, and an excuse to deviate from the Wild Knuckles and Gru central arc – but my kids loved it so obviously it's not a movie aimed at me.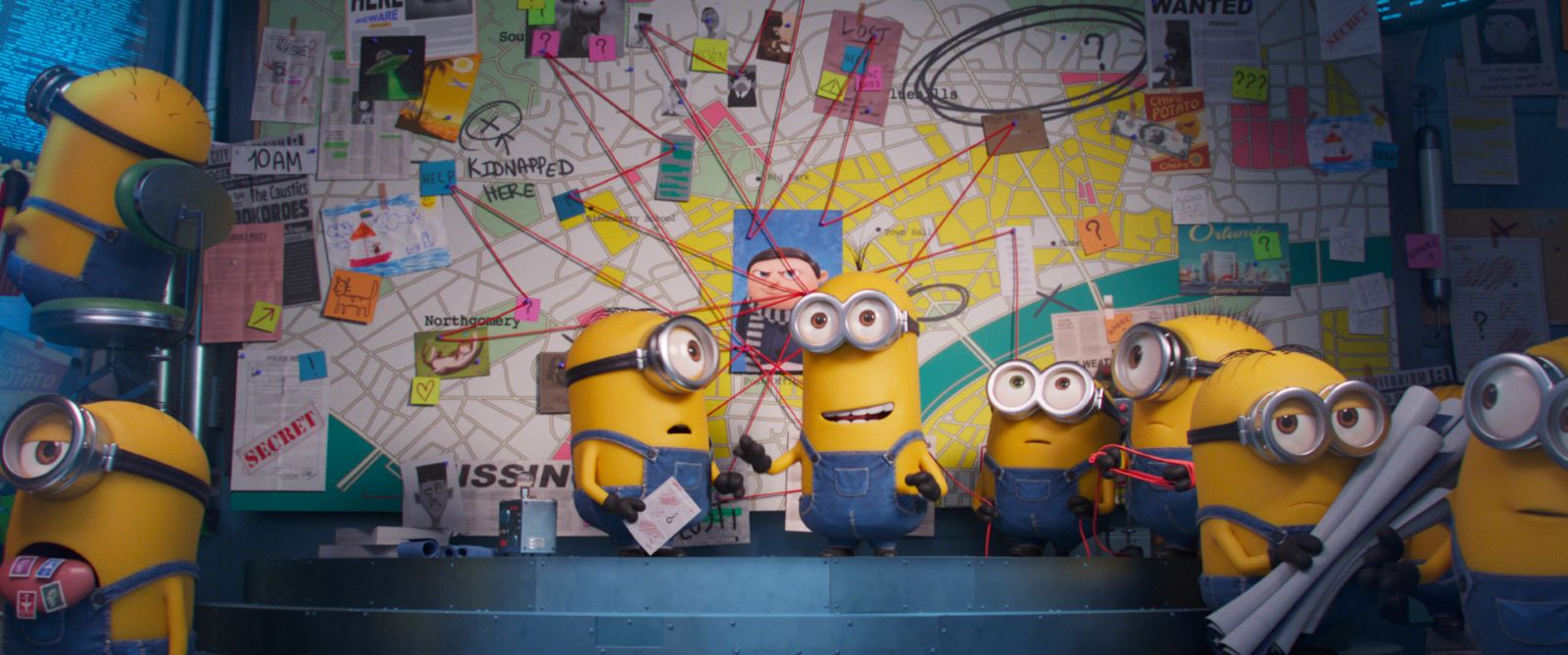 Steve Carrell's natural cadences as Gru typically offer some fun riffing on a faux-Euro accent, and as Gru he slips back into that familiar comedy beat like a pair of old shoes. In one of the film's more baffling creative decisions, the filmmakers decided to apply some kind of "turn an adult voice into a kids voice" TikTok filter to Carrell's work and the end result makes the character sound like a chipmunk whose balls have just started to drop. Pierre Coffin, originator of the minions' famous unintelligible language, once more voices the entirety of the various yellow-hued characters here again, which when you sit back and think about it must have taken an incredible amount of time to record, re-record, and re-record again and again and again. Although I will forever find the minions to be insufferably un-funny, there's no denying their charm and iconic look has permeated popular culture to the point they have become ubiquitous with Universal and their various offshoot brands.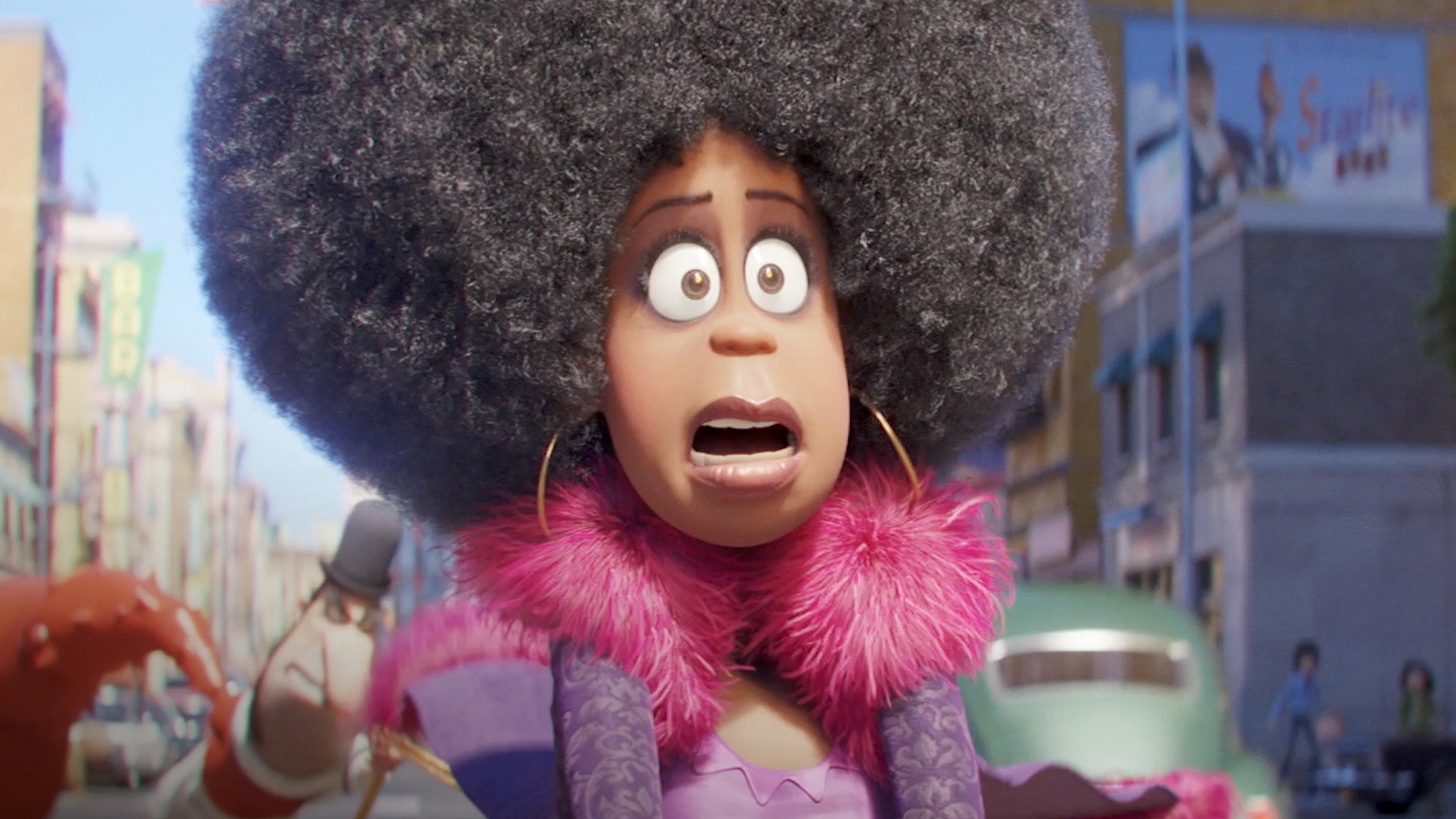 Hollywood legend Alan Arkin gives voice to the wonderfully realised Wile Knuckles, an ageing supervillain who finds in Gru a kind of kindred spirit, and his performance anchors the film (as much as any actor can in a film in which the minions are given free rein) with some genuine emotional heft. The film's primary antagonists, specifically Taraji P Henson's bellbottom wearing nasty pasty, Belle Bottom, and the rest of the remaining Vicious Six, are all gleefully cartoonish archetypes, playful subversions of classic comic book and cartoon uber-villains that would feel right at home in the Hanna-Barbera stable of creations; Henson's snappy jive-talk is a blast to enjoy. Julie Andrews continues to gather a paycheck as Gru's excruciatingly awful mother, Marlena, while Russell Brand reprises his role of Dr Nefario from the Despicable Me films, originating the characters in-canon with a sly seventies bohemian look. The fact that the remainder of the voice cast, a cast that includes Dolph Lundgren, Lucy Lawless and Danny Trejo, mind you, can just slip into the background without pause is something of a problem for me: that none of the rest of the cast offer much other than a handful of clever name gags and/or pop-culture references is a waste of their combined talent, to be honest. If you cast Jean-Claude Van Damme in the character of Jean-Clawed you get exactly one HA! and no drum-shot.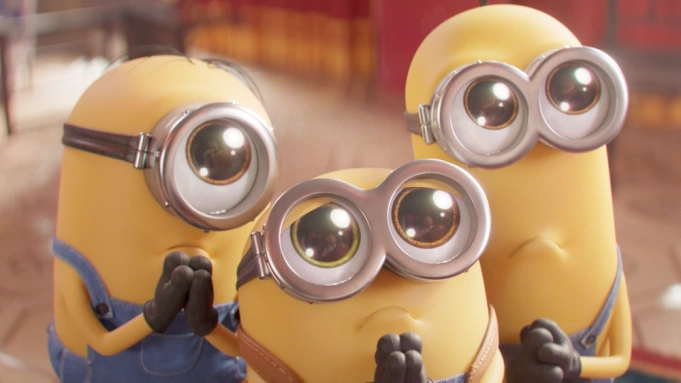 Minions: The Rise of Gru is a perfectly pedestrian feature effort that is admirably competent and yet entirely forgettable. It adds little to the Despicable franchise aside from some minor cameos and character beats (my kids did enjoy the nod to previous Minions film villain Scarlett Overkill) and is the kind of sound-and-fury family film designed to have young'uns cackling uproariously at the copious fart and bum jokes. If flatulent humour isn't your bag, baby, then you're in for a rough ride, with the headache-inducing plot and contrived emotional arcs of the film's central characters sadly lacking any kind of meaning or depth. In short: if you love the Minions you'll have a good time here. For me, this franchise has long since worn out its one-note joke, and although I did have the occasional chuckle through this one, I can't help but think this might be my last adventure with the minions.
Who wrote this?