Movie Review – Turning Red

Principal Cast : Rosalie Chiang, Sandra Oh, Ava Morse, Hyein Park, Maitreyi Ramakrishan, Orion Lee, Wai Ching Ho, Tristan Allerick, James Hong, Addie Chandler, Sahsa Roiz, Lily Sanfelippo, Lori Tan Chinn, Lillian Lim, Sherry Cola, Mia Tagano, Jordan Fisher, Finneas O'Connell, Josh Levi, Topher Ngo, Grayson Villanueva.
Synopsis: 
A 13-year-old girl named Meilin turns into a giant red panda whenever she gets too excited.
********
Despite debuting on streaming platform Disney+ when it well and truly ought to have been granted a full theatrical release, I have a sneaking suspicion that Pixar's Turning Red, in which a teenage girl suddenly gains the ability to turn into a giant red panda, will become an instant classic. For a studio with a string of classic animated films to its name, Pixar has been treated terribly by parent company Disney, who saw fit to make this the studio's third feature film not to drop in cinemas first, following Soul and Luca; while other major Disney releases have found life inside the multiplexes before transitioning onto streaming, Pixar has suffered the Covid 19 pandemic by – surprisingly – having to suffer the indignity of not being afforded wide release of its films, much to the employees chagrin and consternation. That Turning Red will never be afforded a global theatrical release, and subsequently never recoup its production budget, has been a disappointment to all who've followed the film's production over the years, but with Disney still jittery about the effects of the pandemic you can understand how they might want to mitigate potential losses with their most creative prestige studio. That doesn't make it any easier to bear, but you can understand it. That Turning Red is such a wonderful film makes the ouch from a streaming debut only sting that much more: I honestly believe that had this film been thrown to global audiences in a big screen, big sound way, it would have absolutely been a smash hit.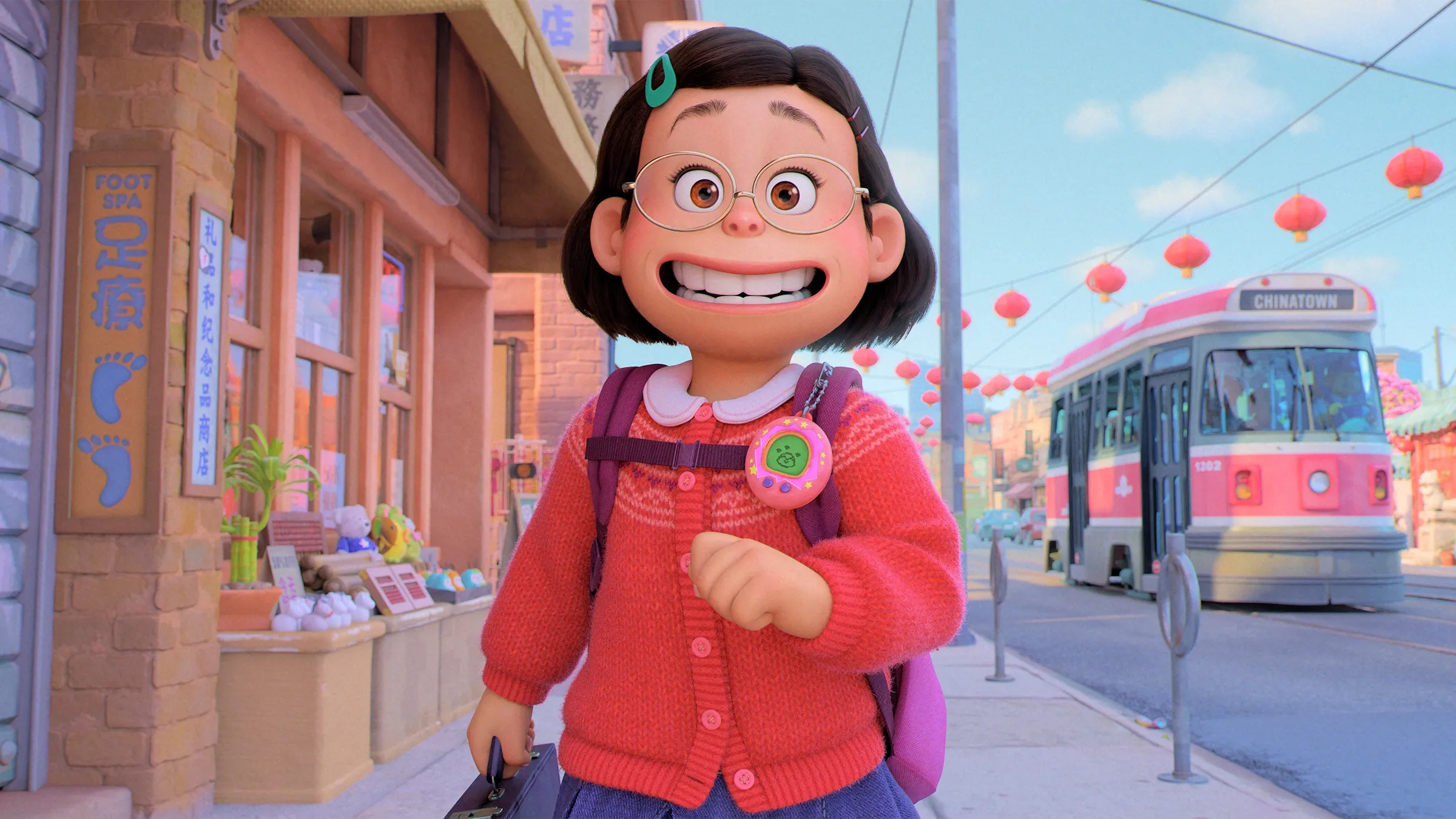 The story sees young 13 year old Meilin Lee (Rosalie Chiang), a Chinese-Canadian girl living with her parents Ming (Sandra Oh) and Jin (Orion Lee) in Toronto, suddenly turn into a giant red panda whenever she experiences a strong emotion, such as anger, excitement or anxiety. This, it turns out, is due to an ancient family "curse" where a distant ancestor has a mystical connection to the animals, and subsequently all the women in the family down through the ages have had a similar affliction. Meilin's friends, Miriam (Ava Morse), Abby (Hyein Park) and Priya (Maitreyi Ramakrishnan) are unperturbed by this sudden change in Meilin's life, and see this unique ability as a way to make money to allow them to attend a concert for hugely popular boyband 4*Town. Even Meilin's bully, Tyler (Tristan Allerick Chen) recognises the drawing power of the girl's panda form, and tries to use it for his own reasons. Ming's fractious relationship with Meilin is put to the test, however, as a ritual that would allow Meilin to live her life as a normal girl is fast approaching, with one chance to banish the creature for good coming at great personal cost to the child – not going to the 4*Town concert.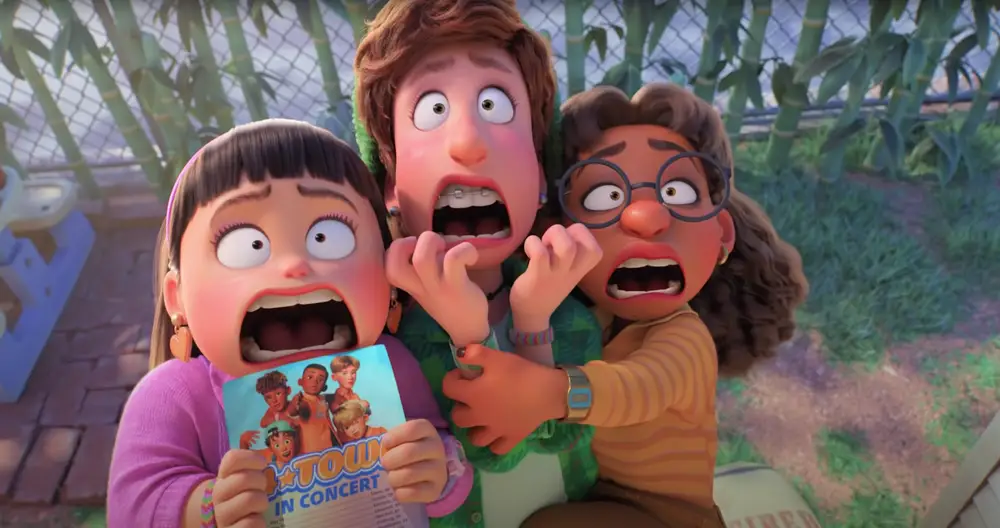 First time feature director Domee Shi, who won an Oscar for Pixar's short film Bao in 2019, co-wrote Turning Red with Big Love and Halt & Catch Fire screenwriter Julia Cho as a kind of love-letter to her own childhood, her family, and in putting a definitive Pixar stamp on it, created an instant classic for audiences young and old. If you've ever been a kid, you'll find yourself chuckling along with this film. If you've ever been a parent, you'll find yourself chuckling and nodding to yourself along with this film. It taps into so many themes, particularly identity, puberty (the red panda itself is used allegorically to represent the premise of a young girl beginning to menstruate, in one of the film's most gut-busting early scenes) and responsibility. It utilises well-worn tropes of a kid wanting to express their individuality whilst having to remain loyal to their parents – in this case, Meilin's loving yet frustrated relationship with her mother, Ming, forms the bases for the story's underpinning narrative – and it delivers a genuinely heart-warming, heartfelt coming-of-age story for younger viewers whilst not shying away from some heavy, serious themes. The film might have trod ground well worn through the last hundred years of film-making, but it puts that unique Pixar spin on things and takes an old-as-time concept, making it feel like you're seeing it for the first time.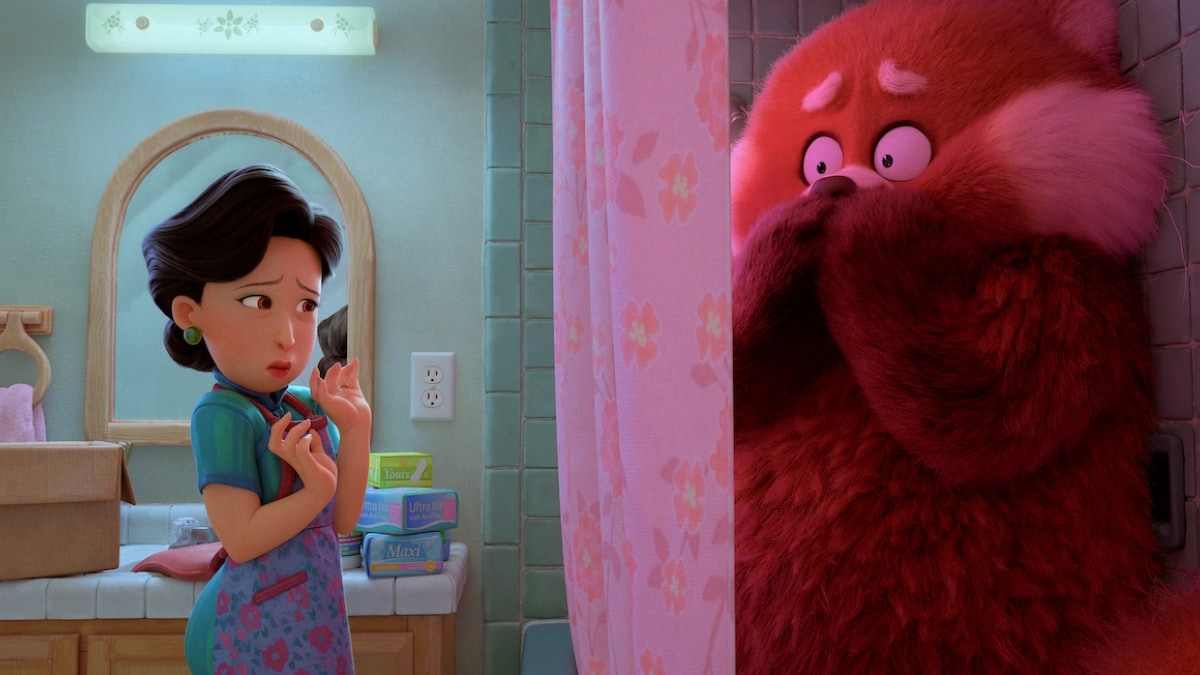 Okay, so I'm not a 13 year old Chinese-Canadian girl living with her parents and dreaming of the current boy-band member with whom I am seriously crushing on. I'm not an older Asian woman hoping not to lose the special bond with my daughter as she slowly turns into a young woman, dealing with the hormonal changes that occur once they hit that pre-teen age and all the angst that comes with it. It doesn't matter that you or I aren't one of those things: these themes are universal, it's just told from the perspective of somebody who is one of those things, and that's what makes this film so delightful. Disney have made great strides over the last decade or so to rectify issues of representation in their films, depicting different cultures and ethnicities with sensitivity whilst utilising their specificities to tell individual stories. My own daughter is roughly the same age now as Meilin in this film, and the movie is jarringly prescient with how accurately the same conversations about bodily changes, autonomy and self-interest have occurred for my family only recently as well. Domee Shi's story is captivating, the eternal conflict between family loyalty and striking out on one's own path, and is told with a supernatural bent that will no doubt sell a gazillion plush toys.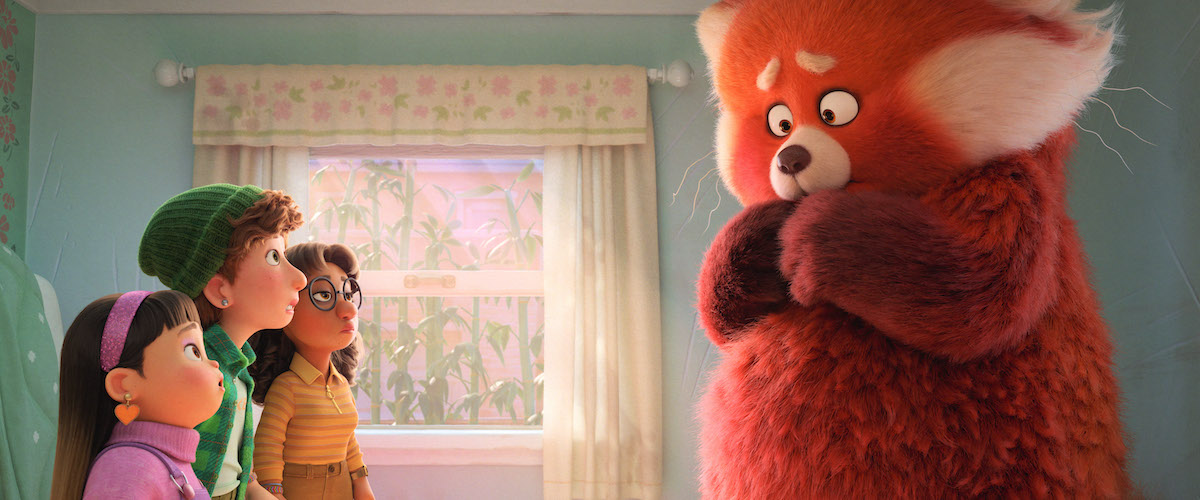 As with anything Pixar touches, Turning Red balances the laughs and the heart-and-soul of the story perfectly. One minute your holding your sides from laughing so much, the next you're wiping away a tear as a character turn or story beat sneaks up and surprises you. While the story itself may not be particularly new, the characters and methodology in telling the story are given a refreshing zing, largely through the angle of ethnicity and identity. Meilin is a charming, abrasive, loving child who only wants to please her mother until she doesn't get her own way. Ming, as the mother, is overprotective and occasionally overbearing, but always doing so with Meilin's best interests at heart, and fiercely independent as a woman herself. Meilin's friends are your usual bunch of misfits, each with their own personalities that represent analogous teenage attitudes of the time – the film is set in 2002, which makes the appearance of a Tamagochi so understandable – and their friendship with Meilin is a cornerstone element of the movie. Even the character of Tyler, the kid who constantly bullies Meilin at school, is more developed than this stock character might otherwise be afforded in any other film, but then this is Pixar, and there's not a moment or character in this film that hasn't been afforded countless hours of thought and rationalisation.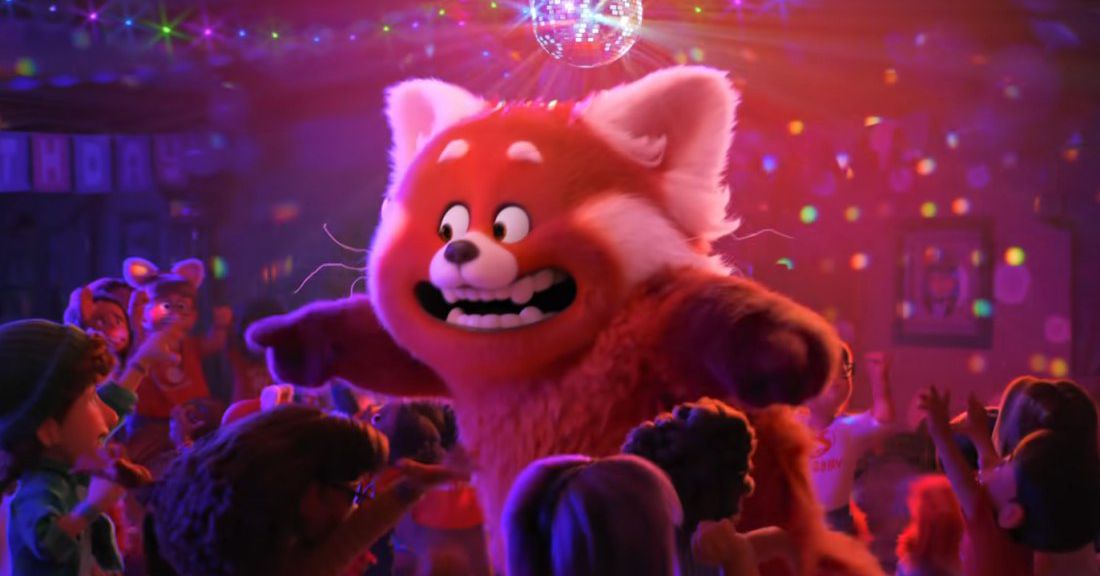 As with everything Pixar, the animation and design of the film is sublime. The design of the red panda form, not only for Meilin but the others represented in the film, and as I alluded to earlier, the sale of plush toys of these characters is going to make $$$ for Disney for years to come. The film treads the boards between realism and absurdist styles quite delicately, with the characters at times using a manga-influenced over-the-top reactionary look to moments of bliss or outrage. There's a moment when Meilin is given a box of the cutest kittens ever seen on screen, and her reaction to their sheer adorableness is one for the ages. There's a softness to the look of the film, a rounded, edgeless simplicity to both the characters and the world in which they exist here, employing a similar unique style to that of Pixar's other recent films; it's amazing to see how each studio working in animation with develop their own unique look when it comes to things like character design: you can differentiate between Pixar, Disney Animation and Dreamworks work, it's an intuitive, ephemeral thing but from a distance easily identified. I loved the character work in Turning Red, and the film's representation of Toronto really makes me want to go visit someday.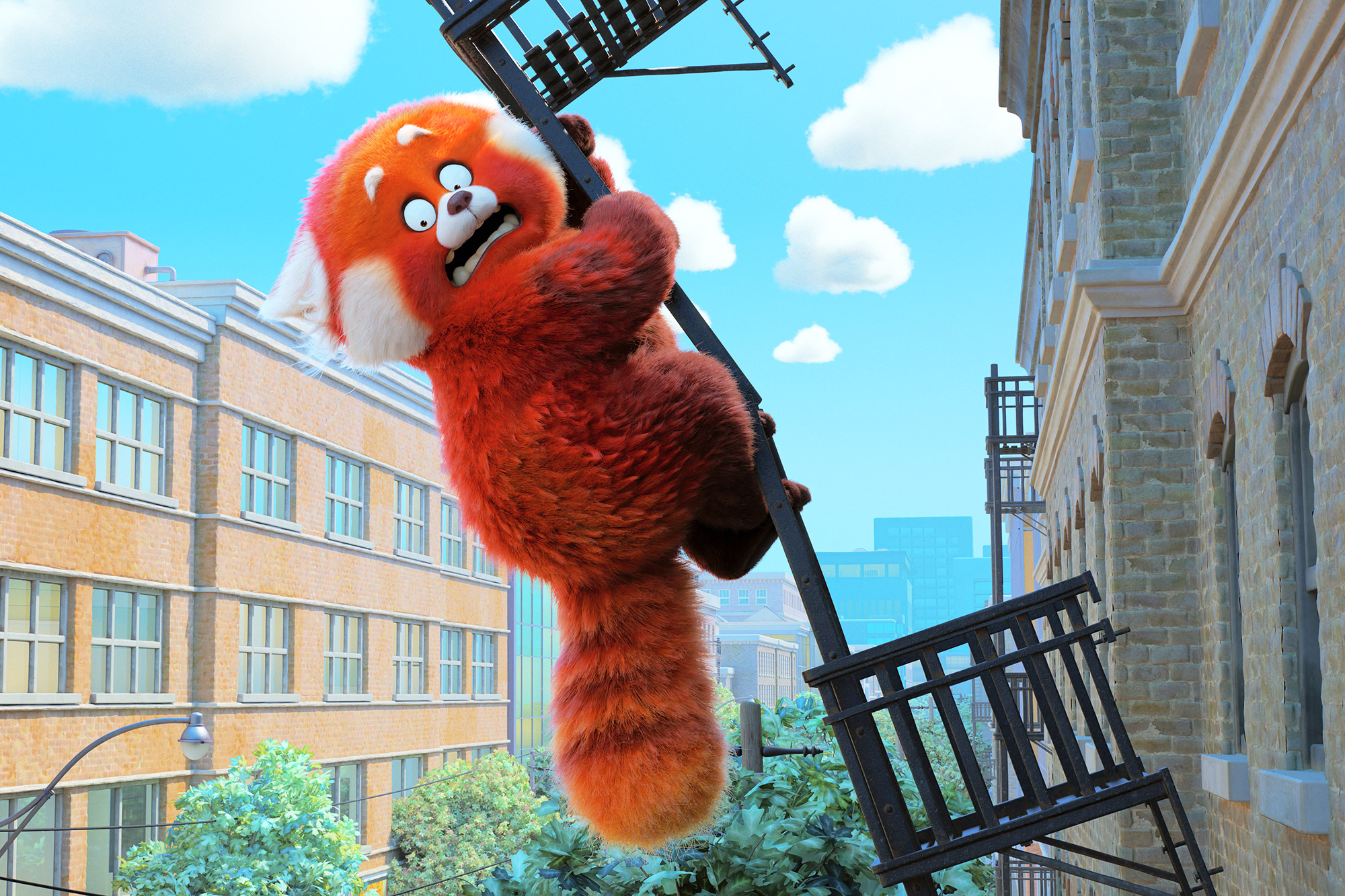 Turning Red is yet another in a long, long, impossibly long line of absolute classics from Pixar. That it never got a theatrical release will likely inhibit the cultural immersion Pixar films take on when released wide and big – everyone knows the name Buzz, Woody, Dory and Lightning McQueen, but how many can rattle off the names of the central characters from Soul, or even the recent Luca? Or the last film Pixar had in cinemas just as Covid shut things down, Onward? My point is that in any other time Turning Red would have Inside Out levels of commercial appeal, as a fully fledged four-quadrant smash hit. It's a shame it will eventually be lost amid the onslaught of "content" released on streaming platforms so ubiquitously, it will loose the cultural cache that comes with a big-screen release. If Disney continues to treat Pixar as a "bargain bin" entity, the studio's blue-ribbon status will no longer be assured. Turning Red is eponymously Pixar; a true delight with a wondrous story. Turning Red has captivating and moving character work that deserved better than simply landing on your lounge-room screen. I hope you give it a chance.
Who wrote this?