Movie Review – Pirates Of The Caribbean: Dead Men Tell No Tales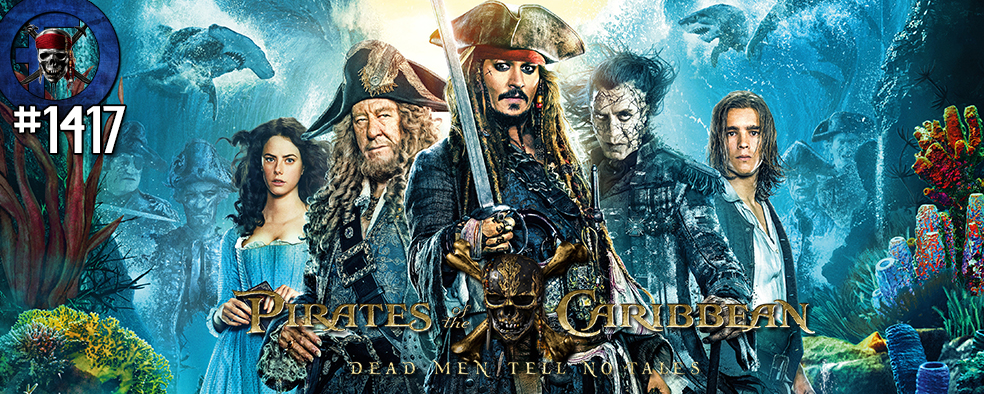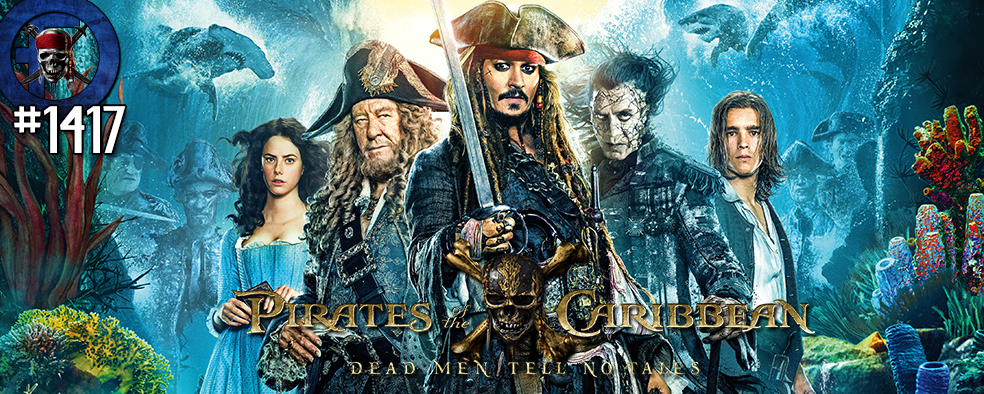 Director :  Joachim Rønning + Espen Sandberg
Year Of Release :  2017
Principal Cast :  Johnny Depp, Geoffrey Rush, Javier Bardem, Brenton Thwaits, Kaya Scodelario, Kevin McNally, Golshifteh Farahani, David Wenham, Stephen Graham, Martin Klebba, Giles New, Adam Brown, Danny Kirrane, Angus Barnett, Orlando Bloom.
Approx Running Time :   129 Minutes
Synopsis:  Captain Jack Sparrow searches for the trident of Poseidon while being pursued by an undead sea captain and his crew.
*********
Hoisting the mains'l for a fifth time at sea, Captain Jack Sparrow's rum-guzzling nautical nonsense continues with Dead Men Tell No Tales (aka Salazar's Revenge in some markets), a semi-return to form for the Pirates Of The Caribbean franchise that many felt had worn out its welcome with the decidedly mediocre On Stranger Tides. Once again produced by Jerry Bruckheimer, this Australian-shot adventure epic continues the saga's ongoing mythology involving Orlando Bloom's Will Turner (now a cursed prisoner aboard the Flying Dutchman, last seen in At World's End) and his son, Henry (Brenton Thwaites). Hopping aboard the Pirates ship this time are directing duo Joachim Rønning and Espen Sandberg (Marco Polo), who more than adequately capture the world established by Gore Verbinski's delightful original, and although creaky and wobbly here and there the film actually succeeds in delivering some quite rousing entertainment.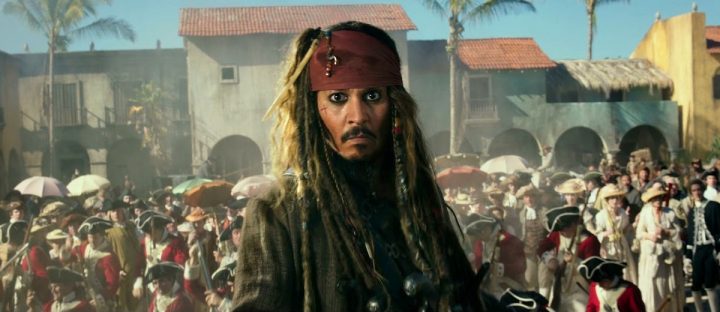 Sparrow (Depp) is once again without a ship, and after attempting to rob an island bank is sentenced to be executed. Henry Turner (Brenton Thwaites – Gods Of Egypt), son of Will Turner and Elizabeth Shaw, is seeking the legendary Trident of Poseidon to undo the curse which has trapped his father aboard the Flying Dutchman for eternity, and he enlists the help of the educated woman Carina Smyth (Kaya Scodelario – The Maze Runner) to find it. Jack Sparrow, hunted by the ghostly Captain Salazar (Javier Bardem), joins them since the only way to defeat Salazar is using the trident to undo all the curses. Curses! Oh, and Captain Barbossa (Geoffrey Rush) also joins the fray. Taking command of the military pursuit is the evil Lieutenant John Scarfield (David Wenham), who seeks to execute Henry, Carina, and of course Jack Sparrow.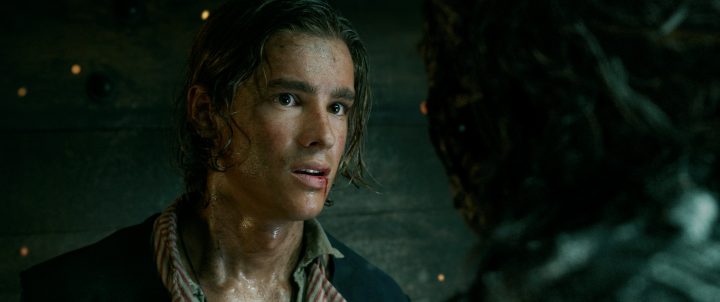 Part of the Pirates charm is undoubtedly its menagerie of grotesqueries, and Dead Men Tell No Tales has decay and desiccation to spare with its supernaturally inclined shenanigans. The film's chief antagonist, Salazar, is a walking corpse – as is his crew – mirroring much of what made Barbossa and his undead crew such visual treats in the original film. Throw in some zombie sharks and hilariously over-the-top chase sequences, plenty of betrayal, explosions, deals-with-the-devil, and pirate-y shanty-town destruction and this film parlays its discombobulating plot into an exhausting, often exhilarating and always charming blockbuster movie. Sadly, this instalment never quite hits the lofty heights of its best predecessors, and Depp's Sparrow has most definitely lost his lustre as a comedic device, but it is a worthy effort to salvage the barnacled remains and continue Disney's dollar-grab.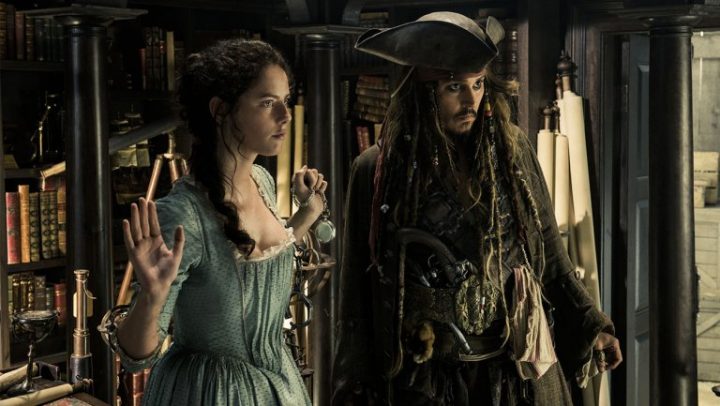 Indifferent as I am to the allure of piracy as a form of entertainment (nothing beats Cutthroat Island, still) Dead Men Tell No Tales is a glossy, enormously expansive production that energetically throws caution to the wind in dangling multiple plot threads and expansive ensemble cast in order to achieve its intent. Written by Jeff Nathanson, Tales delves further into franchise lore by offering a glimpse of an early Jack Sparrow (the film engages in the use of digitally de-aging an actor a la Kurt Russell in Guardians of The Galaxy Volume 2, or Jeff Bridges in Tron Legacy, to lesser effect) and a reprise of the "young lovers" motif – Brenton Thwaites and Kaya Scodelario make for Diet Coke versions of Orlando Bloom and Kiera Knightley, but offer some artificially sweetened chemistry despite lackluster character development – and the addition of Bardem's sinister Salazar is welcome if only for his bug-eyed crazy portrayal actually outshining Depp in terms of acting skill.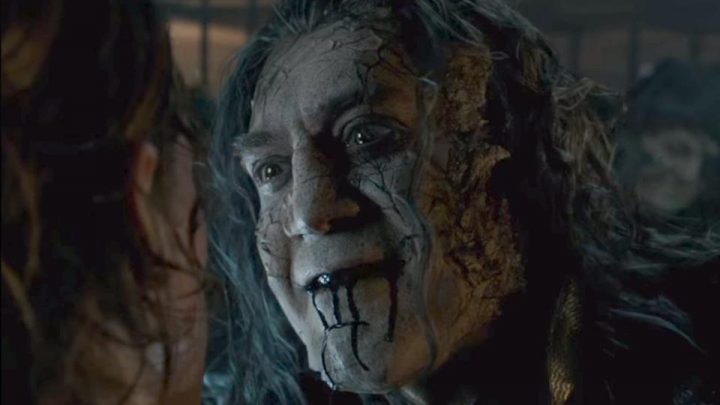 The franchise's trademark wit is well in play here too, from Sparrow's drunken antics to the constant defying of all laws of physics (especially ironic considering one of the characters is an educated woman of science who understand the concepts) and the constant need for the film to tip its hat to various pirate tropes, and it's all Rønning and Sandberg can do to rein in all the strands of Nathanson's complicated plotting. The combination of dramatic heft and wink-wink laughs is a tightrope of ill-conception but the directing team wrangle their way through proceedings with dexterity, if not always surety. At times, though, the film does feel cheap, an over-reliance on green-screen to accommodate the varied locales and events the script calls for. Given the film's budget exceeded $200m, it's hard for me to countenance whether the film ought to look as flat and muted as it does, but it was a surprise. The ship battles and visuals on the ghostly remains of Salazar's crew are highlights, however, and rescue this thing from being a really expensive Sharknado.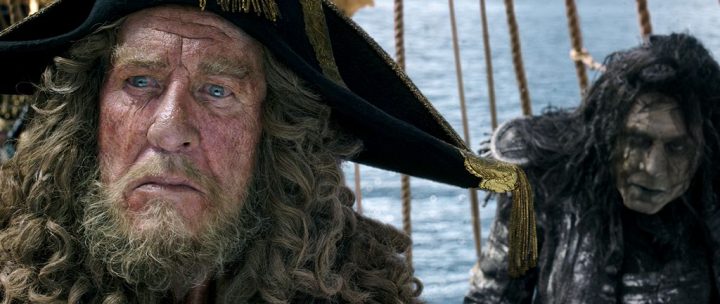 There's a lot of fun to be had here, and also a share of disappointment, although your mileage may vary. Geoff Zanelli's appropriation of Klaus Badelt and Hans Zimmer's original themes never feel as weighty as we've previously heard (the score feels a touch lacking in the lower registers), but the visual effects are spectacularly achieved and certainly add to the franchise's largess, while the direction accommodates the operatic and widescreen scope of such an endeavour. The film does creak and groan amidst the studio churn and there's a sense of the foregone here it cannot escape, but I had a decent time with the going's on and enjoyed myself despite what I felt to be several missteps. Naturally, Disney hedged their bets with further sequels by laying in several hints at future films (stick around through the closing credits) but if Pirates dropped anchor and stopped here I wouldn't feel shortchanged. Time will tell, I guess. Dead Men Tell No Tales was never a film we needed, but I'm not sorry we got it anyway. It's decent without being great, and moves familiar characters into arcs that feel like they're part of a broader canvas than we've seen to-date. Definitely worthwhile, if occasionally cumbersome.
Related articles
Who wrote this?