Landmark Films Of The 20th Century – 1980-1989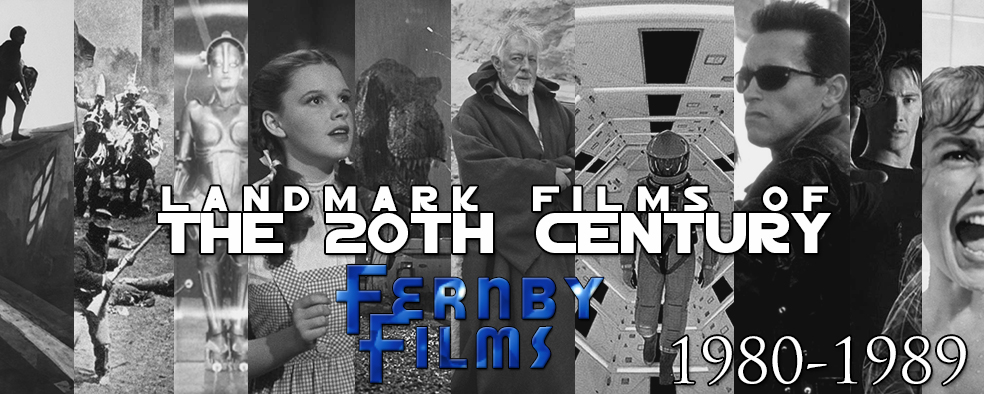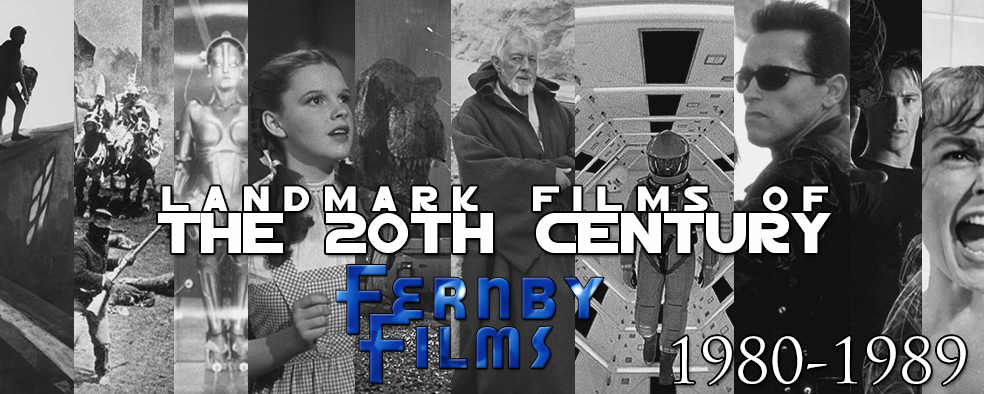 In this, the ninth of our ten-part series on landmark films of the 20th Century, we identify films that set new benchmarks and new ways for film-makers to tell their stories – from editing, to sound, to visual effects, the 100 films we've unearthed are considered either classics (or should be) that changed the landscape of film forever. The films listed herein represent annual landmark achievements in cinema – they may not be the "best" films of that year, but they represent a leap forward in cinematic technique or technology that is worth considerable attention.
Looking back, there's no denying the 1980's were the high point of American prosperity, if not ever then certainly within the confines of the 20th Century. Oliver Stone's apocryphal financial film Wall Street even gave us the decade's most overused quote: "Greed is good." Foreign cinema was expanding exponentially into the West, fantasy cinema gained a strong foothold in multiplex screens, while traditional blockbusters (led by James Cameron's Terminator, Aliens and The Abyss, among others), darker sci-fi and erotic thrillers became prominent. So too did teenage "coming of age" films, thanks largely to director John Hughes. In world politics, the 80's were marked by Reaganism in the US, Thatcherism in the UK, and Aussie PM Bob Hawke here in Australia, while the world watched on in horror at the deadly consequences of HIV-AIDS. The late 80's were marked by the fight against communism in the form of the Berlin Wall falling, the massacre at Tiananmen Square in China, and the slow fall of the USSR into the early 1990, ending the Cold War. The internet became the technological advance of the decade, with personal computing – led by Apple, IBM and Microsoft – becoming the preeminent industry in the new dawn of a digital age.
Part IX – 1980-1989
1980. The Twist Reveal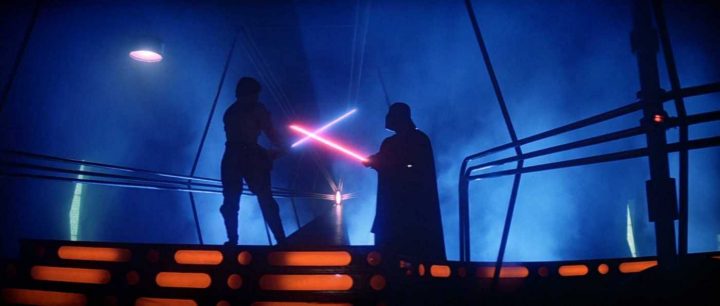 It was hardly surprising that a sequel to George Lucas' blockbusting mega-hit Star Wars would be ordered; The Empire Strikes Back, directed by Irvin Kirshner and produced by Lucas, became a worldwide smash (duh) and one of the most enduring sequels ever made. While any film with the words "Star Wars" on the title would always make a buck, the film is best remembered for one of the greatest twist reveals in cinema history – the origin of Luke Skywalker's parentage – and the fact that it had remained a secret right up until the film's release. Empire came along well before social media (or even the internet!) so the chances of the secret reveal being spoiled were relatively limited at that point, which meant audiences were legitimately shocked at Lucas' story point involving Darth Vader. Nowadays, twist reveals have become something of an industry staple: who remembers the first time they saw The Sixth Sense, or Fight Club, and were totally hoodwinked by the filmmakers' audacity? The Empire Strikes Back is not only one of cinemas most entertaining films, but contains a generational surprise the likes of which we've never seen since.
Also in 1981: Ordinary People would snag several Oscars in the 1980 Academy Award race, including Best Picture, Director, and Supporting Actor (Timothy Hutton), while Robert DeNiro (Raging Bull), Sissy Spacek (Coal Miner's Daughter) and Mary Steenburgen (Melvin And Howard) would also pick up gongs for their work that year. Disaster spoof Airplane!, based on the long-running Airport franchise of the 70's, became the fourth highest grossing film of the year, while SNL skit-turned-feature-film The Blues Brothers, Olivia Newton-John's Xanadu and The Village People's Can't Stop The Music all released. The first in the long running Friday The 13th films arrived, as did Brooke Shields in teen-sex skin-flick The Blue Lagoon, while Dolly Parton would work 9 To 5, and Geene Wilder and Richard Pryor went Stir Crazy. Among the other major films released in 1980, we saw Breaker Morant, the hugely camp Flash Gordon, Steve McQueen's final film The Hunter, Robin Williams' film debut in Popeye, Christopher Reeve flying high in Superman II, and Goldie Hawn in Private Benjamin. Notable also in 1980 was the release of cult classic comedy The Gods Must be Crazy, filmed in South Africa and featuring a Kalahari bushman in a starring role. Passing away in 1980 were legendary director Alfred Hitchcock, screen sex symbol Mae West acclaimed actor Peter Sellers (Dr Stangelove) and one of the original animators on Bugs Bunny, Tex Avery.
1981.  Underwater Terror

There's a fair argument that Wolfgang Peterson's acclaimed film Das Boot is one of the greatest war films of all time. It's certainly in the top three or four, no doubt. For what it represents in accurate modern depiction of life aboard a German U-boat during World War II, there's hardly a film to match it. Depending on which version you watch – the original 150 minute theatrical version, a 209-minute "Director's Cut", or a 293-minute television miniseries version – there's no denying the power of Peterson's apocryphal film. Starring Jurgen Prochnow before he became a Hollywood bad-guy caricature, as well as a hustle of supporting German actors, the film was unique in that it told the story from the German perspective of the war. Underwater life was filled with utter boredom at waiting for any kind of action, and then heart-pounding terror as the action arrived, with each scenario obligating a life-or-death struggle that captivated audiences. With its solid sound design and gut-wrenching emotional journey (echoed – but never matched – in Hollywood submarine productions such as Crimson Tide and U571) and justifiably searing performances from the entire cast, Das Boot is one of international cinema's finest efforts and a brilliant film in a class of its own.
Also in 1981: Steven Spielberg and George Lucas joined forces to unload Raiders Of The Lost Ark on unsuspecting audiences, giving cinema one of its most iconic heroes in Indiana Jones. Chariots Of Fire, a British production, would snag the Best Picture Oscar, while Henry Fonda and Katharine Hepburn would garner acting nods for On Golden Pond. Warren Beatty would win Best Director for Reds. Dudley Moore comedy Arthur would become the fourth highest earner of 1981, behind Superman II, Raiders and On Golden Pond, while Ivan Reitman's military comedy, Stripes, starring Bill Murray and Harold Ramis, has since become an 80's classic. Werewolves had their moment to shine in 1981, with three films featuring the lycanthropes dropping into cinemas: An American Werewolf in London, Wolfen and The Howling all made their debut. Scandal rocked Hollywood in '81 when West Side Story actress Natalie Wood drowned while filming Peter Hyams' Brainstorm, while MGM acquired United Artists after the latter studio was forced into near bankruptcy following the disastrous release of Michael Cimino's Heaven's Gate. The Golden Raspberry Awards were first given out in 1981 – Worst Picture was Can't Stop The Music – and Bo Derek got her tits out for director husband John Derek's redo of Tarzan: The Ape Man. Other notable releases in 1981 include Brian DePalma's Blow Out, Burt Reynolds' The Cannonball Run, John Carpenter's seminal classic Escape From New York, Jack Nicholson in The Postman Always Rings Twice, and Terry Gilliam's successful Time Bandits. Passing away this year were Ben Hur director William Wyler, The Big Sky actor Jim Davis, Network screenwriter Paddy Chayefsky and screen icon William Holden.
1982.  In-Tron-ducing CG Effects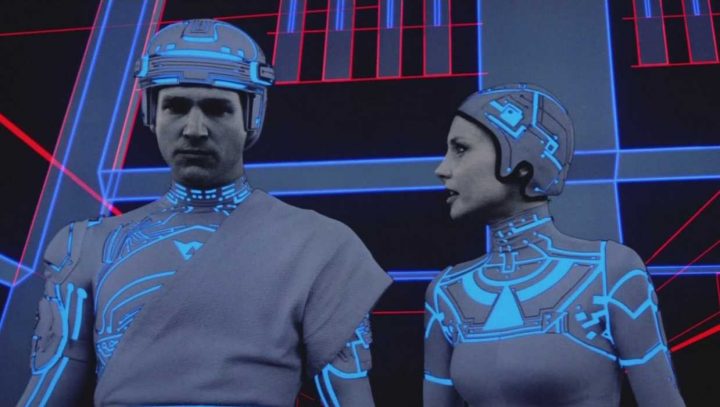 Although a commercial failure at the time, Disney's TRON would become a pivotal moment in cinema history. It was the first film to really show off big-budget 3D computerised effects, in such a way that it made the nascent technology a viable option for storytellers. Although the film hasn't aged well at all, for its time it was revolutionary in attempting to bring audiences into a real-world computer world. The famous "light cycle" sequence, with its now iconic use of computer graphics, not to mention the multiple other scenes set within the computer world visited by Jeff Bridges' Kevin Flynn, showed audiences what could be achieved with computers, although the box-office failure of the film slowed the industry down a little. TRON would eventually spawn a full-fledged sequel in TRON: Legacy, but it's the original which, while tame today, set off a mini-industry of filmmakers all on its own. A caveat: TRON would be beaten into cinemas (just) by Star Trek II, which also made extensive use of CG for its "Genesis Planet" sequences, but for many in the industry TRON was the example used to exemplify what computers were truly capable of.
Also in 1982:  Star Trek II: The Wrath Of Khan launched into cinemas, becoming the most acclaimed Trek film of all time and kicking off a three-film arc that would continue in The Search For Spock and conclude in The Voyage Home. Spielberg's little alien dude who tried to call collect, ET: The Extra-Terrestrial, landed in 1982, and became the most successful film of all time (beaten only by Spielberg's other box-office behemoth, Jurassic Park, nearly a decade later), while Dustin Hoffman's cross-dressing Tootsie, Richard Gere's Officer And A Gentleman, and sex comedy Porky's collected at the box-office. Richard Attenborough's biopic Gandhi would pick up a swag of Oscars, for best Picture, Director, Actor (Ben Kingsley in his debut film role), Writing (John Briley) and a trio of production gongs, while Meryl Streep accepted her Best Actress award for Sophie's Choice. Eddie Murphy transitioned from stand-up and SNL to feature films in 48 Hours, Michelle Pfieffer debuted in Grease 2, while production of The Twilight Zone movie was rocked by the deaths of a stuntman and two children in a helicopter accident during shooting. Also released in 1982 were musical smash Annie, scare-flick Poltergeist, Conan The Barbarian, The World According To Garp, First Blood (the first of the Rambo films), and Jim Henson's incredible fantasy The Dark Crystal. Passing away in 1982 were Mary Poppins actress Rita Shaw, Austrian actor/director Curd Jurgens (The Longest Day), Henry Fonda, uber-producer King Vidor, and bulbous-eyed UK comedy writer, actor and director Marty Feldman.
1983. Thriller.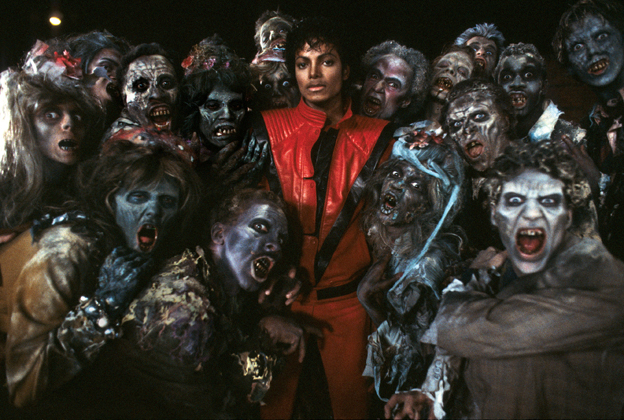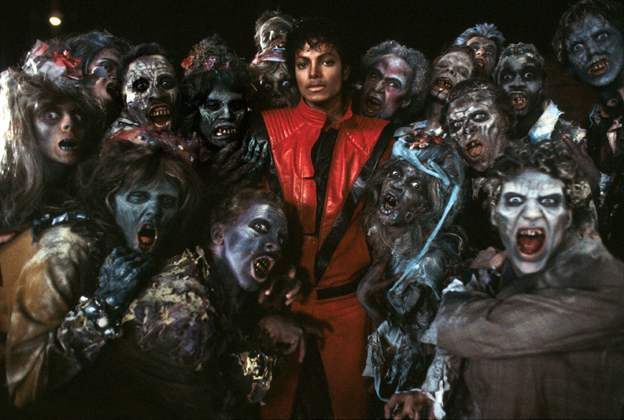 Although not a feature film, Michael Jackson's monster music video to his pop song Thriller landed in 1983. Directed by John Landis with a then-staggering budget of half a million dollars, Thriller became the defining music video of a generation. Running for nearly 14 minutes, Thriller's music video saw Jackson and a legion of zombies dancing to the song; not only did it make its debut on newly formed MTV, it paved the way for an avalanche of similarly budgeted long-form music videos that told a story in and around the song it promoted. Heavily influential even to this day, Thriller (the album and the music video) became the highest selling release of the 80's and one of the biggest selling albums in history.
Also in 1983: The third film in George Lucas' Star Wars saga arrived, Return of The Jedi. The film would also mark the first appearance of the THX Cinema System, a quality control guideline for theatrical presentations designed to assure audiences that they were seeing the best possible picture and hearing the best possible sound. THX, a Lucasfilm brand, would make its home theatre debut during the 90's. Competing Bond films arrived in the form of Octopussy (the official one) and Sean Connery's return to the franchise in Never Say Never Again, which landed simultaneously in cinemas. Terms Of Endearment swept the Academy Awards picking up Best Picture, Director, Actress (Shirley McClaine), Supporting Actor (Jack Nicholson), while Robert Duvall would swing Best Actor for his performance in Tender Mercies. Michael Caine and Julie Walters would win acting gongs at the Golden Globes for Educating Rita, with Barbra Streisand picking up a directing gong for Yentl. Dance film Flashdance arrived, as did terror in the form of artificial military intelligence with War Games, while Nicole Kidman's debut role, BMX Bandits, landed in Australia. Notable film releases of 1983 include The Big Chill, Stephen King's rabid-dog flick Cujo, Martin Scorsese's The King Of Comedy, high fantasy epic Krull, Monty Python's The Meaning of Life, Risky Business (starring a then relatively unknown Tom Cruise), Sylvester Stallone's disco flick Staying Alive (with John Travolta), and the troubled Twilight Zone movie. Passing away this year were director George Cukor (My Fair Lady), Tennessee Williams (Streetcar Named Desire), Gloria Swanson (Sunset Boulevard), actor David Niven (The Guns Of Navarone), Slim Pickens (Blazing Saddles) and director Robert Aldrich (Whatever Happened To Baby Jane?)
1984.  Indiana Jones And The PG13 Of Doom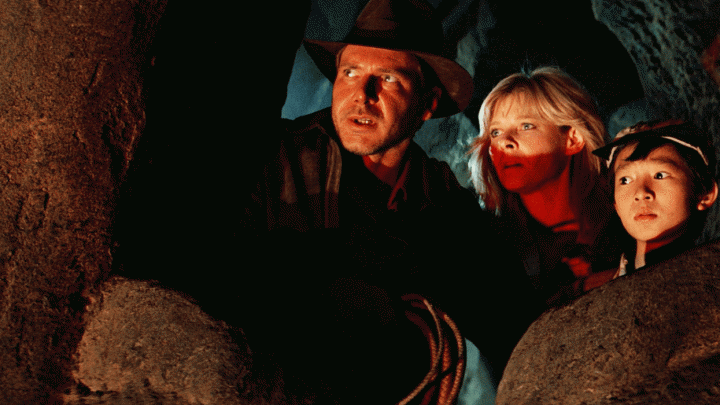 Spielberg's sequel to Raiders Of The Lost Ark, the dark-toned Indiana Jones And The Temple Of Doom, was the film credited with forcing the introduction of a new rating level for the MPAA. Initially rated with PG, the film was re-rated after protest to newly proclaimed PG13, in which films of a higher intensity could be viewed by children as long as they were accompanied by an adult. Temple Of Doom featured numerous scenes deemed too dark for younger audiences – a man's beating heart is ripped from his body, whilst a key scene involved people eating all manner of gross food product including monkey brains and beetles. Although Temple Of Doom is considered by most to be the weakest of the Indiana Jones franchise (some might argue the point about Kingdom Of The Crystal Skull, though), it remains a landmark of the medium thanks to its controversy broadening the rating system and its influence of films to come. Sidebar: it is also suggested that Joe Dante's incredibly dark-but-fun film Gremlins also contributed to the PG13 rating being launched.
Also in 1984: 80's horror icon Freddy Kruger arrived in cinemas with A Nightmare On Elm Street debuting, while David Lynch's abysmal take on Frank Herbert's Dune was both a critical and commercial disaster. Noted sci-fi adventure film The Last Starfighter debuted, taking the start given by TRON and running with it, using copious all-CG effects for many of its outer-space set battle sequences. The NeverEnding Story, one of the 80's most enduring family favourites, blew into cinemas in 1984, as did underdog classic The Karate Kid, Robert Zemeckis' action classic Romancing The Stone, and Eddie Murphy's Beverley Hills Cop. But it would be Ghostbusters, an Ivan Reitman-directed horror-comedy, that remains the year's biggest cinematic spectacle. Disney's first film released under their Touchstone banner, Splash, arrived and starred Tom Hanks and Daryl Hannah. Mozart biopic Amadeus hit the high notes by winning Best Picture, Best Director, Actor (F Murray Abraham), and Adapted Screenplay (Peter Schaffer) among others at the Academy Awards, while Sally Field collected an Oscar for Places In The Heart. Cambodian actor Haing S Ngor would grab Best Supporting Actor for his portrayal of journalist Dith Pran in seminal film The Killing Fields. John Hughes also released his debut "teenage" film, Sixteen Candles. Other notable films of 1984 include 2010 (the sequel to Stanley Kubrick's 2001: A Space Odyssey), Children Of The Corn, Garry Marshall's The Flamingo Kid, Footloose (starring Kevin Bacon), The Muppets Take Manhattan, the original Police Academy, Helen Slater's Supergirl, and The Woman In Red, starring Gene Wilder and Gilda Radner. Original screen Tarzan, Johnny Wiesmuller passed away, as did screen icon William Powell (The Thin Man). Also passing away in 1984 were Jackie Coogan (The Kid), James Mason, Walter Pidgeon (Forbidden Planet), Francois Truffaut (The 400 Blows), and The Wild Bunch director Sam Peckinpah.
1985.  Breakfast At School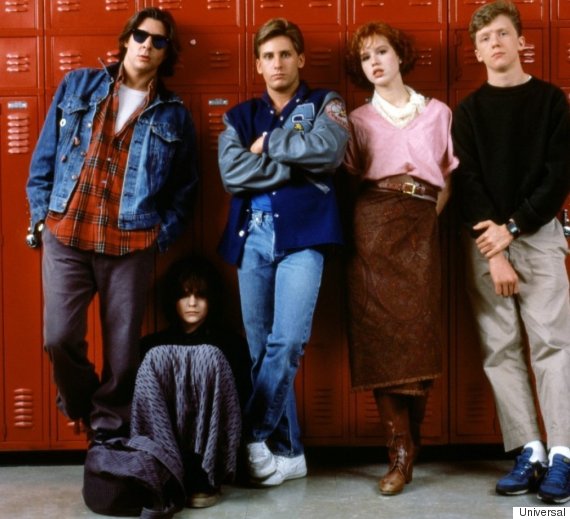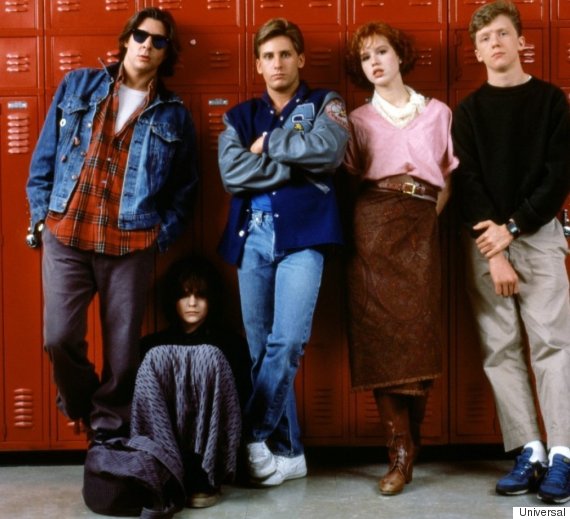 John Hughes' seminal coming-of-age flick The Breakfast Club landed in 1985 and became one of the defining films of the entire decade. Celebrating differences via a forced detention, the film starred talent by the name of Emilio Estevez (part of the Sheen family legacy), Ally Sheedy, Judd Nelson and Hughes' prototypical star Molly Ringwald. Set in an American high-school during a weekend, five students face Saturday detention at the hands of a strict vice principal, played by Paul Gleeson. As the day wears on, each of the students come to realise their similarities despite hanging out in different school cliques, and offered subtext on themes of misunderstood youth, echoing that of Rebel Without A Cause decades earlier. Audiences latched onto the film and it became one of Hughes' most memorable and enduring films, and a touchstone cultural achievement for the decade. Depicting modern teens in such a realistic manner gave similarly aged audiences around the country – the world, even – a sense of empathy and a desire to be heard by their overbearing seniors.
Also in 1985: I'm note sure if you've ever heard of it, but a small film called Back To The Future arrived in cinemas courtesy of director Robert Zemeckis. The film, which became the highest grosser of the year (by a wide, wide margin), would spawn two sequels and even a cartoon series, and catapult Michael J Fox into the A-list. Stallone had a one-two punch with both a Rambo and Rocky sequel arriving in cinemas, while Steven Spielberg's The Color Purple and Ron Howard's Cocoon vied for box-office dominance. Seminal adventure flick The Goonies, helmed by Richard Donner, also made memories with kids seeing it that year. Out Of Africa won Best Picture at the Academy Awards, while William Hurt, Geraldine Page, Don Ameche and Angelica Huston would win acting gongs. Jack Nicholson and Kathleen Turner would win Golden Globes for Prizzi's Honour. Tim Burton's directorial feature debut came with Pee -wee's Big Adventure, Arnold Schwarzenegger would shoot straight in the endlessly quotable Commando, Madonna would appear in Desperately Seeking Susan, Lewis Teague would direct Romancing The Stone sequel Jewel Of The Nile (to lesser success), Richard Chamberlain and Sharon Stone went looking for King Solomon's Mines, Jackie Chan would star in and direct Police Story, while Joel Schumacher would echo the work of John Hughes and release St Elmo's Fire. Roger Moore would feature in his final James Bond film, A View To A Kill, and choose-your-own-ending murder-comedy Clue, starring Tim Curry and a gaggle of B-movie stars, gave audiences a puzzle to solve. The genesis of Pixar occurred during 1985 and 1986, with the company purchased by Apple's Steve Jobs before it became one of the best known animation studios in history in 1995. Passing away in 1985 were The Sound Of Music's Max Detweiller in Richard Haydn, Estelle Evans (To Kill A Mockingbird), George Savalas (Kelly's Heroes), Rock Hudson (Giant), and Lawrence of Arabia producer Sam Spiegel.
1986. Cameron arrives.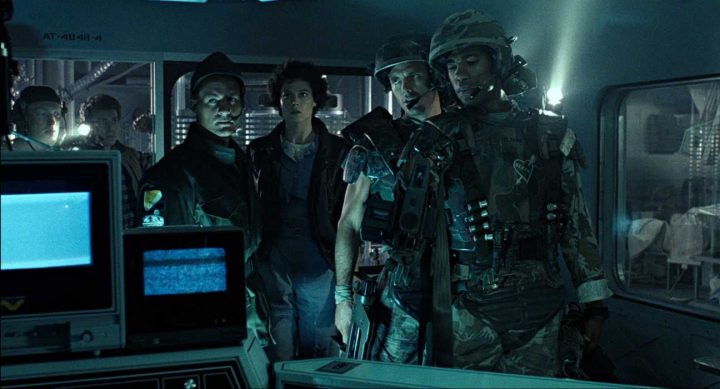 Off the back of success with his sophomore film, The Terminator, director James Cameron turned his attention to a sequel to sci-fi horror film Alien (1979). With Sigourney Weaver reprising her role as strong-willed Ellen Ripley, and starring a new cast of military characters, this all-action sci-fi epic launched Cameron's career into the stratosphere. Shot in England under duress from producing studio 20th Century Fox, and with composer James Horner given just five weeks to put together a score for a film still being edited, Cameron's Aliens became one of the most popular films of 1986 and perhaps one of the great sci-fi films of all time. It would also feature several of Cameron's signature elements: a strong central female character, heightened blue colour schemes and a sense of realism in the tech used within the movie. Alongside Weaver, Aliens also co-starred Michael Biehn, Bill Paxton, Paul Reiser and Lance Henriksen, all of whom would have solid careers following this film. Cameron's famously prickly nature on-set would be tested by the British film crew, all of whom were unionised and worked to different methods than Cameron was used to. Aliens was a monster hit for Fox, and remains one of their most popular catalogue films. A longer director's cut was released on home video several years later.
Also in 1986: The highest grossing film of 1986 was Tony Scott's all-action block-boyster, Top Gun. Co-starring Tom Cruise, Val Kilmer and Kelly McGillis, the film would spawn its own spoof (Hot Shots, with Charlie Sheen in the Cruise role) it would spawn mega-hit tunes with Berlin's "Take My Breath Away," and Kenny Loggins' "Danger Zone". Aussie indie film Crocodile Dundee became a massive international hit, spawning a brief surge in tourism Down Under as well as mainstreaming the "ocker" Aussie iconography. Star Paul Hogan would make two further Dundee sequels but with diminishing returns. Star Trek would venture into the "present day" era USA with The Voyage Home, seeing the time-travelling Enterprise crew on the hunt for some humpback whales to save the world. The world came to know the name of Ferris Bueller, Oliver Stone's Platoon would swing and strike Oscar glory for Best Picture, while George Lucas would produce one of the worst films of the year in Howard The Duck. Marlee Matlin would become the first deaf actress to win an Oscar, for Children Of A Lesser God, while Kim Basinger and Mickey Rourke steamed up the screen in 9½ Weeks. Other notable film releases this year were About Last Night, Martin Scorsese's The Color Of Money, eponymous New Zealand comic-strip Footrot Flat's feature film debut, Jim Henson's Labyrinth (starring Jennifer Connelly and David Bowie), the Tom Hanks/Shelly Long comedy flick The Money Pit, Pretty In Pink, and comedy classic Ruthless People. Pixar Animation's first all-CGI short film, Luxo Jr, made its debut, while traumatised kids reeled from the surprise death of Optimus Prime in The Transformers Movie. Also passing away (in real life) were James Cagney, director Otto Preminger, Sterling Hayden, Benny Goodman and legendary actor Cary Grant.
1987. Don't screw around.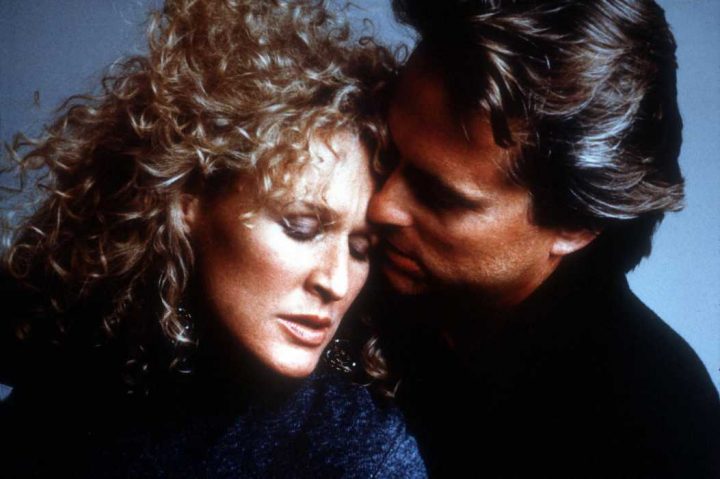 Perhaps paralleling the financial excess of America in the 80's, director Adrian Lyne's Fatal Attraction would provide those living with sexual infidelity with a cautionary tale for the ages. Michael Douglas plays New York attorney Dan Gallagher, supposedly happily married before he has an affair with Glenn Close's Alex Forrest. Their brief affair leads to a psychotic breakdown for Alex when he rebuffs her advances once his wife and daughter return from a trip. It's the film which made many men cross their legs, reconsider their life options before leaping into bed with whichever hot floozy batted her eyes their way; it did for sexual promiscuity what Jaws did for people swimming in the ocean – it scared the shit out of them. Fatal Attraction has been cloned and copied in films down the years since (and well before, too, only to not quite the box-office or polarising acclamation of Fatal Attraction's $150m+ take) and Douglas' on-screen lothario character would find brief reprise in films such as War Of The Roses, Wall Street, and Basic Instinct in 1993. Glenn Close's manic, furious portrayal of a woman scorned earned her an Oscar Nomination, while the film would be nominated for Best Picture, Director, Supporting actress (Anne Archer, as Douglas' wife Beth), and Adapted Screenplay (among others), although it would leave empty-handed.
Also in 1987: Bernardo Bertolucci's The Last Emperor won Best Picture (as well as all eight of the other nominations it was up for) at the Academy Awards, Moonstruck struck gold with both Cher and Olympia Dukakis picking up acting gongs, while Michael Douglas and Sean Connery would win acting awards for Wall Street and The Untouchables respectively. Spielberg's Empire Of The Sun became the first major Hollywood film shot in China, while low-budget dance drama Dirty Dancing became the surprise hit of the year. Three Men And A Baby was the top earner of the year, with Eddie Murphy's Beverley Hills Cop 2, Robin Williams' Good Morning Vietnam and Michael J Fox's financial comedy The Secret Of My Success all made solid bank. Big budget flops became major talking points, with the Warren Beatty and Dustin Hoffman's Ishtar and Bill Cosby's Leonard Part 6 failing badly both critically and commercially. We also lost several huge names in film in 1987, including triple-threat icon Fred Astaire, legendary director John Huston (The Maltese Falcon, Key Largo, Moby Dick and Prizzi's Honor), screen legend Rita Hayworth (Gilda), screen hard-man Lee Marvin (The Dirty Dozen), The Hustler co-star Jackie Gleason, and director Robert Mamoulian (Dr Jekyll & Mr Hyde).
1988.  Nobody Dies Harder Than John McClane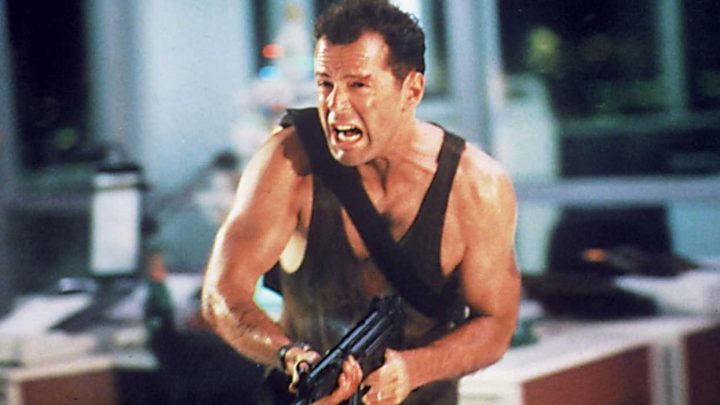 A tectonic shift in action filmmaking reverberated across the film industry with the 1988 release of John McTiernan's seminal genre classic, Die Hard. Starring Bruce Willis as the recently separated John McClane, a New York City cop arriving in Los Angeles to catch up with his estranged wife Holly and their kids, Die Hard saw a bunch of terrorists take over a city high-rise in an attempt to steal billions of dollars. Naturally, a good NYPD gumshoe can't let the bad guys win so he takes it to them with all the weapons he can and a sarcastic wit as a sublime sidedish. McTiernan's film became the template by which all that followed would be judged, thanks to a revolutionary editing style (jump cuts became all the rage for a while there) and brash modern visual dynamics. So impactful was Die Hard's legacy on the action genre that many clones to follow would be quoted by critics and fans as "Die Hard On A ______", with Segal's Under Siege being "Die Hard On A Boat" et al. Die Hard would spawn two legitimately excellent sequels and two average-to-shit ones, and would launch Willis' career as the pre-millennial action star alongside Stallone and Schwarzenegger.
Also in 1988: There's a case to argue that Who Framed Roger Rabbit could equally be considered for Landmark Film of 1988, and I'm not going to stop you. Roger Rabbit's bravura mix of live-action and animation was breathtaking for audiences of the day (and still is), launched a million masturbatory thoughts about a cartoon femme fatale in Jessica Rabbit, and actually same the first on-screen pairing of Mickey Mouse and Bugs Bunny in the same film, in the same frame of film. Safe to say that would never happen today. Robert Zemeckis' fantasy film became the year's second highest earner behind the Tom Cruise/Dustin Hoffman flick Rain Man, while Eddie Murphy (Coming To America), Tom Hanks (Big) and Arnold Schwarzenegger (Twins) all had major film successes. Rain Man conquered the Oscars winning Best Picture, Best Director (Barry Levinson) and Best Actor (Hoffman), while Jodie Foster (The Accused), Kevin Kline (A Fish Called Wanda) and Geena Davis (The Accidental Tourist) also snagged wins. Tom Cruise's other big hit of the year, Cocktail, was blessed with the infamous Golden Raspberry for Worst Film. Other notable cinematic releases of 1988 include seminal Japanese anime film Akira, Tim Burton's Beetlejuice, Gorillas In The Mist (with Sigourney Weaver as Dian Fossey), Don Bluth's dinosaur animated kiddie flick The Land Before Time, Michael Jackson's Moonwalker, and Ron Howard's fantasy adventure Willow. 1988 saw the implementation of the Film Preservation Act in which the National Film Preservation Board would annually select 25 films worthy of consideration for treasure status. Pixar released it's short film Tin Toy (a precursor to Toy Story), which also saw the first use of CGI to depict a humanistic figure. Among the Hollywood luminaries passing away in 1988, were British actor Trevor Howard (Gandhi), American porn actor John Holmes, voice actor Daws Butler, German actor Gert Frobe (James Bond's archnemesis Goldfinger), animator Eric Larson (Snow White) and John Carradine (Stagecoach).
1989. The Grim Dark Knight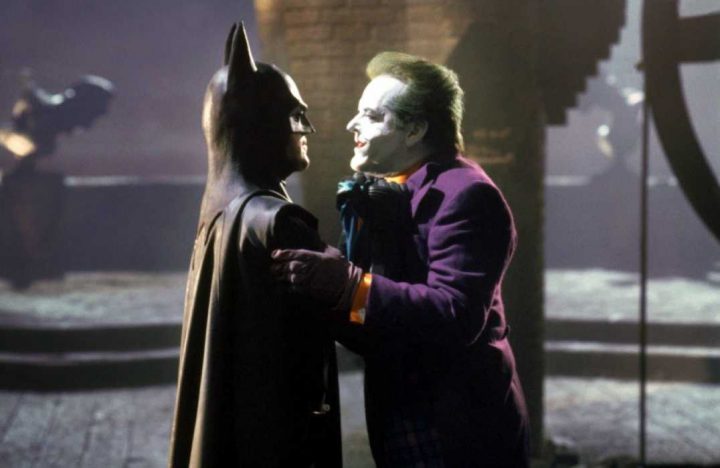 The superhero comic book film genre would find re-invigoration with Tim Burton's blockbusting big-screen version of Batman, starring Michael Keaton as the Caped Crusader and Jack Nicholson as his nemesis, The Joker. Although popular since the 70's Superman era, comic book films had stagnated to a degree in the decade since, and so Burton's futuristic, modern, crowd-pleasingly effective Batman movie brought with is a sense that heroes need not always be bright, campy, overly humorous adventures when serious themes and adult sensibilities could work just as well. Batman would become the year's second highest earner and spawn four direct sequels, before the franchise was rebooted in Christopher Nolan's Batman Begins. Burton's Gothic sensibilities and sense of the macabre would fit seamlessly into Batman's crime-ridden world of insanity; the film also sported a pop-song soundtrack by Prince, had an enormous marketing campaign across fast food, toys and comic books, and became the new benchmark for comic book movies in the years since.
Also in 1989: Laid-back nostalgic drama Driving Miss Daisy not only gave us Jessica Tandy's most memorable modern performance, it also introduced the world to Morgan Freeman, undoubtedly the world's most awesome actor after Jeff Goldblum. It also snagged Best Picture over Oliver Stone's Born On The Fourth of July, while Tandy would snag Best Actress as well. 1989 saw the merger of Warner Communications and Time Inc, forming the largest conglomerate in the world, Time/Warner. We witnessed the beginning of the 90's Disney Renaissance with the release of The Little Mermaid (which would be followed up by super-hits Aladdin, The Lion King and Beauty & The Beast), while Indiana Jones returned to the top of the box-office heap with The Last Crusade, the most successful film of the year. Baseball became the theme of the moment with the release of Bull Durham in 1988, the spoof comedy Major League in 1989, and Field Of Dreams. Timothy Dalton's tenure as James Bond came to a halt with only his second film, Licence To Kill, with legal wrangling typing the franchise up until the release of GoldenEye in 1996. William Shatner stepped behind the camera as director for the fifth Star Trek feature film, The Final Frontier, a critical disaster but a commercial success (barely), while talking baby comedy Look Who's Talking became the year's big sleeper hit. Other notable films to be released in 1989 include Ghostbusters II, Back To The Future Part 2, seminal Robin William's drama Dead Poets Society, Weekend At Bernies, James Cameron's The Abyss, the Christopher Walken alien abduction film Communion, and the Daniel Day-Lewis film that gave us a new Method actor superstar, My Left Foot. Passing away in 1989 were influential actor, writer and director John Cassavetes, Blazing Saddles director Jack Starret, Gilda Radner, voice of every cartoon character you ever loved Mel Blanc, UK acting legend Laurence Olivier, and Lee Van Cleef (The Good The Bad And The Ugly).
Related articles
Who wrote this?