Movie Review – Fate Of The Furious, The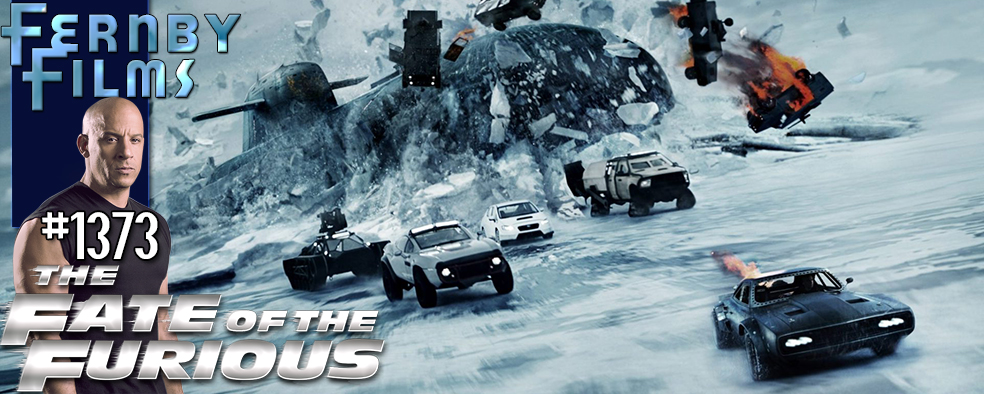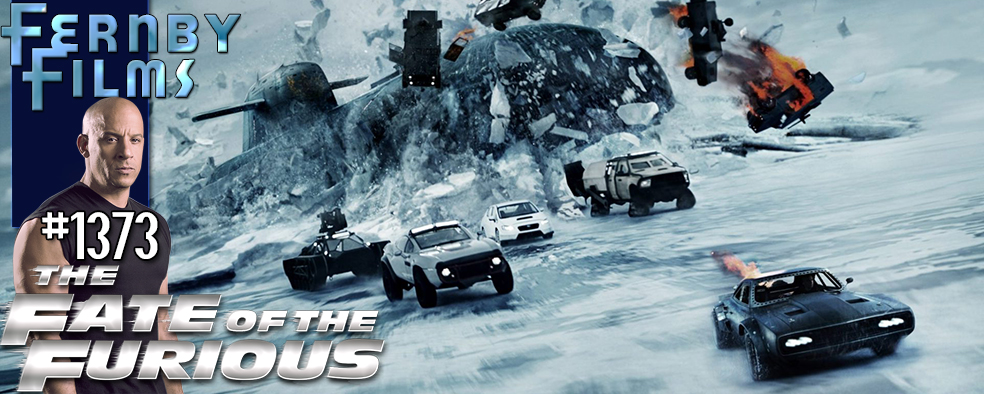 Director :   F Gary Gray
Year Of Release :   2017
Principal Cast :  Vin Diesel, Dwayne Johnson, Jason Statham, Michelle Rodriguez, Tyrese Gibson, Chris "Ludacris" Bridges, Scott Eastwood, Nathalie Emmanuelle, Elsa Pataky, Kurt Russell, Charlize Theron, Tego Calderon, Kristofer Hivju, Don Omar, Luke Evans.
Approx Running Time :   128 Minutes
Synopsis:  When a mysterious woman seduces Dom into the world of terrorism and a betrayal of those closest to him, the crew face trials that will test them as never before.
*****
As the modern pinnacle of "big dumb fun", the Fast & Furious movies continue to be an absolute gold mine for Universal, who would never have imagined their little car-racing flick from 2001 would become one of the most successful and critically popular franchises not currently owned by Disney. If you can believe it, we're staring down the stickshift of the eighth film in this series, a staggering achievement for a franchise not Harry Potter or James Bond, and while many sagas of such venerability might sag or suffer the effects of wear and tear, magically the Furious lads just keep reinventing themselves. Even the tragedy of Paul Walker's passing couldn't dent the positivity surrounding Furious 7, bringing in over a billion dollars globally to make it the most successful film in the saga: Fate Of The Furious, which sees almost all the previous cast return in their respective roles, attempts to top the nutball stunts of its predecessors (including that hugely fun car-safe-chase sequence from Fast 5, the "they've got a tank!" sequence in Fast 6, and the twin-towers-car-jump scene in Fast 7) and give audiences the adrenalised cinematic thrills they've paid their money to see.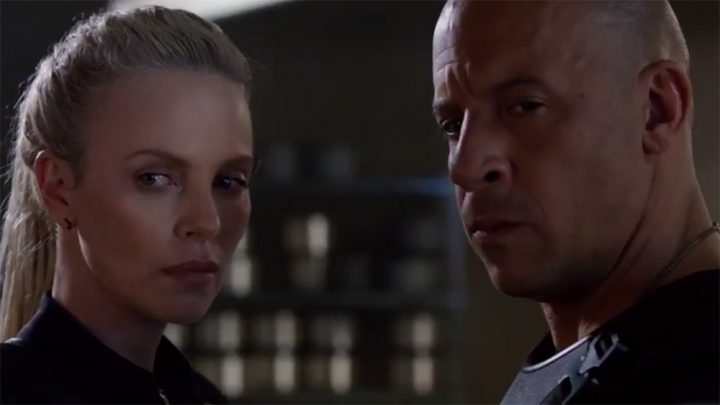 Dominic Teretto (Diesel) and girlfriend Letty (Michelle Rodriguez) are whiling away their days in Cuba, when Dom is accosted by a mysterious cyber hacker known as Cipher (Charlize Theron), who turns him away from is family and crew. When Hobbs (Dwayne Johnson) and the rest of Dom's crew steal an EMP from a secret German location, Dom goes rogue and turns his back on his friends. Hobbs breaks free of imprisonment alongside Deckerd Shaw (Jason Statham) and are seconded by Mr Nobody (Kurt Russell) to hunt down Dom and Cipher and retrieve the EMP, before it reduces a major city to a war zone.
Vehicular mayhem never looked so great: incoming director F Gary Grey's turn at the helm of this destruction monster is an absolute blast! Thunderous, delirious, driven (ha!) by the franchise's long-running theme of family and delivering wholeheartedly on the promise of explosive, concussive fun, Fate Of The Furious is slam-bang car-carnage and the by all that's holy it delivers.
You'd never expect a Fast film to have any real kind of emotional wallop, given the films to-date have leaned towards cardboard characters and the most tenuous of familial links. Through careful massaging, however, we've all come to love this motley crew in their various adventures, and through equally careful plotting we continue to give them a pass for their outlandish actions and behaviour. "Big dumb fun" needn't be the tough mental slog of a Transformers movie, and the Furious film have proven this over and over. Because we care about these characters, we invest in their outcomes, and that makes us thrill to their escapades. Bay could learn a thing or two from this stuff. Fate Of The Furious tests out heroes by taking them out of their comfort zone (kinda); Dom going rogue is explained in a way that feels natural, and as with previous films at least one supporting player bites it permanently. The stakes, as such, are raised considerably by the addition of both an EMP and the codes to a nuclear submarine's weaponry: yep, Hobbs, Letty (Michelle Rodriguez) and the gang are trying to avert World War III.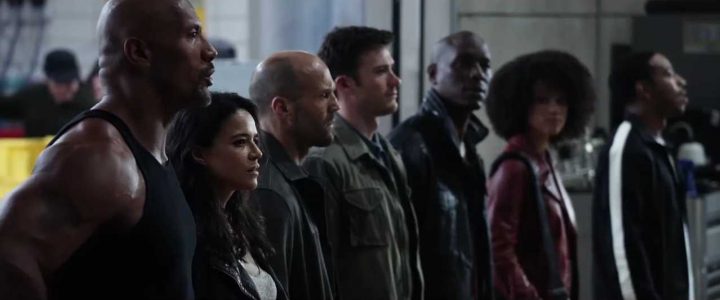 Joining Diesel, Rodriguez, Tyrese Gibson, Ludacris and Johnson are newcomers Charlize Theron as the odious, truly nasty Cipher, and Scott Eastwood as an underling of Kurt Russell's Mr Nobody; Theron has a ball being totally evil, whilst Eastwood plays against type as the less-experienced agent learning the rules of espionage. Game of Thrones actor Kristof Hivju also has a blast playing Cipher's sadistic enforcer, although his confrontation at film's end with Diesel isn't anywhere near as cathartic as I'd hoped it might be. Returning cast members also include Jason Statham as Deckard Shaw, Nathalie Emmanuelle as fellow hacker Ramsey, and a number of cameo appearances that link the threads of previous films together in a way that feels natural. There ain't no Academy Award-worthy acting here, but everyone does their job and does it well, and the focus can continue to be on the brain-melting action sequences.
Speaking of action, F Gary Grey's work here is thoroughly in keeping with the established franchise aesthetic. Gray's handling of the concussive action sequences, from the opening "street race" through Havana, to a New York pursuit and finally onto the ice fields of Russian territory, the film blasts along with barely a gasp for breath. Gray re-teams with The Italian Job star Theron to provide perhaps the nastiest villain in the franchise to-date, and A Man Apart's Diesel in possibly the most humanising version of Toretto we've seen thus far. This isn't to say walking block of timber Diesel deviates from the established role he's honed over the last 16 years, but the addition of the film's central story element (no spoilers!) brings with it a natural maturation for Dom that could pave the way for more interesting (if typically superficial) character development down the track. Gray amps up the tension and thrills with possibly the most muscular directorial effort since John Singleton's 2 Fast 2 Furious.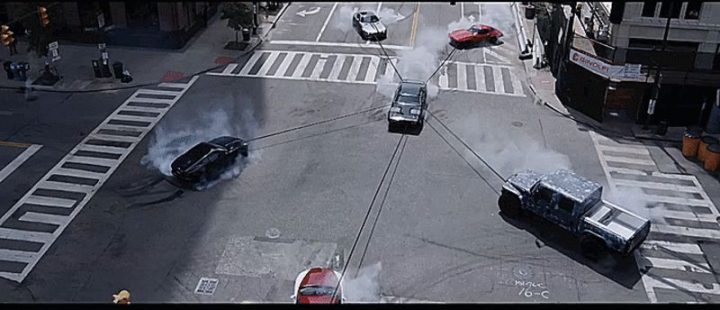 Whereas previous directorial stalwart Justin Lin's flashy, neon-infused style and Fast 7's James Wan's flight-of-fancy-tinged-with-sadness effort righted a ship lurching badly following Tokyo Drift's lacklustre appeal, Gray's established Hollywood style and solid, frictionless ability to coherently display the most incoherent physics-defying screen events yet grant him latitude to flex his popcorn-flick muscle. Not since the aforementioned The Italian Job (which, I might add, also re-teams the director with Jason Statham) has Gray's stewardship of a film felt so effortless, although in fairness Straight Out Of Compton was an entirely different kind of film. It's good to see the man who gave us The Negotiator and Law Abiding Citizen return to a genre of film with which he's unfettered by restraint. Fate Of The Furious is the very antithesis of restraint.
MacGuffin's aside, Fate of The Furious' jaw-dropping stunt sequences and pulse-pounding multi-thread narratives make for compulsive, explosive viewing. Comparisons with previous films  in the franchise are inevitable at this point, and I'm loathe to suggest the eight film is the equal of the bogglingly-insane stuff we saw in the previous two films at least, but Fate stands as a film that sits comfortably within that universe and offers enjoyment, escapism and entertainment of the highest order. Load it up, lock it in, and enjoy.
Related articles
Who wrote this?