Movie Review – John Wick Chapter 4

Principal Cast : Keanu Reeves, Donnie Yen, Bill Skarsgard, Laurence Fishburne, Hiroyuki Sanada, Shamier Anderson, Lance Reddick, Rina Sawayama, Scott Adkins, Ian McShane, Clancy Brown, Natalia Tena, Marko Zaror.
Synopsis: John Wick uncovers a path to defeating The High Table. But before he can earn his freedom, Wick must face off against a new enemy with powerful alliances across the globe and forces that turn old friends into foes.
********
The third sequel in the increasingly bombastic John Wick franchise, led by a monotone Keanu Reeves in arguably his coolest role since that of The Matrix' Neo, Chapter 4 delivers impossibly protracted action sequences that boggle the mind through its near-three-hour runtime, a staggering achievement in a film genre where audience excitement typically wanes past the 120-minute mark. Whereas the original John Wick was a ragged, bristling revenge thriller pumped full of vicious gunplay and headshots, Chapter 4 is a bursting orgy of well-choreographed, bloodthirsty violence, stunning stuntwork, gorgeous cinematography and editing, and sublime casting on all fronts; this third sequel almost threatens to topple with the franchise's now expected myth-making and world-building, but director Chad Stahelski, who helmed each film prior to this, creates an emotionally poignant and rambunctiously effective tsunami of style, substance and sweet, sweet carnage in this ever-building climax of wanton death and delight.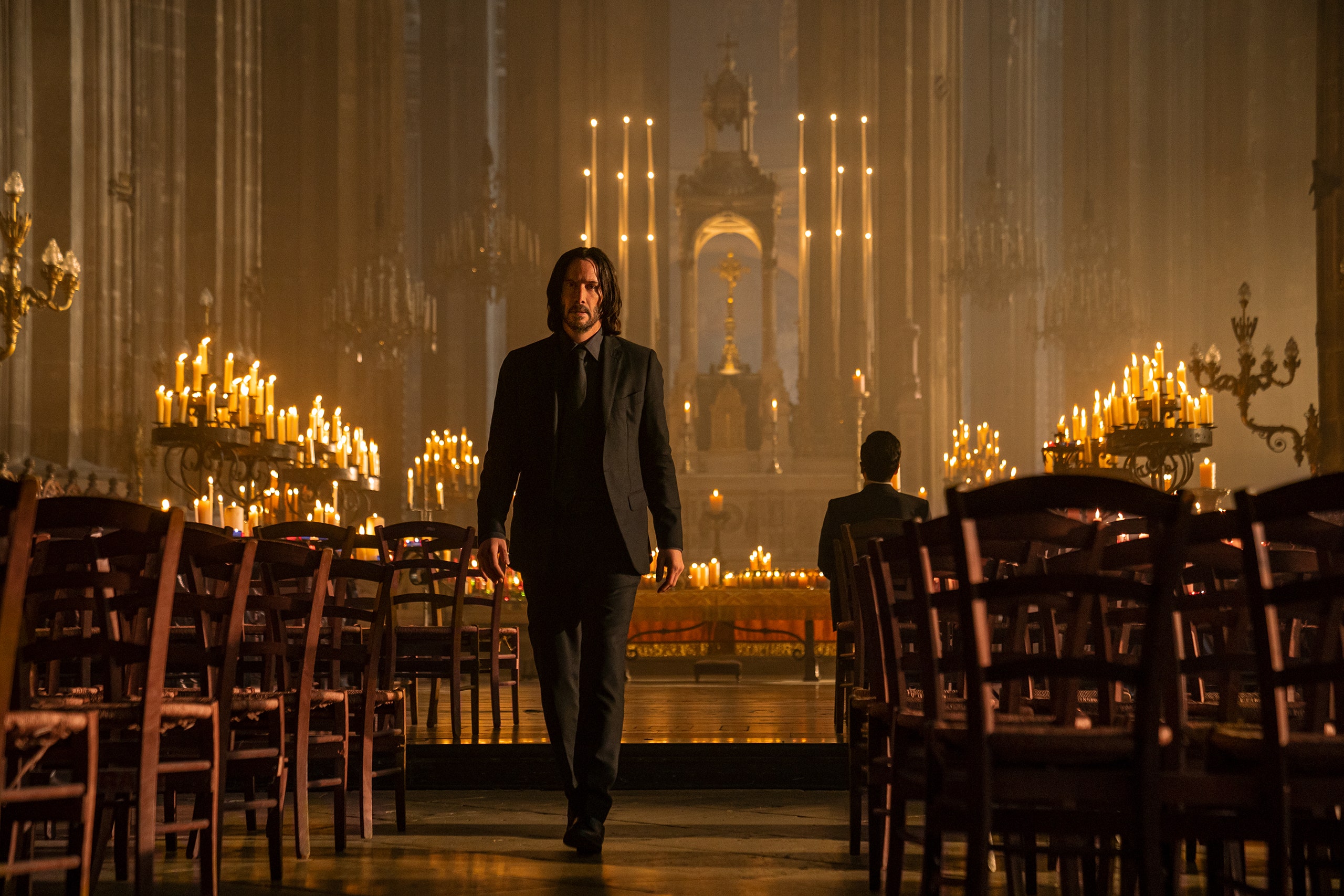 At the end of Chapter 3: Parabellum, John Wick is on the run from the High Table, the head of the league of assassins to which Wick was formerly a member (see the events of John Wick). With the assistance of the Bowery King (Laurence Fishburn) and New York City's Continental Manager (Ian McShane), Wick starts his crusade to bring down the High Table by assassinating one of the Elders, leading to the arrival on-scene of The Marquis (Bill Skarsgard), an ambitious and venal toady who tries to pull Wick's world apart. Pursued across the globe, Wick initially takes refuge in a Continental in Osaka, operated by old friend Shimazu Koji (Hiroyuki Sanada) and his daughter Akira (Rina Sawayama), but is attacked by another assassin, the out-of-retirement Caine (Donnie Yen), and other members of the High Table's henchmen. Eventually, cornered in Paris, John, who is pursued by tracker Mr Nobody (Shamier Anderson), steps into all-out war on the streets of the French capital, as the bounty on his head leads a legion of wannabe executioners his way.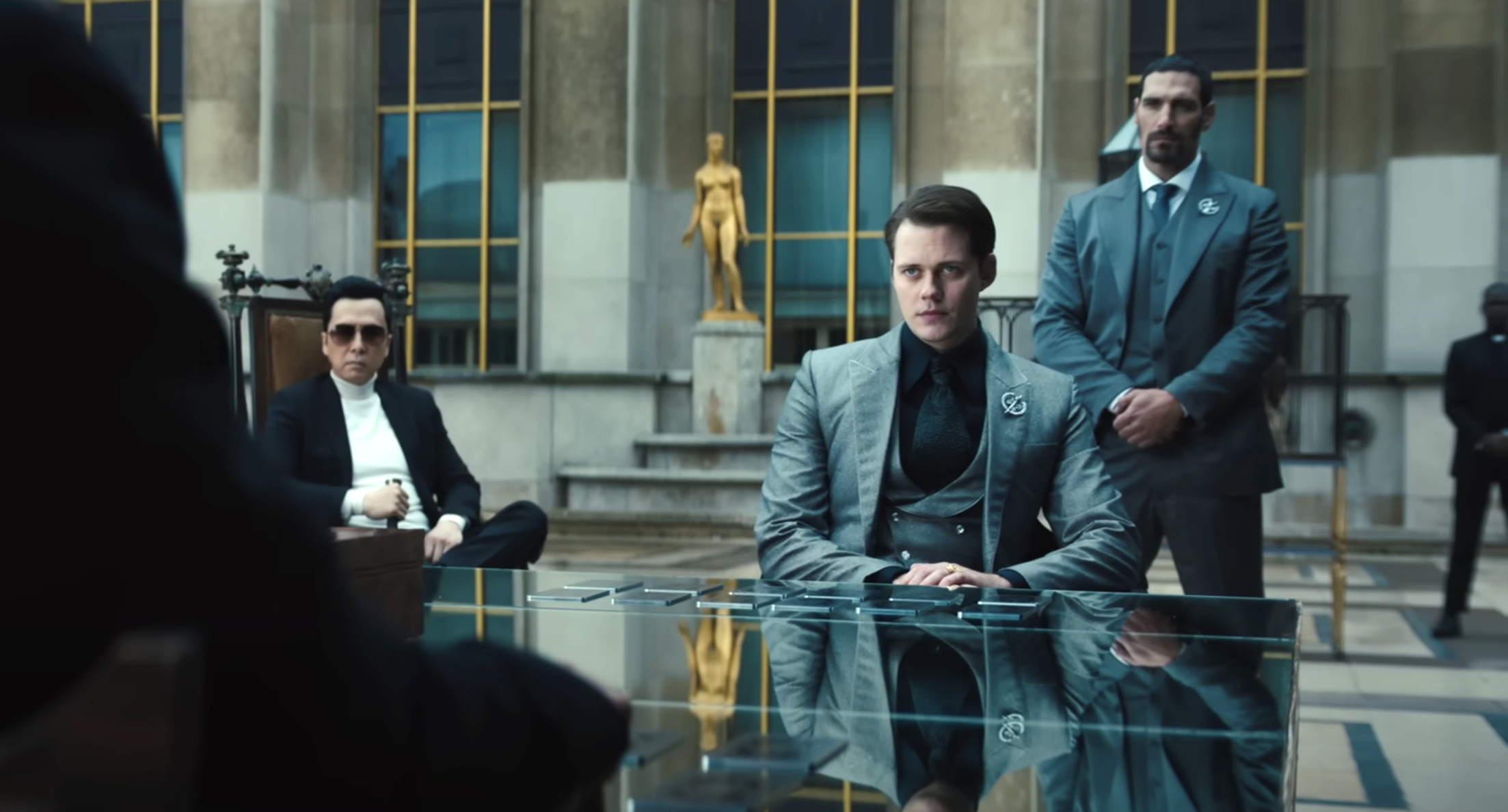 Chapter 4 is, by all known review metrics, an action masterpiece. Regardless of your opinion of the franchise's sudden predilection for making John Wick a practically invulnerable uber-hero, or that one of the series' big asks is that various character wear bulletproof bespoke suits that look like they've just fallen off the rack at Armani, the technical virtuosity at work in this film is at least several orders of magnitude more aggressive than the three films preceding it combined. Stahelski has opted for a legitimate kitchen-sink approach to Chapter 4, a showcase of action editing, the most bruising, battering fight sequences committed to film in a decade, an avalanche of kills, and some of the most jaw-dropping moments a genre film has delivered in living memory. A top-down single-take action sequence in a decrepit apartment building featuring a shotgun known only as "Dragon's Breath" has to be see to be believed, and will absolutely leave you floored, it's so mesmerising; and it isn't even the highlight of the movie! Stahelski and his team take us from New York, to Japan, to the desert of Africa, and to the European continent in a global chase for the head of John Wick, and it's a credit to production designer Kevin Kavanaugh that he makes his expansive and expensive sets work as well as they do. Coupled with cinematographer Dan Lausten's sublime work in shooting the film – every frame looks like some manga fever-dream, it's so wonderful – and Nathan Orloff's pulse-pounding editing, Stahelski's magnum opus Wick-venture is a classic for the ages.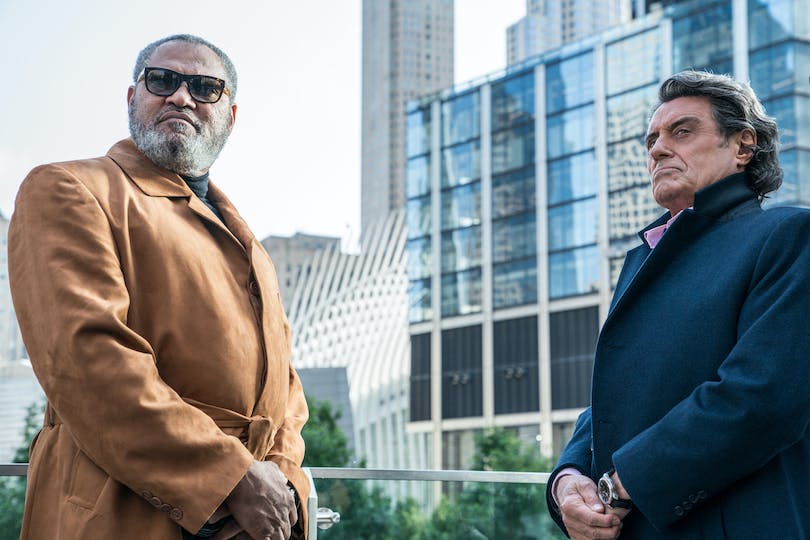 The writing on the John Wick franchise has never been the strongest aspect of the series, let's be honest. The film's have always looked cool, sounded awesome and delivered some mind-blowing action sequences, sure, but Shakespeare they are not. Screenwriters Shay Hatten and Michael Finch don't try to reinvent the wheel here either, making John and his delicious supporting character roster simply as cool as hell. The emotional hook for Wick himself has largely been absent since the conclusion of the first film – he gets revenge for the death of his dog, obviously – and through both the second and third film you could kind of feel the writers were trying to up the ante with pure world-building more than giving our hero something to latch onto emotionally. Chapter 4 reasserts the motivation for John's journey and sets the bow in the right direction: his own release from the world of the High Table, something which can only come about with his death (if you believe Ian McShane's grouchy Manager character!). Chapter 4 endeavours for a catharsis, of sorts, and the deliverance of said catharsis by the end of the film makes for a satisfying conclusion to this four-film journey. I mean, we all know this won't be the last of the John Wick films, not by a long stretch, but Chapter 4 doesn't leave us on a cliffhanger like Parabellum did, instead resolving before the end credits. Even a lightweight post-credit stinger doesn't make the audience want for more, despite an all-too-obvious "spin-off!" klaxon being rung. If you were to watch all four John Wick films in a row you'd find the natural conclusion here a pretty decent place to stop.
But this isn't a film about story, not really. This, like its hurly-burly antecedents, is a film about cool one-liners, blockbusting action and everyone looking suave as hell. Chapter 4 delivers on every front. The actors all absolutely chew the scenery with every single scene, knowing exactly what kind of film they're in and going for broke with all but the most obvious eyebrow-raising, moustache-twirling over-the-top performances audiences will accept, and if nothing else Chapter 4 is worth it just for the chance to see Donnie Yen, Clancy Brown, Keanu and Ian McShane together in a single movie. Reportedly there is a much longer 255-minute cut of Chapter 4 that expands on the sidebar characters' introductions and backstory a lot moreso than what is offered in this theatrical edition, and I'd say had the film been much longer than it is it would have lost a lot of value to the viewer: Chapter 4 does something very few action films manage to accomplish, and that's maintaining audience interest with very cliched characters for such a long time, and ensuring the major action sequences deliver rousing excitement at all times. As far as the film's MVP goes, I'd say the title here belongs to Bill Skarsgard, as the Marquis, as cruel and sadistic a villain as we've had in all these films and arguably the best kind of foil for John Wick's stoic aesthetic. Ian McShane and Clancy Brown seem to be having fun in their respective roles, Donnie Yen is fantastic as the blind but deadly Caine, Scott Adkins has a blast as the fat-suited and gold-toothed Killa, and seeing the late Lance Reddick again, in his final film appearance, is melancholy indeed. As Wick, Reeves proves he's one of the hardest working and nicest men in showbusiness; while Wick doesn't show much emotion or even say many.. you know, words, Reeves imbues his reluctant killing machine with enough mournful and resigned manifest destiny allure to make the actor's limited range just work for the part. And he absolutely kills it in the film's protracted and exhaustive action sequences.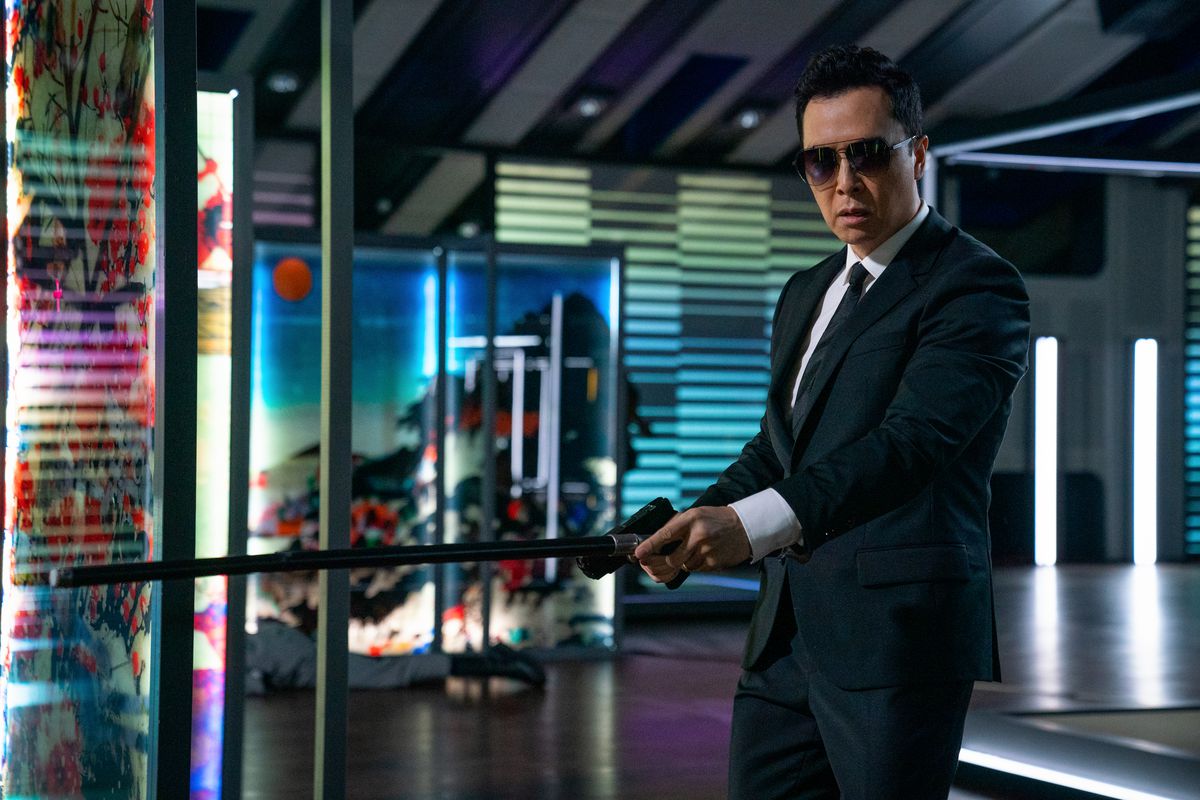 Indeed, if you strip away the "acting", the style and the plot machinations, in pure action and thunderous entertainment John Wick Chapter 4 is an absolute gem. Violent, gritty and loud as hell, Chapter 4's seemingly endless faceless-henchmen sent to battle John Wick all meet their match (okay, that's not really a spoiler) with Stahelski's thunderous sound design and sublime action camerawork. This film is a technical marvel, from it's opening riff on Lawrence of Arabia's iconic match-cut to the sunrise above Paris' Sacré-Cœur, through an incredible car-and-gun battle down the Champs-Elysees and the Arc de Triomphe, a startling attack on the hotel in Osaka, a hilariously over-the-top staircase battle between Wick, Caine and what seems like ten thousand baddies, and it's easily one of the best cases for the Academy Of Motion Pictures to finally introduce an Oscar category for stuntwork in cinema. Major, and I mean major props to the stunt teams employed on this film, they truly represented themselves well. The film ratchets up from relatively low key action to bit-by-bit, moment by moment, deliver one of the truly great showdown climaxes of any film in the last five years – Stahelski and his team redefine "showstopping" and it is glorious.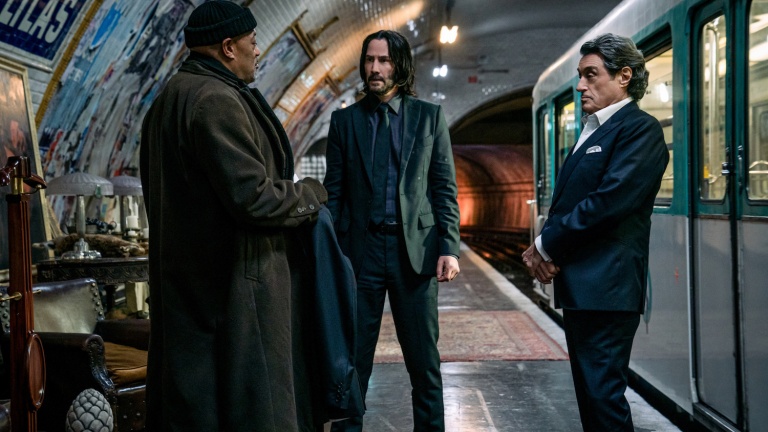 John Wick: Chapter 4 is a remarkably entertaining piece of action cinema. The thunderous sound design, glorious production value and whirlpool of increasingly jaw-dropping action sequences make for an almost instant classic of the genre, and a sequel that easily bests the three films to come before it. An almost perfect action film, this is a deliriously lurid capstone for the John Wick franchise, and I would go so far as to suggest it's already one of the best films of 2023. It'll be hard to top Wick's finale.
Who wrote this?