Landmark Films Of The 20th Century – 1990-1999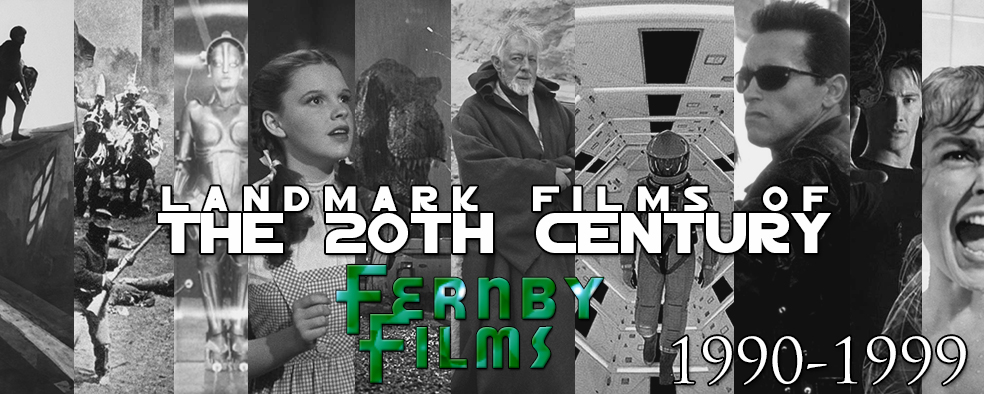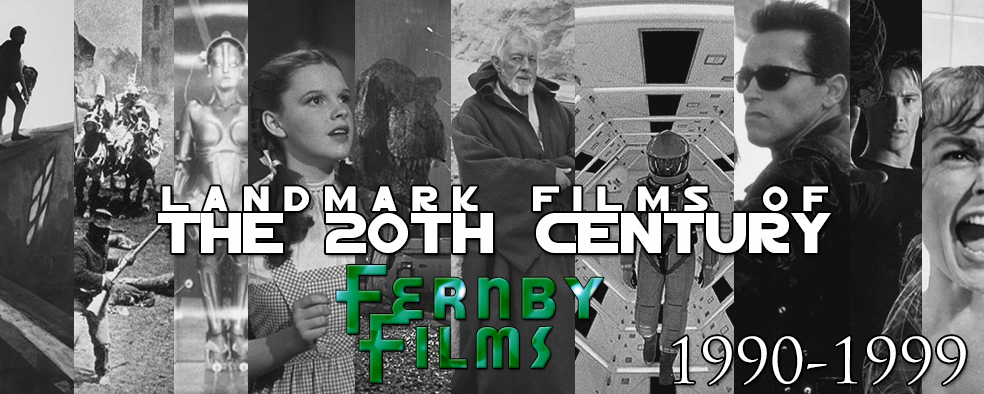 In this, the tenth and final instalment in our series on landmark films of the 20th Century, we identify films that set new benchmarks and new ways for film-makers to tell their stories – from editing, to sound, to visual effects, the 100 films we've unearthed are considered either classics (or should be) that changed the landscape of film forever. The films listed herein represent annual landmark achievements in cinema – they may not be the "best" films of that year, but they represent a leap forward in cinematic technique or technology that is worth considerable attention.
If the 80's represented an explosion of creative prowess in world cinema, then the 90's epitomised the true manifestation of the Blockbuster Era. Event cinema, in which marketing became the driving force behind studio expenditure, as well as crossover merchandising from Happy Meal toys to all kinds of electronic and media-packaged tie-ins, led the way, with each successive year featuring a new box-office-record setting film and a leap forward in visual effects. The 90's were the last great age of practical effects, before the ubiquitous computer generated effects, which were initially horribly expensive, became cheap enough to allow all manner of fantastic imagery to be produced with relative ease. As the world lurched towards the pandemonium of Y2K, and the potentially apocalyptic "Millennium Bug", we swept into an era of mp3, email, http and DVD. Milli Vanilli faked it, Mandela escaped it, Princess Diana kicked it, OJ Simpson killed it, Tiger Woods amazed us, Clinton's little stain came back to haunt him, and Titanic became the biggest movie of all time. The USSR collapsed into Russia, Rodney King's little beat-up made America go nuts, Mad Cow disease strikes the UK and caused all kinds of economic ripples, while in 1999 we saw the chilling pictures of the Columbine High School massacre, one of the deadliest of its kind and a precursor to the daily war on guns that would unfold in the years since.
Part X – 1990-1999
1990.  Disney's Rescuers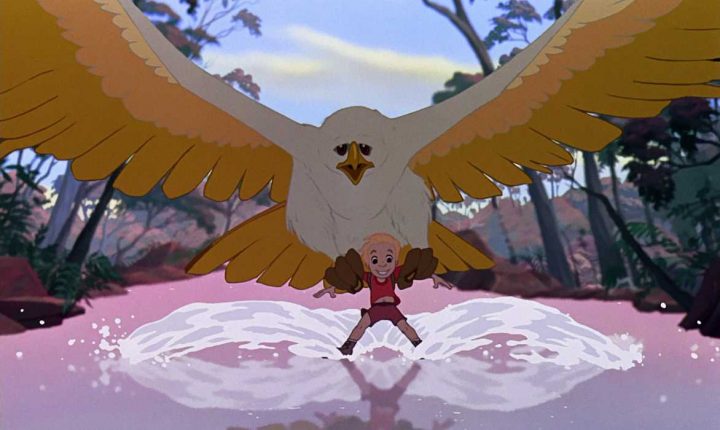 While it might not have had the financial success of other films of 1990, Disney's animated entry, The Rescuers Down Under, is a major milestone not only for the company but the medium of animated film. The Rescuers Down Under was the studio's first theatrically released sequel – traditionally, Disney sequels were (and would continue to be) released direct-to-video – after the 1977 film The Rescuers. It would also become the first animated film to use CAPS, the Computer Animated Production System, whereby ink and cels were replaced by digital colouring and in-the-computer frames. The wholly digital animated film (as opposed to the CGI Toy Story a few years later) would be a financial disappointment despite releasing after The Little Mermaid, and met ambivalent reviews. As a technical exercise, however, The Rescuers Down Under is a remarkable transition from the reliable ink-n-paint style which had served the genre for nearly a century.
Also in 1990: A tumultuous beginning of the year for Tom Cruise, divorcing his wife Mimi Rogers in February, before marrying Days Of Thunder co-star Nicole Kidman in December, while Kevin Costner became everyone's favourite White Saviour with American epic Dances With Wolves, the eventual Oscar-winner for Best Picture. Whoopi, Demi and Pat topped the box-office in Ghost, while Macauley Culkin cheek-slapped his way into everyone's hearts as the little boy left Home Alone. We had our fill of the Pretty Woman, Arnold Schwarzenegger struggled with Martian adventure in Total Recall, James Cann and Kathy Bates got cosy in Misery, eponymous Frenchman Gerard Depardieu tried to woo Andy McDowell for his Green Card, while Edward Scissorhands began the close creative relationship between star Johnny Depp (appearing alongside Winona Ryder and Vincent Price, in the latter's final film role) and director Tim Burton. Gangsters made their mark again with the release of Scorsese's Goodfellas and the third Godfather film, and the concluding chapter of the Back To The Future trilogy entered cinemas. Passing away in 1990 were screen greats Barbara Stanwyck, Greta Garbo, Ava Gardner, Sammy Davis Jr and Rex Harrison, while the world mourned the loss of creative genius Jim Henson as well.
1991. The T-1000 Leaves Its Mark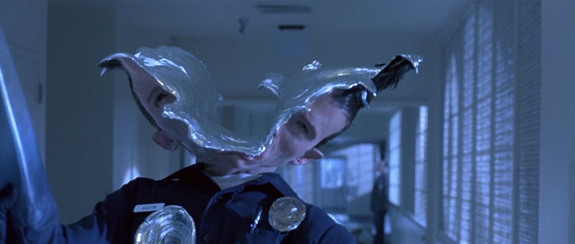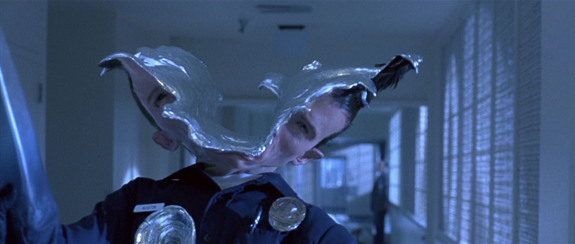 James Cameron enters our Landmark Series again with the hugely successful sequel to his low-budget 80's classic, Terminator. In Terminator 2: Judgement Day, Cameron utilised nascent computer effects to provide the visual morphing of Robert Patrick's T-1000, the nemesis of returning star Arnold Schwarzenegger's earlier model. The film was a startling mix of high-octane action and unbelievably cool visual effects, most of which surrounded the T-1000's ability to morph into whatever shape or design it wanted, and created a compelling, unstoppable screen villain that was worthy of the name. It was the first time CG had been used to create a film's main character, and T2 would also be the first film to break the $100m mark in production costs. Hardly a worry: the film was the highest domestic earner of the year, grossing over half a billion in box-office. The film was also noted for its bravura vision of a nuclear holocaust (a vision had by star Linda Hamilton's Sarah Connor) and the actual demolition of an office block in a massive fireball by the production.
Also in 1991: Silence of The Lambs was the defining Oscar-film of the year, winning the Big Five (Picture, Director, Leading Actor, Leading Actress and Screenplay) and the first film to do so since It Happened One Night and One Flew Over The Cuckoo's Nest. Disney's Beauty & The Beast would become the first animated film to be nominated for a Best Picture Oscar (the genre would receive its own category in later years, much to purists' dismay), Costner would rally again for a tilt at awards in Oliver Stone's inflammatory JFK, while he'd garner boffo box-office in the decade's best Robin Hood flick, The Prince Of Thieves. Other notable films of 1991 include Sleeping With The Enemy, Oliver Stone's The Doors, kids-v-terrorist classic Toy Soldiers, feminist action romp Thelma & Louise, comedy classic City Slickers, adventure film The Rocketeer, Katherine Bigelow's action film Point Break, cutsey-pie comedy Curly Sue, Martin Scorsese's remake of Cape Fear, and Spielberg's Peter Pan family film, Hook. Passing away in 1991 were legendary directors David Lean (Lawrence Of Arabia) and Frank Capra (It Happened One Night, Mr Deeds Goes To Washington), while we also mourned the passing of Don Siegel (director of Dirty Harry), Peggy Ashcroft, Star Trek creator Gene Roddenberry, and German actor Klaus Kinski (Nosferatu).
1992. The advent of Dolby Digital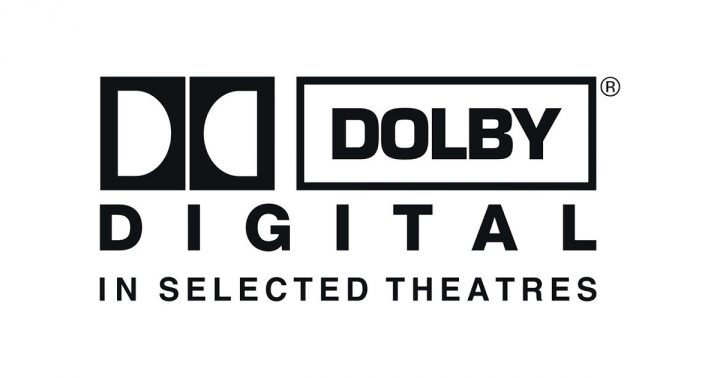 While advances in digital visual technology were still embryonic, the quality of theatrical sound reproduction had been improving since the introduction of stereophonic and analogue surround sound during the 70's and 80's. In 1992, film audio came into the digital age, with the introduction of the first discrete digital audio mix in 5.1 sound, with Tim Burton's Batman Returns. Offering a huge improvement over analogue sound, Dolby Laboratories brought their high end sound reproduction to a landmark point in its history, providing audiences with an immersive, sonic wonderland and a new aural landscape for future sound designers to play with. Dolby Digital became the default audio codec for theatrical film, eventually also for DVD software in 1997, and in the years since has morphed into lossless versions including Dolby Digital EX (with matrixed center-rear channels), Dolby True HD (available on HD BluRay discs), and most recently Dolby Atmos, allowing ceiling mounted height channels to create an even more immersive sound experience.
Also in 1992: Popular songbird Whitney Houston would crossover into film with her starring role in the Kevin Costner vehicle The Bodyguard, delivering a powerhouse rendition of the Dolly Parton classic "I Will Always Love You" that would become a standard and billboard chart-topper. It would come in second only to Disney's Aladdin as the highest earner of the year, while Macauley Culkin's runaway sequel Home Alone 2: Lost In New York, and sex-themed twisty thriller Basic Instinct, complete with Sharon Stone's infamous leg-crossing scene, entered into the top four. Clint Eastwood's retro-Western, following on quickly from Dances With Wolves' success two years earlier, in Unforgiven, would snag Best Picture and Director at the Oscars, while Scent Of A Woman and The Player also dominated other award ceremonies. The Lawnmower Man, starring Pierce Brosnan, would introduce Body Motion Capture technology to the silver screen for the first time, a technology perfected in time for Peter Jackson's Lord Of The Rings version of Gollum nearly a decade later. In Hollywood, scandal erupted around esoteric director Woody Allen, who separated from his lover of 12 years, Mia Farrow (Rosemary's Baby), after declaring his love for his adopted daughter Soon-Yi Previn. The scandal and its fallout would follow Allen around the rest of his career. According to statistics, American households spent more on rented video tapes than they did at the domestic box-office for the first time, making Hollywood sit up and take notice of this new gravy train, while long time Hollywood icon Marlene Dietrich, star of films such as Destry Rides Again and Touch Of Evil, passed away aged 90. Also departing this mortal coil in 1992 were Dracula actor Teddy Turner, Indiana Jones co-star Denholm Elliot, Disney almum Sterling Holloway, and actor Robert F Simon.
1993. Dinosaurs in DTS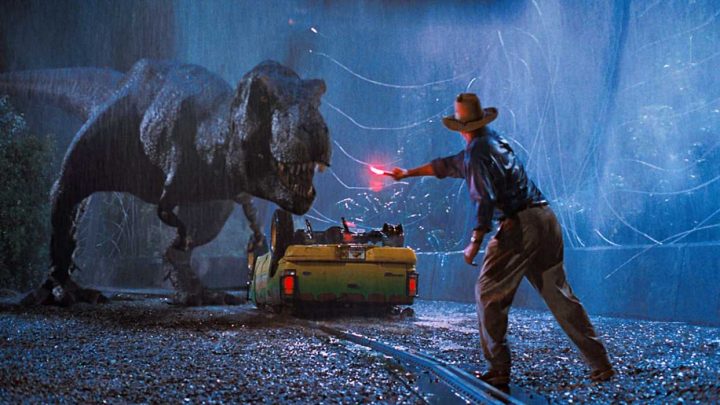 Steven Spielberg himself was responsible for yet another paradigm shift in the cinematic landscape in 1993. Releasing not one, but two feature films in a single calendar year, Spielberg swept the Oscars with his searing war masterpiece Schindler's List, but gave audiences a cinematic rollercoaster with his dinosaur epic Jurassic Park. Jurassic Park was a landmark film for two reasons: it presented for the first time photorealistic dinosaurs on screen using a mixture of puppetry and state-of-the-art CG effects, and it was also the film that introduced the world to DTS, a competitor of Dolby Digital in cinematic audio presentation. DTS (or Digital Theatre Systems) had developed its own proprietary 5.1 sound systems using a bitcode and a DVD-ROM accompanying the film's projection. Whereas a Dolby Digital soundtrack would be encoded onto the film stock itself, a DTS soundtrack, with much less compression, would be housed on a disc and synced up via a special code on the film stock – saving space on the film negative and giving full range audio that critics suggested was acutely better than that offered by Dolby. DTS and Dolby's audio war lasted well into the era of DVD, with DTS becoming the defacto audio codec for many HD BluRay discs, leaving Dolby primarily used as a DVD equivalent. Of course, DTS followed a similar arc to Dolby in developing better codecs for more discrete channel options, including DTS-ES (matrixed rear channels), DTS-MA (Master Audio used on BluRay discs), and DTS:X, which is a similar version of audio reproduction to Dolby Atmos. Jurassic Park's vivid rendition of extinct animals via computer graphics finally gave audiences the experience in move magic the technology could capture, and it ushered in a new era of CGI for film production. Spielberg's adventure classic grossed over a billion dollars domestic, making it the most successful film of all time, taking over the mantle from Spielberg's 80's classic ET. Only in 1997, with James Cameron's Titanic, would the title be removed.
Also in 1993: Alongside Jurassic Park, the year's biggest box-office takers included comedies (Mrs Doubtfire), action staples (Cliffhanger, The Fugitive), dramatic knockouts (Indecent Proposal) and the first serious mainstream examination of the HIV-AIDS epidemic, in Philadelphia, which would see star Tom Hanks snag his first Oscar acting win. Conversely, Super Mario Bros became the first licensed Video Game Movie (although time has not been kind to it at all), and Norah Ephron's effortlessly romantic film Sleepless In Seattle would re-team Tom Hanks and Meg Ryan (following 1990's Joe Vs The Volcano) for a sleeper hit. In tech news, Lost In Yonkers became the first film to be edited digitally (using an AVID) rather than the time-honoured method of cutting actual film, allowing a film to be cut using a computer, while James Cameron would join with computing giant IBM and Stan Winston to form visual effects studio Digital Domain, a competitor to industry leader Industrial Light And Magic. Tragedy struck with the sudden death of young actor River Phoenix (Stand By Me, Indiana Jones & The Last Crusade) on the footpath outside a Los Angeles nightclub, while Hollywood Madam Heidi Fleiss sent ripples through the industry following her arrest for drug possession, and possible tell-all revelations on the rich and powerful in Hollywood. 1993 also saw the passing of luminaries such as Brandon Lee (on the set of Alex Proyas' film The Crow), Audrey Hepburn, Andre The Giant (The Princess Bride), Victor Maddern (Chitty Chitty Bang Bang), Bill Bixby, and Moses Gunn (The Neverending Story).
1994. The Lion Roars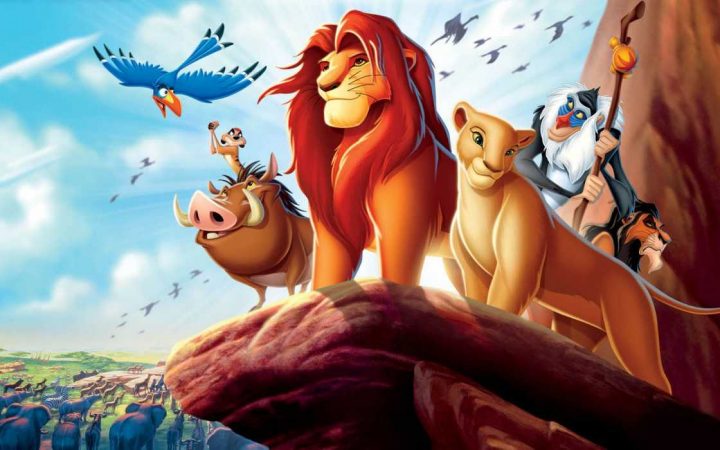 In 1994, Disney became the first studio to gross a billion dollars at the box office, and this came in no small part to the release of one of the most successful animated films of all time (still). The Lion King, a relatively low-key film production on the studio lot, would go on to become the highest earner of the year and the most successful animated film in history, grossing nearly a billion dollars and making squillions in merchandising and tie-in product placement. The soundtrack to the film, composed by Hans Zimmer with songs by pop song icon Elton John, and lyricist Tim Rice, would become the highest selling soundtrack album of the year and the fourth highest album overall; with the film's title track, "Circle Of Life", reaching well into the US and UK Billboard charts that year. The film utilised computer animated sequences (notably, the wildebeest stampede around which much of the film's plot hangs) and a stunning voice cast, led by Jeremy Irons as the villainous Scar, Home Improvement's Jonathan Taylor Thomas and Matthew Broderick as young and old Simba respectively, and James Earl Jones as Simba's father, Mufasa. Also noteworthy: the film marked the first time a major character was depicted dead on-screen – typically, a character's death was delivered away from impressionable children's eyes, but for the first time kids could witness the heartbreak Simba felt when his father was killed by Scar. The Lion King marked yet another high point in what would become known as the Disney Renaissance, a period of huge financial and creative success for the studio during the decade.
Also in 1994: Three Hollywood heavyweights – Steven Spielberg, music mogul David Geffen and ex-Disney executive Jeffrey Katzenberg – combined forces to give Hollywood a new film studio, DramWorks-SKG. Eventually shortened to simply DreamWorks (and even later still selling off the live-action component of its film production in favour of animated films), the new studio's first feature film would be Mimi Leder's The Peacemaker (with George Clooney and Nicole Kidman). DreamWorks would be the first new major studio in Hollywood in over 50 years. Forrest Gump ruled awards season in 1994, winning not only Best Picture and Director (and actor for Tom Hanks) at the Oscars, but also the Golden Globes in the dramatic categories as well. James Cameron's spy thriller True Lies, starring Arnold Schwarzenegger and Jamie Lee Curtis, battled for box office supremacy against Jim Carrey's sophomore film effort, The Mask, Keanu Reeves' action flick Speed, and Brit-com Four Weddings & A Funeral. Other notable films to release in 1994 include Ace Ventura: Pet Detective, Richard Donner's Maverick (starring Mel Gibson and Jodie Foster), the live-action Flintstones comedy (starring John Goodman and Rick Moranis) Lawrence Kasdan's sprawling epic western Wyatt Earp (Kevin Costner, making a habit of appearing in epic American films), the ill-fated Bruce Willis Basic Instinct-wannabe Color Of Night (with Jane March), action adventures TimeCop and Terminal Velocity, Roland Emmerich's sci-fi classic Stargate, and Edward Zwick's all-time romantic/wartime/dramatic epic Legends Of The Fall. 1994 also marked the breakout film of one Quentin Tarantino, in Pulp Fiction, a sophomore effort that handed careers back to John Travolta, Samuel L Jackson, and Eric Stoltz, and made non-linear narrative storytelling the concept of the year. Leaving us this year were '66 Batman series Joker Caesar Romero, actor William Conrad, Citizen Kane star Joseph Cotton, George Peppard (Breakfast At Tiffany's), composer Henry Mancini, Jessica Tandy, and English actor Sebastian Shaw, best known as the face of Annakin Skywalker in Return of The Jedi.
1995. Toy Time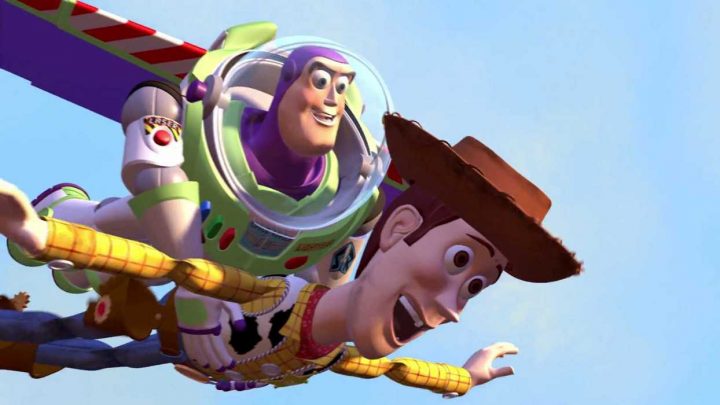 Although it might seem silly to imagine, there was once a time when cinema existed without the constant presence of CG animated films. Films such as Shrek, Kung Fu Panda, Finding Dory and a host of others wouldn't have been possible without the breakthrough release of the world's first all-CG animated film, Toy Story. Released by Pixar, Toy Story's splendid story, terrific voice cast and astonishing animation (for the time) led it to become the box office champ of the year. The technological innovation behind the film was astounding, both in precision and sheer processing power required to accomplish a fully animated-inside-a-computer film for major cinematic release. Pixar's success in this led to the creation by newly formed Dreamworks SKG to tap another Californian studio, PDI, to make what would eventually become Shrek. And thus, the Big Bang of animated CG film took place, and the cinema landscape hasn't been the same since. Although Toy Story's visuals remain strong (except for their human character), the advances in technology from 1995 to now has meant that many new CG film are able to approach photorealism to the degree they're nearly indistinguishable from the real thing. The impact Toy Story had on cinema, and on film in general, was seismic and perhaps the single greatest innovation in film of the decade.
Also in 1995: Mel Gibson's Braveheart trampled the year into submission  by winning Best Picture and Best Director at the Oscars, while John McClane returned to the screen (alongside a screaming Samuel L Jackson) in Die Hard With A Vengeance, the third of the films in the action franchise. Pierce Brosnan finally got his chance as James Bond in GoldenEye, rebooting the series following the departure of Timothy Dalton in the role. Camp returned to the Batman franchise with Joel Schumacher's hugely successful but entirely divisive Batman Forever, starring Val Kilmer as Bruce Wayne, Jim Carrey as the Riddler, and Tommy Lee Jones as Two-Face. Evening up the ledger was David Fincher's post-Alien 3 effort, Se7en, horrifying and captivating audiences around the world, while Kevin Costner's Waterworld was a massive commercial disaster at the box-office, due in part to the film's bloated budget (topping some $170m) and audience apathy. Nic Cage won Best Actor at the Oscars, Susan Sarandon snagged the Best Actress gong for Dead Man Walking, while Mira Sorvino became the darling of the industry taking out Best Supporting Actress for Woody Allen's Mighty Aphrodite. Other notable films released in 1995 include Bryan Singer's The Usual Suspects, Paul Verhoeven's sex flop Showgirls, the first IMAX-3D film Wings Of Courage, F Gary Gray's ubiquitous Friday (starring Ice Cube and Chris Tucker), Disney's big-budget Pocahontas, Sylvester Stallone's Judge Dredd, early internet paranoia flick The Net (with Sandra Bullock), and Renny Harlin's monumentally unsuccessful pirate flick, Cutthroat Island. Passing away this year were acting icons Donald Pleasence (The Great Escape, Halloween), Ginger Rogers (Top Hat), Lana Turner (The Postman Always Rings Twice), and Dean Martin (Ocean's 11).
1996.  Today, we celebrate.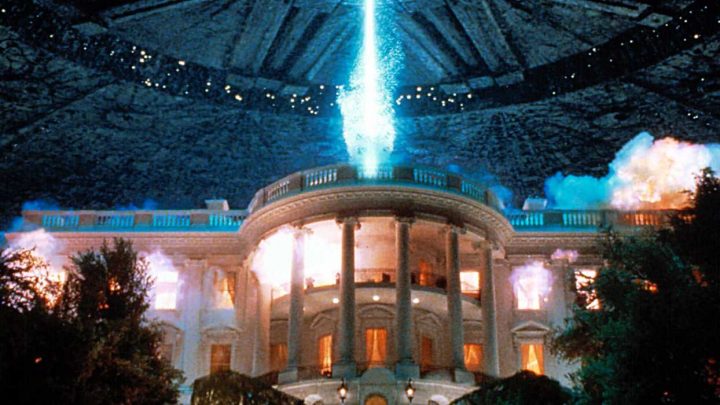 If Toy Story celebrated the new and technologically impossible, then Independence Day celebrated the old-school method. ID4, a hugely hyped destructo-flick directed by Roland Emmerich, arrived to great fanfare in 1996, promising the utter annihilation of major Earth landmarks including the White House, New York, Los Angeles, Paris…. well, you get the idea. Essentially a big-budget alien invasion film, ID4 boasted not only state of the art CG effects but also one of the last major productions to feature large-scale practical visual effects. Not only did ID4 capture the zeitgeist of the year and audience rapture (it doubled the box-office take of nearly every other film released that year), it became an instant classic thanks largely to its memorable visual sequences of destruction, the cheesy acting performances and dialogue (Bill Pullman's Presidential speech is one of cinema's best remembered, and most stirring, monologues) but also its patriotic verve and Americana. Indeed, ID4 came along well before the idea of American imperialism became such an on-the-nose topic globally, and marked the gradual decline of the superpower's influence as a creative typhoon in the cinematic landscape.
Also in 1996:  The Academy selected Anthony Minghella's The English Patient as the best film of the year (and was rewarded in most other award ceremonies as well), while Aussie actor Geoffrey Rush (Shine), Frances McDormand (Fargo), Cuba Gooding Jr (Jerry McGuire) and Juliette Binoche (The English Patient) all collected acting gongs. Bill Paxton and Helen Hunt had to survive the effects in Twister, Tom Cruise dangled precariously in Brian DePalma's Mission: Impossible reboot, while Disney released the animated Hunchback Of Notre Dame and the live action 101 Dalmations to huge success. John Woo showcased his brand of Hollywood action with Broken Arrow, Tim Curry brandished his cutlass for Muppets Treasure Island, Steven Seagal made a lasting impression in Executive Decision, while DragonHeart provided yet another breakthrough in visual effects with the computer generated Draco (voiced by Sean Connery) being a better actor than either Dennis Quaid or Dina Meyer, and Arnold Schwarzenegger shot digital 'gators in the action thriller Eraser. Marlon Brando fat-acted his way through John Frankenheimer's hugely disappointing Island Of Dr Moreau, everyone was toe-tapping to That Thing You Do, everyone wanted Mel Gibson to go nuts in Ransom, and Billy Bob Thornton cemented himself as an actor to watch in Sling Blade. Wes Craven's career resurgence arrived in the form of Scream (a film so successful it spawned three sequels!) and we witnessed Milos Foreman delving into the life of famous pornographer Larry Flint, in The People Vs Larry Flint. Passing away in 1996 were icons Gene Kelly (Singin' In the Rain), comedian George Burns (Oh God!), and Claudette Colbert (It Happened One Night).
1997.  King of The World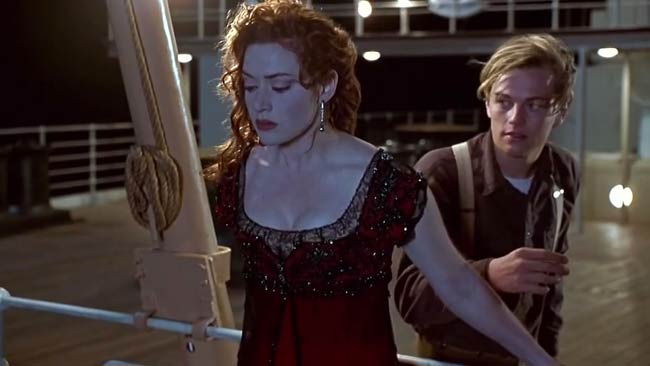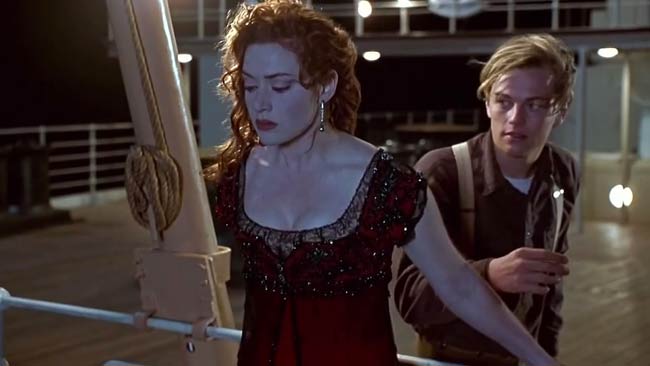 An undeniable box-office behemoth and cultural juggernaut, James Cameron's Titanic would become the highest-grossing film of all time and make superstars of lead actors Leonardo DiCaprio and Kate Winslet. A landmark of production design, visual effects, and cultural absorption (it was impossible to go anywhere without the saturation of Titanic's marketing being apparent) and award season glory, Titanic was a global event film unlike almost any other before it. The film crossed boundaries of social, economic and religious ideologies, it became popular among history buffs, teens seeking masturbatory solace in DiCaprio's youthful hotness, action fans and the older brigade looking for a classic "romantic" movie to go see with their families. Stories of people seeing it every day for months on end became routine, and Cameron himself became obsessed with the vessel, so-much-so that he funded a deep-sea mission to explore the wreck as documented in his follow-up film, Ghosts Of The Abyss. In the end, Titanic would snare 11 Oscars (equalling the record set by Ben Hur, and only equalled since by Peter Jackson's finale of Lord of The Rings), and make Cameron the most globally successful director of all time.
Also in 1997: Digital technology surpassed analogue yet again in 1997, with the wide release of the first commercially available DVD's, a new disc-based format set to supplant VHS by the early 2000's. Although the new DVD's had been released in Japan the year before, 1997 marked the first global release for tech connoisseurs. Among the first films on DVD in Australia were Jim Carrey's The Mask and David Fincher's Se7en. George Lucas also courted controversy by releasing "Special Editions" of his famed Star Wars Trilogy, complete with cosmetic upgrades, newly inserted scenes, and Han Solo betraying his own character by shooting second to Greedo in the Mos Eisley Cantina. Spielberg's sequel to Jurassic Park, entitled The Lost World, did big box-office but was largely ambivalent in the eyes of critics, while Men In Black, Brosnan's second Bond outing Tomorrow Never Dies and Harrison Ford's Presidential action thriller Air Force One all made a landing in the top earners of the year. DreamWorks released their first film, The Peacemaker, starring George Clooney and Nicole Kidman, Luc Besson's The Fifth Element gave the world its first taste of Milla Jovovich, Boogie Nights would show us all more than we needed to see (ha!), and Jack Nicholson and Helen Hunt would snare Oscar gongs for their acting in As Good As It Gets. Clint Eastwood would court the Presidential scandal of Absolute Power, Jim Carrey forgot how to deceive in Liar Liar, Tommy Lee Jones battled absurdist mother nature in Volcano, we had our minds blown by the first Austin Powers movie, Nic Cage put the bunny back in the box in Con Air, while Brendan Fraser's inexplicable career continued with his comedic Tarzan parody, George of The Jungle. We all copped a load of The Full Monty, classy actors copped out of Cop Land, and Kevin Sorbo transcended the small screen status of Hercules to land the title role of Kull The Conqueror. Al Pacino shouted his way through The Devil's Advocate (alongside a sexy Charlize Theron and a nonplussed Keanu Reeves), Alien Resurrection effectively buried the Alien franchise for a while, and nobody on Earth gave a crap about Home Alone 3. Among the cinema luminaries we lost in 1997 were uber-producer Alexander Salkind (Superman), Dalek creator Terry Nation, Irish actor Edward Mulhare, and in July, both Robert Mitchum and Hollywood icon Jimmy Stewart died within 24 hours.
1998.  Rescuing Matt Damon… again.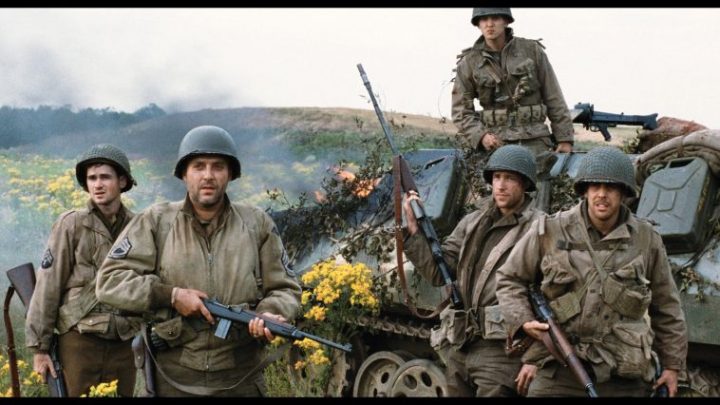 Saving Private Ryan remains one of the greatest war films of all time. This despite being snubbed by the Academy Of Motion Pictures in favour of a Gwyneth Paltrow movie; Spielberg's World War II epic brought a complete change to the way filmmakers and audiences experienced the horrors of war. Starring Tom Hanks, Tom Sizemore and Matt Damon as the titular Private Ryan, the film explored the brutality of war through a series of horrifying battle sequences, but also the camaraderie (short-lived as it was) and mateship (short-lived as it was) of soldiers in battle – beginning with the Allied landing at Normandy and following Hanks' platoon of soldiers cross-country mission to rescue Damon's Ryan and send him back to America, Spielberg's jittery cinematography and unflinching portrayal of war would send shockwaves through audiences worldwide. The film would snag Spielberg a Best Directing Oscar, as well as gongs for sound mixing, sound editing and film editing. Such was the impact of Saving Private Ryan, many filmmakers would appropriate the visual style Spielberg employed to reflect their own stories – see Ridley Scott's Black Hawk Down, in the first instance – and ensure that war was given appropriate menace when depicted on film. Sidebar: the success of Saving Private Ryan would see Spielberg and Hanks produce the 12-part miniseries Band Of Brothers, employing similar visual aesthetic, which itself would be followed by The Pacific years later.
Also in 1998:  Duelling asteroid films did monster business in 1998 – Michael Bay's Armageddon became the box-office champ, while Mimi Leder's comparatively circumspect Deep Impact landed solidly as well. Sony's attempt to redo Godzilla met with nice business but was eviscerated by franchise fans, critics, and just about anybody else with a brain, while Pixar's pint-sized A Bugs' Life solidified the fledgling film studio as a big player in the industry. Mel Gibson and Danny Glover proved they were too old for this shit by saddling up for a fourth Lethal Weapon film, Judi Dench snagged an Oscar for quite possibly the least amount of screen time in Shakespeare In Love (the film that would also somehow manage to be Best Picture of the year….sigh), and everyone went gaga for Italian maestro Roberto Begnini's Life In Beautiful. Ill-conceived sequel The Blues Brothers 2000 dashed the hopes and dreams of millions, Wild Things steamed up the screen and screwed up our minds, DreamWorks landed Antz (a kinda-competing film with A Bugs' Life), Liam Neeson growled his way through a non-singing version of Les Miserables, Jim Carrey lived in the bubble of The Truman Show, Scully and Mulder hit the big-screen in The X Files movie, Samuel L Jackson called in The Negotiator, Drew Barrymore was content to live happily Ever After, Wesley Snipes personified Blade, and Robert DeNiro appeared alongside Jean Reno, Sean Bean and Stellan Skarsgaard in John Frankenheimer's car-chase classic, Ronin. In tech news, eventual internet giant Google debuted, as did Netflix' business decision to post rental DVD's to customers. Among the legends we lost in 1998 were Western star Roy Rogers, triple-threat Frank Sinatra, and Japanese director Akira Kurosawa.
1999.  What is the Matrix?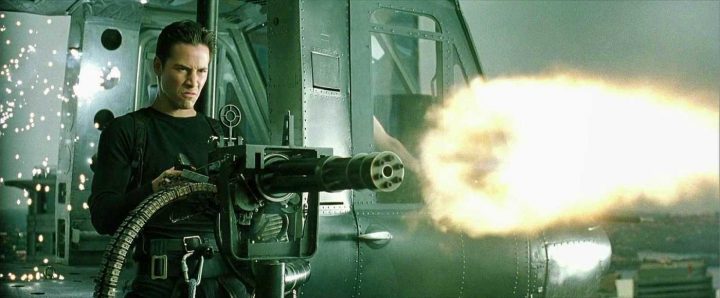 The final entry in our Landmark Film series is reserved for the sci-fi juggernaut that was The Matrix. The Wachowski Brothers, Larry and Andy, unleashed upon the world their passion project featuring a complex, incredibly dense narrative of human apocalypse, enslavement and rebellion, as well as state-of-the-art visual effects and the kind of intellectual overstuffedness studio executives must read nervously. Starring Keanu Reeves, Laurence Fishburne and Carrie-Anne Moss, the film became yet another cultural earthquake in cinematic storytelling. The Wachowskis were renowned for their recluse behaviour only added to the film's mystique; the action sequences were slam-bang popcorn munching excellence, while the story and character would become pored over by philosophers, religious writers, social examination and all manner of Big Thinkers as the multi-stranded subtexts and parallels unravelled on the screen. Hugo Weaving's Agent Smith became one of the decades most memorable screen villains, while Keanu Reeves' iconic bullet-time moment found itself parodied and imitated in films years later. The film would spawn two less-memorable sequels a few years later (as well as a minor webseries dedicated to telling stories aside from the Neo/Morpheus/Trinity arc, set within the Matrix universe) and give filmmakers yet another kick in the pants to produce quality science fiction films for audiences willing to lap them up.
Also in 1999: Stanley Kubrick's long-in-production, controversially sexual final film Eyes Wide Shut landed and effectively let us peek into the relationship between real-life husband-and-wife star duo Tom Cruise and Nicole Kidman, who would divorce soon afterwards. Kubrick died shortly before the film was released (but made it to finish the film's editing and post-production) and Eyes Wide Shut became his highest grossing film, largely due to inquisitive viewers seeking an insight into Kubrick's work. George Lucas' enormously hyped, hugely anticipated new Star Wars film, the first in a planned trilogy of prequels to the original three, The Phantom Menace, became the year's record-shattering highest box-office champ, but was roundly condemned by disappointed fans. Disney's Tarzan swung high, Pixar's Toy Story 2 surpassed the original film's box-office take, Brendan Fraser and Rachel Weisz took on The Mummy, Bond decided that The World Is Not Enough, and Kevin Spacey held us transfixed in eventual Best Picture winner American Beauty. Hilary Swank and Angelina Jolie both took home deserving acting Oscars, while David Fincher's anarchic Fight Club took the world by storm both theatrically and on it's eventual DVD release. Terrence Malick emerged from a self-imposed exile to drop big-budget war film The Thin Red Line, and The Blair Witch Project stormed into cinemas off the back of believable internet viral marketing (the first film to do so with any success) and became one of the most successful low-budget films of all time. We laughed along with the teenage hijinks of American Pie, shocked ourselves silly with M Night Shyamalan's The Sixth Sense, enjoyed Hugh Grant's fantasy wish-fulfilment in Notting Hill, soared with The Iron Giant, and endured a plethora of Y2K themed films including Stigmata and End Of Days. Passing away in 1999 were the original Lone Ranger Clayton Moore, long-time film critic Gene Siskel, Jurassic Park co-star Bob Peck, Star Trek star DeForest Kelley, Blazing Saddles actress Madeline Kahn, James Bond's Q in Desmond Llewellyn, and original film Superman Kirk Alyn.
Related articles
Who wrote this?