Movie Review – In The Heights
Usnavi, a sympathetic New York bodega owner, saves every penny every day as he imagines and sings about a better life.

Principal Cast : Anthony Ramos, Corey Hawkins, Leslie Grace, Melissa Barrera, Olga Merediz, Daphne Rubin-Vega, Gregory Diaz IV, Marc Anthony, Jimmy Smits, Stephanie Beatriz, Dascha Polanco, Noah Catala, Lin-Manuel Miranda, Mateo Gomez, Christopher Jackson, Ariana Greenblatt, Ariana S Gomez.
Synopsis: Usnavi, a sympathetic New York bodega owner, saves every penny every day as he imagines and sings about a better life.
********
Another west side story.
Off the back of his enormous success with Hamilton, released last year on Disney+ to popularity equal to the box-office receipts from its ongoing Broadway run, Lin-Manuel Miranda's golden touch turns to the big-screen adaptation of his earlier stage work In The Heights, a toe-tapping feel-good character piece set in the sweltering bodegas and tenements of New York City's upper West Side. Directed by Crazy Rich Asians helmer Jon Chu and featuring an ensemble cast of fairly unknown talent, In The Heights' transition from stage to screen is one led by Miranda's Hamilton co-star Anthony Ramos and presents a warm, saturated depiction of a fairytale New York City as it appears to folks from Dominican Republic, an immigrant experience not too far removed from West Side Story's Puerto Rican parallels. Job security, dreams of prosperity and high romance form the basis for In The Heights' musical frolicking, a high energy accentuated whip-smart fable story touching on real-world while effortlessly sashaying between song and dance numbers with such fluidity it will honestly leave you with a hell of a big smile on your face.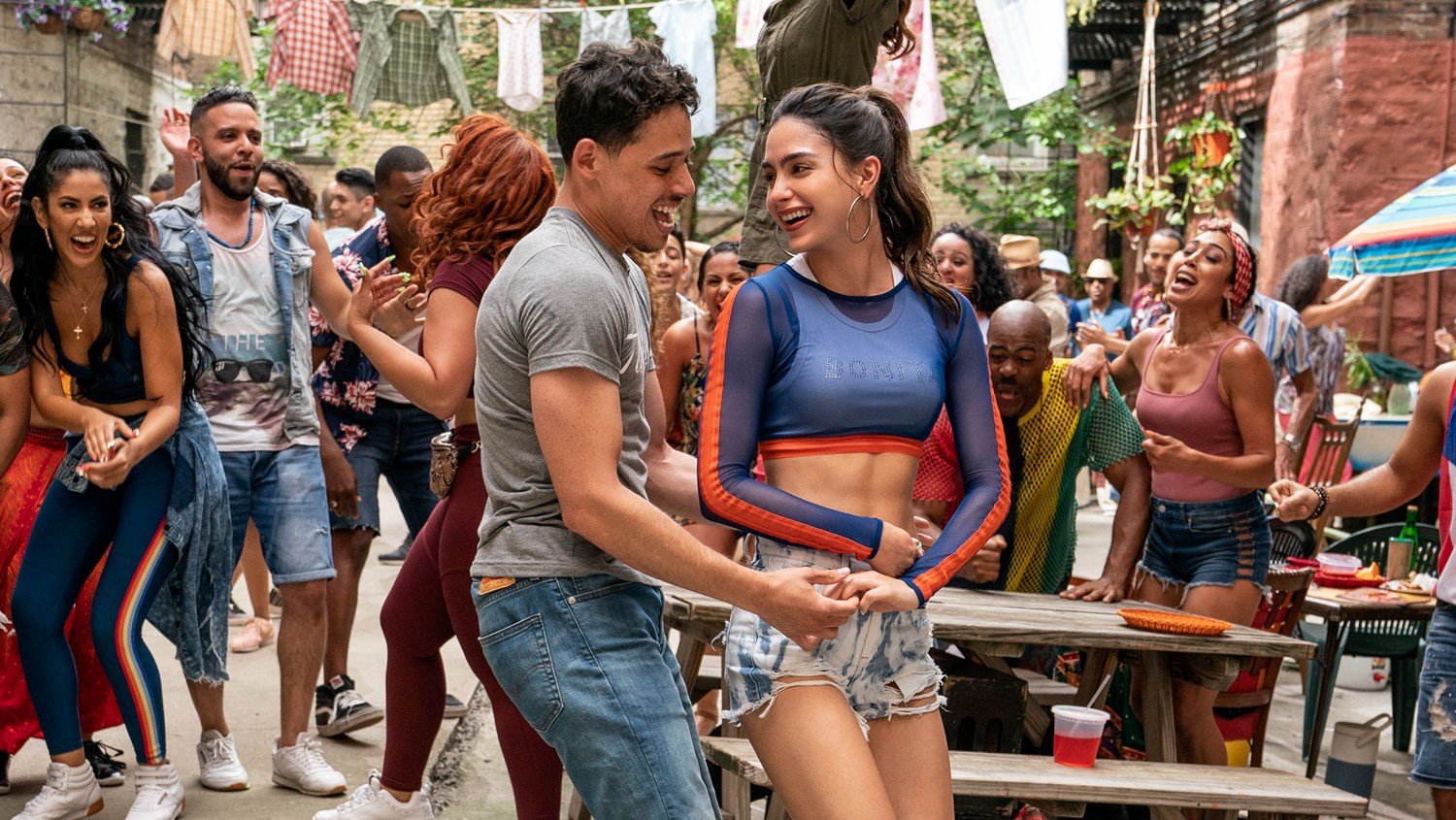 Usnavi de la Vega (Anthony Ramos – A Star Is Born, Godzilla: King of The Monsters) tells the story of his life in New York's Washington Heights; he owns a bodega on a busy intersection opposite a beauty parlour, run by Daniela, Carla and Cuca (Daphne Rubin-Vega, Stephanie Beatriz and Dascha Polanco respectively), a taxi company owned by Kevin Rosaraio (Jimmy Smits – Star Wars: Attack Of The Clones) and run by Usnavi's best friend Benny (Corey Hawkins – Straight Outta Compton, Kong: Skull Island). Usnavi dreams about returning to the Dominican Republic to take over his late father's business, which has been flattened by a hurricane, if only the romantic feelings he has for beauty parlour worker Vanessa Morales (Melissa Barrera) would dissipate. Vanessa longs to work in high fashion as a designer, only she lacks the foot-in-the-door to success simply by virtue of her ethnicity. Kevin's daughter Nina (Leslie Grace) has returned to Washington Heights after purposefully dropping out of Stamford University, where she rekindles her affection for Benny. Holding everyone together is the grandmotherly Abuela Claudia (Olga Merediz – Evita, Changing Lanes), who sees the entire community of Washington Heights as her defacto family, although she longs to return to her homes country despite the lure of America.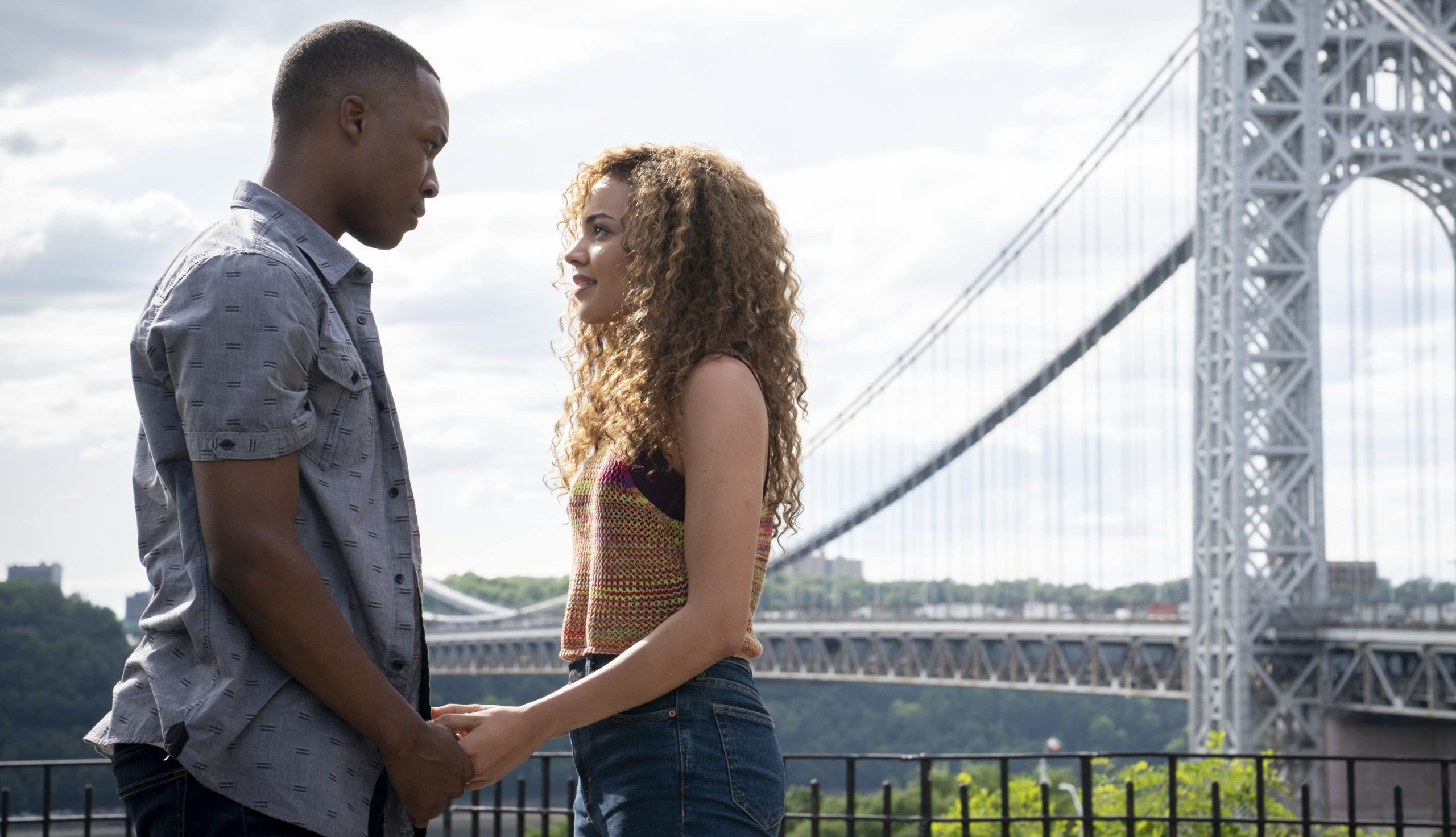 Who doesn't love a New York City musical? Some of Hollywood's best musicals have been set in the Big Apple, from 42nd Street, Hello Dolly and Rent, and as a backdrop for the melting pot of American life there's few places more suited to sprawling, epic song-and-dance than the city that never sleeps. Hell, even Lin-Manuel Miranda's Hamilton spent a portion of its time in New York; the romance of arguably the world's most famous metropolis endures on screen and continues apace in In The Heights, a toe-tapping warm embrace of a film that will leave you with a big smile on your face and a soft glow of love in your heart. I say that completely unironically; I haven't had this much fun with a pure Hollywood musical since Moulin Rouge, and I would open this review by suggesting the film even turn up in many best films of 2021 lists later this year.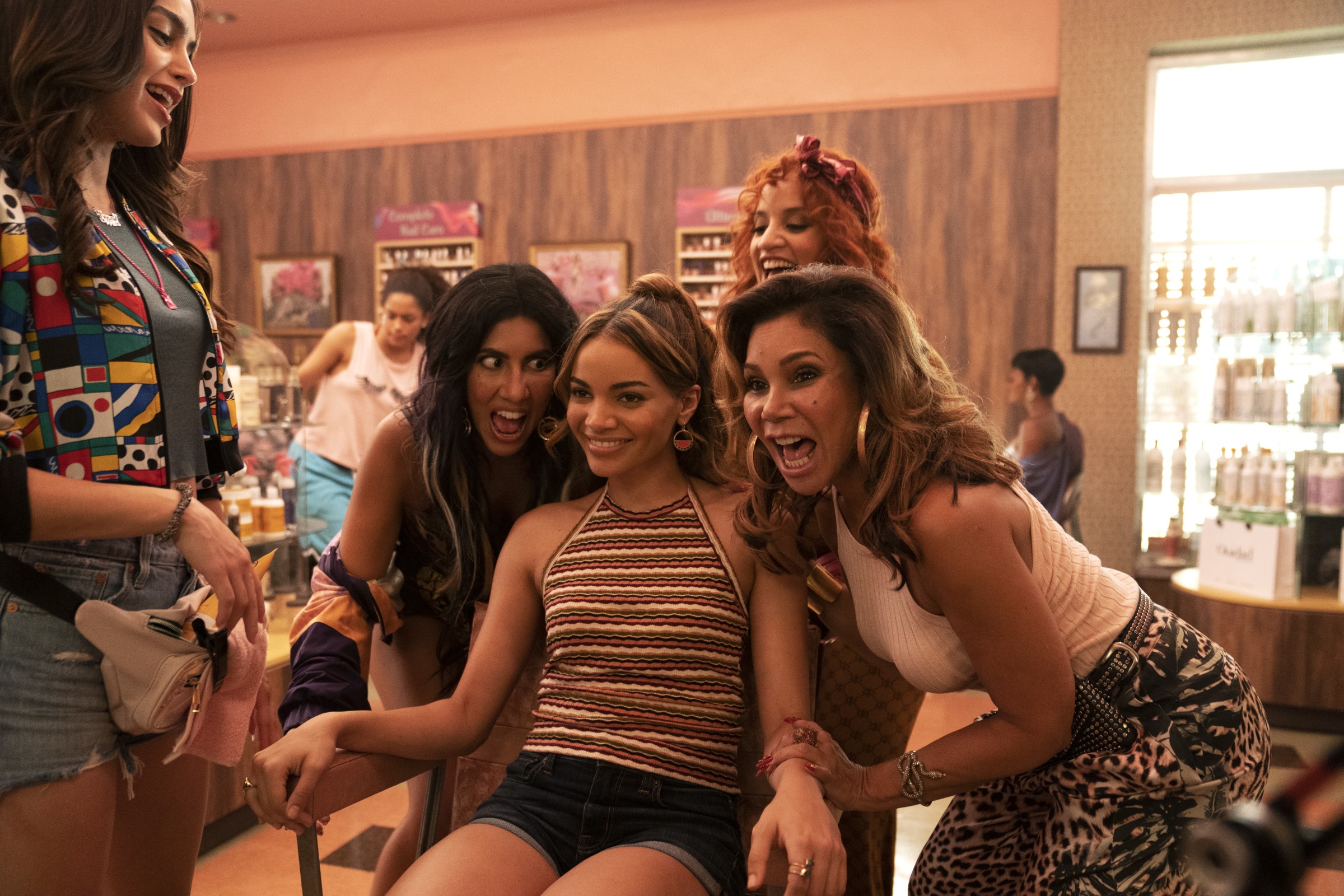 Written by Quiara Alegria Hudes, In The Heights mixes and matches the story told in the stage play (also written by Hudes alongside Miranda, who appears repeatedly in a minor role) and is told with such firm conviction and heartfelt emotion, a conviction that comes with knowing the material and feeling the characters out. As a middle-aged Australian white guy I have no skin in the  game of the story of American immigration, or even understand the plight of those in the Dominican Republic from which the majority of these characters represent, but I know and appreciate love, know and appreciate family, and know and appreciate isolation and trying to figure yourself out. In The Heights story of family and love and struggle and sense of belonging resonates beyond the boundaries of its cultural and ethnic canvas, lit by the fire of a pounding musical soundtrack (sung by the actual people on the screen, to the best of my ability to discern); frankly for a film with no "bad guy" or sense of antagonism, it's a marvel the story is as moving as it turns out to be.
Hudes' writing is exquisitely delicate here, her familiarity with the characters holding her in good stead as she remixes the lengthy stage production down into a shorter – but still 140-odd minutes – feature film that tackles more cerebral plot points than a cane-twirling villain or supernaturally possessed car you'd find in lesser movies. The intercutting between Usnavi's flashback storytelling to a group of kids and the story he tells of his time in Washington Heights, which forms a character unto itself with Chu's sun-bleached vistas of George Washington Bridge (a metaphorical escape for the often hopeless situations our characters find themselves in) looming large over proceedings, is quite brilliantly achieved thanks to stellar production design. The film was shot almost entirely in the real life New York neighbourhood, from the 191st Street Subway station to riverside Highbridge Pool, a captivating snapshot of realistic living that serves as the backdrop for these gorgeous characters' lives.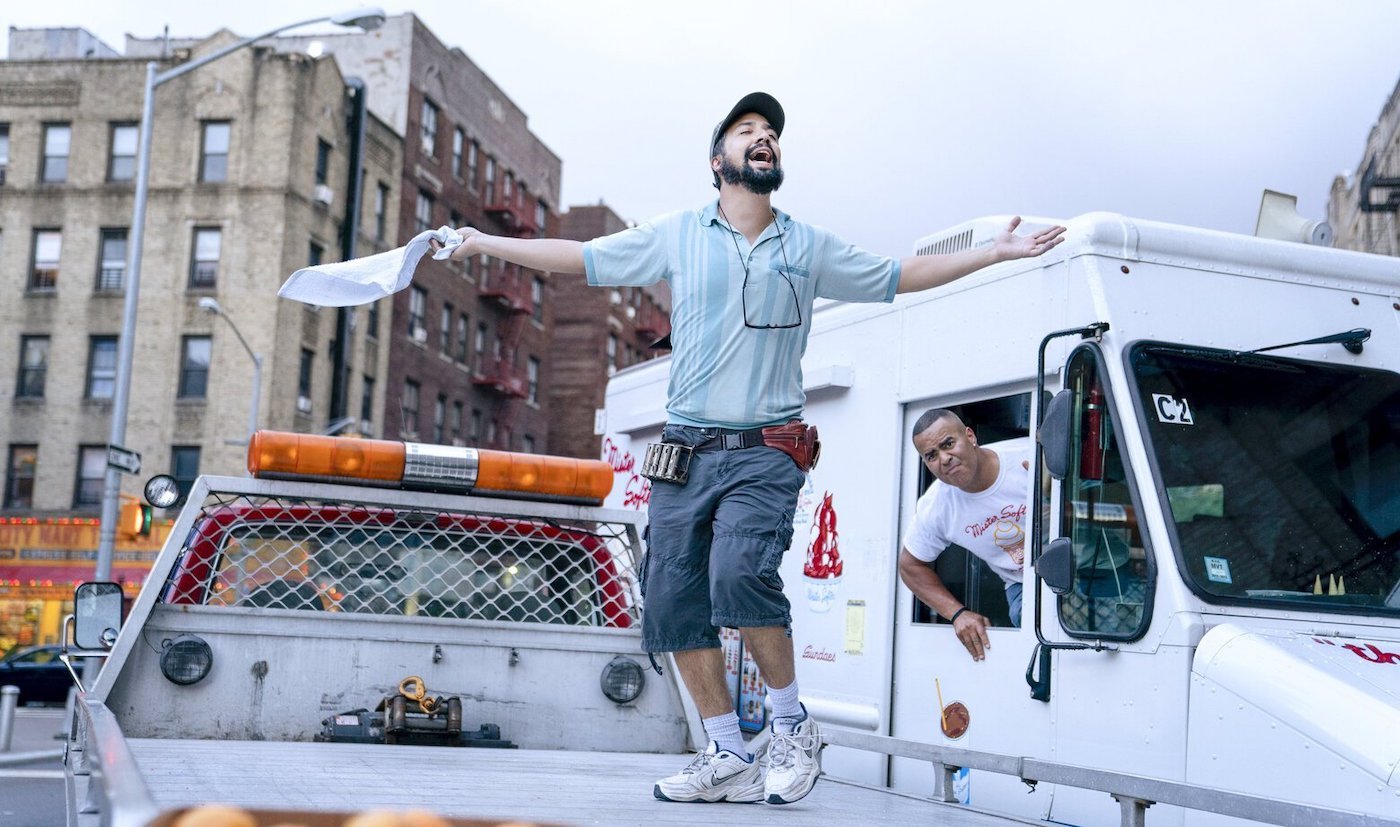 And the cast! Ahh, what a beautiful, spectacular cast. Anthony Ramos has a weird thirty-something charm to his role of Usnavi, which holds the maturity of the story's more emotional beats stronger than it would have he been of a similar age to his co-stars. Corey Hawkins is a delight as Benny, his enthusiastic sweetness and absolute delight at life bubbling from the screen, and his on-screen chemistry with Leslie Grace is incendiary. Their gravity-defying dance on the walls of a New York tenement building is pure magic, brought to life thanks to magic-hour lighting and a terrific physicality both actors bring to the role. Melissa Barrera is hot as hell as Vanessa, the object of Usnavi's affection and arguably the film's breakout star – she's gorgeous, the camera loves her, and her performance is revelatory both in dramatic weight and musical exceptionalism. Bringing up the supporting cast is Jimmy Smitts, a surprise role to an actor I'd never had guess would show up in a musical (but hey, what do I know), and his work as Nina's father is suitably patriarchal. Arguably, however, the film's MVP is Olga Merediz as Abuela Claudia, who absolutely steals the show and obliterates everyone around her as the matriarch of the community – Merediz debuted the role of Abuela on the Broadway production which makes her not only the best person to reprise a role on the big screen but also the only person who knows the part well enough to do what she does: Merediz is supreme in both the dramatic and musical work here, and her solo performance of "Paciencia y Fe" beneath the city's streets is one of the more remarkable musical moments on screen I've ever seen.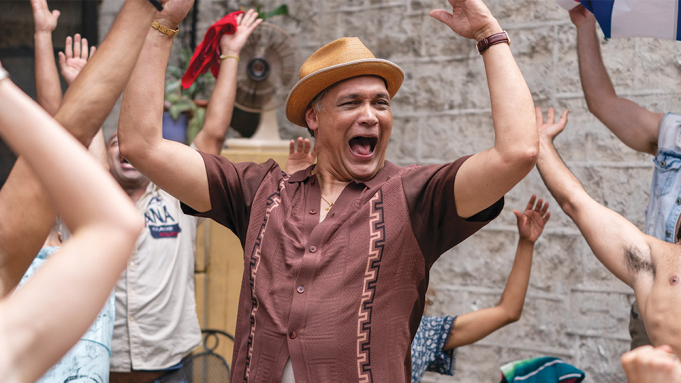 Of course any good musical rests on the power of the songs and score, and similarly with Hamilton, Lin-Manuel Miranda's work here is phe-nomenal. With a capital Phe. The title track to open the film, to the catchy "Benny's Despatch" and "96,000" along with the more subtle "When The Sun Goes Down" to the euphoric "Carnaval del Barrio"; Miranda's rapid-fire speak-sing patter is prevalent in every verse and chorus, the soul-searing lyrics matched only by the sublime vocal performances from the entire cast, each perfectly suited to the characters they portray. The opening half of the film delivers the film's most catchy and ear-worm friendly tunes, whilst the back end complements the story with significant emotional weight; this is a soundtrack that will be on high rotation for quite some time in my playlist, for very good reasons. The white-hot precision of Hamilton's scorching lyrics may be absent in In The Heights' more urbane motifs but the charisma, charm and lucidity of the immigrant experience within New York's grimy streets cannot be ignored.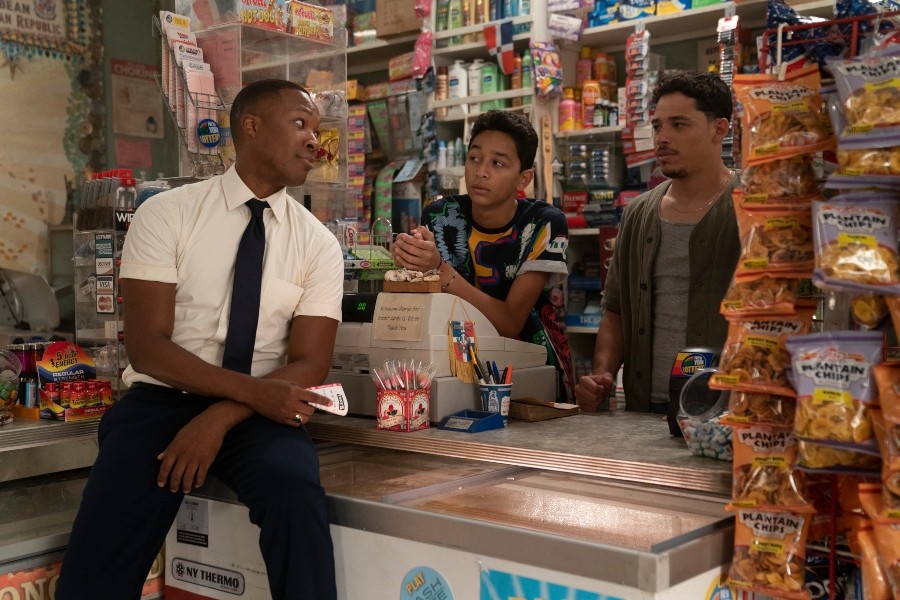 Bringing all this together is, of course, director Jon M Chu. The art of a great Hollywood musical isn't simply to make an MTV music video and shoot it in 2.35:1, but to actually utilise all the technical, visual and aural wizardry at our disposal, and Chu does just that. He takes the whizz-bang camera movies possible in today's media environment, drapes it in flushed, deeply saturated technicolor tones (enormous props to DP Alice Brooks for such a gorgeous looking movie) and, along with editor Myron Kerstein, presents a film of such unadulterated widescreen delight that you simply cannot help but be drawn into the world and characters on offer here. Chu balances the delicate subtleties of the character byplay and romantic subplots with the frenetic backdrop of American city living – the beauty parlour in which Vanessa works is a prototypical NYC establishment filled with sass and good vibes and a whole load of none-ya business, whilst Usnavi's cramped, dingy bodega, a New York City staple, feels sweaty and lived in much like the rest of Washington Heights, representative of the cramped, restrictive narrative Usnavi inhabits as he dreams of leaving. Chu, who hails from a long career directing music-based films – both fictional (Jem & The Holograms) and the non-fictional (Justin Bieber: Never Say Never) – has honed his showmanship to such a fine degree the result of In The Heights is seamless.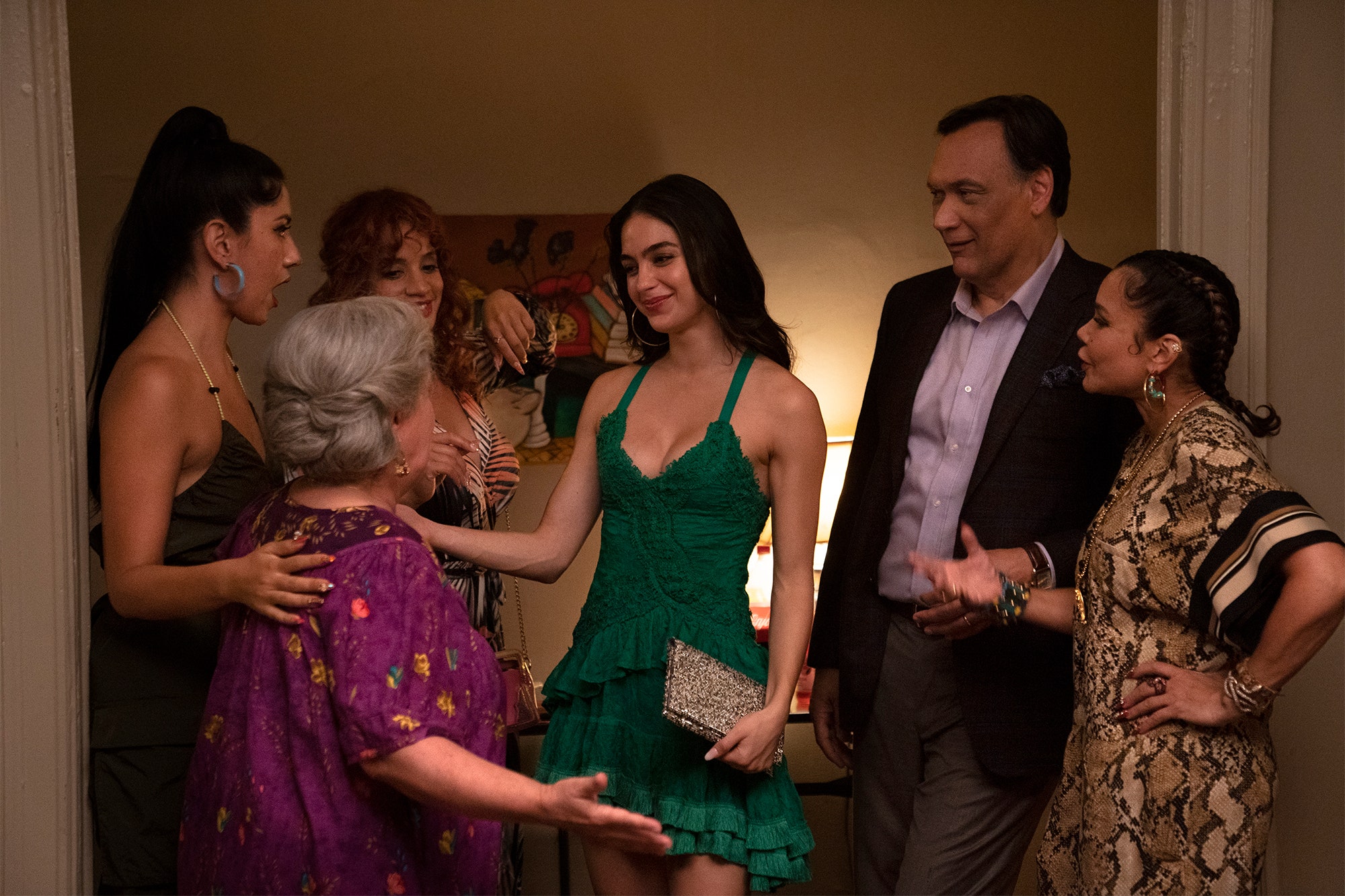 In The Heights is a powerful testament to love and self-assertion, is a heartwarming family film (there's no sex or violence) and will leave you on an absolute high. Snappy dialogue, crackling musical numbers and a virtuosity behind the camera will delight, surprise and make you gasp throughout its narrative crests and troughs. The film is well over two hours in length but never, not once, feels like a stretch, and by the time the end credits come around you'll be disappointed it doesn't go for a lot longer. I cannot comment on the differences between the film and the original stage version (apparently there are a lot!) but on its own, In The Heights makes a sublime musical film experience for the whole gosh-darn family. Energetic, beautiful, engaging and never once lethargic, In The Heights is immediately in consideration for one of the year's best films and arguably one of the best movie musicals in the last decade. Superb entertainment.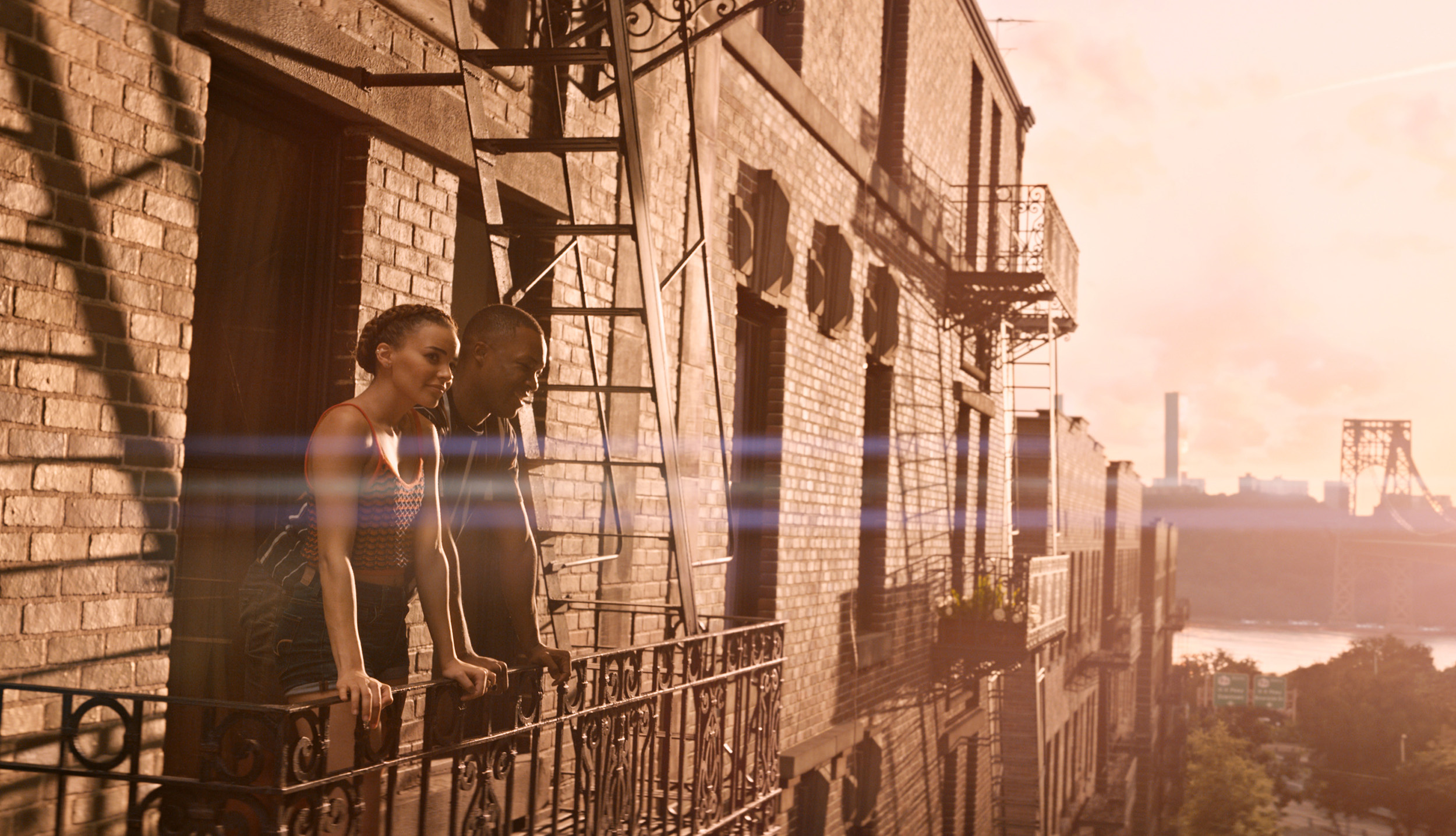 Who wrote this?