Movie Review – Dumbo
Terrific cinematic triumph, a story of being outcast and non-conformity: Dumbo is both morally true and gorgeous entertainment. Modern audiences may baulk at the somewhat historic style of animation, but those with an eye for true art will certainly want to recapture the magic of the time they first saw Dumbo take flight.

– Summary –
Director : Ben Sharpsteen
Year Of Release : 1941
Principal Cast : Voices of Sterling Holloway, Edward Brophy, Verna Felton, Cliff Edwards, Herman Bing
Awards :  Academy Awards: Best Original Score, Nominated for Best Original Song (Baby Mine).  Cannes Film Festival: Best Animation Design.
Approx Running Time : 64 Minutes
Synopsis: A young elephant born with enormous ears is ostracised by his circus family, before discovering a unique ability which will make him famous.
What we think : Terrific cinematic triumph, a story of being outcast and non-conformity: Dumbo is both morally true and gorgeous entertainment. Modern audiences may baulk at the somewhat historic style of animation, but those with an eye for true art will certainly want to recapture the magic of the time they first saw Dumbo take flight.
**********************
One of Disney's shortest animated features, featuring a lead character who doesn't speak through the entire film, is still as appealing now as it was at the time of release, way back in 1941. This fact is a testament to the creative quality that makes Dumbo such a genuine family classic. It's a simple tale, gorgeously animated and well performed, featuring some truly jaw-dropping ideas and imagery, which allows the audience to become drawn into the more "human" elements of the film. Considering the main cast are all animals, that's no small feat.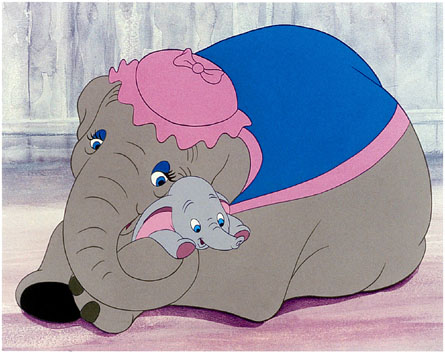 Released recently on BluRay and DVD, I've had a chance to revisit Dumbo some twenty odd years after last doing so. My early memories of Dumbo were not of the film, but of the Little Golden Book variant printed during the 70's (I think), and the accompanying LP record (well before cassette!) to listen to. I do recall seeing Dumbo in its film version, but those are only hazy memories of a badly worn transfer and very tinny sound. So I looked towards the BluRay edition with some anticipation, because it would become, for all intents and purposes, the first time I'd seen the film since becoming an adult capable of mature and independent thought. Disney's latest release, remastered and now featuring a multi-channel surround audio format (dts-hd 7.1, for Pete's sake!), this is the best Dumbo has looked for… well, probably even before its original release! If it's possible to heap gushing praise on the image restoration, Dumbo looks like it was made yesterday, the picture is so crisp and sharp. Colours are rich and vibrant, lacking the wear and tear you'd expect in a film nigh on 70 years old. If you have the hardware, I will recommend the BluRay to you above the DVD, due mainly to the increased clarity. The remixed 7.1 audio track is unwarranted, mind you, due to the vintage of a film like this. Why people think every film needs a 5.1 soundtrack to listen to, when the majority of the film (especially one originally presented in mono) comes at your from the centre channel, those other channels are wasted. The 7.1 mix on offer here is an improvement, sure, but one that's only there for the purists. Of note, Disney seemed unwilling to insert the original theatrical soundtrack on the BluRay for comparison, which for the cinema buffs is disappointing.
As to the film itself, well, there's hardly a bad word to be said. Dumbo, a baby elephant delivered by stalk to his mother whilst travelling across Florida on a circus train, has enormous ears. So much so, he is essentially ostracised by both his fellow elephants (save his mother, who loves him dearly) and the rest of the circus troupe. He's belittled, teased, abused and made to perform in the increasingly violent clown act. After befriending a mouse, Timothy, Dumbo accidentally imbibes some alcohol, and wakes up the next day with not only a splitting hangover, but half way up an enormous tree. A gang of blackbirds befriend Dumbo and Timothy, asking the question as to how exactly an elephant ended up in a tree. The discovery that Dumbo can fly, thanks to his aerodynamic enormous ears, is the catalyst for the films finale, where Dumbo must overcome his fears and learn to trust his own instincts. The history of Dumbo is unique, in a sense, in that it was the last of the four films Disney produced before a crippling strike by his staff. After a number of commercial failures, Pinocchio and Fantasia, Disney was looking for a quick fix to his financial woes, and Dumbo was a story he was willing to bet on. Made for a considerable amount less than any of the three previous features, Dumbo became Disney's second major hit after audiences flocked to see it again and again. The film's themes of intolerance, of bigotry and overcoming prejudice, struck a chord with audiences of the time, perhaps in light of the racism that permeated America's culture at the time.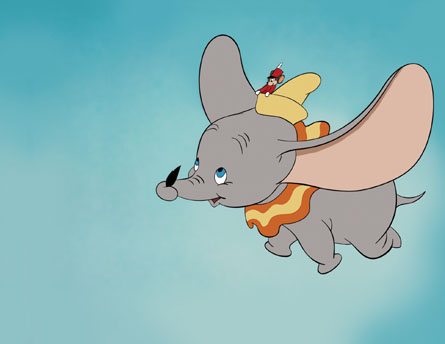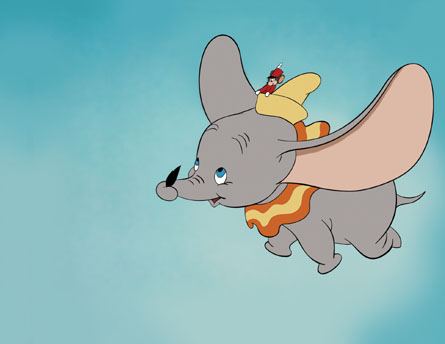 At just 64 minutes, Dumbo is the shortest of all the Disney studio's theatrical animated films. But in brevity, an honest story has emerged, unfettered by frivolous storytelling and honed to perfection. Based on the original novel by Helen Aberson and Harold Pearl, and scripted by Joe Grant and Dick Huemer, Dumbo's lack of complex character arcs are motivation for story simplicity: Dumbo never speaks in the film, although his novel version does so on numerous occasions. Instead, Dumbo's feelings and thoughts are wonderfully brought to life by the exquisite animation of the Disney artists. This animated elegance is the film's key highlight, the main ingredient to Dumbo's re-watchability. Voice performances by Sterling Holloway, as the stork which delivers the baby Dumbo to his mother, and Edward Brophy as Timothy Mouse, are both unique and memorable, especially Brophy's New York accent on such a small creature. Dumbo himself, his big blue eyes and large floppy ears allowing for much more humanistic emotive content to be displayed, is by far the star, as he should be: his tears and sad demeanor upon his exclusion from the elephant family of the circus is especially heartbreaking. It's perhaps a warning to parents that this film is actually pretty dark by Disney standards, with Dumbo having a pretty hard life right up until his final moments when he discovers he can fly. The themes of exclusion and being an outcast are things many of us can relate to from our own lives, be it from racism or oppression, some kind of physical difference or societal pressure – Dumbo incorporates these themes into a child-friendly way, although moments are genuinely frightening for very small children. One sequence, the famed Pink Elephants on Parade, draws its influences from the abstract art in vogue at the time, and its echo can be felt in Disney's more recent Home On The Range cow-yodelling sequence.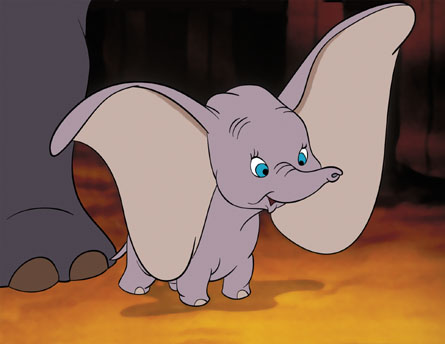 Dumbo, in my opinion, doesn't quite soar to the heights achieved by other Disney classics like Pinocchio or Sleeping Beauty, or even modern hits like The Lion King or Aladdin, but the film does have an elegant simplicity about it that's hard to ignore. Of all Disney's feature films, it's the most basic at its core, almost an extended short film, if you will, with the focus on character rather than special effects and overly dramatic emphasis. Unfortunately, most young folk of today will walk right past Dumbo as a piece of modern entertainment, much the same way they do over Casablanca and the original Snow White. An old film, a film which existed before World War II and, by extension, before films were good. That's the reasoning. Which is disappointing, because those young folks squirreled away on Facebook and their iPhones will be missing something both truly uplifting and unique, a modern fable about overcoming adversity, no matter the personal cost. For fans of animation, for fans of fine feature film-making, and for fans of cinema, Dumbo is a film not to be missed, and comes highly recommended.

Related articles
Who wrote this?