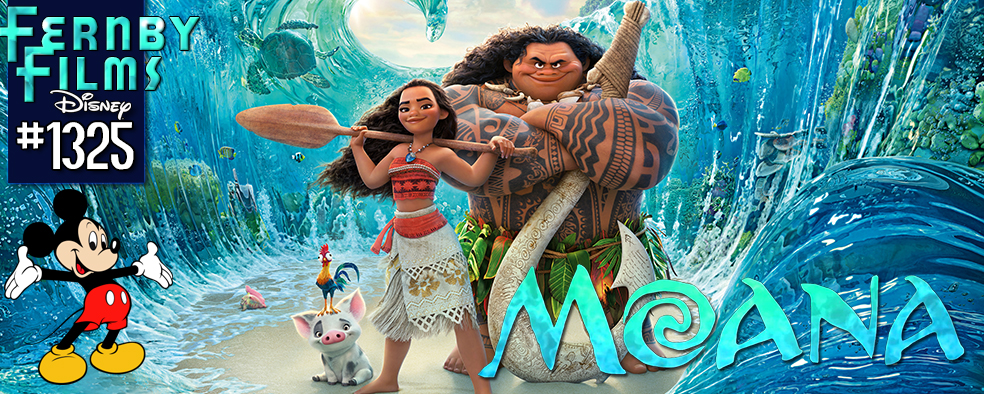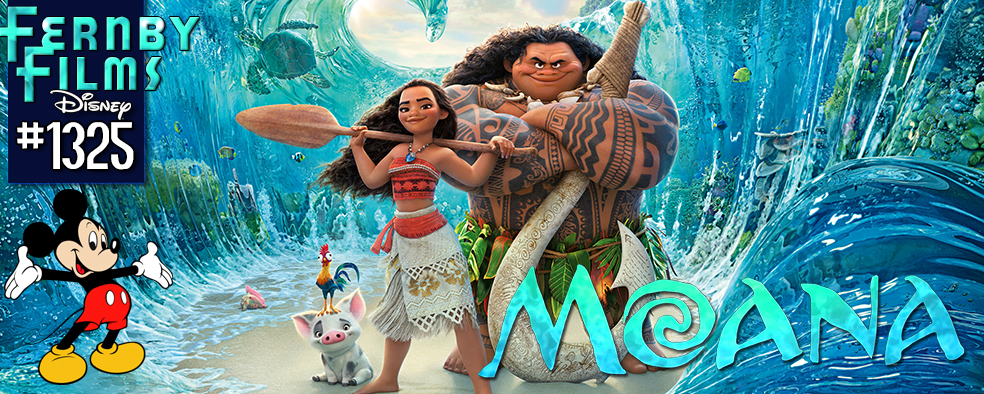 Director :  Ron Clements + John Musker
Year Of Release :   2016
Principal Cast :  Voices of Auli'i Cravalho, Dwayne Johnson, Rachel House, Temuera Morrison, Nichole Scherzinger, Jemaine Clement, Alan Tudyk, Oscar Knightley.
Approx Running Time :  107 Minutes
Synopsis:   In Ancient Polynesia, when a terrible curse incurred by Maui reaches an impetuous Chieftain's daughter's island, she answers the Ocean's call to seek out the demigod to set things right.
******
The historic Disney formula returns with a vengeance in its 2016 digital offering, Moana, a Polynesian-based fable of magic, mysticism and a demi-god with the voice of The Rock. Espousing the checklist of Disney ethical and moral compass points, including a feisty daughter at odds with her well-meaning father ("He doesn't get me!" she cries at one point) and an assorted grab-bag of animal sidekicks (chief among them an insane and stupid chicken), as well as multiple soaring musical numbers thanks to a cohort of Disney alum as well as Broadway's current "it"-guy, Lin-Manuel Miranda, Moana absolutely runs the gamut of typical studio storyboarding and does very little to separate itself from previous films in the canon – only, Moana is a blast of animated fun that deserves your time. Yep, as much as it offer nearly nothing new other than a fresh coat of paint, Moana's free-spirited antics and dynamite animation style will enthral audiences of any age – adults included.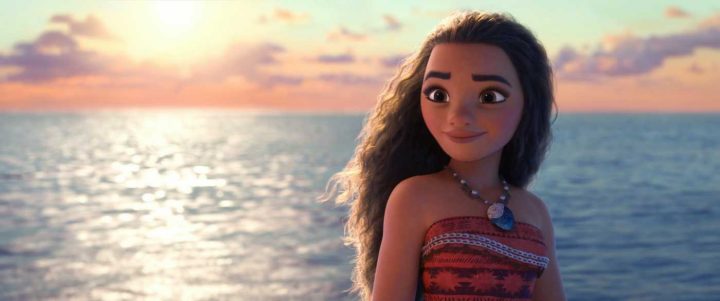 Moana (Auli'i Cravalho) is the daughter of the chief (Temuera Morrison) of a local Polynesian tribe who refuses to let his people leave the island beyond the reef surrounding their island. Chosen by the sea to return a fabled gemstone to a far off island, Moana longs to leave her home and explore the open ocean. When her island starts to die, her grandmother (Rachel House) explains that their tribe were once voyagers, but have lost the desire, and that her own intent to save her people, by getting trickster demi-god Maui (Dwayne Johnson) to accompany her to the fabled island of Te Fiti, where he will restore the gemstone and return life to the islands of the sea.
Disney's Moana is the latest poster-child for its tried-and-true methodology of hit creation. Cue an energetic, bull-headed wanderlust-infused empowered teenage girl, her typically voiceless animal sidekick, a roster of soaring songs about freedom, standing strong/tall/proud/whatever, and a quest narrative spanning an entire culture, and you have all the prerequisites for yet another Disney hit. Moana is basically a facsimile of its previous hits, including Brave, The Lion King, Tangled, and a host of others, and while the film coasts on its breathtaking animation and terrific voice work by both Cravalho and Johnson, there's a mist of familiarity here the film cannot escape.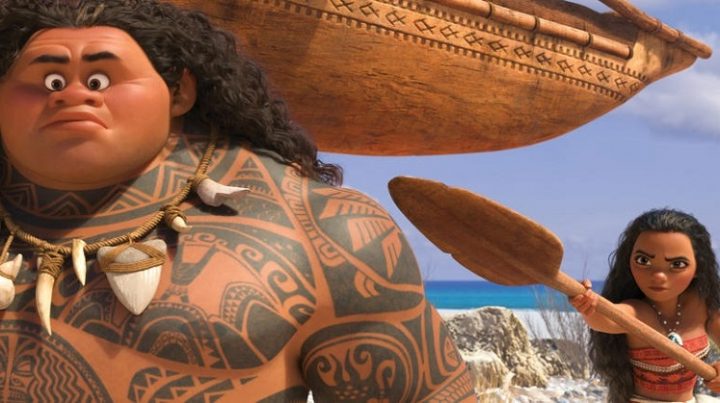 Directors Ron Clements and John Musker, whose history with Disney stretches back to The Great Mouse Detective, The Little Mermaid and Aladdin, have well and truly tapped into the Disney template and delivered an instant hit. Buoyed by the recent successes of Tangled and Frozen, the studio's latest all-CG effort is flashy, crammed full of sumptuous and spectacular animation, and it follows they'd stick to that mandate as closely as possible. If it works, why change it? Moana's familiarity breeds discontent to a degree, but in the end it matter nought as Johnson's snappy Maui and debutante Auli'i (who was only 16 when the film was released) verbally spar across the oceans of the Pacific, as close to a Genie-like freedom of characterisation as one is likely to get in this highly focus-grouped age of cinema.
Cravalho brings an innocence and vulnerability to her portrayal of Moana, her strong-willed sense of purpose at odds with the obviously male-dominated aspects of her society, while Dwayne Johnson (who delivers one of the film's "funnest" songs with "You're Welcome") is hilariously sharp as Maui, the multi-tattooed demi-god seeking his magical fish-hook which allows him to transform into magical beasts. The majority of the film enjoys their banter and screen chemistry, none of which feels particularly nuanced but will keep you smiling with its inherent charm and whimsy. Supporting voice performances by Rachel House (as this film's Yoda character) and Kiwi actor Temuera Morrison (don't you remember, he was Jango Fett in the Star Wars prequels…), and Alan Tudyk as Disney's "dumbest supporting character, ever", the chicken Heihei), flesh out the roster of talent but traditional fairy-tale narrative waypoints continue to keep the film from offering intuitive freshness.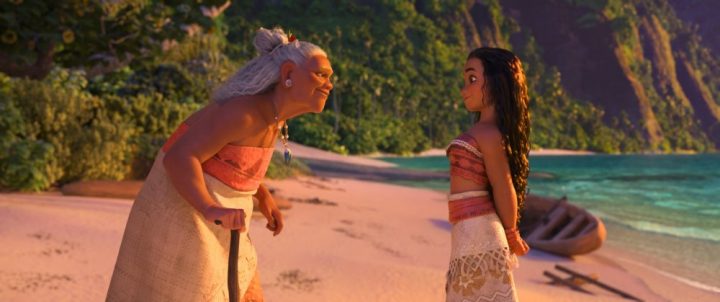 Zootopia co-director Jared Bush's screenplay hits all the marks for a kids film, slides a few pop-culturally savvy jokes into the mix (referencing at one point Twitter, if you can believe it) and brings its central villain into the fray very late in the piece at the expense of a lot of tension. The stakes never quite feel genuinely emphatic, almost a byproduct of the duopoly of Moana and Maui, and it hinders the emotional counterpoint of the film's largely indifferent grand scheme. It's a film built on character, eschewing grand action sequences (although there's a few that are genuinely exciting, and hilarious) in favour of building Moana into a legitimate Disney princess of the Capital P variety – and I'll be damned if I'll suggest it doesn't work. Moana is fun, despite an inability to craft a story different from anything else the studio has released – Frozen was, in spite of it's fairy-tale aesthetic, relatively creative in execution – and at no point was I bored, or disappointed, or checking my watch.
The film is charming, an effortless entertainment spectacle that I doubt will remain the high point of the studio's recent animated output but certainly doesn't lessen the recent run of successes. It's a sparkling, sensationalist escapade offering laughs, minor emotional complexity, dynamite visual effects and some neat-o musical numbers; nothing compared to the studio's legendary classics, mind, but enough to give Lin-Manual Miranda an Oscar, in any case. Moana flexes its Pacific Island muscles and trumps many of the mediocre releases of 2016's animated output, but can't hide its sense of same-same construction buried beneath an admittedly dynamic and enchanting visual palette.
Related articles
Who wrote this?