Movie Review – One Night In Miami

Principal Cast : Kingsley Ben-Adir, Eli Goree, Aldis Hodge, Leslie Odom Jr, Lance Reddick, Joaquina Kalukango, Christian Magby, Michael Imperioli, Lawrence Gilliard Jr, Nicolette Robinson, Beau Bridges, Jeremy Pope.
Synopsis: A fictional account of one incredible night where icons Muhammad Ali, Malcolm X, Sam Cooke, and Jim Brown gathered discussing their roles in the civil rights movement and cultural upheaval of the 60s.
********
A mouthwatering proposition is delivered with inestimable prowess by Oscar-winning actress Regina King (Friday, Jerry Macguire, If Beale Street Could Talk) in her feature directing debut: One Night In Miami is an incendiary film based on the 2013 stage play by Kemp Powers (who wrote the screenplay for this) that boasts electrifying performances as well as a top-shelf behind-the-camera effort from all involved. It's a fictionalised account of a real event in which American Civil Rights icon Malcolm X, recording star Sam Cooke, NFL Legend Jim Brown and newly crowned boxing champion Cassius Clay met up in a Miami hotel room, revealing the struggles of black Americans writ large against their relative power and popularity in the country at the time. Recent plays-turned-into-film efforts like Fences and 2020's other subgenre entry, Ma Rainey's Black Bottom help to form a trilogy of sorts in this newly popular style of movie, and with this sublime ensemble delivering crackling dialogue and truly haunting performances, One Night In Miami caps off a stellar few years for African-American cinema storytelling, ironically in the era of a certain orange former US President.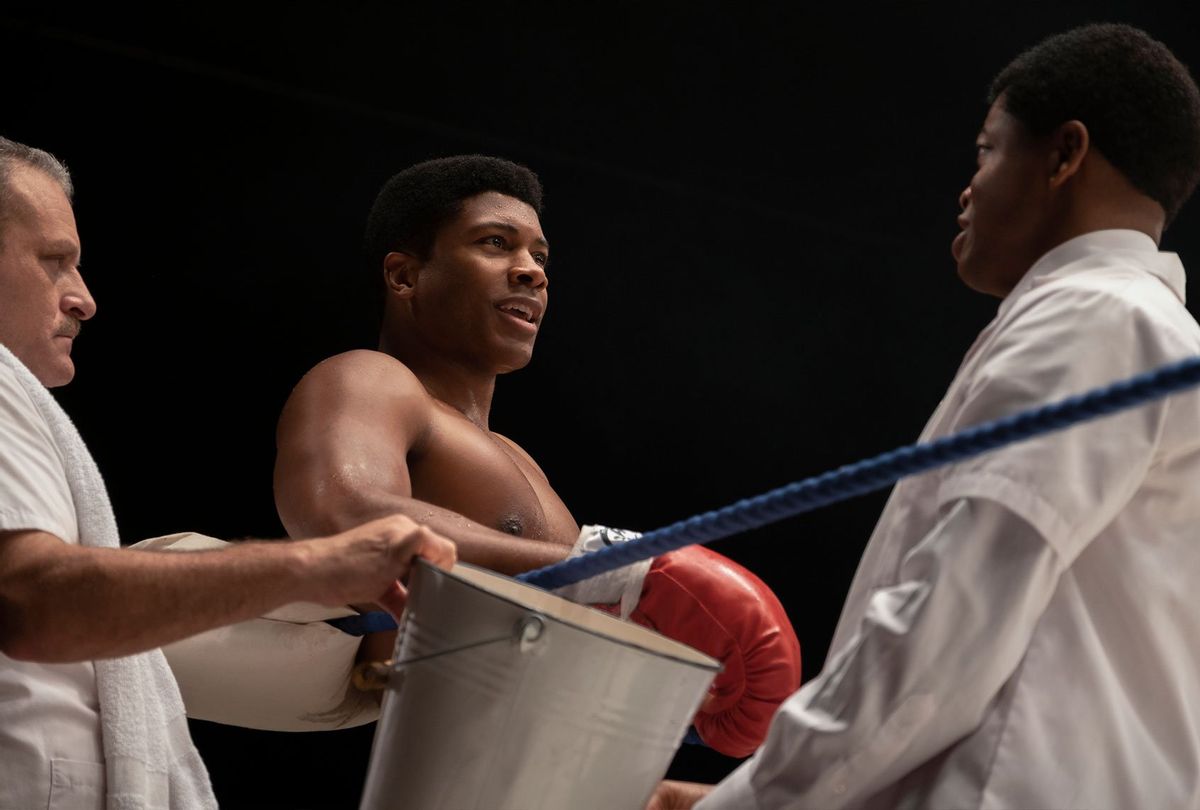 Although being surprised in defeat by British boxer Henry Cooper, rising superstar Cassius Clay (Eli Goree – Godzilla) becomes Heavyweight Champion after a bout with Sonny Liston in Miami. Clay's friend, firebrand civil rights activist Malcolm Little (Kingsley Ben-Adir – The Commuter)- self styled as Malcolm X after joining the religious Nation of Islam movement – invites him back to a hotel room to celebrate. Also invited are two of the pair's other friends, NFL Champion and wannabe actor Jim Brown (Aldis Hodge – The Invisible Man) and successful recording artist Sam Cooke (Leslie Odom Jr – Hamilton). While the mood is initially jovial, Malcolm's constant badgering of Cooke's deference to the predominant white recording industry provokes honest, earnest and conflicting conversations about not just these men's careers but the civil rights movement in general, with friendship tested through a few hours of entirely non-celebratory dialogue.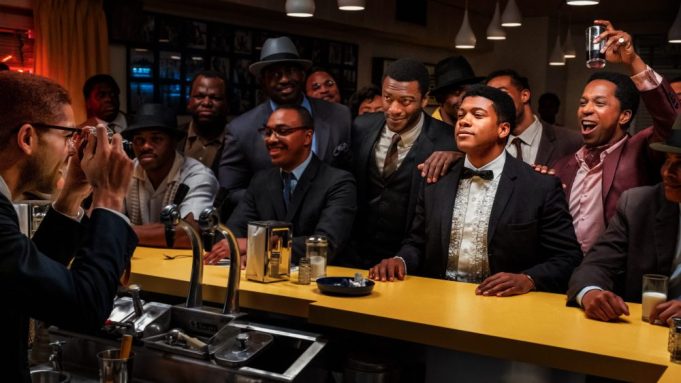 As somebody born well after the 1960's, the tyranny of time mitigates a lot of my nostalgic rumination on the four titans of pop-culture depicted in this film. I never lived through the period of the 1960's that saw such cataclysmic societal changes across the United States; what I know about this part of history is only that which I've read about or seen in film and television. That I could literally hear the historical chains and racist epithets down through history seeping from the pores of this movie through the screen was haunting in its prescience. This story gathers arguably four of the most important names of that decade together in a single room, and essentially pits ideologies against the other in a slam-bang reckoning of Black America and the struggle to escape systemic racism, bigotry and violence. As the film's title suggests, the majority of the events within occur over a single night following Clay's triumph over Sonny Lister, from the end of the fight to barely a few hours later when the media get wind of the new champ's location in Miami and come hounding. A moving character piece, the film is held together by four sensational performances, several beautiful supporting performances, and Regina King's hugely effective direction. The film works hard to overcome its "stage play" origins, buffering the core premise with bookending introductory moments that showcase what each of the four personalities heading into that single motel room were like, before they ever get together. Not entirely dissimilar to the recent Ma Rainey's Black Bottom, the stagey nature of the plot rides wholeheartedly on the excoriating dialogue as well as those delivering it, moreso perhaps than anything else.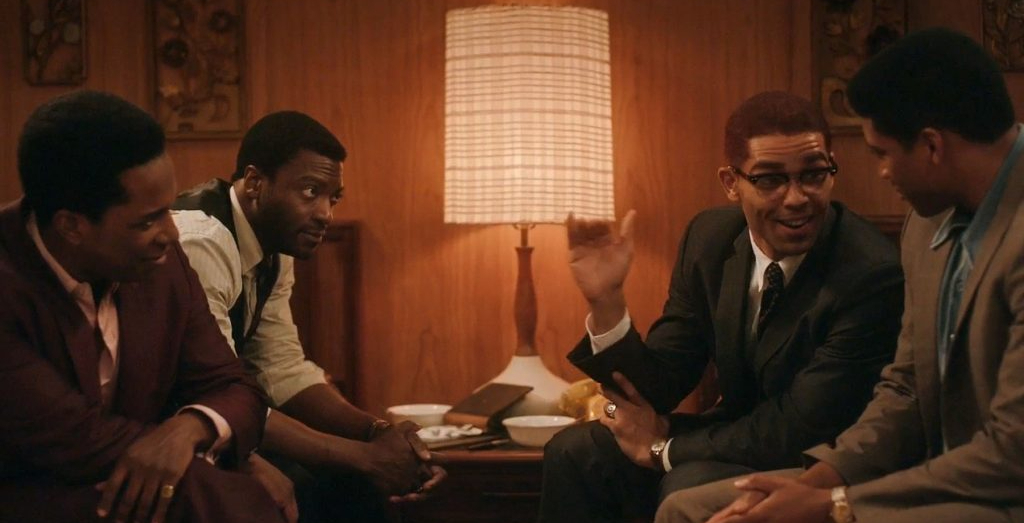 Leading the charge are the film's two most moving performances, that of Kingsley Ben-Adir as Malcolm X, and Leslie Odom Jr as singer Sam Cooke. The pair are mesmerising as their respective real life counterparts, and the depth of emotion and raw screen presence both display here is shattering to say the least. The simmering anger of Malcolm X towards the suppression of the black race, contrasted against the parasitical nature of Cooke's success in the record industry – if you can't beat 'em, join 'em and kill 'em from within, the film seems to suggest – is key to the film's weighty emotional core, a white hot dissection of multiple aspects of the same problem tackled from different angles as fascinating as it gets.  Both men, as they argue and counter-argue, believe not just that they are right, but that their way is the way to deal with the racism so prevalent in all facets of American society of the day, which makes for confronting content. They are abetted by the alarmingly good Eli Goree as Cassius Clay, as perfect a portrayal of a real life figure as you will ever see – the mannerisms, the voice, the cockiness, the sheer magnetism of Muhammad Ali is captured superbly by Goree in the role, inhabiting the man's cultural footprint so effortlessly you forget you're watching an actor and instead seeing the real athlete reborn through some intangible magic! Lastly, but by no means least, Aldis Hodge as Cleveland Brown's NFL fullback Jim Brown, arguably one of the greatest players that sport has ever seen: Brown isn't given as much heavy lifting in the movie compared to his on-screen brothers, but he adds a point of calm and measured analysis when tempers start to fray. When he throws his weight around, however, you can feel it. All four men deliver career-defining performances, although if I had to give props to one of them it would be Ben-Adir as Malcolm who steals the show completely.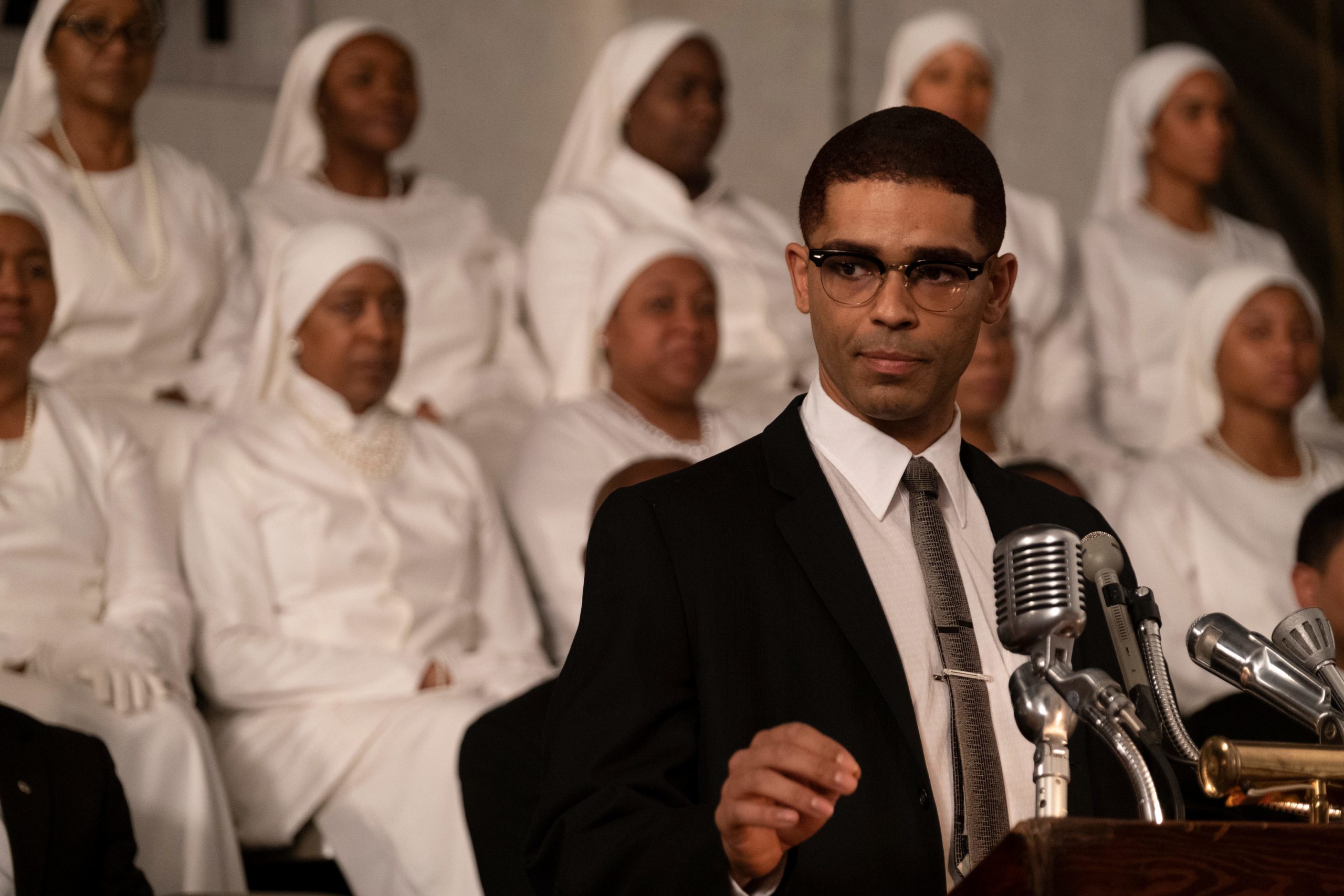 Regina King's direction doesn't fumble the ball, either. Her command of cinematic language to cajole, exhort and captivate the audience through her four leading men is exemplary, eschewing flashy angles and fancy editing and simply letting the actors do all the work. The film's widescreen scope doesn't feel quite fitting with such a confined setting, however, given the intimacy of the character arcs here there's something ill-suited about the anamorphic frame's use, but at every technical level the film accomplishes perfection. The cinematography by Tami Reiker (The Old Guard) is soft, warm and inviting, making the dusky brown and tan hues inside the hotel room pop despite those colours not lending themselves to extravagance. The photography of the film is yet another highlight in a long list of them, as are Leslie Odom Jr's renditions of some of Sam Cooke's classic tracks. "A Change Is Gonna Come" gets a roll late, and there are a number of cues played throughout the film that will delight any fan of the singer. The film's production feels solid, lacking pretension or – and this is key – a sense of awe about these cultural icons. Too often films might treat Malcolm X or Cassius Clay with an overabundance of reverence, to the detriment of the movie, but with One Night In Miami King balances respect for the real-life people with the dramatic need to capture the audience's attention so well you never see the strings being pulled. Truly, a great debut for her.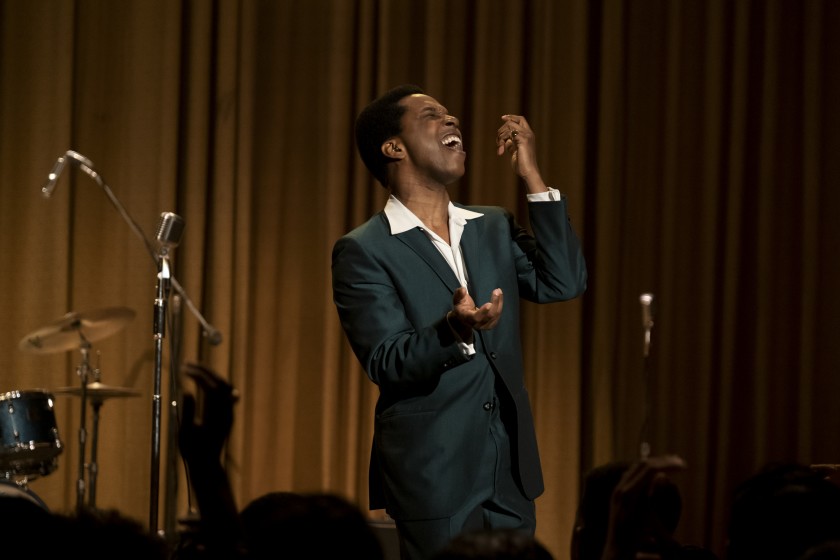 One Night In Miami is a powerful examination of subject matter we've seen a lot over the years. It's heart-breaking to realise that a lot of the same prejudices and issues suffered by African-American people then are still occurring (often less obviously) today in that country and the lessons of the civil rights movement are moving at a truly glacial pace. This film taps into just how little has changed, while reminding us of just how much has changed. A line from Sam Cooke about how the music industry chart system will change is a quick throwaway but oh so powerful for the truth it holds – the film contains countless embers in this regard, ready to ignite impassioned hearts wherever the movie is seen. With astonishing lead performances and a commanding directorial style in play, One Night In Miami will undoubtedly garner awards for 2020, and will assuredly deserve every one of them.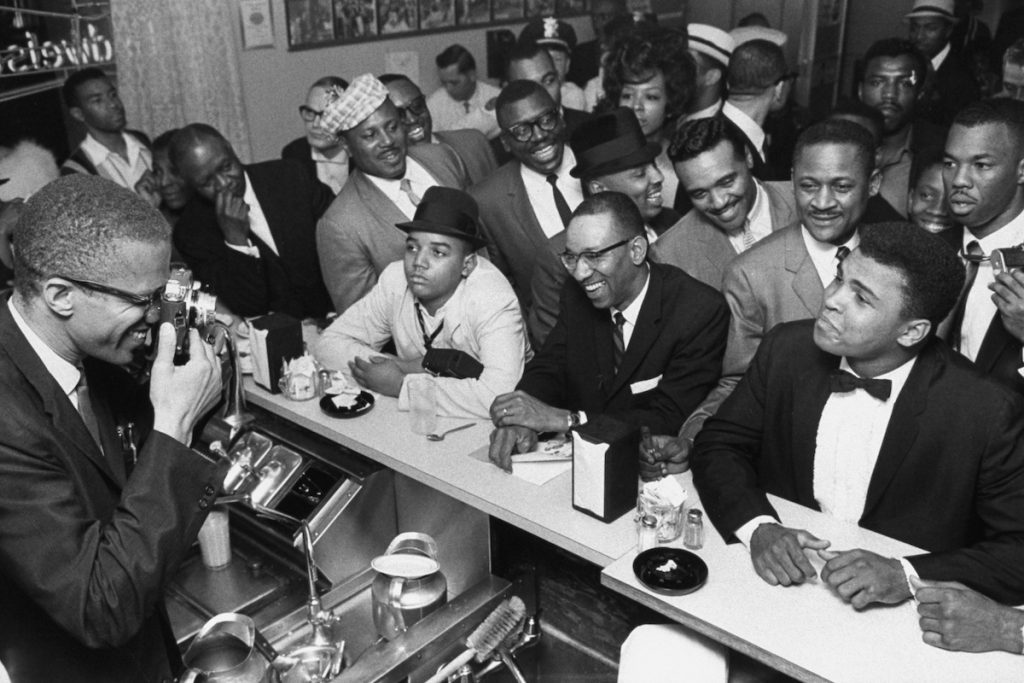 Who wrote this?