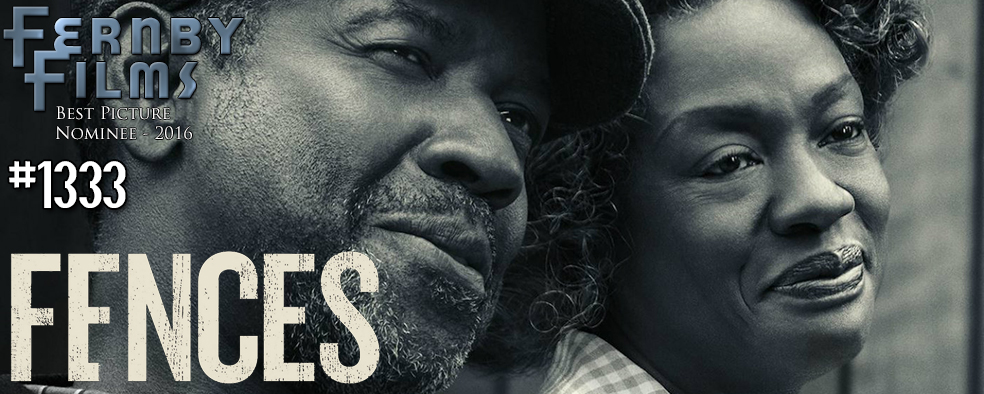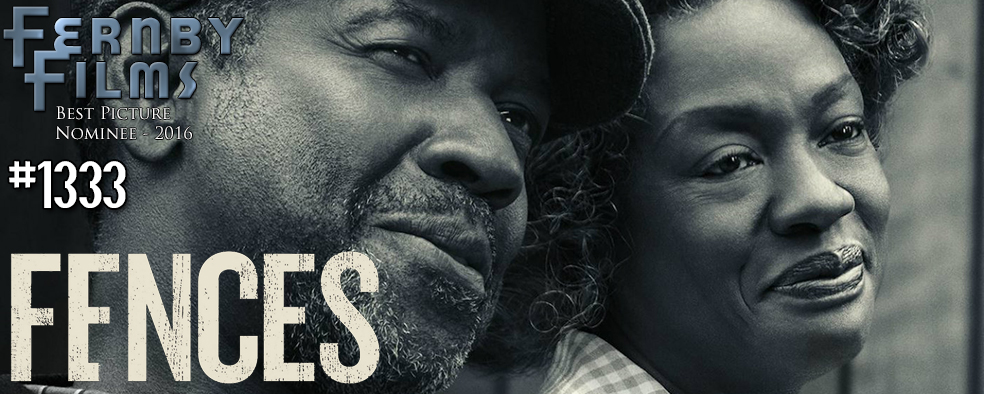 Director :  Denzel Washington
Year Of Release :   2016
Principal Cast :  Denzel Washington, Viola Davis, Stephen McKinley Henderson, Jovan Adepo, Russell Hornsby, Mykelti Williamson, Saniyya Sidney.
Approx Running Time :   139 Minutes
Synopsis:  A working-class African-American father tries to raise his family in the 1950s, while coming to terms with the events of his life.
*****
In years to come, Denzel Washington's adaptation of August Wilson's Pulitzer and Tony Award winning play Fences will rightly be regarded as a powerhouse performance piece. Both Washington, who stars as well as directs, and an awesome Viola Davis, deliver grade-A character work that will define their career highlights package, in what is a genuinely moving conveyance of the Black American Life in 1950's Pittsburgh. Themes of racism, social classism, the struggle of working-class America, and fidelity, combine to provoke a thoughtful, if melancholy, study of how little has changed at a basic human level; Fences strives for the big leagues and for the most part delivers, but much of the social narrative feels mishandled, lost amid the dynamite acting and heartbreak contained within.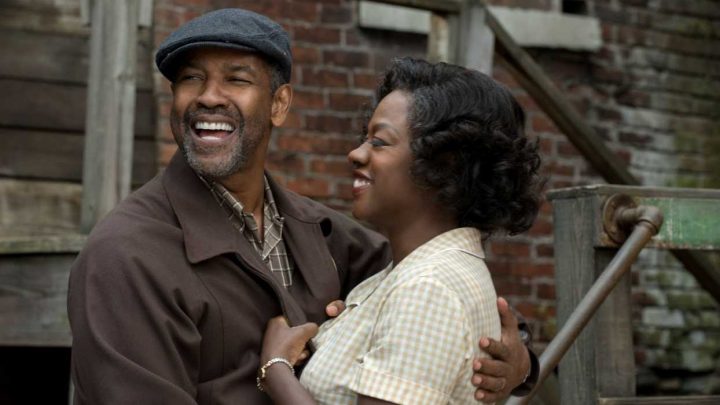 Washington plays Pittsburgh garbage collector Troy Maxson, married to Rose (Davis) with sons Lyons (Russell Hornsby) and Cory (Jovan Adepo), and disabled ex-soldier brother Gabe (Mykelti Williamson), who wishes nothing but the best for his family despite their low social class and adverse ethnicity. Troy's friend Jim Bono (Stephen Henderson) accompanies him home from work each day, drinking and regaling each other with colourful tales of their past, most of which is puffed up; Lyons, a wannabe musician, plays gigs at the local clubs much to Troy's chagrin, while the younger Cory wants to play baseball, something Troy has trouble accepting. Despite spouting a line of rhetoric about responsibility and loyalty, not to mention a decent work ethic, Troy's hypocrisy comes back to haunt him when he is forced to reveal an extra-marital affair to his long-suffering wife.
It's hard to know what the focus of Fences is. There's a lot of talking in this movie, a lot to dissect and extrapolate, and not all of it is good. Washington's Troy Maxson is a complex character driven by what, anger? Resentment? Love? It's hard to know for sure, as he bullies and badgers his way through this a sterling role designed solely for actors capable of handling such complex material; Troy's a man resentful of the hand he's been given, trying the only way he knows how to give his children a better start of life, even if that means belittling them and making them feel small. Maxson's relationship with his woman (as he confidently, and constantly, refers to Rose) is as world-weary as an 18-year relationship ought to be, and both Davis, in a definitive performance, and Washington in easily one of his best modern roles, command the screen whether they're bickering, laughing or flat-out silent.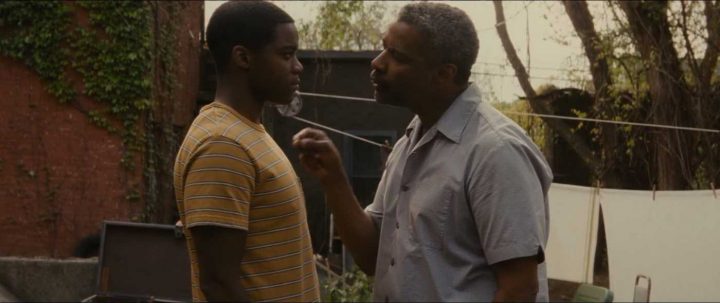 Both Washington and Davis are surrounded by superb actors on all fronts, including – nay, especially – young Jovan Adepo as young Cory Maxson, rebellious and angry young lad trying to escape his father's enormous shadow. Adepo's performance is the breakout one, delivering nuance and combative eloquence belying his age; his mid-film scene with Washington, in which Troy dictates why he doesn't "like" his own son, is searing with restrained rage on both counts, and Adepo more than holds his ground opposite the seasoned Denzel. Stephen Henderson offers a pleasantly friendly role of Troy's friend, Bono, and Mykelti Williamson bobs up as the afflicted Gabe, sporting a head injury from the war that's left him simple. Everyone in this film gets a moment in the sun here, and while Denzel understandably commands much of the film's startlingly lengthy running time, there's nary a poor performance to be found at all. Which, in most films, is rare. It's worth noting that both Washington and Davis played opposite each other in the 2010 Broadway revival of this film, and both received Tony Awards for their work, whilst Williamson, Hornsby and Henderson reprise their stage roles in the same production here again. It's more a cast reunion than a new thing, I guess.
The problem – such as it is – with Fences is that it can't quite escape its theatrical stage-bound storytelling. The film is set almost exclusively in and around the Maxson house in Pittsburgh's Hill District, and while you'd hardly describe it as a "happy home" at any stage, it's like a centrifuge for the drama Fences throws at the audience. Containing almost no action to speak of (other than a brief moment of violent confrontation late in the piece) the film is grounded in its backyard reality to the point it tends to lose focus on what it's trying to say. It's as if Washington is going big whilst trying to remain small, and sputtering about with lengthy diatribes about baseball or money can be somewhat of an endurance test if there's a lack of a point, and at times Fences does lose the point. But at least getting two and a half hours of watching mesmerising acting performances is better than nothing, right? I get that the film is trying to make some statement about the American prejudice within its DNA and that is about the most obvious thing Fences says, but there's other stuff here that could have been fleshed out in a cinematic sense. The relationship breakdown between Troy and Rose is handled poorly, in my opinion, lacking either resolution or even-handedness, while Troy's fixation on the fence of the film is purportedly to ward off Death, a key figure in Troy's late life stages.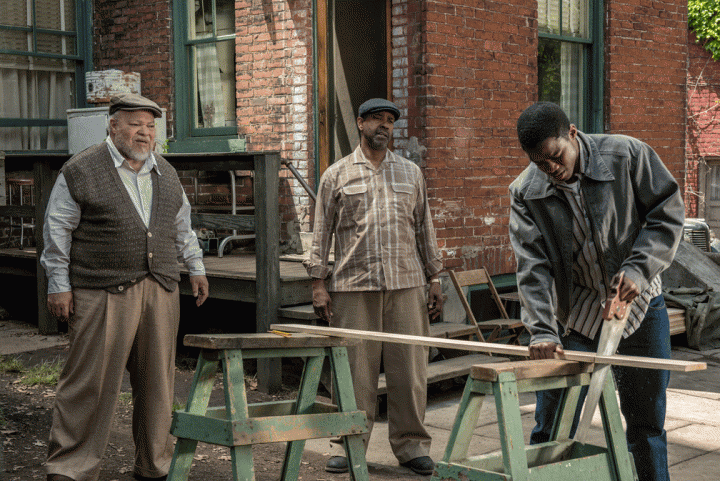 It's this Death element that feels too opaque to matter much to the film, despite being a key ingredient in the play. Troy's fixation on avoiding Death, whom he berates and exhorts whenever he's faced with some kind of life-changing event, is key to the character's grasping sense of failure despite his ebullient language, but the film never quite captures this relationship with detail enough to make it work. Instead, Washington's film seems intent on giving Troy's rat-a-tat-tat monologues and barrel-chested masculinity as much breadth as he can muster, which is a lot. Now, this isn't a problem so much as it leaves the film's intent floundering somewhat. Exactly what I'm supposed to learn from Troy's experience, what I'm to take away from the film generally other than Troy being a complete douche to his family and living a "do as I say, not as I do" lifestyle, is hard to work out.
Fences is a tad too muddled to become an iconic American cinematic landmark, but boasting award-worthy performances, and softly-softly direction for a resolutely restrained Washington, it's sure to become a much discussed entry into the lexicon in years to come. Given the proximity to the post-millennial racial tension within the United States specifically, I'm sure it speaks more to that demographic than it does to some middle-age white dude in Australia; but even I, with my limited understanding of mid-50's Pittsburgh, can appreciate this film's rendition of its anthemic themes. Fences is hugely recommended, and thoroughly enjoyable, but I was left with the feeling that something was left out of, or missing from, the story.
Related articles
Who wrote this?