Movie Review – Fun & Fancy Free

Principal Cast : Edgar Bergen, Luana Patten, Dinah Shore, Cliff Edwards, Walt Disney, Clarence Nash, Pinto Colvig, Ruth Clifford, Billy Gilbert, Anita Gordon.
Synopsis: Jiminy Cricket hosts two Disney animated shorts: "Bongo," about a circus bear escaping to the wild, and "Mickey and the Beanstalk," a take on the famous fairy tale.
********
In the early days of the Second World War, the United States Government seconded the services of the Walt Disney Company to produce a lot of its animated propaganda films and shorts, which, while keeping the studio's army of animators employed, wasn't exactly financially fruitful. It also kept the studio from producing any new feature films, replaced instead a by a series of "package" films, in which expanded short animated stories were linked by usually some live-action material to flesh out a running time. These package films were cheaper to produce, meaning less outlay for a studio confined to smaller budgets due to the war effort, and still drew considerable box-office with audiences hungry for escape the horrors of the day. Disney's package – or anthology – films began with Saludos Amigos in 1943, and concluded with 1949's The Adventures of Ichabod & Mr Toad, and their success despite the economic downturn helped the studio go on to finance some of their most popular full features, including Cinderella, Alice In Wonderland and Peter Pan.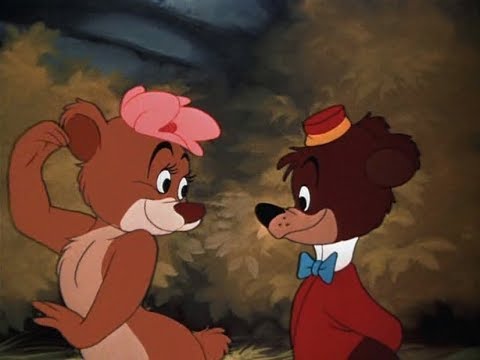 Of the six package films produced in the late 1940's by Disney, Fun & Fancy Free is the fourth, and features two distinct animated stories linked by the appearance of ventriloquist Edgar Bergen, Disney studio starlet Luana Patten, and another appearance of Jiminy Cricket. The first of the featurettes within the film itself is the story of Bongo, a circus bear who dreams of escape where he can live in the forest with a mate and spend his days happy. The segment is narrated by then-popular vocalist Dinah Shore, and tells of Bongo's dream of a better life, and his escape, romance with female bear Lulubelle, and his fight against local bully-bear Lumpjaw. It's a pleasant enough dawdle filled with pratfalls, wanton cartoon violence, over-the-top romance and some delightful animation. Bongo makes for a competent protagonist, with Lulubelle being quite a luscious female foil for his attention, and Lumpjaw providing the requisite antagonist part with his Neanderthal visage and simple violence typical of cartoon elegance of the time.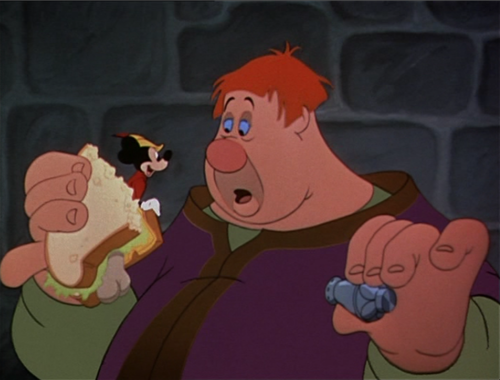 The film's second featurette, a take on the Jack & The Beanstalk fable, sees Mickey Mouse, Donald Duck and Goofy clamber up the giant plant to a castle in the clouds, where they encounter the Fee Fi Fo Fum giant of lore and try to rescue a magical harp which will bring prosperity to the destitute landscape far below. This story is narrated by Bergen, who also works the incredibly popular puppets Charlie McCarthy and the dull-witted Mortimer Snerd, alongside Song of The South starlet Luana Patten, who was then a studio repertory player at the tender age of 9. The animation and story of "Mickey & The Beanstalk" is of a standard that might not make a full-fledged feature, but work better as a smaller, less "produced" animated short, and the narration by Bergen and Co generates far more laughs than the story itself. McCarthy's a cheeky persona and riffs splendidly in a clever fourth-wall breaking style, whilst Snerd is less conspicuous by his sheer idiocy. Patten, whilst cutesy for sure, adds little to the movie's linking segments.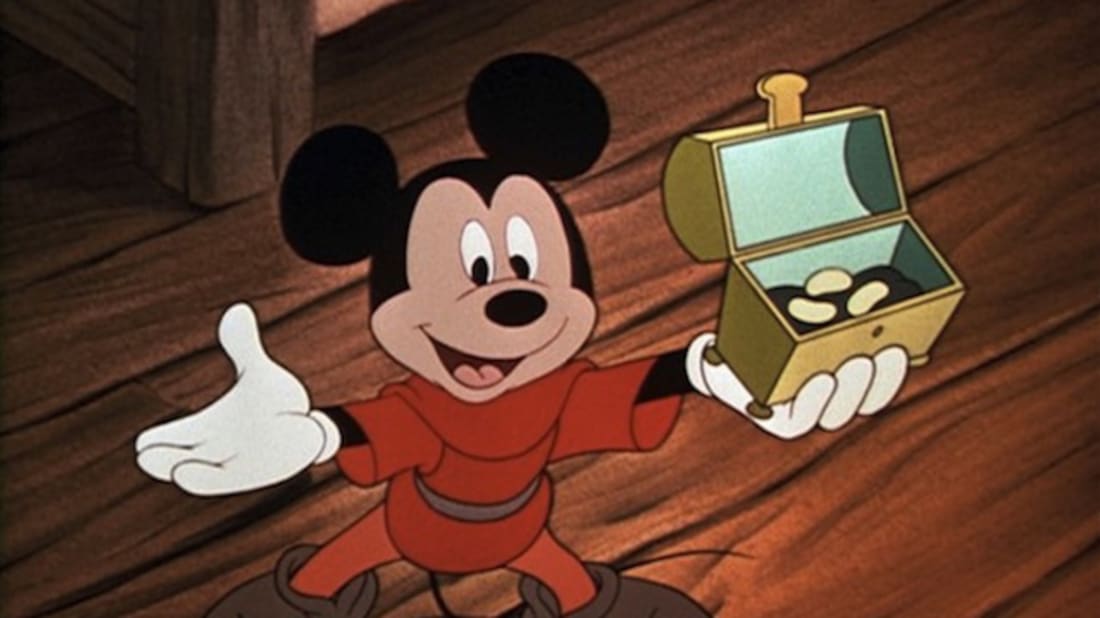 As you might expect from a film cobbled together from until-then incomplete studio projects – Bongo was initially intended as a full feature by Walt, but he soon realised the story wouldn't stand up to a 90-minute movie so was happy to have it included in this package film – there are a number of different directors credited to the finished product. Noted studio animators Jack Kinney, Bill Roberts and Hamilton Luske worked on the animated segments, while William Morgan directed the live-action elements, and you really can tell the difference in styles between them. The "Bongo" sequence is beautifully animated, looking like it was released only last week, the colours popping and the bright animation style offering a distinct Silly Symphony-style to proceedings. Conversely, the Beanstalk segment is given a softer visual style, very much in keeping with Disney's fairy-tale aesthetic, with more muted colours less clashing tones, a holdover from Disney wanting this story to also have made a feature film. William Morgan's live-action work is clunky to say the least, the acting and editing feeling awkward and ill-fitting shoehorned between the beautiful hand-drawn artistry surrounding it. Where the cartoon art looks positively fabulous even in 2021, the live-action work hasn't aged well at all, with the puppets on show looking haggard and the photography really flat, almost television-studio level rather than appropriate for a theatrical film.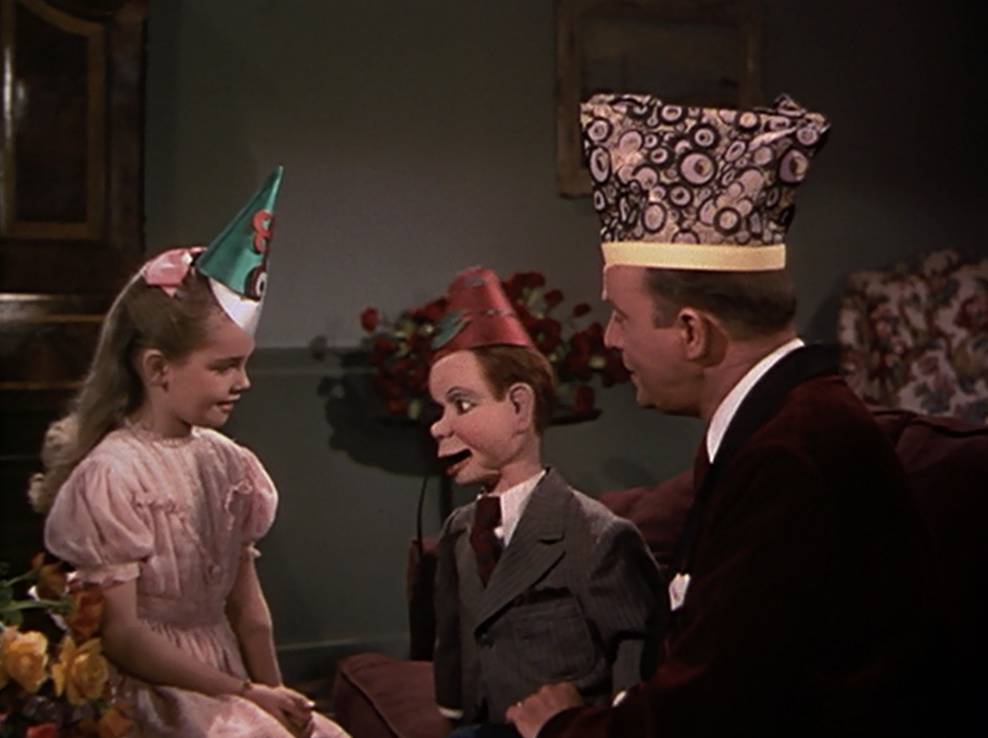 Fun & Fancy Free is a terrible title that hides some of the gems within: the Bongo story is cute, the Beanstalk tale s definitely worth a look, and the Charlie McCarthy dialogue is more often than not hilarious. It's a shame these package films don't really work overall thematically but they do showcase the artistry and care the animators had for their work. In parts it's really entertaining, in other aspects it's a bit of a drag, but as a historical document and Disney canon example there's more good than bad. And having Jiminy Cricket back is never a bad thing.
Who wrote this?