Movie Review – Harder They Fall, The (2021)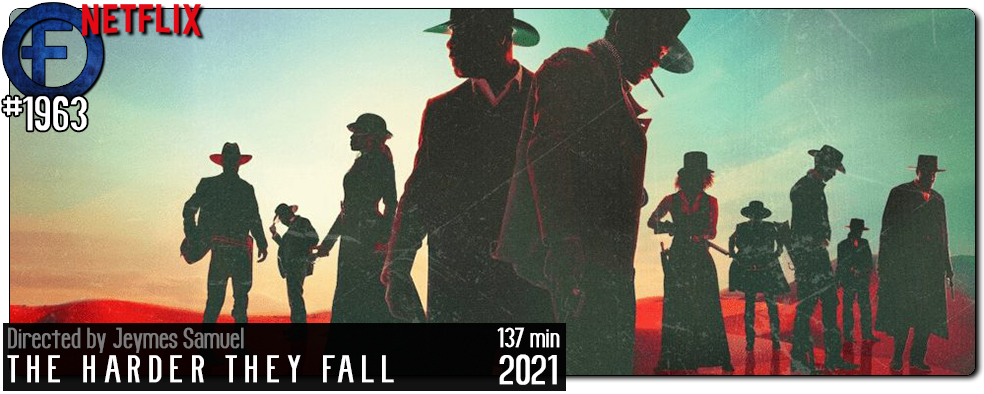 Principal Cast : Jonathan Majors, Edris Elba, Zazie Beetz, Regina King, Delroy Lindo, Lakeith Stanfield, RJ Cyler, Danielle Deadwyler, Edi Gathegi, Deon Cole, Damon Wyans Jr.
Synopsis: When an outlaw discovers his enemy is being released from prison, he reunites his gang to seek revenge.
********
Owing more than enough to cut Quentin Tarantino a royalty cheque, Seal's little brother concocts a bloody, dusty Western revenge epic that takes its cues from both Blaxploitation flicks of the 70's and modern music videos in this visceral, high octane film that's light on soul and heavy on style. Laced with cool, musician and producer Jeymes Samuel's debut feature film features an all-star roster of current African-American talent donning the cowboy boots and spurs in what can only be described as a bloody romp, all squints and grimaces determining the film's hard-bitten edginess working as glib as it is grindhouse in depicting the Black Experience in the Old West; Samuel's foray into the genre is gleefully entertaining in much the same way Sam Raimi's The Quick & The Dead was a fantastical orgy of excess, lacking subtlety when it can operate as such high speed and literally bludgeon the audience into a frenzy.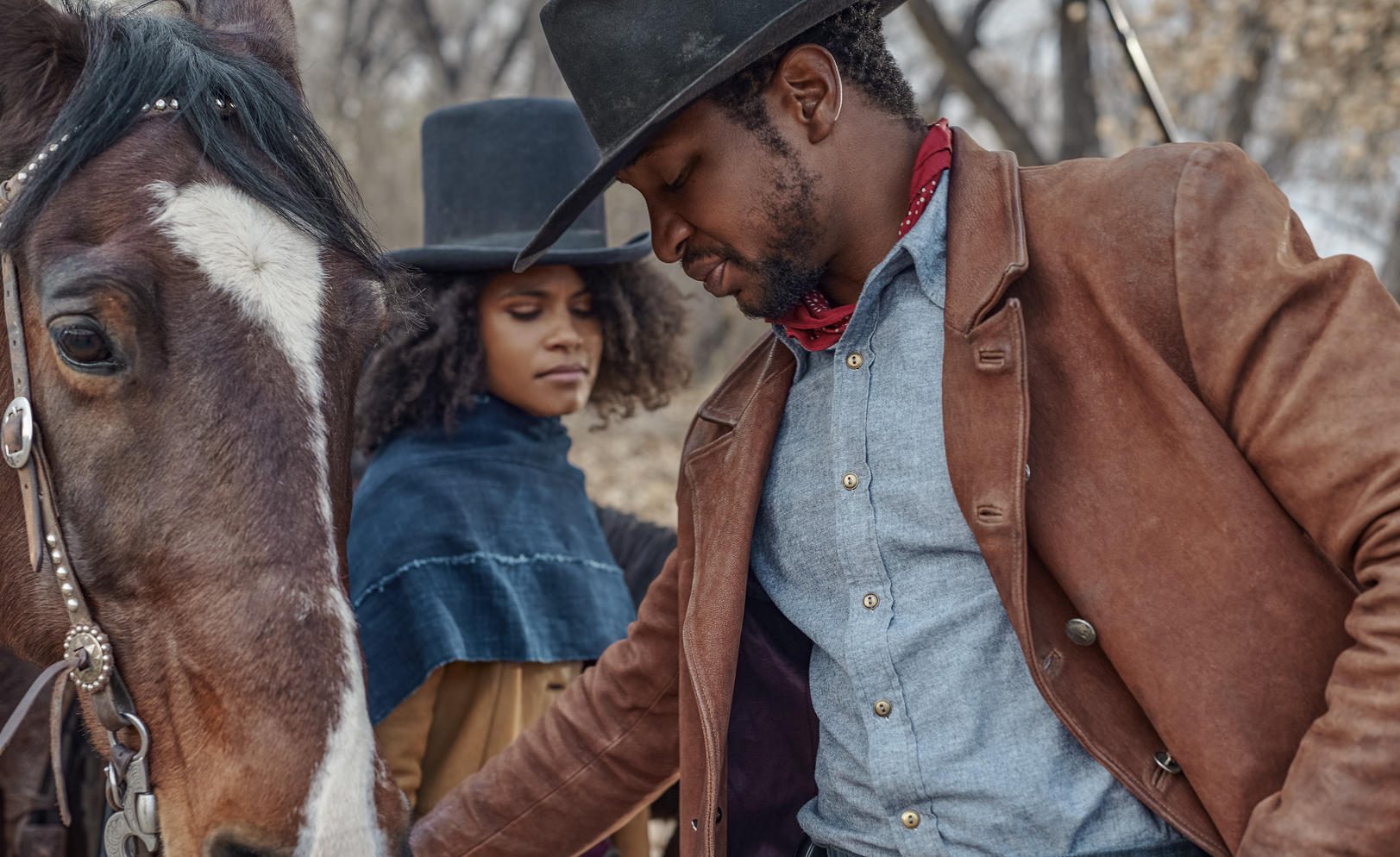 Outlaw Nat Love (Jonathan Majors – Loki, Da 5 Bloods) hunts down men who killed his parents and physically scarred him for life, particularly the odious Rufus Buck (Idris Elba – Pacific Rim), who is broken out of incarceration by his accomplices Trudy Smith (Regina King – If Beale Street Could Talk, Legally Blonde 2) and Cherokee Bill (Lakeith Stanfield – Get Out). Out for revenge, Nat recruits US Marshall Bass Reeves (Delroy Lindo – Point Break), girlfriend Stagecoach Mary (Zazie Beetz – Deadpool 2), Mary's friend Cuffee (Danielle Deadwyler – Station Eleven), and sharpshooters Bill Pickett (Edi Gathegi – Twilight, Better Start Running) and Jim Beckworth (RJ Cyler – Power Rangers), to track him down and lay waste to the isolated town of Redwood.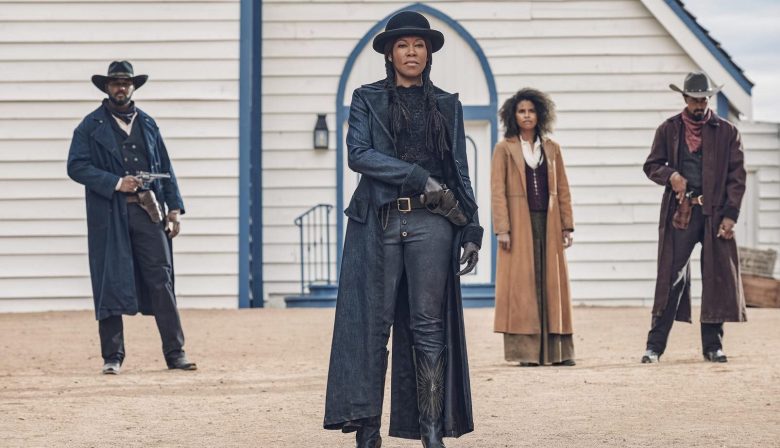 Jeymes Samuel's The Harder They Fall is quite the schizophrenic affair; displaying a repertoire of visual tricks and camera effects to energise the relatively pedestrian plot works for a while, but eventually the film has to find the emotional weight through its central characters, and it's here that the film tends to fall apart. Samuel's isn't the writer he thinks he is, supplanting depth and dramatic truth when whizz-bang gunplay and jarring editorial beats play havoc with the film's equivalency, but he at least has fun with the subgenre and engages the audience with a hit-parade of tracks from black artists – notably Jay-Z, CeeLo Green, Barrington Levy and, naturally, Seal – that never really gel with the on-screen visuals. It's a ripe cowboy epic skewed through populist violence, hip-hop dialogue and postmodern cinematography, the kind of patter-filled one-liners and too-cool-for-school monologuing that, well, really isn't all that cool but feels good in the moment.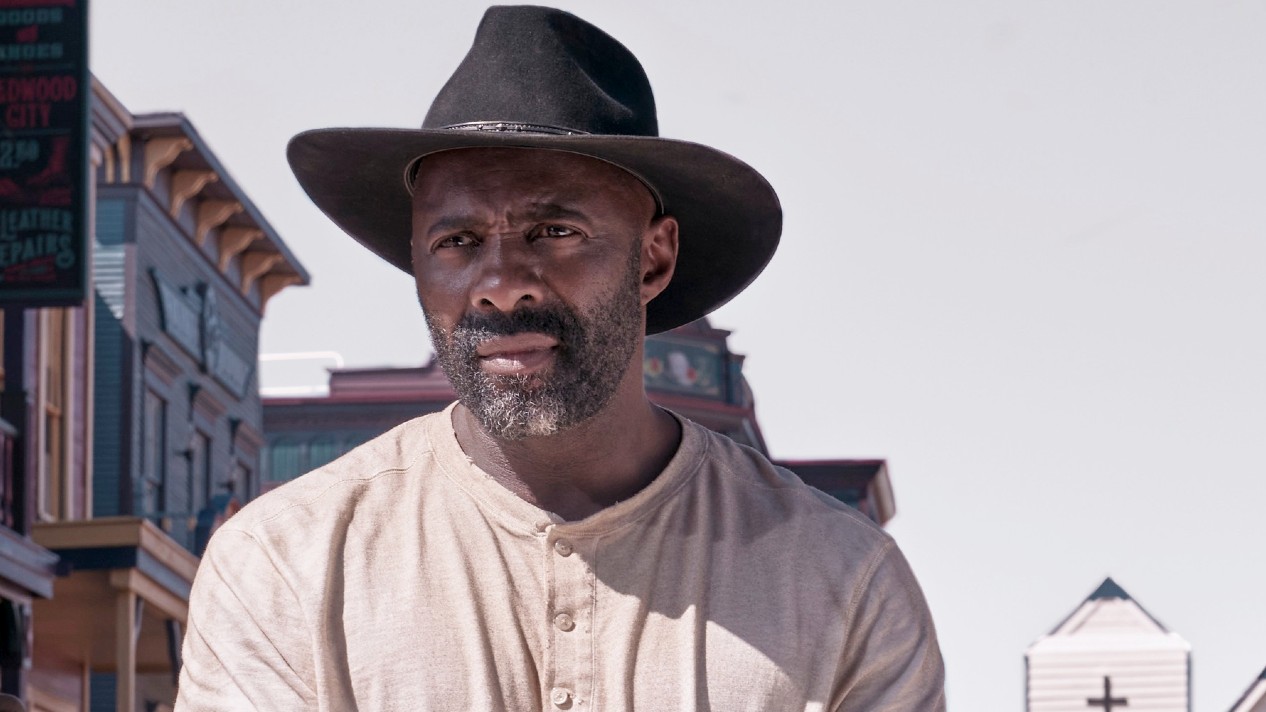 The film is definitely a lot of fun, and I'll be darned if I took it seriously enough to really lean into the flaws and problems I had with the movie. I think The Harder They Fall will appeal to a specific kind of audience, an audience largely unaware of classical Cowboy Movie esteem I think, and as a pure action romp it works a treat. There's a frisson, an energy to the movie that is undeniable, derived largely from the chemistry between Jonathan Majors and his on-screen romantic interest, Zazie Beetz. Majors shoulders the film's vengeance narrative, but Beetz is the sexy in this one, a ferocious presence surrounded by occasionally backstopped leading men, owing every scene and, to her credit, kicking ass in her climactic fight scene with Regina King's Trudy Smith. King, for her part, never takes a step backwards either, as crackling an on-screen villainess as you'll ever see, the perfect foil to Idris Elba's lumbering, tormented Rufus Buck. Elba's buck is arguably the weakest part of the film in terms of characterisation, his scenery chewing nemesis lacking conviction or a decent backstory. It's one thing for a villain to be built up to be this legendary, mythic figure of cruelty and rage, it's another for that build-up to fizzle so quickly on the screen. And we all know Elba is a hell of an actor, so turning in a role so limited in depth and iniquitous in action is something of a surprise.
The cast are solely the reason to watch this, really. The plot isn't really anything to write home about (and the last gasp twist comes far too late to make much of an emotional difference), the editing and bombast on display cover many a hole or slower section, and some of the song selections don't work at all, but the energy of the performances is often enough to elevate the film above its B-movie station. Delroy Lindo is always watchable, Edi Gathegi, RJ Cyler and Danielle Deadwyler feature as cool sidebar characters, while the production design I felt was a key positive among the many others the film exhibits. Props to cinematographer Mihai Malaimare Jr (The Master, A Walk Among The Tombstones, Jojo Rabbit) for creating such a beautiful landscape upon which to set this movie, although at times things lack a sense of gritty realism and dip into plasticised, uber-clean modernity. Also worth mentioning is the costume design by Antoinette Messam (Hold The Dark, Colossal, Creed) who drapes the beautiful cast in equally exquisite couture that positively snaps on screen.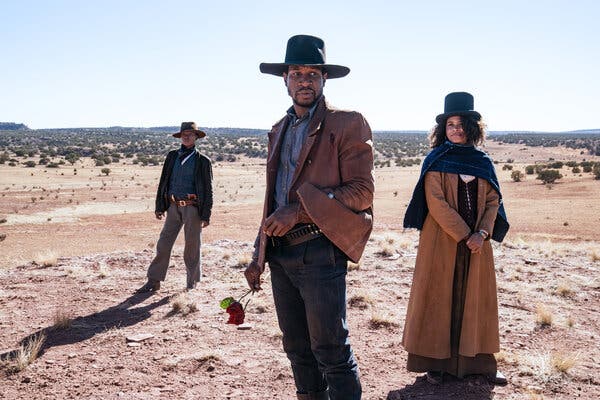 Despite being far too long – seriously, Samuel's could have chopped twenty or thirty minutes from this and really delivered a hand grenade – and a touch too Tarantino-esque for my liking, I still had a great time with The Harder They Fall. It's a blistering, violent extravaganza that does work more often than it doesn't, enough to have a great time without thinking too hard about how problematic the repurposing the real-life people these characters represent: it's true, most of the main characters depicted in this film were real Old West people, although in almost every circumstance writer Samuel's screenplay subverts their historical accuracy for storytelling flamboyancy. Majors' Nat Love was a cowboy, sure, but spent most of his time as a cattle rustler rather than an extravagant revenge-seeking gunslinger. Rufus Buck led an outlaw gang that committed some atrocious felonies, yes, but his persona in the history books is a far cry from the malicious, legendary figure portrayed in this film. Cherokee Bill, real name Crawford Goldsbury, never met his fate in the dusty streets of Redwood, but rather dies by hanging after a lengthy trial. I'm not sure how profligate depictions of historical figures might stand for a film of this tone, usurping accuracy for the sake of such salacious material, might give Jeymes Samuel a hit of pop-culture boost, but I did find it a touch disingenuous.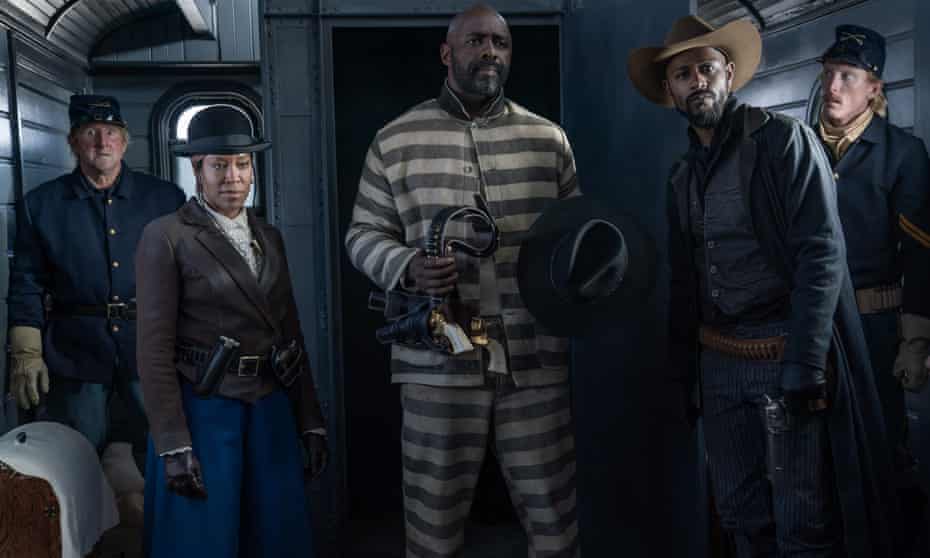 The Harder They Fall is a pugnacious blast of gunslinging fun and cruel, mocking violence. It's another in a long line of "who's left alive by the end" ensemble action, a bloody, body-shredding bullet-fest that says a lot without saying much at all. Although it pretends to be a heady mix of intellectual character beats, under Samuels' music-video direction comes up largely devoid of devotion to the genre, and as engaging and pulsating as The Harder They Fall is (and it is, make no mistake), the sugar rush wears off quite quickly once the closing credits lock into place. I did have fun with it, and I suspect a lot of people will, but temper your expectations of legacy.
Who wrote this?