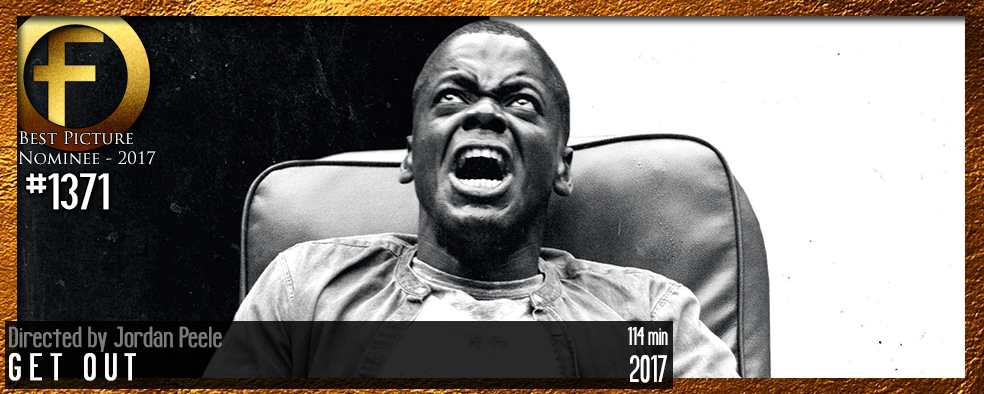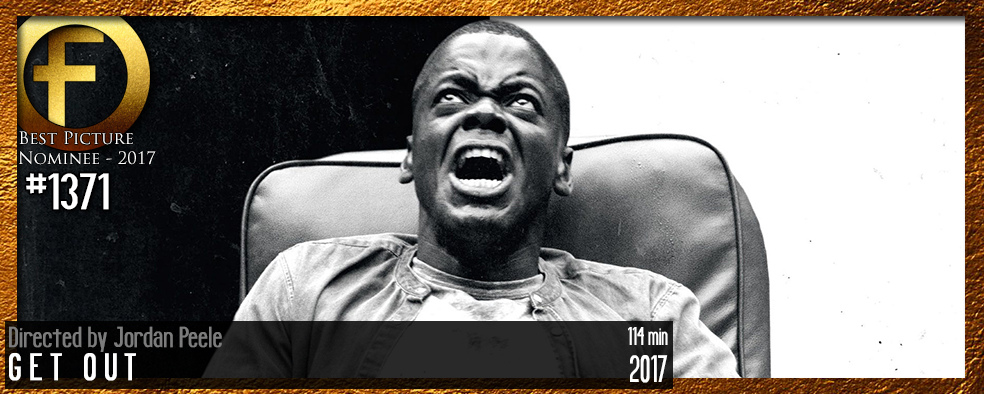 Principal Cast :  Daniel Kaluuya, Allison Williams, Bradley Whitford, Catherine Keener, Caleb Landry Jones, Lil Rel Howery, Betty Gabriel, Marcus Henderson, LaKeith Stanfield, Stephen Root, Erika Alexander.
Synopsis:   A young African-American man visits his Caucasian girlfriend's mysterious family estate.
*******
Get Out is a film thick with menace, ghastly tension and an undercurrent of horrifying racial implication. It's a film not for the faint of heart, nor is it a film you should avoid because it's a "horror", but rather it invokes horror elements as a tablecloth to its menu of social dissection (ha!) and front-page-news congruence. Tiptoeing around the more obvious racial elements Get Out displays in digging its hooks into you as you watch, the film, written by director Jordan Peele is both prescient to modern liberal saviour complexes and a genuinely creepy, skin-crawling exercise in deviant terror. Get Out contains thematic similarities to genre standards such as Psycho, Misery, The Stepford Wives, a touch of Saw and Strangers, yet it retains a scintillating visceral aesthetic all its own – Peele's comedic work has never once elicited a strong reaction from me, but his efforts on Get Out have me extremely excited for what his future might entail.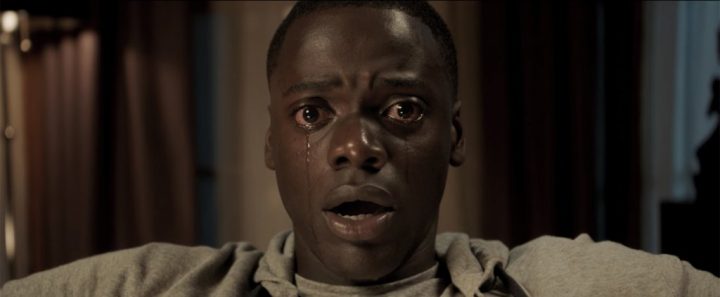 Black photographer Chris Washington (Daniel Kaluuya – Kick Ass 2) and his white girlfriend Rose Armitage (Allison Williams – Girls) are a modern happy couple; Rose has invited him to spend the weekend at her parents house in the country, something Chris is initially reticent about considering they're a mixed-race couple. Arriving at the Armitage residence, Chris meets Dean (Bradley Whitfield – The Cabin In The Woods) and his wife Missy (Catherine Keener – Where The Wild Things Are), a psychiatrist-slash-hypnotherapist, as well as Rose's brother Jeremy (Caleb Landry-Jones). Chris also meets the Armitage's black servants, Georgina (Betty Gabriel) and Walter (Marcus Henderson), whose bizarre behaviours triggers alarm bells for the young man. So when Missy tricks Chris into being hypnotised, he suddenly discovers a horrifying secret from which he'll be lucky to escape alive.
 From its opening sequence of a random black man's kidnapping, to Chris and Rose's bloody trip to her folks' home, to the film's bloody, violent conclusion and all the twisty, creepy shit in between, Get Out is a tour-de-force from Jordan Peele that cannot be overstated. Comparisons to other director's work will have to supplant my own inadequate descriptive skillset – Peele taps into Hitchcock, Fincher, early Shyamalan, and even modern master James Wan in bringing Get Out's nerve-shredding arc to its full potency, and while it's an absolute pleasure to enjoy a film so perfectly directed, acted and produced, it also deserves plaudits for handling sensitive material with a degree of restraint.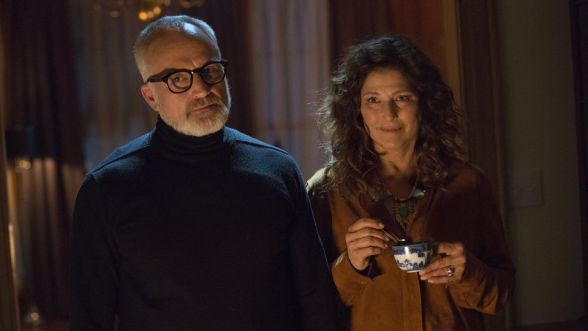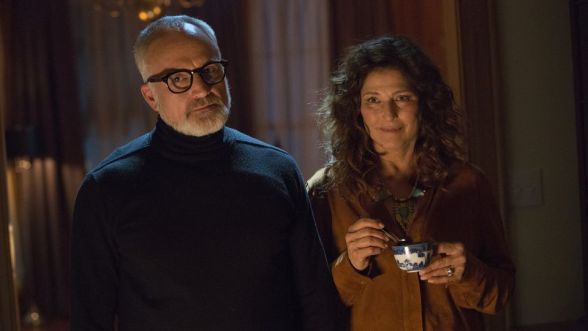 Get Out could be considered a formulaic blaxploitation film (maybe a reverse-blaxplotation film?) in many respects: the central premise, that a young black lad is "fed to the lions" of white middle-class suburban America and their inexcusably racist undertones is something that resonates with white-hot alacrity. There are people still alive today who would find the notion of a black boy and a white girl being together as abhorrent, and its this impenetrable veneer of human repulsiveness that Get Out taps into perfectly. That's not to say this is the only thing Get Out is about, because as the film draws closer to its climactic resolution we're shocked to learn that there's other things Peele has to say within his knock-down narrative, but the prickly tension between Chris and Rose's parents early in the film is indicative of the simmering social climate in certain parts of the world even today.
The thing that makes Get Out work so damn well is largely its cast, all of whom deliver chilling and effective performances. Daniel Kaluuya hits the mark brilliantly as Chris, offering confusion, jaded downcast resignation and eventually a resilience we've not credited him with through his previous actions, as he brings an emotive and affecting portrayal of a man utterly betrayed. Allison Williams is a breath of sunshine in this opaquely dark world Peele has created – this is the first role I've seen her in and she has an ethereal quality not too dissimilar to Lake Bell or Amanda Peet (who could very well be sisters if you squint), and as Rose offers the film a sense of safety in the early going. Before the dark times, at least.
Cinema stalwarts Bradley Whitford and Catherine Keener don't have to swing too far to play the creepy, and hell if they don't absolutely nail it. Smaller roles to Stephen Root, as a blind photography art dealer, Caleb Landry Jones as a skittish, weird Armitage sibling, and Betty Gabriel as the female servant around the house, provide memorable moments in and of themselves, but Peele allows them to serve a greater purpose as pieces of the jigsaw he's crafted so well. Lastly, the film's comedy relief is stand-up comedian Lil Rel Howery, who plays Chris' TSA buddy Rod; Peele disperses some nervous laughs between the shocks early in the film, while aiming for gut punches later on, and Howery delivers some nice tension-breaking humour.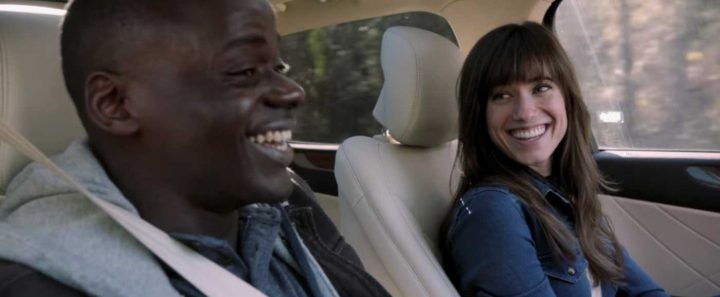 Perhaps most surprising to me – certainly in light of Peele's career until this moment – is how incredibly well Get Out is directed. It's a masterful horror film, bringing skin-tingling tension, awkward, hard-to-watch interplay between characters, and a sense of sublimely weird off-kilter-ness to the film's overtly serious style in a manner you'd expect from a veteran helmer, not somebody for whom this was their debut feature. There's a mixture of jump-scares, creepy shadow-play and expertly crafted visual cues (such as the "hypnosis" aspects of the film's latter half) that work in concert with each other. Less effective horror films often use these tropes (and they are tropes) as a method of attacking the audience into fear, rather than enticing and inviting the viewer into a state of terror; bless Jordan Peele for figuring out how to do the latter rather than the former.
It's astonishing how well Get Out comes together to terrify and elicit several moments of fist-pump euphoria, and I mean no disrespect towards Peele in saying that. It's simply an observation that his film is one of the best horror films of the modern age – alongside recent entries like It Follows, The Babadook and The Witch – and is precisely so effective because it hones in on themes and elements of modern society that resonate so enormously with today's audiences. A captivating story, well acted characters and razor-wire direction make Get Out a stand-out film and one of the best of the year to-date.
Related articles
Who wrote this?