Movie Review – Toy Story 4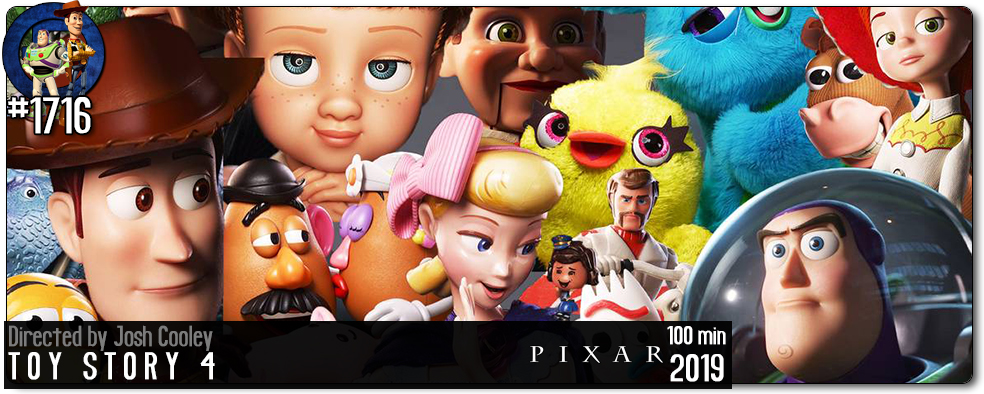 Principal Cast : Tom Hanks, Tim Allen, Annie Potts, Tony Hale, Keegan-Michael Key, Jordan Peele, Madeline McGraw, Christina Hendricks, Keanu Reeves, Ally Maki, Jay Hernandez, Lori Allen, Joan Cusack, Wallace Shawn, John Ratzenberger, Blake Clarke, Don Rickles, Estelle Harris, Jeff Pidgeon, Bonnie Hunt, Kristen Schaal, Timothy Dalton, Jeff Garlin, John Morris, Jack McGraw, Laurie Metcalf, June Squib, Carl Weathers, Steve Purcell, Lila Sage Bromley.
Synopsis: When a new toy called "Forky" joins Woody and the gang, a road trip alongside old and new friends reveals how big the world can be for a toy.
********
Despite nobody wanting it, asking for it, or even really needing it, Pixar continues to deliver masterpiece after masterpiece with Toy Story 4, a continuation of what was the perfectly concluded trilogy of films (back in 2010, when Toy Story 3 came out!) that delivers emotional resonance, a load of heart and an avalanche of nostalgia, all of which combine to produce one of the studio's more measured soon-to-be classics. Trading heavily on characters we've all invested heavily in over the last twenty-something years (the first film landed in cinemas in 1995), and boasting yet another uptick in Pixar's already stellar animation quality, Toy Story 4 actually manages to legitimately continue a franchise I always felt wrapped up so perfectly with Andy driving away to college leaving his toys in the hands of a new (younger) owner. I was worried that the film, in the hands of feature debutante Josh Cooley (he directed the short Inside Out film Riley's First Date), would fail to live up to the lofty standards of its impeccable pedigree through simply overstaying its welcome, but with a screenplay co-authored by franchise genius Andrew Stanton and Pixar's blue-ribbon attention to detail, my fears proved completely unfounded.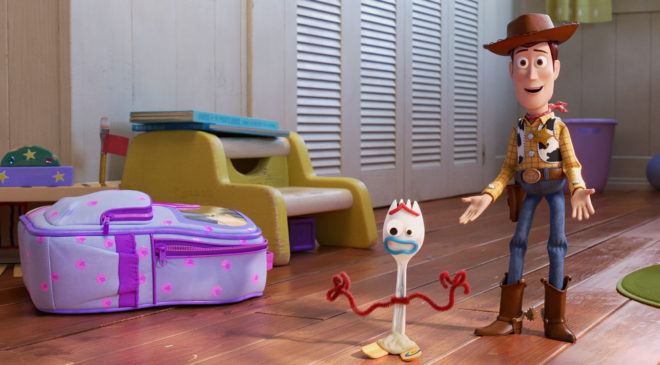 Woody (Tom Hanks) is having trouble adjusting to life relegated to simply "another toy" in Bonnie's (Madeline McGraw) room, being a "boys toy" he's rarely played with. So when Bonnie creates her own new toy – a recycled plastic spork named Forky (Tony Hale) – the cowboy doll sees in him a mission to bring his new owner all the joy he once brought Andy (seen in flashback, voiced by John Morris and Jack McGraw). However, when Bonnie and her parents go on a road trip, Forky flees the camper trailer and eventually arrives at a nearby antiques store, along with the purusing Woody, where they meet a desperate Gabby Gabby doll (Christina Hendricks) who wants Woody's mechanical voice box for her own tragic purposes. Meanwhile, the rest of Bonnie's toys conspire to rescue Woody and Forky: unbeknown to them all, a member of their troupe, last seen nearly a decade prior, will make her triumphant return to their lives as she and her sheep (as well as a slathering of new toys to boot) provide Woody with some much needed reflection on his life.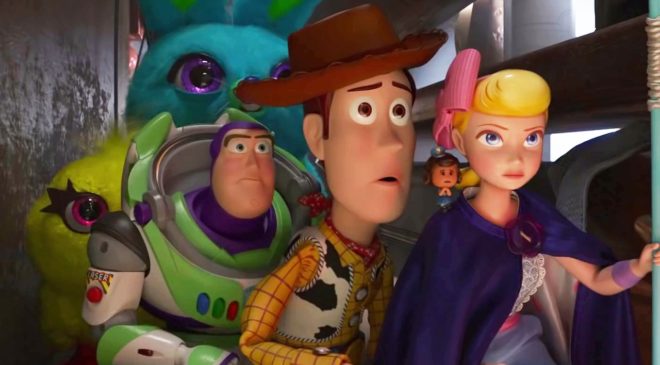 Of all the Pixar sequels, prequels and spin-offs, Toy Story is one of very few for which there hasn't been a noticeable drop-off in quality. Monsters University was competent and lovely without being brilliant, Finding Dory was excellent without quite hitting the same level of satisfaction as its searching progenitor, and the less said about the Cars franchise the better. Yeah, Incredibles 2 was a masterpiece (in my opinion) but I've been growing wary of a studio famed for knocking out legitimate art with every new concept that it releases having to rely so heavily on established properties. The only exception to this is Toy Story, of which the original three films formed a trilogy of storytelling perfection. I doubt there's a single element to those films that would be considered of insufficient quality to betray this belief: Toy Story 4 had a lot to live up to. As you might expect from a studio as blue-ribbon as Pixar, the Toy Story films are their crown jewels and you'd think they'd play with this franchise at their peril, lest they sully the goodwill towards Buzz, Woody and Co from children and adults around the globe.
The fourth film in this wonderful series sets not just a new bar for animation but raises the bar for the studio's future output itself. The level of detail in every frame of Tory Story 4 is amazing, on par with that seen in the most recent How To Train Your Dragon instalment, which remains the most amazingly animated feature film I've seen to this point. That the film also takes us on a new and interesting story arc, rather than simply retreading similar ground as before, is testament to the ingenuity and creative strength of Pixar and the team of filmmakers working there; the story the film contains is credited to innumerable people (including former honcho John Lasseter, who left the company in a blaze of bad publicity) but written by Andrew Stanton and Stephany Folsom, and surprisingly consigns Buzz Lightyear to practically a supporting player in his own franchise, leaving Woody and returning character Bo Peep (voiced by Annie Potts) to shoulder a large percentage of the heavy emotional lifting here. Whereas previous films dealt with the toys all having to accept stages of Andy's life and the fact that he's no longer willing to play with them all, the fourth film delves into Woody's sense of abandonment and loss following Andy's departure, and it makes for compelling viewing.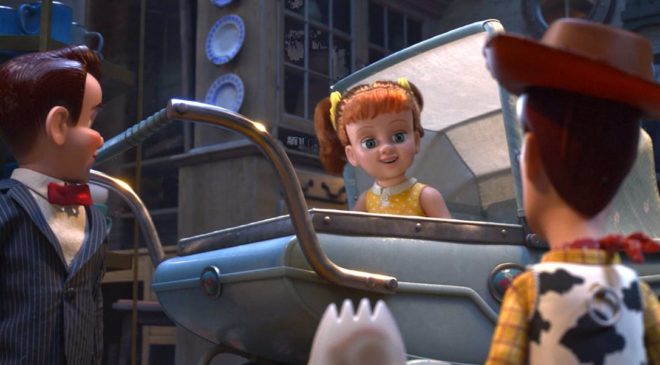 The return of Bo Peep (whose sudden disappearance from earlier films is explained in a really cool way) and the addition of a plethora of new characters – notably the tragic Gabby Gabby and the hilarious Duke Kaboom (Keanu Reeves, being as utterly Canadian as one can get), as well as a pair of joined-at-the-fluff prize toys (comedic pairing Keegan-Michael Key and Jordan Peele, the latter better known these days as a rising force in directing horror films) – provide an enormously complex task for the storytellers to deal with. You'd think a film littered with all manner of new and returning characters might feel weaker in one area than another, or focus too heavily on something to the detriment of others, and in some aspects you'd probably be right with that assessment.  I think we're so attuned to these films, and so adoring of these characters, that we're unfazed to find the likes of Buzz, Mr Potato Head (the late Don Rickles, whose performance was gleaned from archival recordings in a canny move by the studio), Hamm (John Ratzenberger) and Rex (Wallace Shawn) practically absent for large portions of the story and hardly missed at all. Such is the quality of writing and vocal performance within Toy Story 4 that this potential hazard of audience acceptance is avoided entirely. The focus on Woody, Bo Peep and Gabby Gabby as the primary motivators for the film, as well as the inclusion of Tony Hale's hilarious Forky (trust me, it makes sense in the film), grounds the film's enormous ensemble in a way that ensures emotional viability within the construct of Woody's forlorn sense of absenteeism. Woody has lost a lot along the way, and Toy Story 4 is his catharsis on this.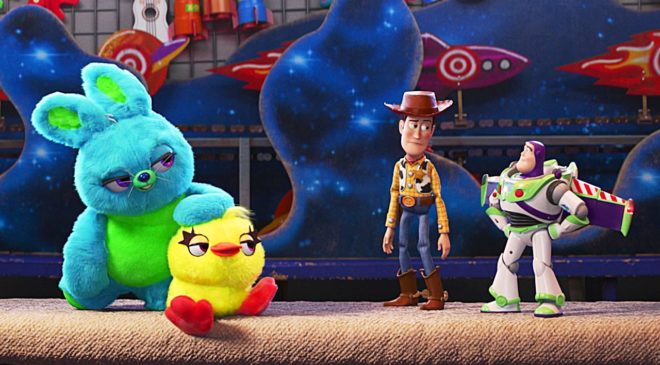 Incoming director Josh Cooley obviously has a love for the characters as deep as the rest of us, for you'd hardly notice the change in directors from previous films (Lasseter helmed the first two, whilst Lee Unkrich directed the third), and as riven in nostalgia as it is (keep an eye out for a cameo by one of Pixar's earliest digital creations!) there's warmth and freshness to the plastic goings-on, making for truly heartwarming viewing. A caveat: all the previous films have been presented in the traditional 1.79 or 1.85 aspect ratio, and Cooley decided to present this film in the wider 2.35 ratio, which will surely make my OCD kick in when it comes to the eventual binge-watch on BluRay, but the image quality is gorgeous and packed to the gills with detail. I actually gasped when Woody and Bo were infiltrating an antique store and they kicked up some dust particles; this wouldn't be to surprising, except that the shot I noticed had dust moving when there didn't even need to be, and it occurred in a place so obscure you'd never have noticed it in the first place were you not looking in that direction: this level of quality and depth to the film's storytelling, and to the franchise's established pedigree in pushing the envelope of computer animation, is worthy of Award Season buzz for sure. Part of the fun of the Toy Story films and the vast gaps between releases is watching the level of detail and quality in each successive film gradually make the preceding films feel positively antiquated: looking at the original Toy Story now, even my kids tell me it's an "old film" compared to current releases. The textures, tones and use of lighting and focus is masterfully executed, no doubt the end result of thousands of man-hours of creative discussion and testing: and it should be applauded in all corners.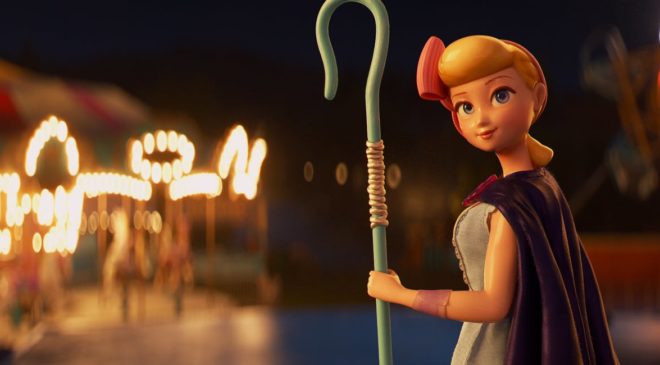 Like most, I wasn't really up for another Toy Story film, mainly because I contend that the original trilogy is perfect in every conceivable way, and could never be improved. Toy Story 4 doesn't just improve on perfection, it enhances, expands and compounds the emotional weight (I had a lump in my throat towards the end here, whilst my pre-teen daughter was opening weeping at the same point) of the previous films, all while expounding on its own merits. Remarkably moving, often incredibly funny and fun, Toy Story 4 is a genuine masterpiece (yet again) from a studio we should all have far more faith in by now.
Who wrote this?