Movie Review – Finding Dory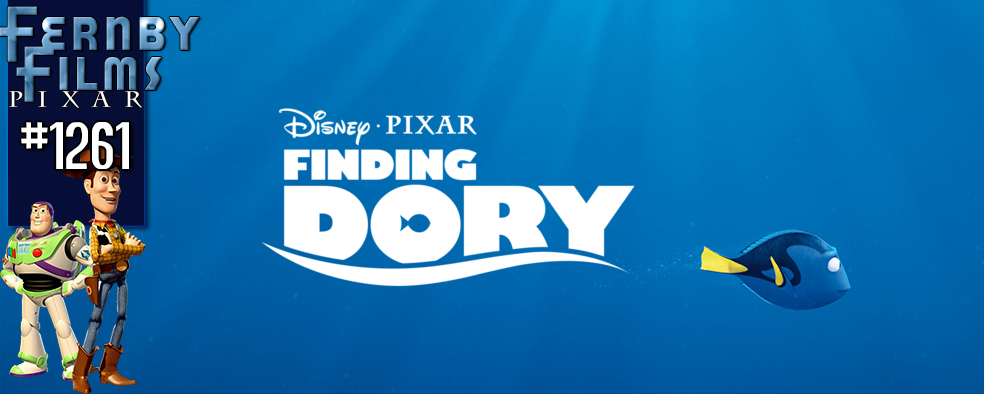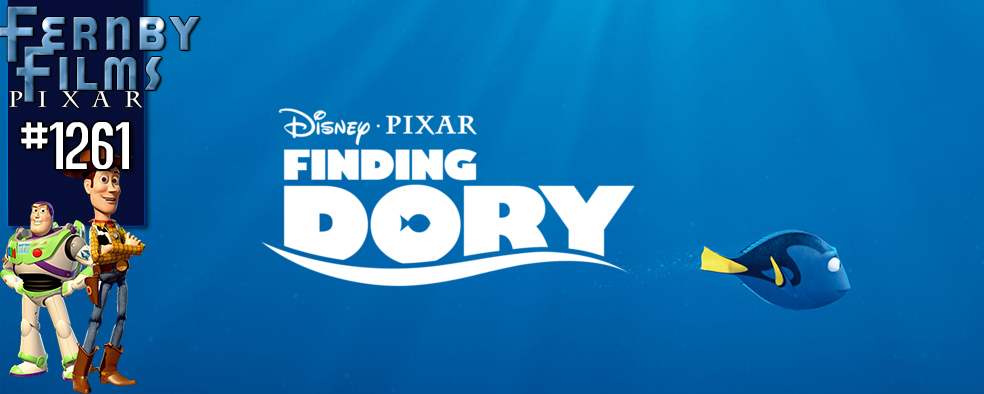 Director :   Andrew Stanton
Year Of Release :   2016
Principal Cast :  Voices of Ellen DeGeneres, Albert Brookes, Ed O'Neil, Hayden Rolence, Diane Keaton, Eugene Levy, Kailtin Olson, Ty Burrell, Idris Elba, Dominic West, Bob Peterson, Andrew Stanton, Sigourney Weaver.
Approx Running Time :   103 Minutes
Synopsis:   Marlin and Nemo must embark on a search for the amnesiac Dory after she goes off in search of her long-lost parents.
*******
It still staggers me to think that Finding Nemo was only Pixar's fifth theatrical release. The in-its-infancy studio was delivering instant classics with every film it produced; cut forward to 2016, and the sequel, Finding Dory, has just as much heart and soul, but, somewhat sadly, lacks the pop-culture savvy of its predecessor. Sequels are a hugely problematic issue for studios looking to cash in on successful IP's, if not at the box office then certainly from a creative standpoint, and with the exception of Cars 2, Pixar has avoided the typical drop-off in storytelling ingenuity with deftly structured, emotionally weighty plots that furthered established characters while introducing new ones. What Finding Dory might lack in outright cultural assimilation it makes up for in beautiful animation,  solid characters both old and new, and a wonderful story, all of which combine to produce a story of unbridled associative joy.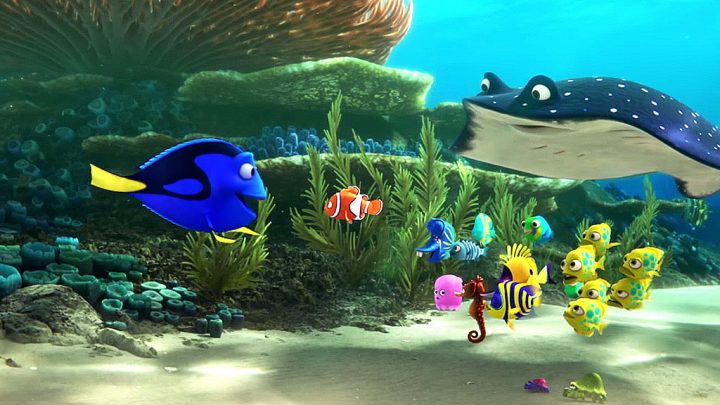 It's been a year since the events of Finding Nemo, and forgetful Dory (Ellen Degeneres) has started having flashes of memory about her long-lost parents, Jenny (Diane Keaton) and Charlie (Eugene Levy). Desperate to seek them out, she begins her cross-ocean journey with Marlin (Albert Brooks) and young Nemo (Hayden Rolence), to California, where the stumble upon a marine life institute and meet the aquatic inhabitants as Dory's memories assert themselves. When the trio become separated, Dory meets Hank (Ed O'Neill), a seven-armed octopus whose only thoughts are of escaping the institute and spending his life in a glass box, away from the prodding fingers of visiting children. Marlin and Nemo meet two sea lions (Idris Elba and Dominic West) who help them break into the facility to search for their missing friend.
Before delving into this review of Finding Dory, it should be noted that the theatrical short film released in front of Pixar's latest feature is Piper, a delightful little piece of wordless cinema that features a newborn sandpiper learning to find food on the beach with his mother and a trio of tiny hermit crabs. Piper is astonishingly well made – from its superb animation to its clever, simple little story, and although I'm going to have to watch it again, is probably better even than The Blue Umbrella, until now the gold-standard of Pixar shorts in my opinion. The animation looks so real you half expect David Attenborough to show up and start narrating it somehow. Major, and I mean major props to Pixar for Piper, because it's magnificent.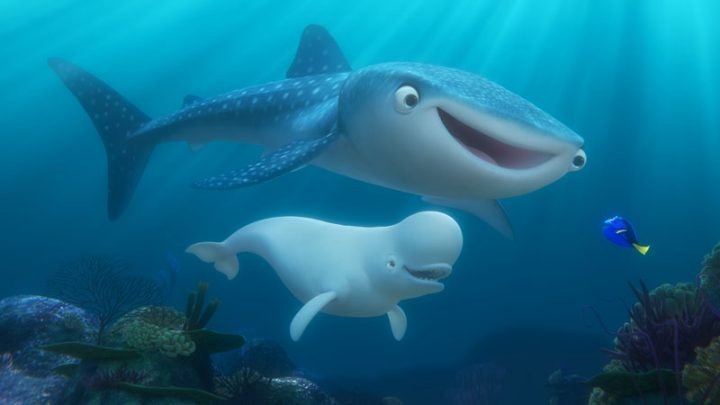 Finding Dory strikes me as a sequel that accommodates both the newcomer to Pixar's legacy, and constant companion. As a sequel it brings back the characters we know and love with a sense of heart but not the overbearing self-indulgent cleverness many sequels try and hammer home (the old "look at us referencing ourselves" routine, which becomes tiresome indeed); however, while it attempts to really solidify itself as its own thing, part of Finding Dory rests on our nostalgia for the previous film without earning any new emotional heft through the newly introduced characters.
Adults who grew up with Finding Nemo will light up seeing returning sidebar characters such as Crush, the surf-talking sea turtle, Mr Ray (Bob Peterson), the educational manta ray who sings his lessons to his young classes, and of course Marlin and Nemo, the latter voiced by newcomer Hayden Rolence after previous Nemo actor Alexander Gould – who has a cameo role as a couple of marine institute employees – was deemed to have "aged" vocally too much for the character. Young viewers will enjoy the introduction of new characters like Destiny (Kaitlin Olson) and Bailey (Modern Family's Ty Burrell), a whale shark and a beluga whale who inhabit large tanks at the institute and who are crucial to Dory's arc as she searches for her parents. Then there's Ed O'Neill as Hank, an octopus who begrudgingly befriends Dory as he tries to make his escape to a life of luxury; Hank isn't the most likeable character in the film, and in a way feels somewhat like the movie's central antagonist (he isn't, really, but the light-and-shade of O'Neill's performance is such that you're never quite sure until the very end), but he draws laughs thanks to terrific writing and banter with Degeneres' Dory.
Speaking of Dory: elevated to titular star of her own film isn't the problematic hurdle I expected. Dory as a character is effectively a one-joke wonder. As a forgetful fish, her constant forgetting is… well, if handled poorly could be tiresome and predictable, but the canny people at Pixar, led by returning director Andrew Stanton, have given her memory flashes and amnesiac qualities a little more depth this time around. Bless them, though, they never cop out and have Dory ever remember things wholesale, as if she was "broken" all along, but treat her diminished mental capacity with surety and dignity in spite of it being the film's most hilarious aspect. Ellen's performance is also to be commended; she's the heart and soul of this world, and Finding Dory gives her room to really flesh out that emotive arc as she reconnects with parents she'd forgotten. Alternately breathless and emotionally crumpled, Dory's heartbreaking journey to find her parents will tug at the adults watching, and give the kids a valuable lesson in valuing time with families.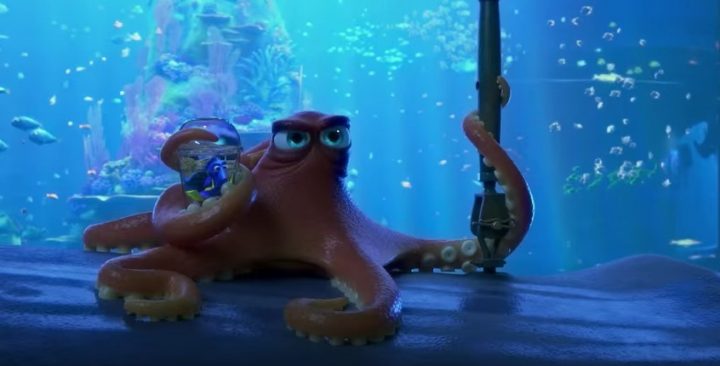 Then there's the superb animation Finding Dory enjoys. Similarly to recent successes Inside Out and The Good Dinosaur, this film's animation is a level above almost anybody else producing animated films today, Disney included. Pixar's detail and craftsmanship in "production value" with their animation is again superlative, an indelible benchmark-setting quality of visual splendour that, while maybe lost on first viewing by the fun and laughs of the story, is stronger than it's ever been and a magnificent thing to behold. It's a film of the world of Nemo, but much like Tory Story 3 did for Buzz and Woody, taking that franchise in a huge new elevation.
For me, though, Finding Dory didn't quite have that immediate pop-culture readiness that made the original so splendiforous. Sure, Dory tapped into the memory (ha!) of the original film with several tips 'o the hat to its continuity, but you never got the sense that kids will be talking about this one like they would the Tank Gang of the original. Maybe that's just my older outlook, but Dory's journey didn't quite have the same captivating road-trip elegance we had in the first film. Plus, neither Nemo or Marlin, central figures in Finding Nemo, have entirely fruitful arcs in this film; they feel almost tangential, secondary characters in their own story, outshone by Dory's haphazard slapstick and Hank's on-point escapism.
But look, we're not talking about an experience-ruining flaw in Finding Dory, not by a long shot. By anybody's standards Finding Dory is a superb film in every respect, and while maybe not at the same creative level as, say, Inside Out, is sweet enough and brave enough and delightful enough to stand alongside some of the upper echelon films the studio has released so far. No, it's not at Toy Story 3 level, but it's still a damn fine movie, rising to utterly magical at key moments.
Related articles
Who wrote this?