Principal Cast : Taron Egerton, Jamie Bell, Richard Madden, Bryce Dallas Howard, Stephen Graham, Gemma Jones, Jason Pennycooke, Charlie Rowe, Steven Mackintosh, Tom Bennett, Jimmy Vee, Rachel Muldoon, Celinde Schoenmaker, Sharon D Clarke, Harriet Walter, Tate Donovan, Ophelia Lovibond.
Synopsis: A musical fantasy about the fantastical human story of Elton John's breakthrough years.
******
As an anecdotal work of non-fiction, Rocketman trades heavily upon the appeal of acclaimed singer-songwriter Elton John's astonishing early musical output, so much so that it almost becomes a default "greatest hits" music video with tiny bits of drama in between the soaring and often foot-tapping song-n-dance numbers. As he did with Bohemian Rhapsody, director Dexter Fletcher brings a theatrically ambitious, albeit emotionally shallow look into the early life of Elton's musical career, from his childhood as a musical prodigy to his drug-sex-and-alcohol fuelled spiral into oblivion during the 70's and 80's, frequented by accompanying songs representative of his life at any given period, a testament to the power, lure and inevitable toll such fame and wealth has on any individual of a creative level on part with John's lifestyle.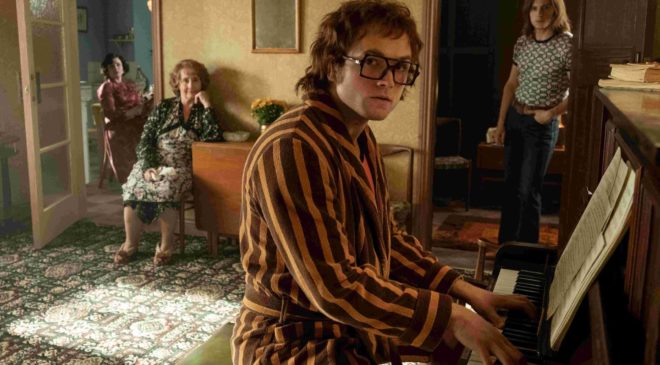 Told primarily in flashback, with a flamboyantly attired Elton John (Taron Egerton) attending an addiction rehabilitation session, recounting his story from the early days of his youth at home with an emotionally distant mother (Bryce Dallas Howard), an even more emotionally distant father (Steven Mackintosh), and his caring grandmother, Ivy (Gemma Jones), Rocketman depicts Elton as an early musical prodigy, with the young Reggie Dwight attends a prestigious musical school on a scholarship, before joining a band and making his way in the music industry. Eventually, Dwight is introduced to lyricist Bernie Taupin (Jamie Bell), and the pair form a fast friendship and dynamic songwriting duo: so much so it draws the attention of low-rent manager Dick James (Stephen Graham) and eventually high-powered producer-manager John Reid (Richard Madden). Under the pseudonym Elton John, the performer's career takes off, thrusting upon him incredible fame and fortune, leading to a spiral of addictions including drugs, alcohol, and sex; the animosity between John and former lover Reid is depicted most acutely, while John's relationship with his father and mother continue to present as an emotional albatross around the performer's neck.
Rocketman is a film replete with issues, most prominently the film's reliance on vignette moments of Elton John's storied career. Part of the fun of a musical such as this – and it is essentially a musical in every respect – is that you get to hear the man's amazing back catalogue of tracks transposed to Taron Egerton's harsher vocal tones (he ain't a patch on the real thing, but is commendable enough to warrant possible award season entry) coupled with dynamic and beautiful production design and Chris Dickens' electrifying editing bringing the highlights and lowlights of the subject's life to dazzling, energetic life. This also represents something of a deficit, because in accordance with the film's hyperbolic style and breathless infatuation with Elton John himself, you're left lamenting any kind of subtlety, and what little subtlety there is is quashed beneath the nostalgia-pounding melodies and often boisterous sound design. If you're hoping for a genuinely realistic glimpse into Elton John's early career with any sense of restraint then Rocketman will disappoint. It's a film easy with sentimentality, plays fast with the truth, is quick with shallow, cartoonish character development, and in effect forms a companion piece with Fletcher's 2017 rescue effort in Bohemian Rhapsody, a film with which Rocketman shares a significant genetic structure; not the least of which is the inclusion of Richard Madden's John Reid, a real character played by Aidan Gillen in the Queen film but somehow even more boohiss-worthy here.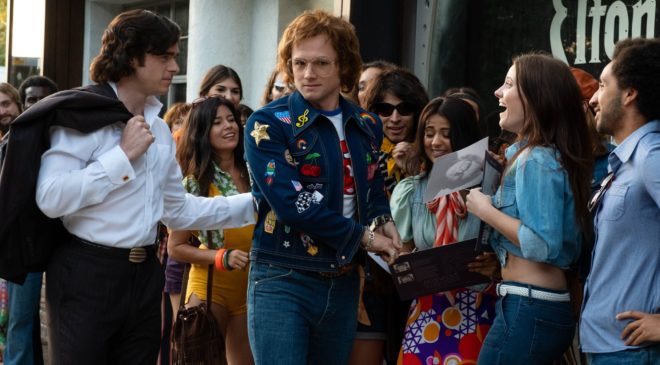 That's not to say Rocketman isn't enjoyable, because I had a terrific time with it. It's right inside Dexter Fletcher's storytelling wheelhouse, with a showmanship and legitimate affection for the subject that's palpable in every frame. And if you're making a musical film about, and featuring the greatest hits of, a man also listed as a producer on the show, you're going to get a movie as extravagant as Elton John himself. It's a sugar rush of hyperbole and excess, both in story and cinematic virtuosity – a sequence inside a bar when little Reggie Dwight blows away the audience singing "Saturday Night's Alright" is a particular highlight early on – so asking it to delve deeper into John's relationship with his odious mother (a terrific Bryce Dallas Howard, whose steely-eyed glares give absolutely nothing away) perhaps always was a futile expectation. There's no genuine substance to the characters, really, and that's the great pity. I think Bohemian Rhapsody balanced the showstopping numbers with a sense of genuineness about the characters within better, but Rocketman's caterwauling cinematography and blinding sense of opulence throughout relegate such glimpses of humanity to mere afterthoughts. One moment, however, rings with heartfelt truth, and that's a scene in which Elton, moments before taking to the stage, reveals to his mother over the phone that he is, in fact, a homosexual. This scene alone could see Taron Egerton contend for awards come the season, complainants arguing against it should note that if Rami Malek could win with prosthetic teeth, Egerton deserves to for the out-of-body-experience performance he provides in this film. One gets the sense that he and Elton bonded in appearing together in Kingsman: The Golden Circle for director Matthew Vaughn (Vaughn co-produced this film), and it's not the first time Egerton has performed one of Elton's songs on screen, having done so for the animated film Sing!.
Egerton – who is excellent and obviously committed to the role – aside, the rest of the supporting cast are also roundly great. Jamie Bell's evocation of Bernie Taupin provides the film's anchorage, while Richard Madden quickly becomes the sneering, prideful villain both John and Queen seem to recall him as – one would imagine both portrayals would anger him a touch – proves to be an alternative non-musical highlight, while Gemma Jones and a nearly unrecognisable Stephen Graham provide solid and invaluable, emotionally invested secondary roles. The taupe colour schemes of British 1960's, the flushed neon and kaleidoscope of fashion design of the 70's and 80's are all immaculately reproduced by costume designer Julian Day and production designers Peter Francis and Marcus Rowland, reproducing alarmingly closely a lot of Elton's gaudy and nonsensical over-the-top costumes of his heyday. In every aspect aside from screenplay, Rocketman is a delight.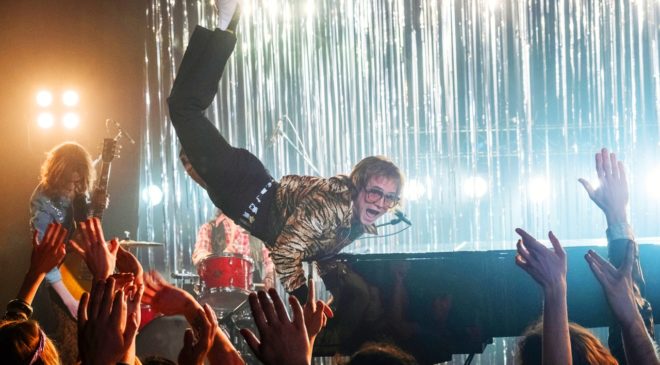 With its Lloyd-Webber-esque sense of musical impressionism and Egerton's dynamic leading performance, Rocketman's energetic visuals and non-stop pacing will keep you entertained for the entire two hours it takes to occur. Whether you'll be thinking about it long afterwards will depend – I think – on your appreciation for Elton John the performer, if not the man. As a man he's certainly flawed and the film is almost rigidly anti-heroic with some of the stuff he engages with and in, to the producer's credit, but at the end of the day the film feels more like an opportunity to repurpose his catalogue of hits (there's nothing here post-80's of Elton's life, save a minor credit card stating that he's been sober since the events of the film and is soon to retire from touring) with a load of flashy Hollywood money. It's not like Elton hasn't had a cinematic resurgence in recent times, having produced the heavily influenced Gnomeo & Juliet and sequel film Sherlock Gnomes to minor success, but Rocketman tips him back into the limelight where he so obviously belongs. Despite never quite digging as deep as I'd have liked into the man's life behind the music, this rock-epic-fantasy biopic certainly delivers the showmanship and extravagant visual eccentricity the man himself inspires.
Who wrote this?