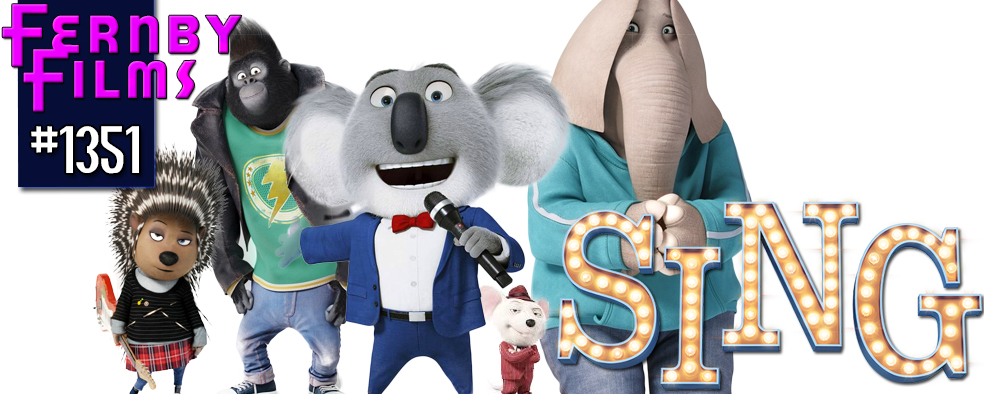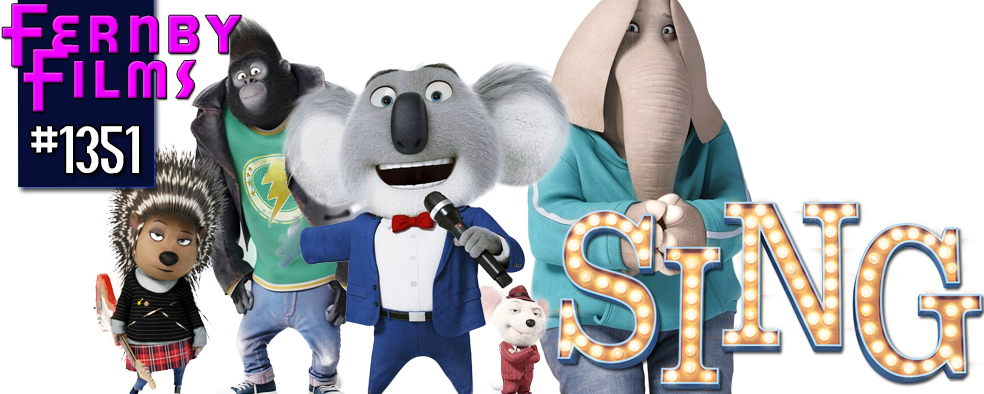 Director :  Garth Jennings + Christophe Lourdelet
Year Of Release :  2016
Principal Cast :  Voices of Matthew McConaughey, Reese Witherspoon, Seth MacFarlane, Scarlett Johansson, John C Reilly, Tori Kelly, Taron Egerton, Nick Kroll, Garth Jennings, Nick Offerman, Peter Serafinowicz, Beck Bennett, Jennifer Saunders, Rhea Perlman.
Approx Running Time :   110 Minutes
Synopsis:  In a city of humanoid animals, a hustling impresario's attempt to save his theatre with a singing competition becomes grander than he anticipates even as its finalists' find that their lives will never be the same.
*****
Showstopping tunes and dazzling animation, together with rat-a-tat pacing and gleeful abandonment of narrative nuance, make Sing a fast-paced, likeable, yet utterly homogeneous animated film that'll entertain the kids and get their feet tapping along with the music. Feeling vaguely like a weird Muppet Show homage, mixed with vaudevillian characters and a plot ripped right out of musical theatre, Sing's embellishment of its tropes and nightmarish rights-achievement slay critical appraisal of its generic plotting, as it literally sings itself into your head via the medium of a pop-song billboard sledgehammering.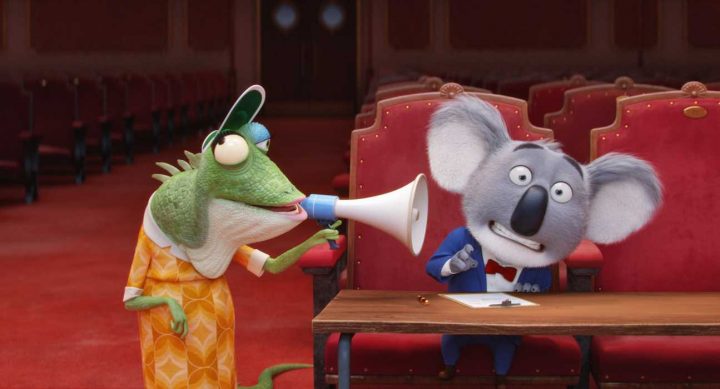 Theatrical huckster Buster Moon (Matthew McConaughey) is a koala in a tricky spot: the theatre he owns hasn't had a hit – ever – and the bank is hounding him for payment of his debts. Deciding to simply ignore the inevitable, Buster wants to stage a musical talent show, with a grand prize of $1000. When his erstwhile secretary Ms Crawley (director Garth Jennings) accidentally advertises the prize as being $100,000, all manner of singing creatures descend on the theatre and give Buster a real buzz at success. Among the acts, Rosita (Reese Witherspoon), a mummy pig with twenty-something children and a workaholic husband, who dreams of a musical career, the Sinatra-like mouse Mike (Family Guy's Seth MacFarlane) with delusions of grandeur, Ash (Scarlett Johansson), a teenage porcupine with in an unhealthy relationship with her boyfriend who feels restrained, and Johnny (Kingsman: The Secret Service), a young gorilla whose father is the head of the city's most famous criminal gang. As the show gathers momentum, Buster learns that his money problems may not be solved, so he approaches his friend Eddie (John C Reilly) about gaining the favour of his famous grandmother, former stage star Nana Noodleman (Jennifer Saunders) to bankroll the production.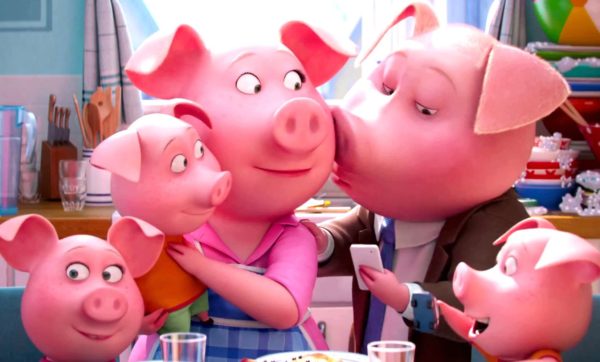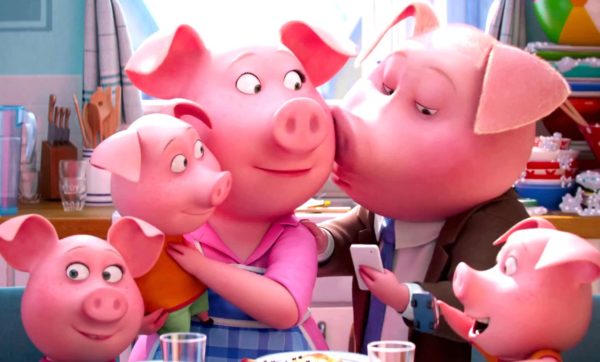 Even if it's a hodge-podge of musical tropes and at best a stock-standard plot, Sing is nothing if not enthusiastic. It makes up for familiar characters and identifiable character arcs with pulsating musical accompaniment and a visual kineticism bordering on some kind of attention disorder. Whereas Pixar films strongly mandate story and creative nuance in their productions, almost all other films in this animated genre fall into the predictably expeditious routine of style-over-substance, using cool camera angles, zig-zag editing and simple bombast to overwhelm the audience before they figure out it's all pretty below par, and for a lot of the time I kept expecting Sing's dexterous warp-drive energy to give out at some point; bless it, that doesn't happen, but that doesn't mean Sing isn't problematic.
Director Garth Jennings, who wrote the script, doesn't give Sing much in the way of genuine character development when he can simply insert tried-and-true musical cinema archetypes and run with it. The film's primary character, McConaughey's Buster Moon, is a charlatan impresario, although unlike many you might imagine he's not a bad guy, just a guy with a string of bad luck (and/or poor management). Buster is likeable, he's energetic, and his dream of saving his run-down theatre is noble indeed. He is surrounded by a gaggle of interchangeable genre characters, from the at-home-mother dreaming of a life outside raising children, a kid trying to escape the family "business", and two young girls trying to find their voices in the hubbub of growing up. Not an ounce of the foundation of Sing's story feels fresh, but the slick coat of sparkles and instantly hummable pop songs (I stagger to think of the production obtaining the rights to use all of this music!) injected into the film's simplistic messaging drags you along for the ride with a smile anyway.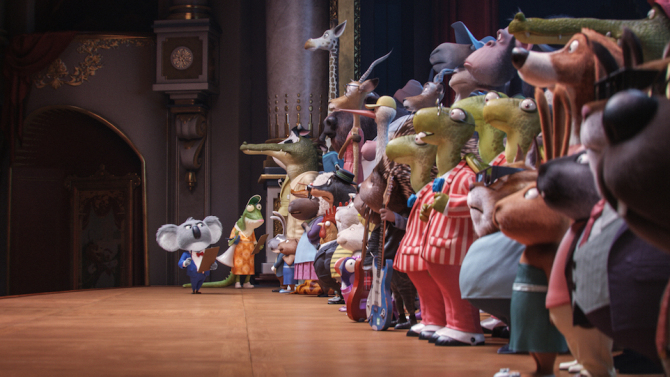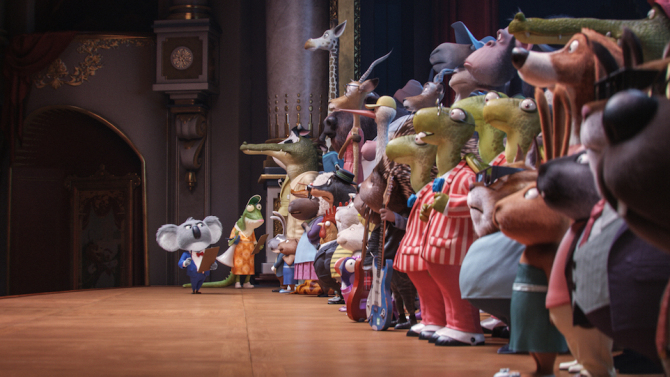 As with most prominent animated productions these days, the voice cast are all… er, on song, if you'll pardon the expression, with McConaughey in particular dropping his trademark Texan drawl in favour of a concise, somewhat poshed-up dialect that had me checking his credit at the end to make sure it was indeed him. Seth MacFarlane's genuinely awesome baritone voice works wonders as Mike, the diminutive star in his own lunchbox with an ego the size of a small nation, and his rendition of "My Way" during the film is terrific. The surrounding players all have their moment to shine, making Sing more an ensemble piece driven by Buster than anything else, and I think the film works despite a lack of distinctive development for the core group. Buster's backstory hints at a paternal loss of some kind, whether antagonistic or platonic is never established, while Rosita's contrivances to extricate herself from her rabble of a family are somewhat prescient as a parent myself. Objectively, Sing is utterly harmless, with a few moments of genuine menace underplayed by the typically smart-alec humour scattered into "family" films like this.
Sing won't win any awards for originality, and its sure won't stick in the adult brain for long after watching it – the kids'll love it! – but it delivers its breathless sense of musical theatricality with crisp visual dynamism and a rockin', bopping soundtrack. The songs all work (even if some of them feel like the punchline to a visual gag a touch too often) and the animation is electric; Sing has everything going for it except originality. In spite of that, you can't help but be swept up in its sheer cheesy showmanship and enthusiasm.
Related articles
Who wrote this?