Movie Review – Secret Life Of Pets 2, The

Principal Cast : Patton Oswalt, Kevin Hart, Eric Stonestreet, Jenny Slate, Tiffany Haddish, Lake Bell, Nick Kroll, Harrison Ford, Dana Carvey, Ellie Kemper, Chris Renaud, Hannibal Buress, Bobby Moynihan, Pete Holmes, Tara Strong, Meredith Salenger, Henry Lynch, Sean Giambrone.
Synopsis: Continuing the story of Max and his pet friends, following their secret lives after their owners leave them for work or school each day.
********
One of Illumination Studio's lesser franchises, 2016's Secret Life Of Pets became a mammoth commercial success and one of that year's biggest box-office successes; of course, a sequel became inevitable. In the intervening years, however, star voice and comedian Louis CK became persona non grata around Hollywood following a number of accusations of sexual misconduct, and wound up being dumped from the project in favour of incoming talent Patton Oswalt, himself no stranger to animated movies having voiced characters for Pixar (Ratatouille), Paramount's French-produced Mune: Guardian Of The Moon, and a minor part in Warner Bros' Teen Titans Go! To The Movies. With a delightful marketing campaign backing it up, The Secret life Of Pets 2 was an assured global juggernaut (theatrically it has grossed nearly half a billion dollars at the global box office), its fluffy and bouncy animal stars once more drawing a gaggle of eyeballs to the varyingly amusing shenanigans.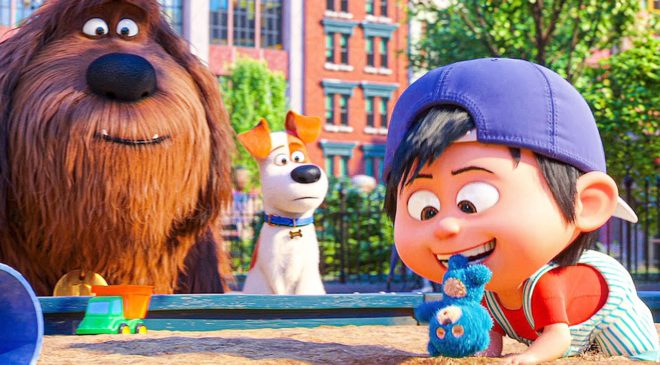 Jark Russell terrier Max (Oswalt) and his canine companion Duke (Eric Stonestreet) continue to live with owner Katie (Ellie Kemper) before their lives are upended by the arrival of not just a husband for Katie (voiced by Pete Holmes) but also the new couples' first child, Liam (Henry Lynch). Max, always the nervous type, begins to exhibit signs of anxiety as Liam tests the limits of his parenting style, before the family travel to a relative's farm for some vacation time together. There, Max and Duke meet the unflappable alpha dog Rooster (Harrison Ford), who takes Max under his wing and teaches him to no face his fears. Meanwhile, resident rabbit Snowball (Kevin Hart) has assumed a "secret identity" as a superhero, and comes to the aide of tiny Shih Tzu Daisy (Tiffany Haddish) in an effort to rescue a young white tiger from a cruel and vicious circus owner, Sergei (Nick Kroll), whilst Max's one-time love Gidget (Jenny Slate), in whom Max places the safety of his favourite squeaky toy, has to infiltrate a Crazy Cat Lady apartment in order to rescue the wayward item.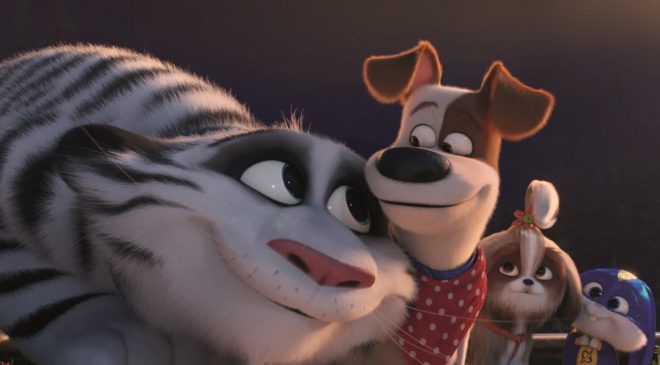 If you loved the kooky pet-centric affection of The Secret Life Of Pets, and enjoyed the affable buddy-comedy tropes that film aspired to deliver, then you'll come away disappointed by the sequel. It's a fairly generic affair, a touch above the third Madagascar movie but hardly a patch on some of Illumination's best work (and when I say "best" work, I of course in no way establish the studio is anywhere near the level of Pixar or Disney); The Secret life Of Pets 2 trades heavily on the brief nostalgia of the original, separates the core team of favourite characters for a lengthy portion of the runtime, and contains a sputtering, choked climax before returning to the safe, shallow shores of inane, urbane animated comedy. Some of the comedy lands perfectly, some of the cutesy-pie imagery is indeed cute as a button, but the disparate subplots and lacklustre interweaving of key emotional beats between fairly pedestrian action sequences find this film more in need of being fixed than a hundred dogs at the pound.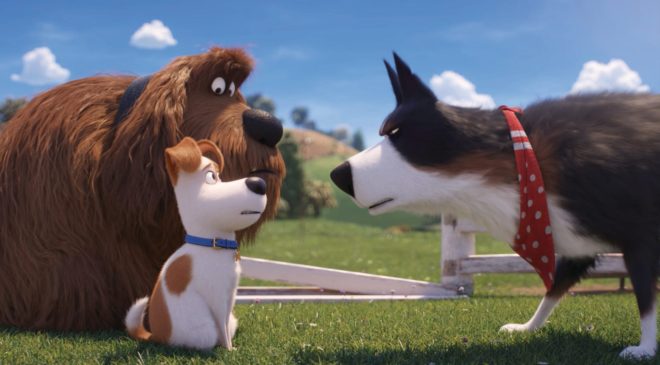 Please don't for a second think that Pets 2 isn't a good film, because in almost every aspect it's designed purely to be a fun, zippy little B-movie that delights youngsters and those with limited attention spans. The vocal gymnastics and indifferent plot conniptions have that soothing, mechanised storytelling pizzazz for which modern Hollywood has become most renowned, but for all its whizz-bang effects, dynamite animation and enormous surfeit of sight gags, the film is void of that most important of key ingredients: heart. It's a lifeless entity, this film, and I can't figure out why. The cast are all excellent, delivering the jokes, pathos and energy a film like this musters with every pixelled frame, while the animation itself is as you'd expect from a feature of this prestige. No, I think it's more to do with the episodic nature of the story and the lack of dynamic interaction between the two protagonists from the first film, namely Max and Duke, who share all of about four minutes total screentime together in this.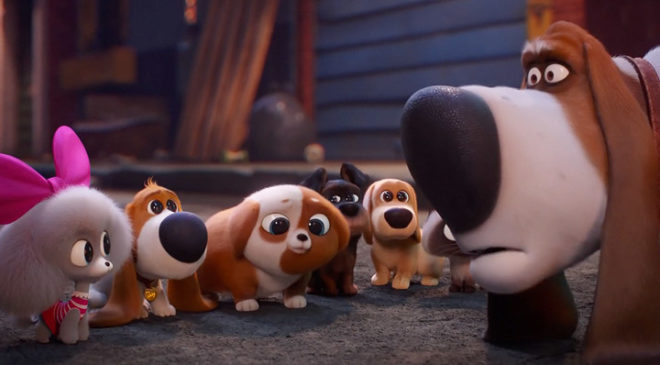 Part of the limited charm of the first film was the interplay between Max's uptight, rigidly emotional nature and Duke's clumsy, elephantine presence inside Katie's tiny New York City apartment, and the conflict between the pair as they worked to overcome their internal prejudices. Here, that prejudice and angst is absent, and the filmmakers – led by returning director Chris Renaud, who also voices a character – struggle to find a compelling narrative undercurrent to tell. Sure, the sadistic Sergei, a Machiavellian creation that the creators of Dick Dastardly ought to sue for plagiarism, provides some nice hiss-worthy moments and gives the Standard Bad Guy Playlist a real kicking, but where's the emotional hook of the story? There isn't one, unless you count animal cruelty in a kids film as a legitimate catalyst for fun and frivolity. Max's arc is to overcome general fear of losing Liam in some accident, while Duke, who is consigned to being a third-rung player and nowhere near the level he was in the first film, never really gets enough to do. Sidebar characters like Gidget and Chloe (Lake Bell), the obese cat with attitude to spare, and of course Kevin Hart's verbally affluent Snowball, steal many of the film's more subtle laughs (although there isn't much subtlety here, sadly) and Harrison Ford's stoic sheepdog character, Rooster, feels too much like an angrier Obi Wan trope to work well enough on his own – I know, I'm mixing my Star Wars metaphors – that's the trouble with this film: it doesn't quite nail the innocent fun of the predecessor, feeling instead like a weird in-name-only riff on the premise it established on its own merits.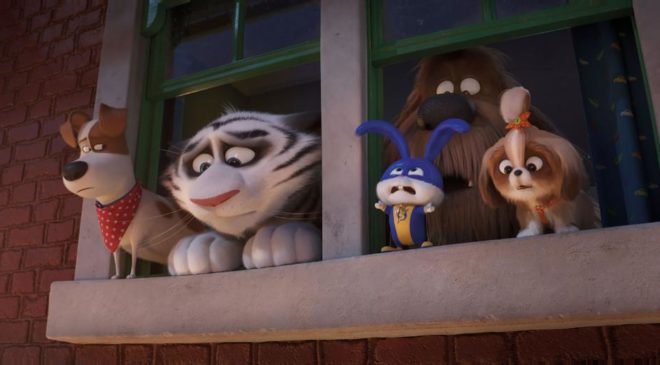 Packed with maniacal gags and many a payoff to keep the kids happy, The Secret Life Of Pets 2 offer scant emotional context betwixt the lightweight laughs and excellent animation. Kids will lap this up (I know mine did), and I have no doubt it'll continue to make a motza on the home video market (is that even still a thing?), but I found the film routine and occasionally inert, unable to tap into the freewheeling energy of the original and leaving me feeling a little bit frustrated that it wasn't very good. Sure, it's clever at times, and there are some decent laughs (most of the best were seen in the film's copious trailers pre-release) but on the whole it's a large drop in motivational quality that sends this animated venture to the vet to be put to sleep.
Who wrote this?