Movie Review – Werewolf of London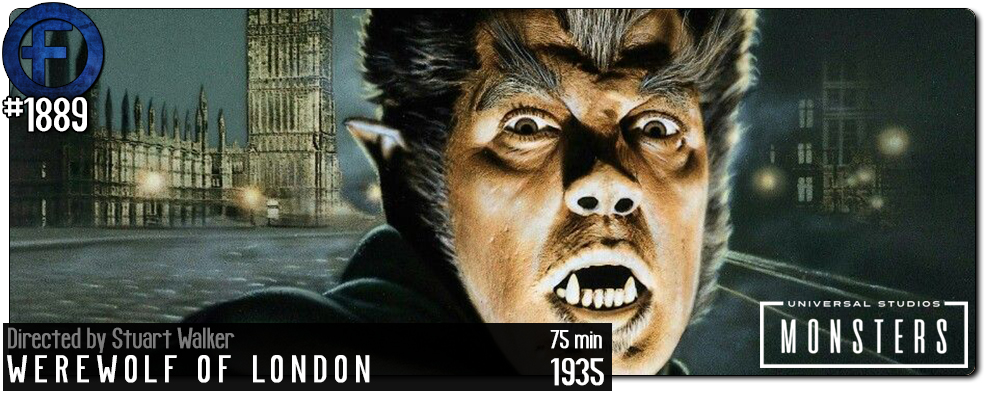 Principal Cast : Henry Hull, Warner Oland, Valerie Hobson, Lester Matthews, Lawrence Grant, Spring Byington, Clark Williams, JM Kerrigan, Charlotte Granville, Ethel Griffies, Zeffie Tilbury, Jeanne Bartlett.
Synopsis: After botanist Wilfred Glendon travels to Tibet in search of a rare flower, the Mariphasa, he returns to a London haunted by murders that can only be the work of bloodthirsty werewolves.
********
As an early example of Universal's beloved Classic Monster movies, Stuart Walker's 1935 horror Werewolf of London taps into the now familiar tropes of the subgenre and mines them for all their worth. From the rigidly focused scientist looking to cure his own lycanthropy, to the nubile young wife soon to become a target of the Werewolf's attention, to the shadowy streets of Edwardian Era London, the film's crisp monochrome photography, coupled with some terrific editing and framing, as well as makeup artist Jack Pierce's incredibly effective minimalist prosthetic design combine to form a perfect take on what has today become a cliché-ridden mishmash of lore, myth and ideas. Here, though, it all works.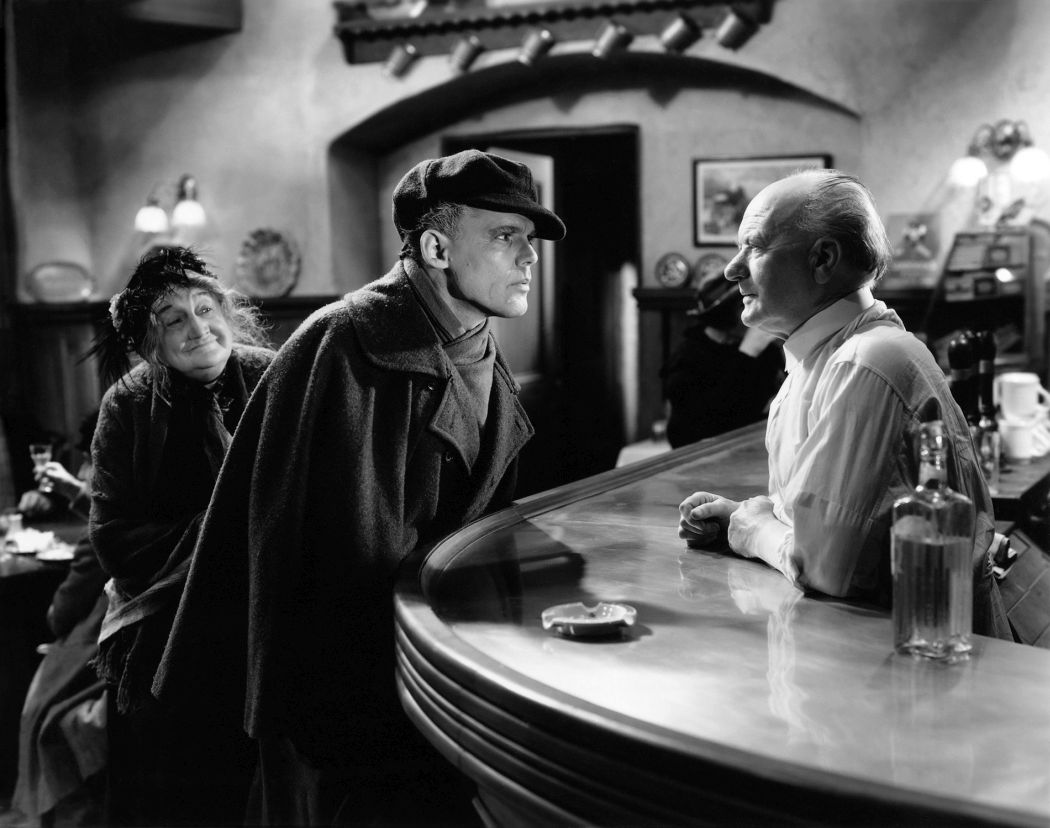 London, England, and world-renowned botanist Wilfred Glendon (Henry Hull) returns from a voyage to Tibet in search of an extremely rare flower, having been attacked and bitten by a rapid humanoid creature high up in the Himalayas. It turns out the creature was a werewolf, and now Dr Glendon has begun the horrifying transition into one himself. His wife Lisa (Valerie Hobson) laments her husband's inattentiveness, and finds some solace in the arms of former childhood sweetheart Paul Ames (Lester Matthews), while fellow lycanthrope Dr Yogami (Warner Oland) entreats Dr Glendon to share the secret of the flower sample he returned with to stave off his monthly transitions into a hideous, violent beast.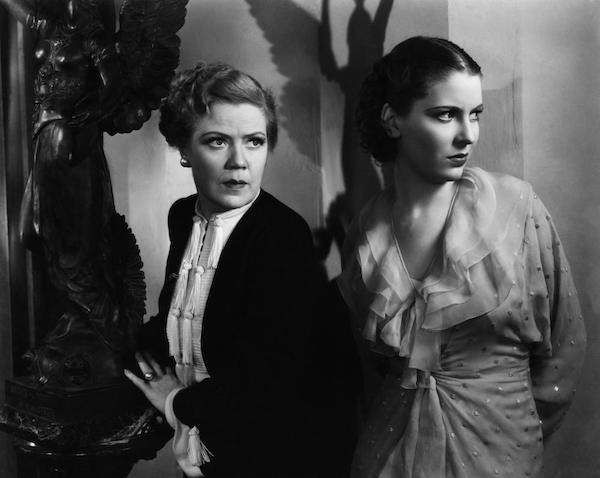 The 30's were arguably the greatest decade in filmmaking history. Some of Hollywood's most iconic films were released during this period, the transition from silent film to sound was complete, and arguably the greatest pop-culture cinematic staples found their big-screen origins at the zeitgeist of commercial popularity. Key to this massive cultural influence is undoubtedly Universal Studios' growing monster-horror film series, including the double-whammy of 1931's Dracula and Frankenstein, a cheaply made yet enthusiastically consumed subgenre that technically began in the 20's but found its stylistic footing in the years prior to the Second World War. Of the three Monster films released in 1935, Werewolf Of London was the second, and it might surprise you to learn that it marked the earliest depiction of werewolves on the big screen in mainstream cinema, pre-dating Lon Chaney's iconic Wolfman movie by six years.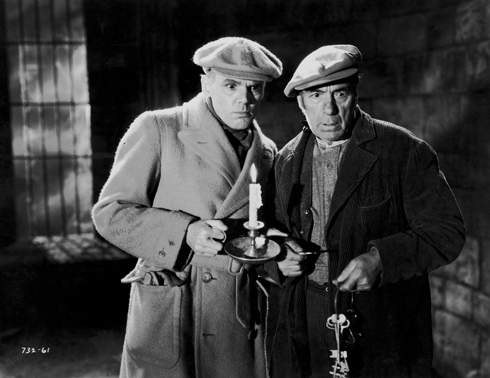 Written by a clutch of credited people including playwright John Colton (Under Capricorn) and Aben Kandel (City For Conquest), Werewolf In London isn't a particularly intellectual film by any stretch, and the dialogue is almost entirely expositional. The character strokes are all pretty broad, played easily and with shallow depth by a cast of admirable performers none of whom appear to be stretched emotionally other than to scream when required. Henry Hull's character of Wilfred Glendon actually heads well into emotional distance with his general disdain and lip-service appreciation for his beautiful young wife Lisa, played by doe-eyed Valerie Hobson in full knowledge that she was cast for her lung capacity rather than her screen charisma. Trying to parse Dr Glendon's behaviour with his personal earnestness in the early Tibetan bookend sequence is a confusing thing. Meanwhile, Hobson's chemistry with co-star Lester Matthews, playing her former beau, is lukewarm at best, leaving a lot of the films simmering undertones hanging on the requisite werewolf stuff. Warner Oland pontificates and slithers through his scenes with a distinct undertone of malevolence , almost animalistic prey stalking, until the full revelation of his motives becomes apparent.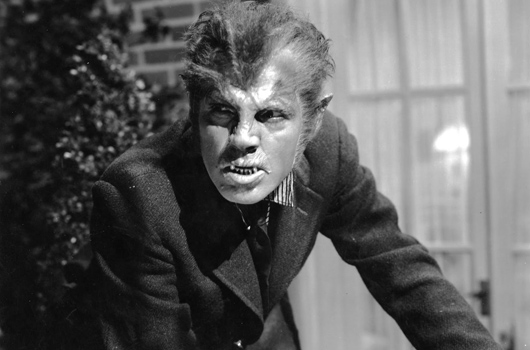 In terms of the pure horror aspects of the film, director Stuart Walker (Great Expectations, Manhattan Moon) knocks this thing out of the park. Trading on the prevailing depiction of London as a foggy, shadowy catacomb of horrors, Walker's Werewolf film makes solid use of its sprawling sets and effective cinematography by journeyman DP Charles J Stumar (The Hunchback Of Notre Dame, The Mummy) to create a genuine atmosphere of tension within. Admittedly the film's style hasn't aged as well compared to modern techniques, but Walker cleverly utilises all manner of camera trickery to generate his scares. The effects used to bring Hull's werewolf character to life include some stylish but not overdone prosthetics, which turn him into not the most fearsome werewolf ever seen on screen but most one definitely cementing the classic silhouette into the minds of willing audiences.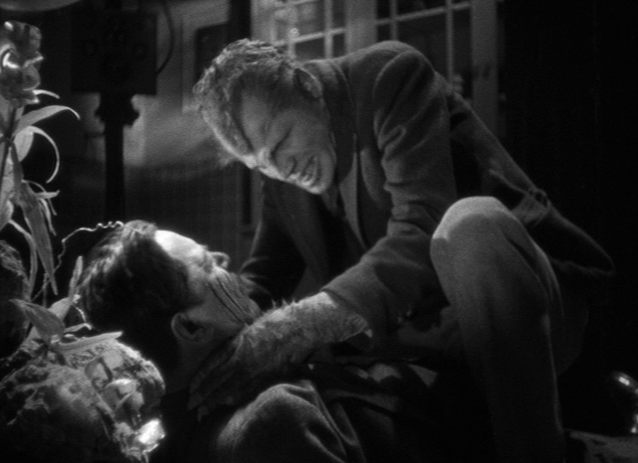 The film builds to what we all know will be a tragic conclusion – do any of these horror films ever end happily? – and for it's brief running time of a tick over an hour it satisfies genre fans quite well. Henry Hull turns his character from an aloof, kinda dickish scientist into a figure of ubiquitous horror archetype, precipitated by various shenanigans involving a zoo sequence in which actual wolves (I guess the screenwriters just threw in the towel for obviousness by that point) make an appearance, and the overarching theme of the film never quite comes together with any profundity. In spite of this narrative inadequacy Werewolf Of London is quite a spiffy little horror outing, a remarkably evocative visual journey that crackles with a vintage aesthetic and Stuart Walker's solid work behind the camera.
Who wrote this?