Movie Review – Spongebob Movie, The: Sponge On The Run

Principal Cast : Voices of Tom Kenny, Bill Fagerbakke, Rodger Bumpass, Clancy Brown, Mr Lawrence, Jill Talley, Carolyn Lawrence, Mary Jo Catlett, Lori Alan, Matt Berry, Awkwafina, Keanu Reeves, Snoop Dogg, Danny Trejo, Tiffany Haddish, Reggie Watts.
Synopsis: SpongeBob and Patrick embark on a rescue mission to save SpongeBob's pet snail Gary, who has been "snailnapped" by King Poseidon, traveling to the Lost City of Atlantic City.
********
It's hard to believe but the popular little animated underwater sea sponge, SpongeBob Squarepants, clocks up starting his third decade on screens by the time 2020 comes around. A staple of children's cartoon insanity, SpongeBob Squarepants' ongoing cartoon series, not to mention countless millions in merchandising, have raked in an absolute fortune for producing studio Nickelodeon, crafting a cultural awareness the likes we've seen from very few other animated properties – notably The Simpsons, perhaps – and culminating in this, the third of the tiny yellow dude's big screen outings, following 2004's The SpongeBob Squarepants Movie, and 2015's Sponge Out of Water. Directed by Tim Hill and featuring the regular cast in starring roles, not to mention a bevvy of quite cool star cameos, Sponge On The Run sees lifelong friends SpongeBob and Patrick journey to the famed Atlantic City where they attempt to rescue SpongeBob's pet snail Gary from the egomaniacal clutches of King Poseidon.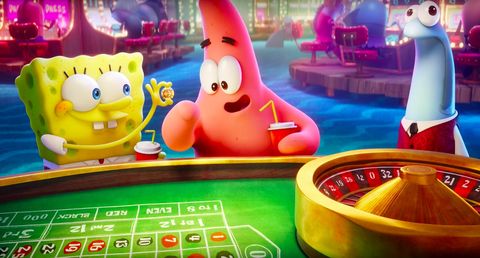 If you're a long-time fan of SpongeBob and his small-screen pals, you know exactly the kind of off-the-wall gags you're in for going into Sponge On The Run. If you're not a long-time fan, then, well, you're in for either the surprise of your life or enormous disappointment. Sponge On The Run doesn't tread a vastly different path to any number of the ongoing episodes from the yellow sea-sponge's series, but it does so with a substantive uptick in animation style. It's strange to think that each successive theatrical film featuring SpongeBob has been encumbered with a different style of animation; the 2004 film was largely 2-dimensional, in keeping with the television series, while the 2015 film dabbled in, well, let's call it "live action cartoon animation" of sorts, so to see Sponge On The Run go with something different yet again speaks of strange creative choices behind the scenes. That said, the film is beautifully animated, the subtle design changes to the well-known characters bringing them to life in a manner that's startling at first but then refreshing.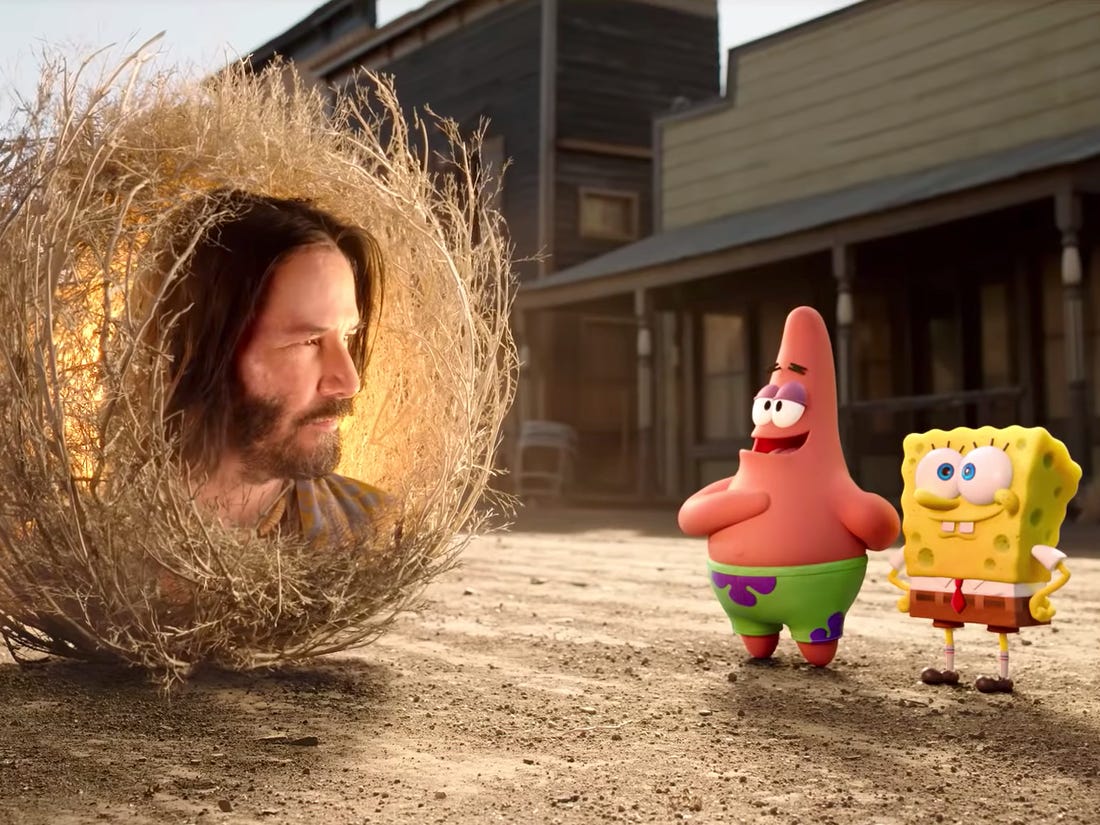 The story is relatively liteweight, as you'd expect from a film about a talking sponge and his overweight starfish mate, with a strangely similar plot to the 2004 film whereby SpongeBob (Tom Kenny) and Patrick (Bill Fagerbakke) go on a quest to rescue some object from a ego-driven ruler of the undersea kingdom, this time Poseidon (Matt Berry with a delightfully camp vocal performance) rather than Jeffrey Tambor's Neptune – who's next, Aquaman? – with the object being SpongeBob's eternally cool pet, Gary the snail. We even get to see the moment Gary and SpongeBob met, when they were both young. Tagging along to rescue Gary are Spongebob's employer My Krabbs (Clancy Brown), his best friend and squirrel Sandy Cheeks (Carolyn Lawrence), and the eternally grumpy squid, Squidward (Rodger Bumpass), whilst the ubiquitously evil Plankton (Mr Lawrence) and his computer wife Karen (Jill Talley) also make their way to Atlantic City. Star cameos include Keanu Reeves as an oracle in the form of a sage brush, Snoop Dogg as a gambler at one of the many casinos, and Danny Trejo as a villain who attempts to capture the pair.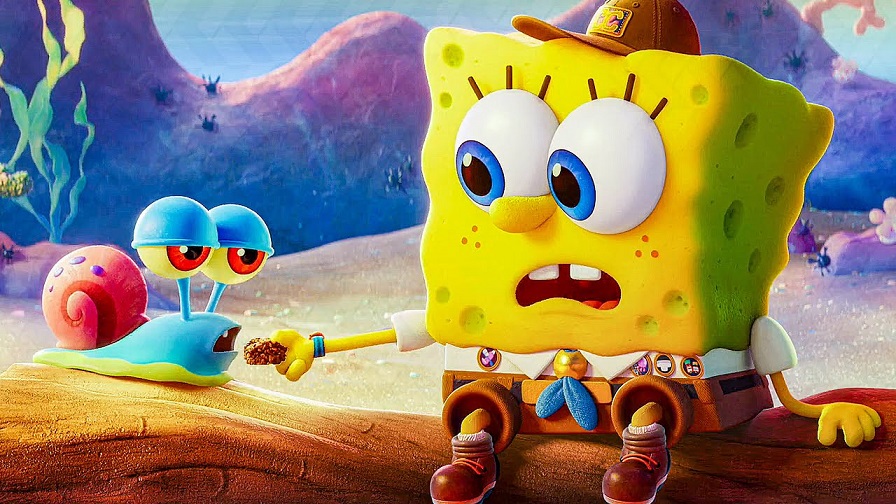 One of the chief things about SpongeBob that keeps me coming back is the scattershot comedic approach; it's lowest-common-denominator humour at its finest, with slapstick, non-sequiturs and absurdity ruling the roost in only the best possible way. I've no doubt were he still alive the great Tex Avery would find a kinship with SpongeBob's lyrical insanity. Sadly, however, Sponge On The Run feels somewhat generic, almost tired if I can put it so bluntly, with the jokes falling flat and the zany comedy leaning to forced more than natural (at least as far as this franchise goes). Patrick's absolute idiocy and SpongeBob's childlike glee with life normally nix well with a forgive-and-forget friendship for the ages, but Sponge On The Run dips into the well a touch too often without the clarity to understand when enough's enough. Plankton's eternal quest to obtain the secret formula to the incredibly popular Krabby Patty lacks pizzazz, particularly for a big-screen outing, whilst even the nasally wry Squidward can't muster a chuckle here. No, Sponge on The Run runs dry with inert comedy and witless charm, forcing its absurd humour through the screen and with uninspiring glee.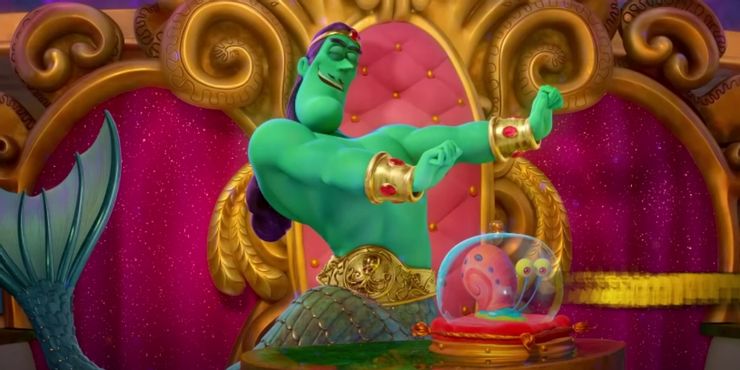 Don't get me wrong: Sponge On The Run has enough redeeming features to save it from being a total failure, and people with the advantage of youth might find it more appealing than I did, but I couldn't help but feel the franchise has suddenly run out of juice. Animation aside, the film's writing feels tired and jumbled, which is saying something for a property with a stock-in-trade of jumbled, nonsensical gags, and it's somewhat disappointing to come away from this one with such a dispirited feeling of boredom. Yeah, I was bored. The jokes didn't land, the plot felt too hodgepodge, the characters doing their schtick didn't zing, and the film just came to a sudden stop without really doing much at all. Sadly, Tim Hill's film pales into comparison with the show's heyday, when creator Stephen Hillenberg (who passed away in 2018 aged only 57, and is given a memoriam interstitial in the closing credits) was in control and the franchise was at the peak of its popularity. Sponge On The Run will appeal to long-time devotees and younger children alike but my uncomfortable feeling is that I've quite possibly passed this by.
Who wrote this?