Movie Review – Scent Of A Woman

Principal Cast : Al Pacino, Chris O'Donnell, James Rebhorn, Gabrielle Anwar, Philip Seymour Hoffman, Gene Canfield, Richard Venture, Bradley Whitford, June Squib, Frances Conroy, Rochelle Oliver, Tom Riis Farrell, Nicholas Sadler, Todd Louiso, Matt Smith, Ron Eldard, Margaret Eginton.
Synopsis: A prep school student needing money agrees to "babysit" a blind man, but the job is not at all what he anticipated.
********
There's something enduring about Al Pacino: no matter the role, I always struggle to see the character moreso than the man performing said character, a trait very few "great" actors enable within me. Pacino, whose defining catchcry "Hoo-hah" gets a thorough workout here, plays a weary blind war veteran who decides to kill himself after an expensive and luxurious weekend in New York City, because he's sick of life. Accompanying him is the equally troubled Chris O'Donnell, as his "chauffeur" for the few days they're together; as an on-screen pair they're like chalk and cheese, yet O'Donnell seems to slip into his role of youthful protege with a lot more ease than Pacino's gruff, acerbic demeanour. Pacino looks like he's acting, unfortunately. Okay, so he won an Oscar for his depiction of Frank Slade, but (and here's where I lose you, oh trusting reader) I don't actually think he deserved it.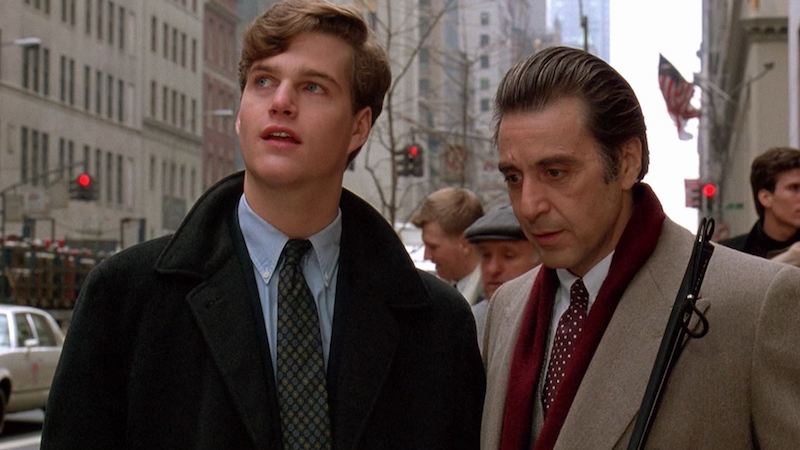 Young Charlie Simms (O'Donnell) attends a prestigious prep school where he inadvertently risks expulsion for failing to divulge the details of who is behind a particularly hilarious school prank on the headmaster, Mr Trask (James Rebhorn). Charlie is also asked to watch over an ageing, blind, cantankerous army veteran, Lt Colonel Frank Slade (Pacino), who has slipped into alcoholism and abusive behaviour. So when Frank unexpectedly whisks Charlie off to New York City for an all-expenses paid blowout, during which Frank reveals his intention is to eventually end his own life with a gun he happens to be carrying, Charlie must try to help the weary vet see that just because he can no longer see doesn't mean his life is over, whilst also trying to remain honourable to his collegiate associates and not divulge the information Mr Trask desires.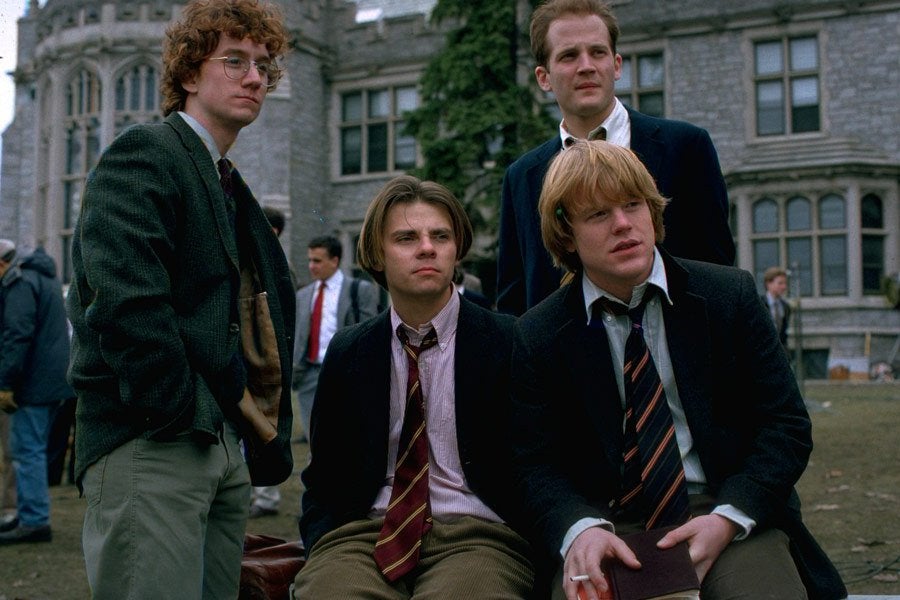 A remake of the 1974 Italian film Profumo di donna, Martin Brest's Scent Of A Woman is entirely a showcase for the admirably cool leading performance of Al Pacino. Mixing one-part Dead Poets Society with another part Breakfast At Tiffany's, the story of a young man's study of honour and freedom is both a captivating study in personality and an honest homage to the great American city. Written by Bo Goldman, the film skirts with the fragility of life, the exuberance of youth, the loss of age, and the ability to smell a woman's perfume in an expensive New York restaurant, a skill most people might consider creepy by today's standards. The film hits some emotional home runs – particularly with Pacino's character catching up with members of his extended family, which turns to a bit of a bitchfest given Frank's belligerence to them in the past – but by and large it's a fairly benign dramatic affair setup to deliver Pacino the opportunity to command the screen, command every scene, and tip the balance of power in his favour. Pacino won the Oscar over the likes of Clint Eastwood in Unforgiven, Robert Downey Jr in Chaplin, and Denzel Washington in Malcolm X, among others; my personal opinion is that Eastwood deserved it more, but Pacino's win cemented him as one of the industry's true titans of the screen.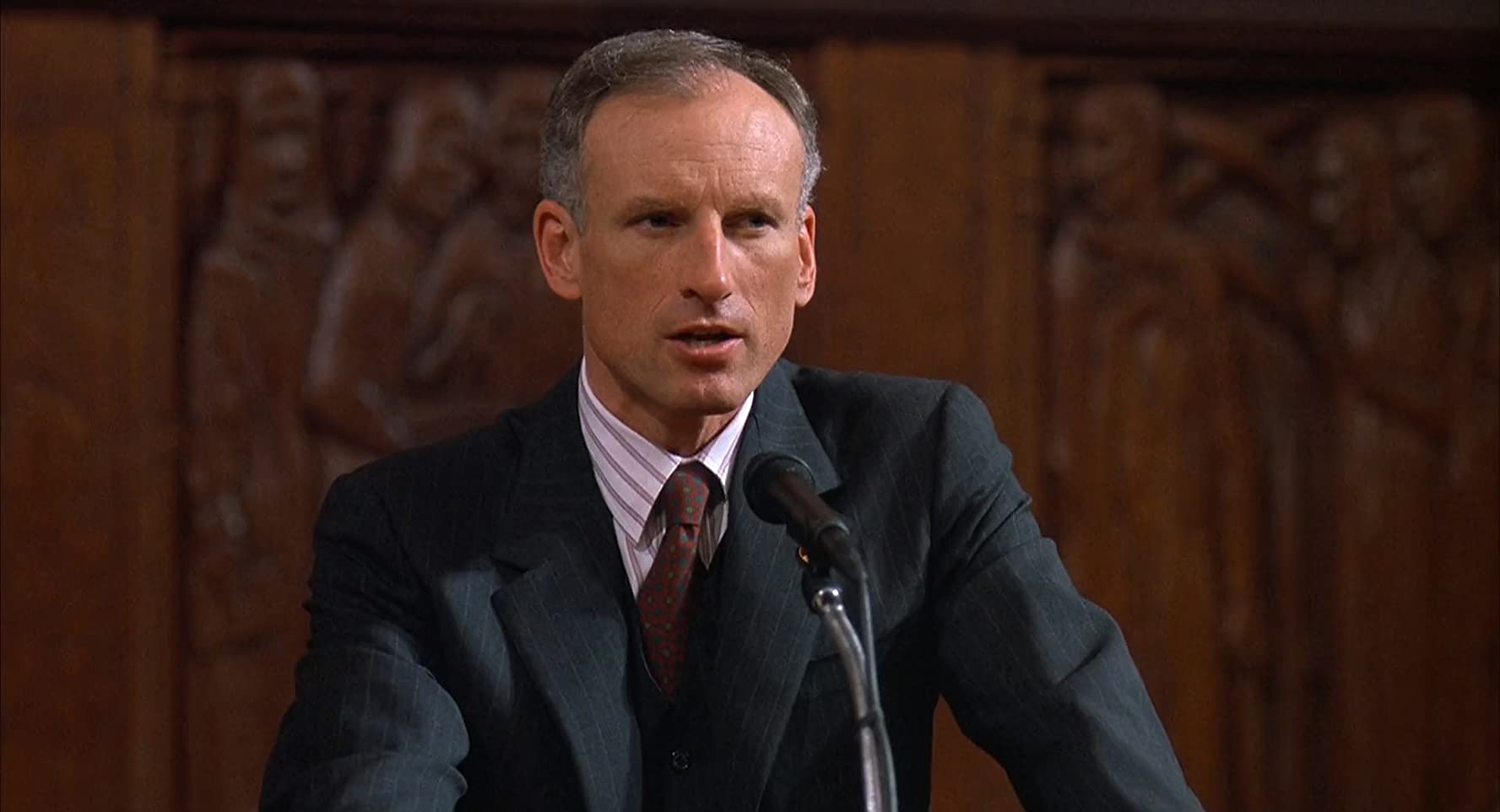 The problem I had with Pacino here – and it's something I've had issue with him in many roles down the years – is that he never really inhabits the character he's meant to portray. It's Pacino blind-acting his way into an Oscar, and you never truly believed he was who his character said he was. Pacino has this kind of trouble because his on-screen persona is so specifically defined through a countless iterations of the same character type – in all honesty, I often struggle with Robert DeNiro for much the same reason – and although watching the man act is always, always a joy to behold, just occasionally I'd love to see him take on a role where he really disappeared into it completely.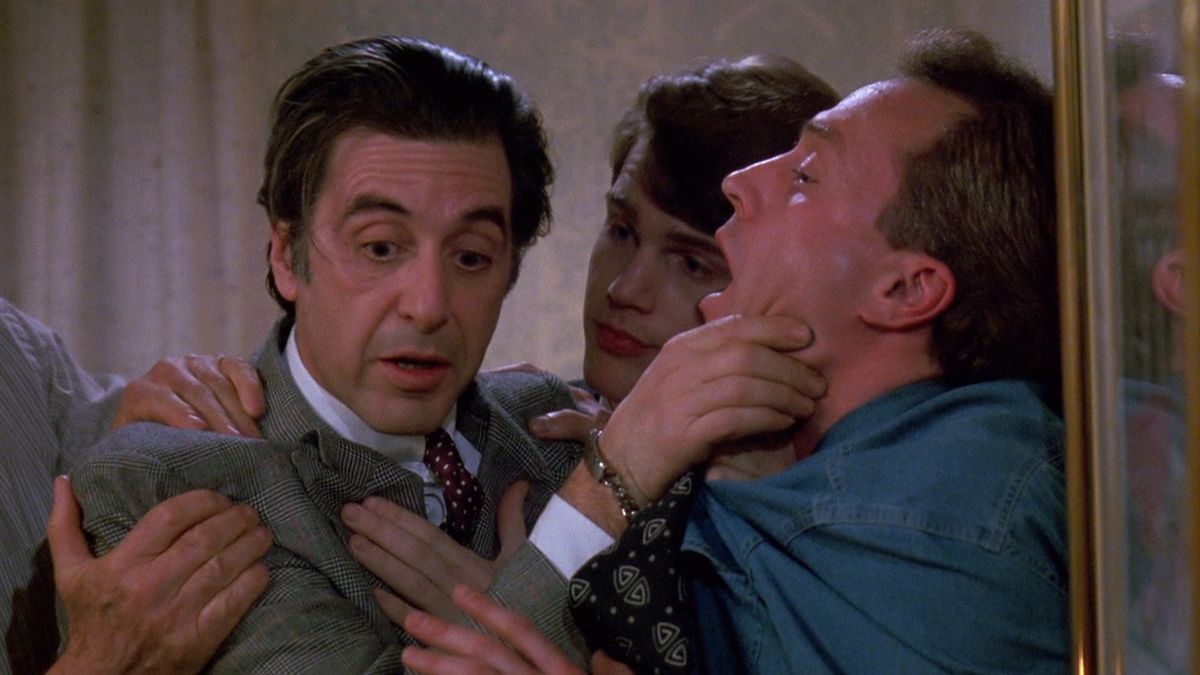 Chris O'Donnell's performance could best be described as "annoyingly charmless" given he's placed alongside the far more forthright Pacino, who acts the pants off the younger thespian, but he holds his own where it counts, mostly. Charlie Simms is a pretty-boy without a backbone, forced to confront his own fears as Frank takes him on a journey of discovery in the city that never sleeps. O'Donnell looks thoroughly out of his depth and ineffective against Pacino's bulldozer acting, but maybe that's the point: Charlie, a teenager trying to figure himself out, pitted against a doberman like Frank Slade? Little wonder he comes off as a bit of a wimp. The titular "woman" in the film is played by the lovely Gabrielle Anwar (co-star in Steve Martin's Father of The Bride, as the, er, bride), playing Donna, a young lady whom Frank and Charlie meet whilst waiting for their fancy-schmancy New York City dinner, and with whom Frank dances a tango in one of the film's more romanticised moments. The fact Frank gets about describing all the women around him by their scent is a touch perverse but I guess 90's audiences loved it? James Rebhorn is solid as the headmaster out to make an example of Charlie, whilst small roles to a young Phillip Seymour Hoffman, Bradley Whitford (pre West Wing), Todd Louiso (High Fidelity) and Ron Eldard, among others, populate this film with some quite decent acting talent.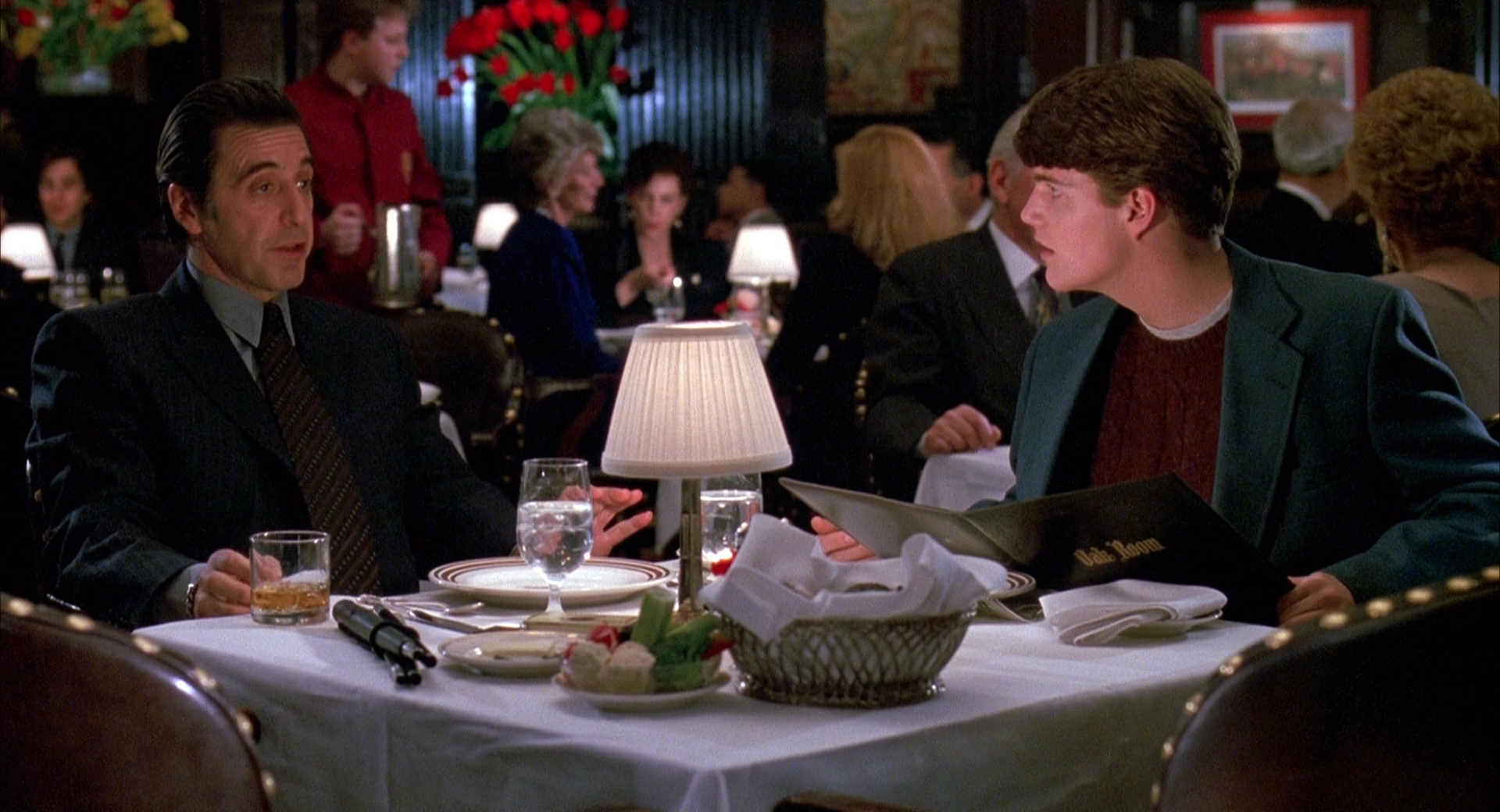 In terms of visual style, one could describe it easily as "nostalgic". The film glows with the palette of a soft-focused romanticised dramatic melodrama. There's barely a harsh line in the film, filled with oaken classrooms, the softly lit pallor of New York City's streets juxtaposed against the green and brown landscapes of Charlie's uppity school grounds, and of course all the women are in some form or another beautiful. Some might suggest the film celebrates women, or alternatively celebrates men celebrating women, but frankly all the sniffing and casual blind-eyed leering felt kinda creepy. Frank should well and truly have been slapped more than he was. Thomas Newman's score is unobtrusive and effective where required, although if you asked me to hum a refrain I'd be hard pressed to do so.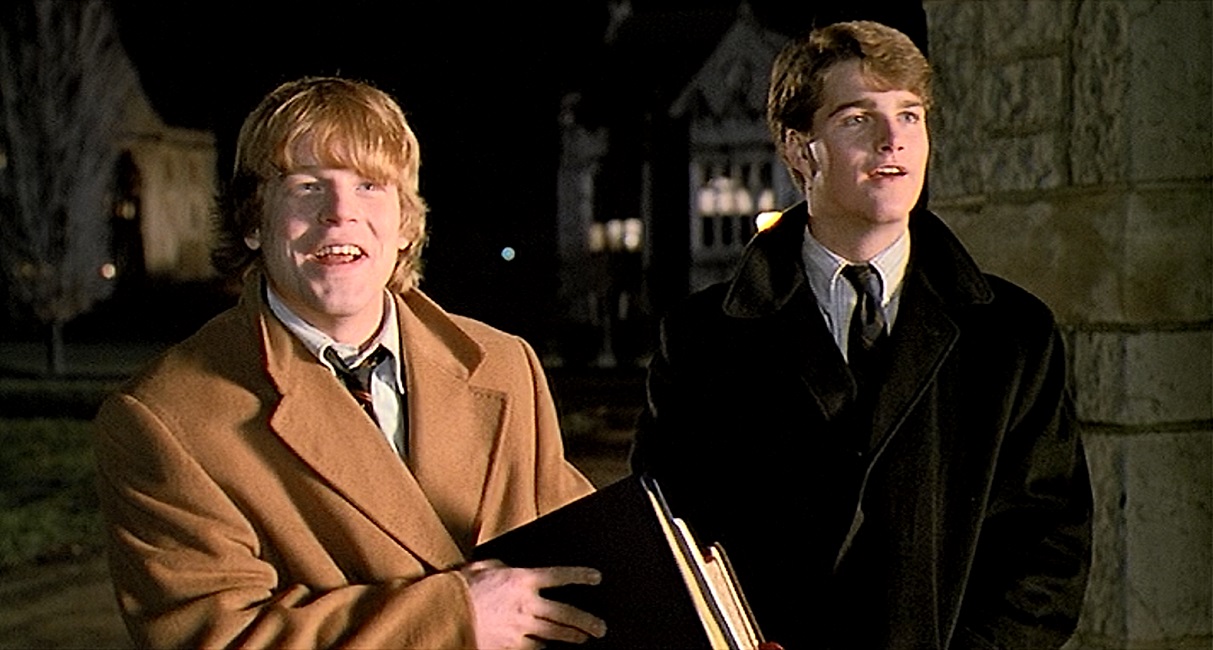 Scent Of A Woman was nominated for Best Picture alongside Unforgiven (the eventual winner), A Few Good Men (a worthy opponent), The Crying Game and Howard's End. It's easily the least "best" of that bunch but that in no way makes it a bad film; on the contrary, there's a lot of good work here to enjoy and despite the kinda creepy character afforded the leading man and his constant sniffing of people's scents, watching Pacino get all paternal around O'Donnell has a quaint charm about it that works. Take a sniff, folks, this one is worth a look.
Who wrote this?