Movie Review – Once Upon A Time In Hollywood

Principal Cast : Leonardo DiCaprio, Brad Pitt, Margot Robbie, Emilie Hirsch, Margaret Qualley, Timothy Olyphant, Julia Butters, Austin Butler, Dakota Fanning, Bruce Dern, Mike Moh, Luke Perry, Damian Lewis, Al Pacino, Benda Vaccaro, Nicholas Hammond, Samantha Robinson, Rafal Zawierucha, Lorenzo Izza, Costa Ronin, Damon Herriman, Lena Dunham, Madisen Beaty, Mikey Madison, Maya Hawke, Scoot McNairy, Clifton Collins Jr, Rumer Willis, Kurt Russell, Zoe Bell, Michael Madsen, James Remar.
Synopsis: A faded television actor and his stunt double strive to achieve fame and success in the film industry during the final years of Hollywood's Golden Age in 1969 Los Angeles.
********
There's a truism in Hollywood which states that Hollywood loves films about Hollywood. Cult director Quentin Tarantino (The Hateful 8, Kill Bill, Inglourious Basterds) has crafted a film that's entirely a love letter to Hollywood, specifically Hollywood in the 1960's, at the height of the Summer Of Sam, the arrival of the Manson Family, and the rise of television as America's number one entertainment platform. Beatific to a point, nostalgic to a fault, Tarantino's Once Upon A Time In Hollywood boasts an enormous all-star cast in even the most minor of roles, a cachet the director's allure brings to bear on what turns into one of his least interesting and most fanwankish projects to date. What's that? Going against the critical acclaim for the helmers most prominent modern release? Yes, you read that correctly: despite career-redefining turns from both Leonardo DiCaprio and moreso Brad Pitt, this film's dusk-hued trip down memory lane is filled with the kind of grabass nostalgic buffoonery and wink-wink industry porn Tarantino has until now remained in control of; Once Upon A Time In Hollywood is entirely Tarantino masturbating to his audience with "how clever am I" knowingness.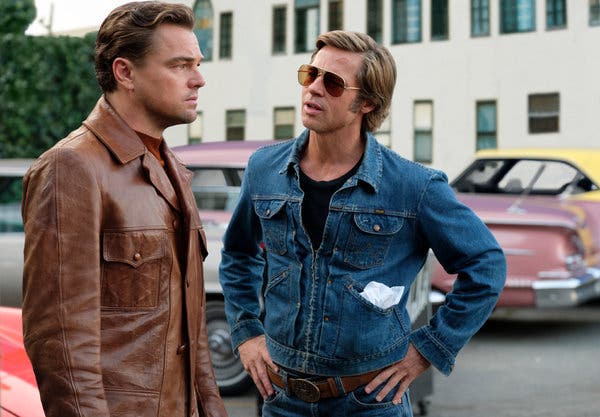 Hollywood, in the late 60's, and former television star Rick Dalton (DiCaprio) is struggling with his career following the cancellation of his poplar show "Bounty Law". He lives in close proximity to a house rented by rising-star director Roman Polanski (Rafal Zawierucha) and actress Sharon Tate (Margot Robbie), and due to rampant alcoholism is driven around Los Angeles by his friend and stuntman Cliff Booth (Pitt). When Dalton finds himself doing low-rent Westerns to pay the bills, Cliff finds himself caught up in the creepy Manson cult and their shattering violent intentions on a house nearby.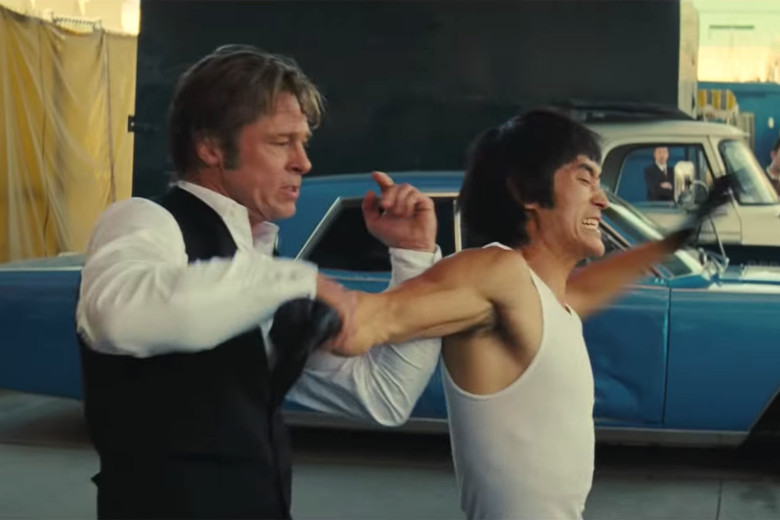 Once Upon A Time In Hollywood is the first Tarantino film I've seen where I questioned what the exact point was. Every film of his to this moment has at least had a coherent narrative, some kind of objective or MacGuffin to latch onto, yet here the film spends an inordinate amount of time spinning its wheels and achieving nothing except detailing Tarantino's obvious fascination with this period in Hollywood's storied history. As far as I can make out, the key element he wanted to tackle was the murder of Sharon Tate at the hands of the Manson family, leastways that's what a large portion of the film seems to be building to. Yet Tarantino smothers the film with ephemeral nonsense and obsequious nothingness, sequences of character interaction that are largely hubris in tone and utter balderdash in motivation. It's a two-and-a-half hour test of one's bladder, a perfectly good hour-long period piece hidden within the extravagance of the film's glorious production design and replication of a long-vanished Los Angeles of the late 1960's.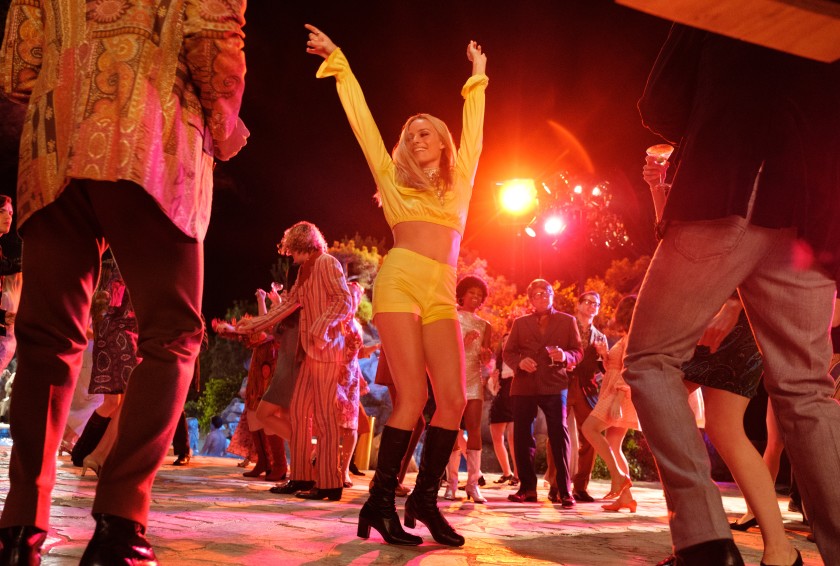 As you'd expect, the film's dialogue is what sells the film entirely. Tarantino can write a film like nobody else, and his authoritative stamp is once more layered in the fatuous, ribald expressions of the characters within. The pulp nature of DiCaprio's Rick Dalton (reportedly based on the real life relationship between actor Burt Reynolds and his stunt double Hal Needham) is worthy an entire film on its own, and it's an incredibly well mounted take on the "fallen star" motif so prominent in these kinds of introspective films. He's a man still leaning heavily on past glory, wallowing in alcohol-fuelled self-pity over a waning career, and swallowing rising bile at having to sully himself with low-budget westerns when all he wants to do is be a star again, and I think DiCaprio, one of modern Hollywood's most bankable stars, playing this role is a hilarious troll by the director. The banter between DiCaprio and Pitt is brilliantly executed, although for a lot of the film they're not together, while supporting stars such as Al Pacino, as a Hollywood casting agent, Bruce Dern as a physically spent George Spahn, and the delightful Margaret Qualley as Pussycat, a Mansonite whom attracts Cliff to the Manson bunker, provide a scintilla of bygone Hollywood allure enough to at least maintain interest.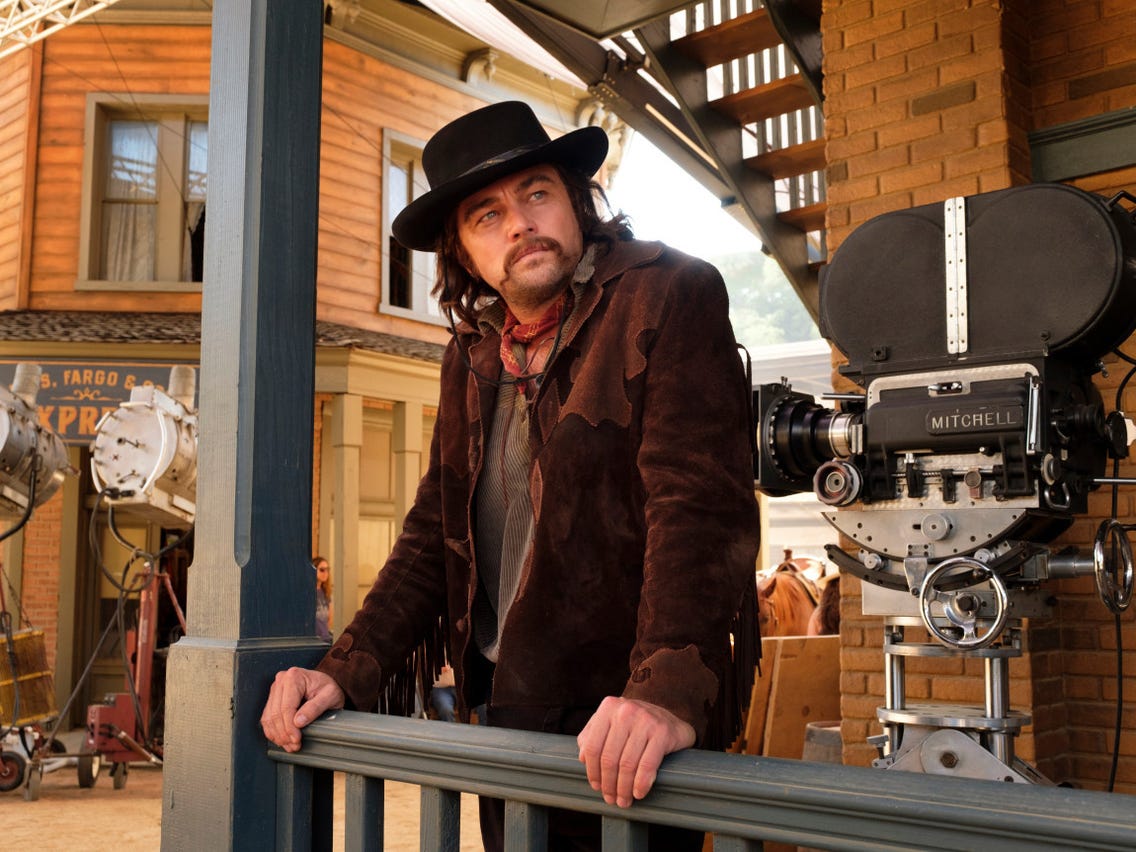 There has been a lot of discussion online regarding the lack of meaningful dialogue or interaction with Margot Robbie's character, Sharon Tate, the film's muse if you will, who flits about providing a vaguely bohemian tone to the golden colour palette three-time Oscar-winning cinematographer Robert Richardson gives the movie. Exactly why Tarantino chooses to focus a large portion of time on Tate when she's largely ancillary to the central plot isn't clear, perhaps it's the director's penchant for casting beautiful women in strong male gaze roles that made me wary of really connecting with her (the only time this has ever worked for QT was the unfortunately underappreciated Death Proof), and as much as I love Robbie in everything she does she's wasted here: not because of what she's asked to do by Tarantino, but because the film seems to treat her as an object of infatuation rather than a well-rounded character in and of herself.
For me the defining character and best part of Once Upon A Time In Hollywood is Brad Pitt's Cliff Booth, a scandal-plagued stunt performer who takes on both Bruce Lee (a bizarre caricature I can understand being objected to by the late actor's family) and the Manson Family in a fever-dream fantasy by Tarantino's weird recent predilection for rewriting historical fact. If Inglourious Basterds can kill Hitler in a movie theater then there's no reason the murders of Tate et al on August 8, 1959 can be avoided by a simple trick of "picking the wrong house". I do appreciate this level of revisionism by Tarantino but where this film fails to connect in the way his Nazi-killer flick hit a home run is that the characters and story never coalesce naturally. There's too much the sense of fantasy here, too much like a dream, and wandering around in Tarantino's dreamscape isn't as happy-clappy delirious as maybe I expected it to be. Pitt's Booth is the linchpin to the story, the connective tissue to the multiple plot threads – his past is filled with the mysterious and unsolved death of his wife, akin to the Natalie Wood scandal involving Robert Wagner – and it truly is a pleasure to watch the actor work. He floats through the film like an apparition, a confidante and monolith of violence and machismo, representative of the perfect hero who says little, but when he does speak says a lot.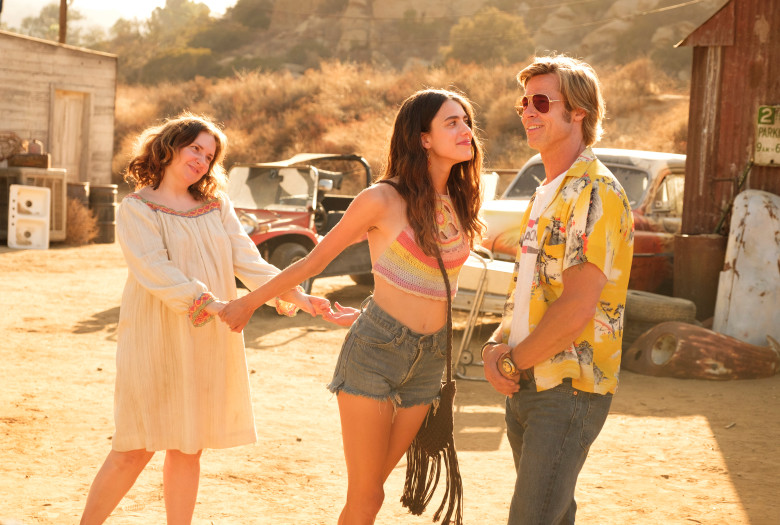 Exactly why this film needed to land in around the two-and-a-half-hour mark baffles me. There's about 30-40 minutes of legitimate story here, woven into the waffling canvas of Tarantino's decidedly ambivalent portrait of a bygone time. There's a lot of scenes of individual brilliance, make no mistake, but they belong in about three or four different films – there are scenes with DiCaprio's Rick Dalton "acting" in his movies and TV shows that make no difference to the overall plot, but are given entire minutes of width amounting to nothing of note except to provide the star another chance to grimace-act his way through Oscar-bait material – and as you'd expect there's visual flourish after flourish from a director in love with his own prestige. For what, though? The film's first hour or so is utterly redundant (in my opinion) to the plot, and while certainly lovely to look at offers few interesting machinations that make sense in the climactic final 30 minutes. Once Upon A Time In Hollywood, perhaps analogously to the American movie industry itself, feels superficial and sparsely defined, lacking the withering nuance of Basterds or Django Unchained (which handled this kind of bloated character development superbly) or the precision of story like the director's early films. It's an ego-trip, this film, one I'd wager Tarantino is allowed to take, but one that fails to reward its audience with a plot worthy of the lengthy running time or the preponderance of uber-cool sidebar characters (shoutout to Luke Perry in his final big-screen appearance, who gives more to his five minutes of screen time than many lead roles get in major tentpole films) or spectacular production design.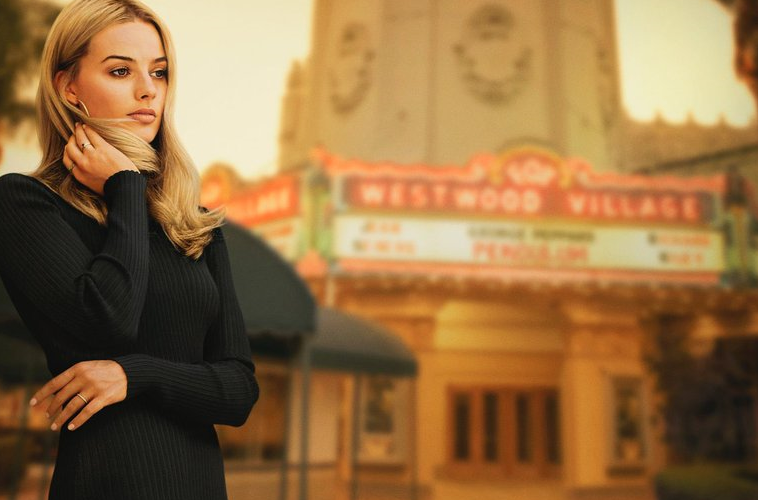 There are those who adore this kind of film. Typically I'm one of those, but this effort by Tarantino left me indifferent. Meaningless congruence with known events and an offhanded diversion from the truth at the last that give us little reason to care in this spectacularly hubris-laden effort hamstring the director's usual razor-sharp wit and ability to create tension, angst and drama. The characters are afforded the usual QT depth and personality tics, the replication of 60's Los Angeles is brilliant, and the overall plot conceit is intriguing to say the least; where the film slides off the rails is with extravagance and a meandering pace, coupled with meaningless sequences adding nought to the plot. Some may find Quentin's love-letter to Hollywood a fascinating and nostalgic wunderkind. I found it a bit too boring.
Who wrote this?