Principal Cast : Timothee Chalamet, Joel Edgerton, Sean Harris, Robert Pattinson, Thomasin McKenzie, Ben Mendelsohn, Tom Glynn-Carney, Lily-Rose Depp, Dean-Charles Chapman, Thibault de Montalemert, Edward Ashley, Stephen Fewell, Tara Fitzgerald, Andrew Havill, Ivan Kaye, Steven Elder.
Synopsis: Hal, wayward prince and heir to the English throne, is crowned King Henry V after his tyrannical father dies. Now the young king must navigate palace politics, the war his father left behind, and the emotional strings of his past life.
********
Period historical drama continues to prove fertile ground for filmmakers these days, albeit with mixed results. David Michod's The King, in a similar vein to 2018's Outlaw King and Mary Queen of Scots, contends with a polarising figure from times of yore, attempting to humanise them in a manner congruent with realistic modern sensibilities and a top-tier cast hoping for acclaim and serious award contention. Whether it works depends largely on your acceptance of this revisionist story of a young boy-king thrust into leadership following a contentious relationship with his father, a story that works well enough but resolves to an aloofness and distance from its subject that director David Michod cannot overcome.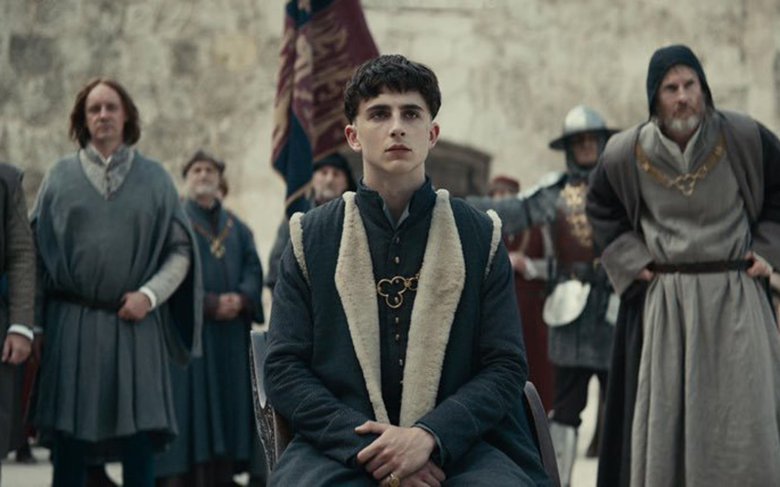 England, 1413: the King, a cruel and power-hungry Henry IV (Ben Mendelsohn), is gravely ill, with his kingdom constantly at war on many fronts. The King plans for his youngest son, Thomas (Dean-Charles Chapman) to take over as ruler upon his own demise, with the malcontent attitude of his eldest, Hal (Timothee Chalamet – Call Me By Your Name) at odds with the vicious nature of court politics. Hal, estranged from his father and befriended by former soldier now drunkard Sir John Falstaff (Joel Edgerton, who co-scripted alongside Michod), initially doesn't seek the crown but soon realises he could bring peace to England and return it to greatness. In assuming the crown, Hal, now styled Henry V, is antagonised by the French king and decides to invade, intent on subjugating the continent to his will; Hal's chief justice, William Cascoigne (Sean Harris – Mission: Impossible – Rogue Nation) cautions him against conflict but Hal is spurred into action, and further spurred by the insults of the Dauphin (Robert Pattinson), the son of the French King Charles VI (Thibault de Montalembert), who offers Hal the hand in marriage of his beautiful daughter, Catherine (Lily-Rose Depp).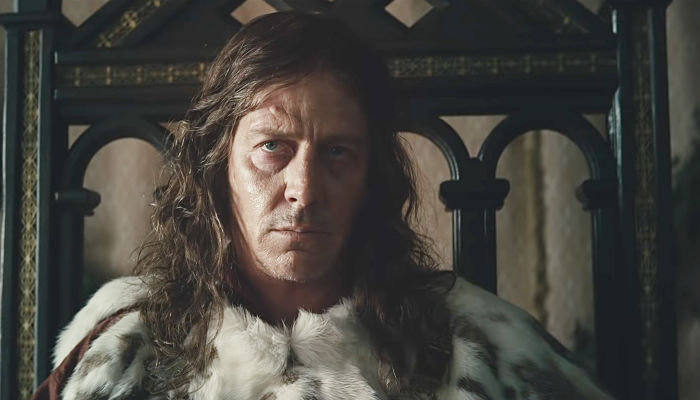 It may surprise you to learn that writers Edgerton and Michod crafted their gritty, grimy take on Henry V from the works of William Shakespeare, notably Henry IV Parts 1 and 2, and Henry V; the inclusion of the fictional Shakespearean character Falstaff, brought to life by a wonderfully grumbly Joel Edgerton, pays homage to the popularity of the period's depiction in the Bard's great works, although with The King, Michod grounds his story in a grim, brutalist melancholy befitting the period in which it is set. It presents the young Hal, future King and centerpiece of Shakespeare's most popular works, as a skinny, womanising wastrel, haunted by his father's warlike ways and resigned to living forever in the shadow of his lineage. It then flips that view on its head, transforming Hal into a strong-willed warrior – the famous Battle of Agincourt is depicted in all its violent chaos, and is the film's defining centerpiece – and showcases character over story, something I think works well here despite a few missteps.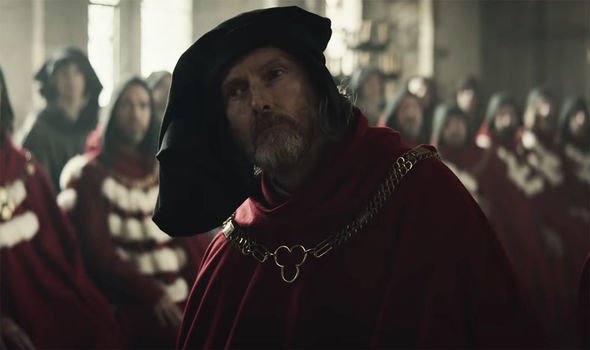 The writing on the film hedges on ye olde timey stuff, a lot of werts and wherefores, eschewing a more modernised language in favour of a more period-accurate work, delivered by a cast of solid character actors all working at their peak. Leading the charge is young Timothee Chalamet, Hollywood's current ingenue of the moment, and as Hal/Henry his work in this film is magnificent. It's a compelling, layered work of acting, combining with the script to produce an arc that captivates throughout. I was initially comparing Hal to the kind of William Wallace-esque character, the unwilling leader trope thrust into history's pantheon by fate etc etc etc… only here, Hal takes up the sword willingly and eventually "finds himself" through war, something he originally denounced. Chalamet's brooding, somewhat sour turn as Hal is a far cry from anything I've seen him in before, a turn of masculinity and gravitas that showcases what the young actor is capable of.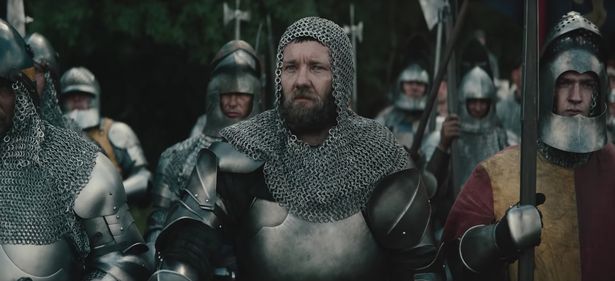 His key supporting cast, Edgerton and Sean Harris, are equally excellent: Edgerton's growling Falstaff is the tragic clown, consigned to witty one-liners and trailer-worthy glibness, who eventually proves himself worthy of the "legendary" status his character is afforded, whilst Sean Harris' turn as William Cascoigne is mannered and spiderlike, depicting the man as a gradually ailing supporter and confidante and one of the film's great pleasures. Of course, further blessings arrive in the form of Robert Pattinson's Dauphin, a crass egotist who goads Hal into combat under the assumption the boy king isn't "worthy" of the crown he wears. Pattinson is a delight, offering a broad canvas of character than his relatively minor role might engender. Ben Mendelsohn's work in a total of four scenes as Henry IV is exemplary, once more showing us all why he's one of the preeminent actors working today. Notably, Tom Glynn-Carney gives a hiss-worthy performance as Henry "Hotspur" Percy, Thibault de Montalembert masterfully trumps Chalamet as King Charles IV, and Lily-Rose Depp personifies femininity at the close, as Michod wrangles a superb cast around his leading men to really invest deeply in the world-building The King enjoys.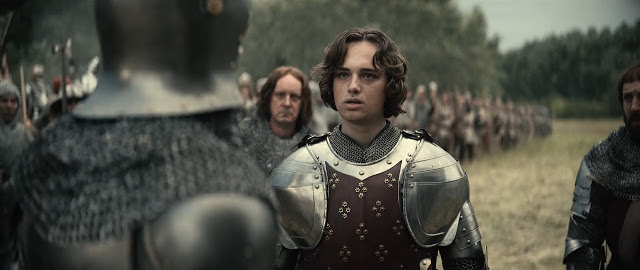 David Michold's direction of The King could best be described as "methodical", lacking the showmanship Hollywood often demands in favour of a restrained, beautifully shot introspective look at a historical figure long burdened by the barnacles of popular culture. The deft use of minimal "obvious" CG, the crisp, drably coloured cinematography and Peter Sciberras' superb editing make for a highly contemporary visual feel, an immersive canvas on which to paint these intriguing characters. But the canvas isn't the focus of the film, it's simply the backdrop, with Michod hardly showcasing the arsenal of visual tricks at his disposal when he can place his characters front-and-center whenever possible. The film is, most surprisingly, not as bloody as you think as well, with the film's showpiece battle sequence lacking the gore and human viscera of contemporary genre visuals such as Game of Thrones or 300; there are moments when you flinch at blood, a duo of beheadings bringing a wince from both myself and the wife, but it's not the splatter category other modern films might contain. It goes about its business with a perfunctory manner befitting the lack of ostentation the script ascribes.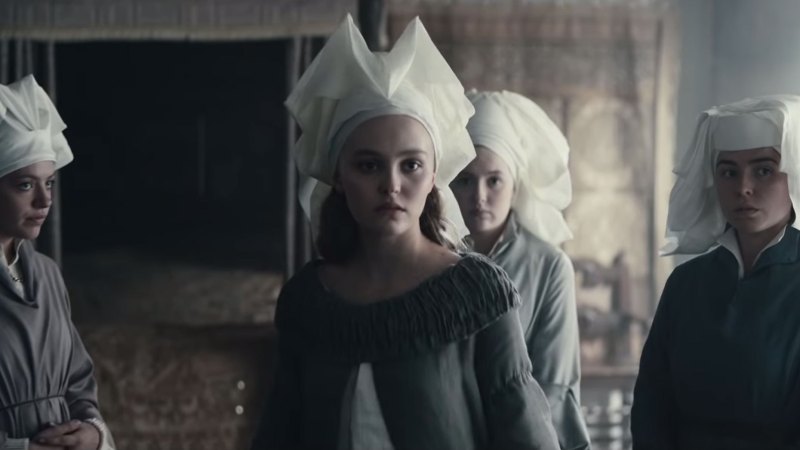 If the film has a singular weakness, in my eyes, it's that the disconnect between Hal and the audience is a frustrating one to overcome. Michod seems to keep the character at a distance, refusing to open us up to his mindset throughout much of the film, and it creates this weird abyss between us and Hal and his motivation that limits the amount we can invest in him. We see him as others talk about him, his legend and status as king isn't so much shown as it is told, although the Agincourt sequence will bring the heartstopping human violence to vivid life despite archetypal medieval battle formations proving somewhat tired to modern audiences, and the character is somewhat opaque when it comes to what truly makes him tick. Once Mendelsohn's odious patriarch leaves the story, Hal's motivation seems less and less formed from this conflict and more an internal struggle not to be like his father, although it's hardly examined in great depth. Chalamet is indeed great in the role, it's simply that the role becomes too diminished once the invested conflict between IV and V – a far more interesting story point than whatever Hal thinks he'll claim in France – is lost.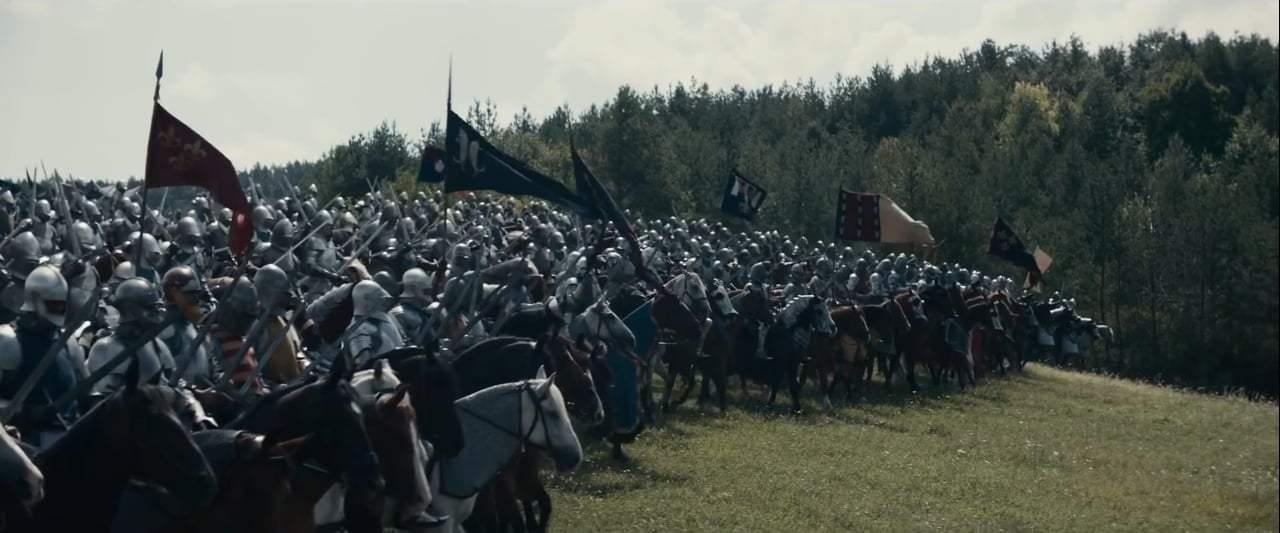 Led by a trio of great performances (Edgerton is arguably the film's MVP), and wonderfully subdued direction from David Michod, The King's intrigue and interest in its principal subject tends to sputter and flicker through a wobbly second act, but finds itself in a rousing and moving climax and acutely shocking denouement. Timothee Chalamet carries the film well, Sean Harris delights with his creaky portrayal of Cascoigne, and the stellar supporting roster all fail to put a foot wrong. Robert Pattinson continues to prove himself an eclectic actor indeed, whilst Ben Mendelsohn and Tom Glynn-Carney provide more than adequate early villainy. The King may be an esoteric voyage that some might find profoundly puzzling, but it offers some delightful storytelling and magnificently written characters that draw you into their plight before sending them spiralling into historical destiny. It's a film many may find cold and/or distant, too resolved in realistic modernity to produce genuine empathetic feelings for what lies within, but those seeking a layered, slow-burn historical epic could do a lot worse than spending two and a half hours with Henry V.
Who wrote this?