Movie Review – Mary Queen of Scots (2018)

Principal Cast : Saoirse Ronan, Margot Robbie, Jack Lowden, Joe Alwyn, David Tennant, Guy Pearce, Gemma Chan, Martin Compston, Ismael Cruz Cordova, Brendan Coyle, Ian Hart, Adrian Lester, James McArdle.
Synopsis: Mary Stuart's attempt to overthrow her cousin Elizabeth I, Queen of England, finds her condemned to years of imprisonment before facing execution.
********
This royal period drama manifests as an actor's paradise but, despite competent production values, solid performances from everyone, and quality behind the camera, Mary Queen of Scots is a turgid, tepid affair that never really excels. It's a film shouldered by two extremely sublime actors in Saiorse Ronan and Margot Robbie, both coming off recent Oscar glory with Brooklyn and I Tonya, and to their credit both actresses do compelling and convincing work in their respective roles, but something about Mary Queen Of Scots just doesn't work. It ticks all the requisite boxes of a typical genre entry, from intrigue, betrayal, flowery dialogue and scabrous humanity bubbling beneath steely exteriors, but neither Beau Willimon's screenplay nor Josie Rourke's luscious direction can salvage this film from remaining merely mediocre, grossly unlike the women it depicts.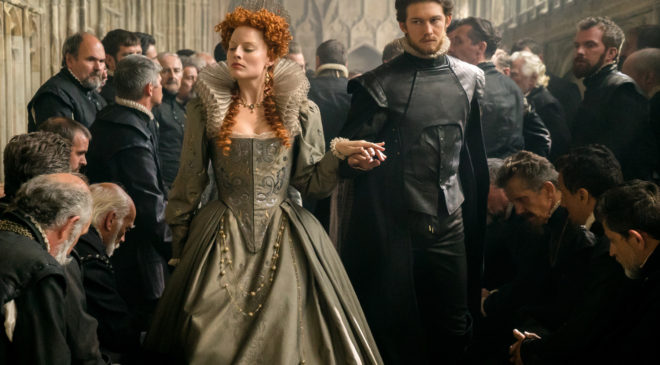 In the mid 1500's, young Mary (Ronan), Catholic Queen of Scotland, returns to her native land from France where her late husband, Francis II, has died. She intends to take up her throne, and is aided by her half-brother James Stewart the Earl Of Moray (James McArdle). Her arrival puts her at odds with her paternal cousin, Elizabeth (Robbie), the current monarch of bordering country England, for Elizabeth suspects Mary intends to claim the throne of England for her own. With various intrigues between them, including a debilitating bout of smallpox for Elizabeth and husbandry troubles for Mary, both women conspire to rule the island through various machinations, not the least of which involves Mary's duplicitous homosexual second husband Lord Darnley (Jack Lowden), a devious Protestant cleric, John Knox (David Tennant), and Elizabeth's senior adviser and confidante, William Cecil (Guy Pearce).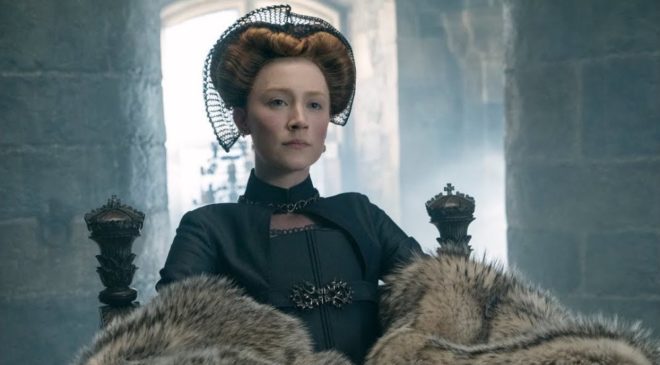 Mary Queen of Scots sits as a worthy yet utterly indifferent sequel to the 2008 Natalie Portman-Eric Bana potboiler, The Other Boleyn Girl, of which the characters here are direct decedents of Bana's Henry VIII. Both films manifest competent performances from their top-line cast, and both films engage with audiences in a similar tone of maternal anguish, and both films aspire to be prestige stories of acclaim far more than their execution could ever warrant. Mary Queen of Scots is indeed an inviting period drama, for it casts two preeminent female performers in roles that naturally fit gravitas and importance in a showy, awards-season way people love to enjoy. But neither Ronan, leading the charge as the stoic, impenetrably rigid Mary, nor Ronan, as the physically ailed Elizabeth post-Smallpox, can bring a sense of energy to this listless production. Not through lack of trying, for on their own merits each actress is convincingly worthy of plaudits from all corners. Together, this film ought to have been incendiary in some measure, yet for all the machinations and plot twisting (all of which is based on historical fact, mind), the film's messy throughline and ineffective overall sense of itself leaves much to question for even the most cursory observations.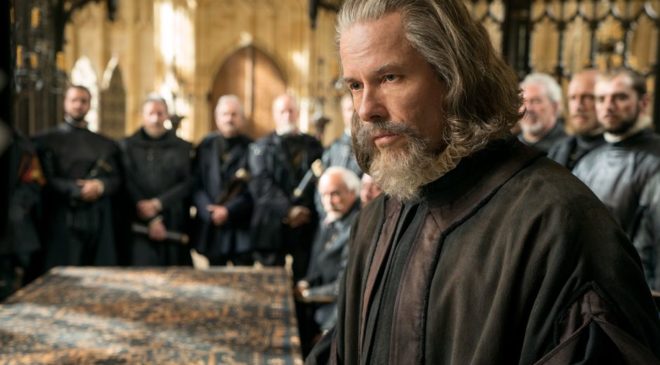 Written by Beau Willmon from a book by John Guy entitled "My Heart Is My Own: The Life Of Mary Queen Of Scots," the film attempts to weave the lives of both Mary and Elizabeth into a fudged conflict between family, casting Elizabeth more as the aggressor than Mary for wont of an antagonist. Elizabeth and Mary seem portrayed as unfortunate victims of their own success and sex, because let's face it women were barely second-class citizens across much of the Western world by this point, with Mary's strong willed nature and drive to rule England through her progeny seeing her downfall as much as the plans and conniving of Elizabeth from London. Elizabeth is resigned to fate dictating the course of Mary's life and despite growing enmity between them there is an attempt at a vague "sisterhood" respect from both parties. It fails to work, instead casting Mary as a blindly ambitious climber whilst Elizabeth seems far too disposed to melancholy for my liking. The little history of the period I know of is drawn from other films – such as Shakespeare in Love, blech, and the Cate Blanchett duo of self-titled movies – dealing with this period, and as a student of history the basic premise is indeed intriguing. Sadly, however, my emotional investment in the film waned quite quickly due to a fuzzy core focus and an inadequate duel narrative. I know the film is titled after Mary, but bang for buck the film lacks Robbie's input far too often. She's not in it enough, and her influence in the shadows is only hinted at rather than forcefully manifesting.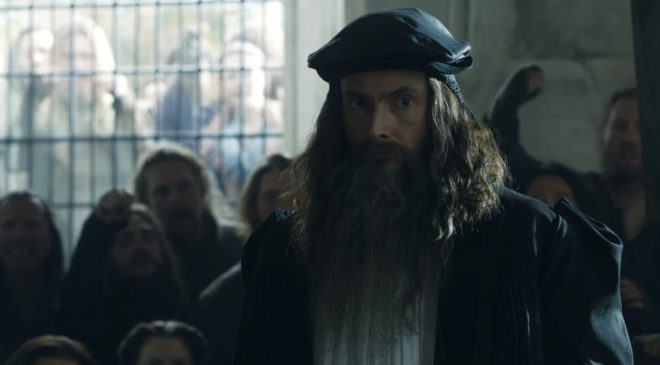 At a performance level, both Saiorse Ronan and Margot Robbie can hold their heads high, Robbie especially. Buried beneath hideous makeup and effects, and some astonishing costume design (the film was nominated for an Academy Award in this category), Robbie's unfortunately "uglied-up" Queen Elizabeth I almost feels like a parody than an essaying, but Robbie's steely resolve and sheer screen charisma carry her through a role that should have been a knockout but isn't. Ronan, herself no stranger to character-driven roles of import and complexity, delivers a rousing and impassioned turn as Mary, suffering all manner of indignity with an implacable sense of her place in history, and yet despite the actress' solid work the film never lifts her up. Supporting turns from Guy Pearce and David Tennant are excellent, while co-stars Jack Lowden, as the odious Lord Darnley, Gemma Chan (as a consort of Elizabeth), and James McArdle, as Mary's cousin and eventual Regent of Scotland following her execution in 1603, offer excellent filler in roles that become indistinguishable between the therefore's and wherethou's, with the film's beautiful but depressing cinematography (by DP John Matheison) often miring the production in shrouded, muddy grime. The film really is an actor's stage, depending almost entirely on performance rather than grand action or epic landscapes (although there are an innumerable number of glorious Scottish highland exterior sequences), and to their credit the actors do all the heavy lifting enough to at least make Mary Queen of Scots a workable entertainment.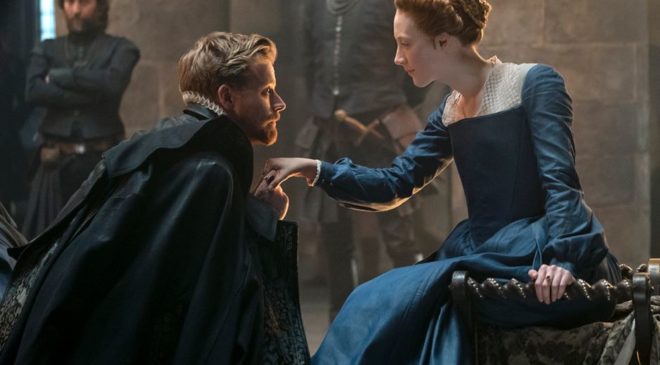 It's fair to say first-time film director Josie Rourke has a stylish eye, and can create a scene within the context of a larger story, but the film's overall focus seems to be missing coherence; a smattering of historical interludes against the larger canvas of British monarchic succession, tends to vacillate and never finds an emotional center. Having great characters and actors means nought if the overarching thread of the story works, and here it doesn't. The film doesn't really explain the difference between the Catholic and Protestant animosity so prevalent in the period, and makes no effort to really contextualise a lot of what happens and who it's happening to. Failing to do this makes our interest or attachment to the various characters a little harder to grasp, consequently the film's terribly depressing flavours and inherently sad end-point doesn't resonate. The film tries, it really does, and in an alternative reality both Ronan and Robbie might garner Oscars for their work here, but buried beneath operatic vistas and bullroarer sequences of dialogue, the film's failing it ultimately in Rourke's inability to adequately weave together either woman's life tapestry, and reduce the dual narrative to a fairly pedestrian piffle.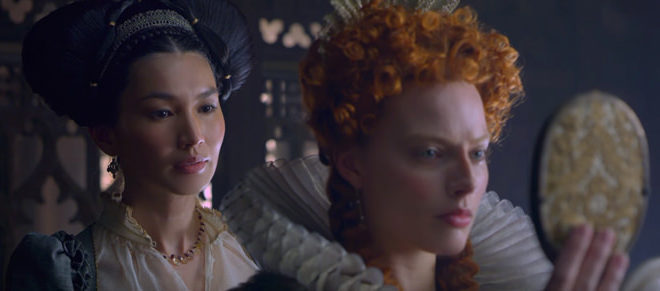 Mary Queen of Scots is a competently made yet unfulfilling period drama that lacks heft and commitment to the period. The violence is far too sanitised for this post-Braveheart world, the writing to dour and too afraid of making an actual point, and the focus on both Elizabeth and Mary as competing sides of the same coin runs afoul of diluting the otherwise white-hot cauldron of Mary's passion. Had the film remained focused solely on Mary, far more than it even does here, I'd wager the character's complexity would have strengthened the motivation for the story. In the end, a well-acted but ultimately fruitless dramatic performance-film that feels too too ill-defined to make its point.
Who wrote this?