Movie Review – Straight Outta Compton

Director :  F Gary Gray
Year Of Release :   2015
Principal Cast :  Jason Mitchell, O'Shea Jackson, Corey Hawkins, Paul Giamatti, Aldis Hodge, Neil Brown Jr, Marlon Yates Jr, Corey Reynolds, Tate Ellington, Alexandra Shipp, Angela Elayne Gibbs, Bruce Beatty, Lisa Renee Pitts, Keith Stanfield, R Marcos Taylor, Sheldon A Smith, Carra Patterson, Elena Goode, Keith Powers.
Approx Running Time :  147 Minutes
Synopsis:   The group NWA emerges from the mean streets of Compton in Los Angeles, California, in the mid-1980s and revolutionizes Hip Hop culture with their music and tales about life in the hood.
*******
Look, I'll shoot straight wit' y'all, dis dope ain't my shit, y'hear?
I'm a 40 year old white dude from Australia, about as far removed from 90's black rap and gangstas as you can get, although I will admit to some minor incumbency with the depiction of poplar hip hop group NWA (acronym for Niggaz Wit Attutudes) via an association with my local community radio station during the early 90's. Although I cannot claim to enjoy, or even appreciate their music, NWA were a formative group on the music scene back in the day, and so a biographical film about their exploits was always a possibility. Straight Outta Compton, directed by F Gary Gray, is titled after the group's début album from 1988, and features plenty of the music that made them famous. Populated by names familiar and unfamiliar to me, I hoped that the film would at least give me a glimpse into why these guys were – and continue to be – so influential.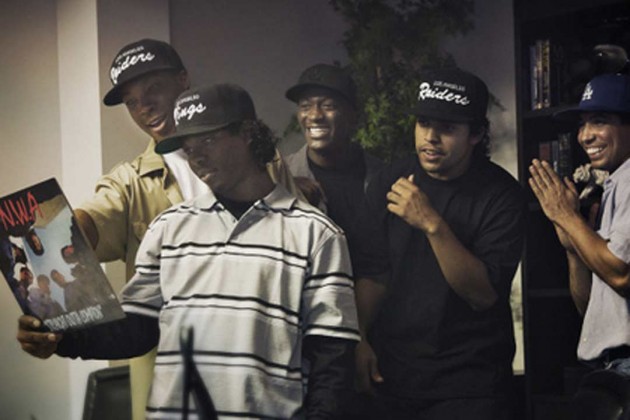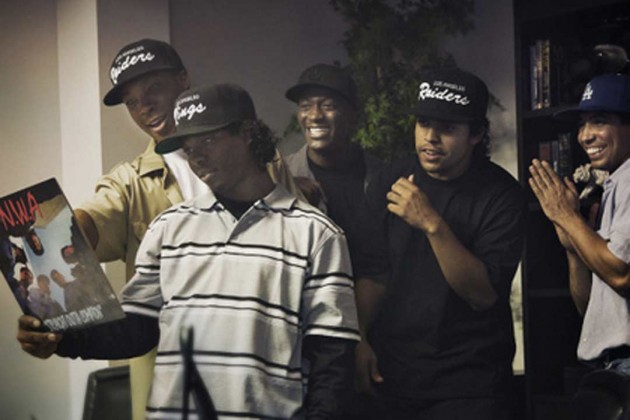 Straight Outta Compton is a slam-dunk hand-grenade of a film. Straight up, easily one of the best band films ever made, this warts-and-all fable of boys from the hood makin' good in the music business, ruffling feathers and bucking authority is explosive, genuine, and stunning. Led by three dynamite performances and filled with profane, vulgar, street beats, F Gary Gray's dynamic musical bio-pic actually converted me. I mean it, it converted me. What these boys achieved through the fiery 80's racial tension of America (huh, not much has changed, though…) and the explosion of black rap music, from NWA down to TuPac, Eminem and 50 Cent, Straight Outta Compton is a testament to artistry against violence, hatred and jealousy, often all at the same time.
The film sees Jason Mitchell as Eric "Eazy-E" Wright, a Compton, LA native who spends his time dealing drugs on the street. Following a close call police raid, Eric hooks up with local wannabe DJ Andre "Dr Dre" Young (Corey Hawkins) and Lorenzo "MC Ren" Patterson (Aldis Hodge), as well as fellow Compton native O'Shea "Ice Cube" Jackson (O'Shea Jackson Jr), to record some tracks featuring their dynamic rap style. The first single, "Boyz-n-the-Hood", explodes onto the music scene, leading shonky music representative Jerry Heller (Paul Giamatti) to snake along wanting to manage them. As the new music group transitions into NWA, their popularity skyrockets, before internal friction over creative rights and money drives a wedge into the friendships. Cube leaves to forge his own career (which he does, successfully), while Dr Dre hooks up with violent sociopath entrepreneur Suge Knight (R Marcos Taylor) to produce tracks with the likes of Tu Pac (Marcc Rosse) and Snoop Dogg (Keith Stanfield). With the money from NWA drying up, Eric reaches breaking point when he is intimidated by Suge to release Dre from his contracts, and even finds out that Jerry has been embezzling money from the business.
This film had me sobbing like a little baby, man. Going in, I knew virtually nothing about NWA or even who any of them were (with the exception of Ice Cube, I've run across his backstory covering stuff on this site) but by the end of it, I felt like I'd been on the tour with these guys; the film inhabits their world utterly, it's DNA is soaked in Los Angeles blood and sweat, and never a more compelling piece of dramatic musical history has played out before me like Straight Outta Compton. Now, I qualify that statement with a pause to consider that the film is really just a straight up retelling of events, but Gray and the cast have carved personality and character into every frame of this movie. Yes, it's a bio film, and yes these actors are portraying real people in a fictionalised setting, but damn if it isn't the most astonishing piece of movie-making since Moulin Rouge. Yeah, I'm converted.
It helps that the film was co-produced by two of the people portrayed in the film: key members of NWA Ice Cube and Dr Dre. Surprisingly the film isn't watered down or… er… whitewashed to portray one or all of them as angelic, misunderstood youngsters, but rather just to give an honest, truthful account of the journey they all went on to get to where they are today. Hell, Ice Cube's own son plays him in the film! How freaky is that!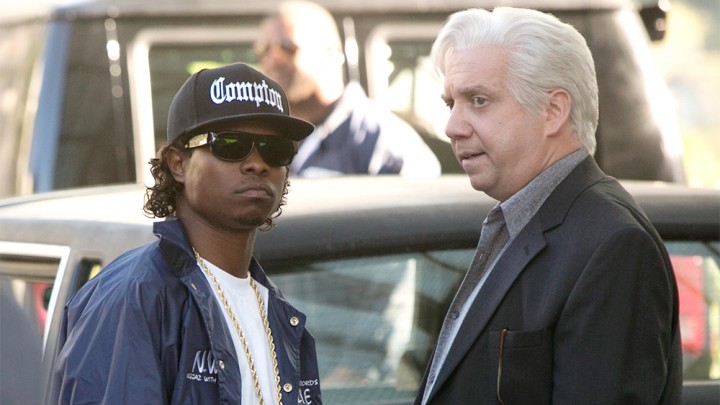 The star of the film is really the character of Eric Wright, and it favours the now deceased frontman of NWA with a flawed, fractured humanity which makes it a richer movie – Eazy-E didn't start out all that nice, and he sure dissed a lot of his crew along the way, but at the end, when he was trying to reconcile with Cube and Dre, he owned his mistakes and made amends. The trio are the heart and soul of the group, and the film doesn't shy from that, and even splits into a triptych narrative as they all go their separate ways midway through the movie.
The writing on this film – let me tell you, I actually had to watch this film with subtitles on because I couldn't understand half of what these dudes were gabbing about. LA street lingo isn't a language I'm overly familiar with, and among the "homey" and "motherf@cker" and "nigga" and "crew" and "yo", about every other word was either a curse word or some mumbled approximation of the English language. Yeah, it's hard to get your head around it at times, but the realism works for the story and the characters – it's who they are, and to deny that would be to rob the film of a core truth. The film's juxtaposition between insanely wealthy musicians and their skid-row upbringing is stark; some of them can't handle it, and others can, but through motivations which become clear in the film's final act, there's more than enough betrayal and every-man-for-himself stuff going on to bring some angst. The film delves into both the racial tensions in LA at the time – a key moment is the Rodney King trial, which parallels much of what NWA were speaking about in their songs, as well as the brotherhood from Compton and the bonds of friendship that overcome both money, trust and anger.
F Gary Gray should be applauded for his direction of this movie. As a man with whom this film has obviously resonated deeply, Gray brings a real sense of energy to the story, giving each of his main leads equal time to shine in moments of emotional complexity I – honestly – wasn't expecting. The polish of Gray's camerawork never feels obtrusive or pornographic, yet there's a personal edge to the framing and editing that accentuates the edgy, fractious nature of the characters involved. There's an honesty to the movie, a sense that these guys aren't mythic heroes on some quest, they're just dudes made good, with flaws and problems of their own. The film runs to nearly 2 and a half hours, but never feels stretched, or overstaying its welcome. This is the mark of a film that knows exactly how to tell its story. And man, what a story.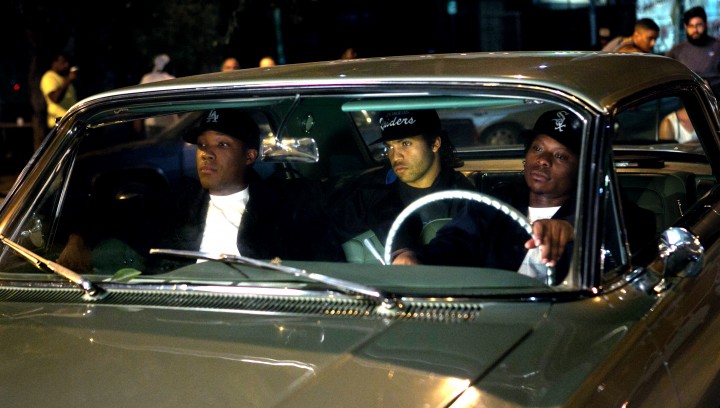 Far and away the biggest bonus to this film are the performances, though, How Jason Mitchell isn't rolling in acting awards right now, I'll never understand. As Eric, he's the spiritual leader of the group but lets his financial drive get in the way of his friendships; Mitchell imbues Eric with a real Napoleonic sense of entitlement while never being distastefully arrogant. Recognise that the guy was only 32 when he passed from HIV, so all he achieved in his relatively brief life is more than some people do in 80. Mitchell is a revelation, acting the hell out of a character I fully expected to not like, and not understand – I came away admiring him and liking him, and feel heartbroken his reconciliation with Cube and Dre didn't come to fruition the way he'd have liked. Ice Cube's son, O'Shea Jackson Jr, portrays his own father, in one of the most startling and revelatory performances I've seen all year. Ice Cube ain't the most personable actor or personality getting about, but his street-husk attitude and half-wink way of acknowledging friendship is delivered with perfection – I guess when you grow up with the dude you're portraying, there's every reason not to f@ck up a performance like this.
Then there's Corey Hawkins, as Dr Dre. Hawkins is soft-spoken, philosophical and all about the art – twice he leaves a label because of they way his work is being orchestrated by managers, and in the end he becomes hugely successful on his own; a giant middle finger to those who said he'd never amount to anything. Hawkins is brilliant in the role, offering a contrast to both Eric and Cube's more belligerent, anti-establishment ways. The friendship between the three appears unlikely but, as we no know, it continues to last to this day. Finally, the always awesome Paul Giamatti portrays band manager Jerry Heller, in what must be said is a portrayal both praising and damning. In what might have been a fairly generic part, Giamatti brings a raw undercurrent of moral tumescence, followed by a heartbreaking denouement late in the film that I think should have been worthy of more praise than it got in some quarters. Given the real Heller's lawsuit against the film, and his claims of false statements as to the depiction of him within the film, it's not for me to say whether Giamatti provides a particular skewing of reality (one has to consider this film is told from the NWA perspective) but it is what it is.
Straight Out Of Compton is a blazing firebrand of a film, a filthy-clean jaw-socker that punches above its weight and absolutely nails it. Brilliantly acted, well directed, and filled with enormous amounts of heart – as I said, I was sobbing at the end of this one, and I almost never cry during movies like this – Straight Outta Compton is dynamite storytelling on a subject I felt had no interest for me, but man, I'm glad I watched it.
Related articles
Who wrote this?