Director :  Simon West
Year Of Release :   1997
Principal Cast :  Nicolas Cage, John Malkovich, John Cusack, Ving Rhames, Danny Trejo, Mykelti Williamson, Rachel Ticotin, Colm Meaney, Dave Chappelle, Nick Chinlund, Steve Buscemi, Monica Potter, MC Gainey, Jose Zuniga, Jesse Borrego, Renoly Santiago.
Approx Running Time :   115 Minutes
Synopsis:   Newly paroled ex-con and former U.S. Ranger Cameron Poe finds himself trapped in a prisoner transport plane when the passengers seize control.
******
Crime flies.
Following his Oscar success in 1995 with Leaving Las Vegas, for which he won a Best Actor gong, Nicolas Cage swivelled on his heel and suddenly became Hollywood's A-list action star, assuming the mantle grasped by Bruce Willis to that point. A trio of late-90's action blockbusters, of which Con Air is the second surrounded by The Rock and Face/Off, catapulted Cage into the pop-culture firmament, establishing him as an actor of broad range who would do both dramatic and not-so-serious roles and get away with it. Con Air, a film which by today's standards is ripe for a remake (or at least a reboot and possibly a television series) juxtaposes Cage's natural good-ol'-boy charm and a dreadful Southern accent (it's supposed to be Southern, right?) against a pop-culture juggernaut ballad in "Trisha Yearwood's "How Do I Live", which dominated music charts that year, a nudge-nudge cast of motley reprobates, and you have the perfect recipe for explosive action and comedy.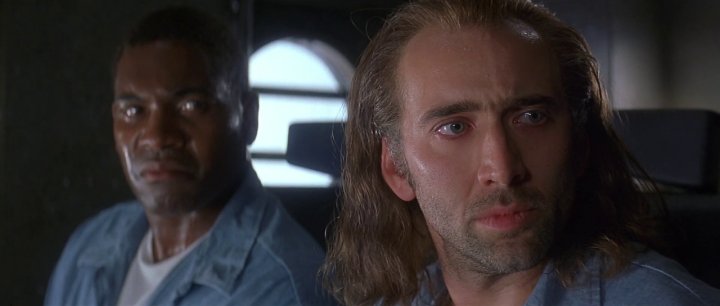 Plot synopsis courtesy Wikipedia:  Former Army Ranger Cameron Poe (Nicolas Cage) is sentenced to 10 years in prison for manslaughter for using excessive force on a drunk man while trying to protect his pregnant wife Tricia (Monica Potter). Poe is paroled eight years later, and is to be released after being flown to Alabama on the Jailbird, a C-123K transport prison aircraft. Along with Poe are several other prisoners including his diabetic cell-mate and friend Mike "Baby-O" O'Dell, who is being transferred (but not yet paroled) with Poe. The transfer is being overseen by U.S. Marshal Vince Larkin (John Cusack), as the transfer includes notorious criminal mastermind Cyrus "Cyrus The Virus" Grissom (John Malkovich), gangster and Black Guerilla member Nathan "Diamond Dog" Jones (Ving Rhames), serial killer Garland Greene (Steve Buscemi), and mass murderer William "Billy Bedlam" Bedford (Nick Chinlund) for their transfer to a new Supermax prison. Larkin is approached at the last minute by DEA agents Duncan Malloy (Colm Meaney) and Willie Sims (Jose Zuniga), who ask for Sims to be brought aboard disguised as a prisoner so that he can extract more information from drug lord Francisco Cindino (Jesse Borrego), a prisoner that is to be picked up at Carson City, Nevada en route.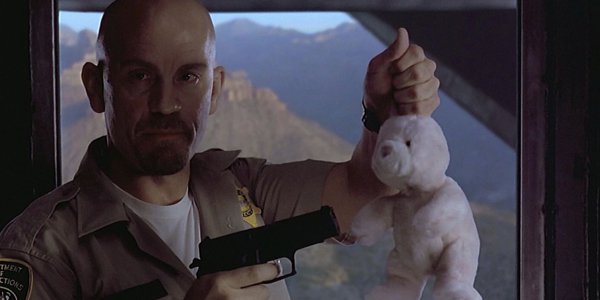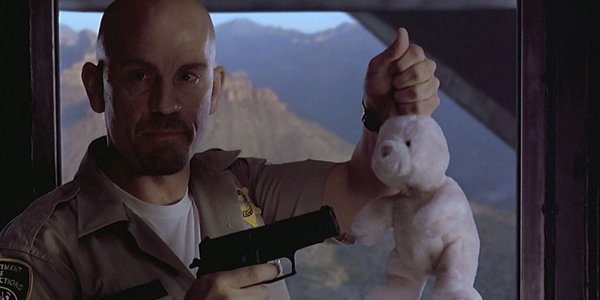 Watching Con Air, it's hard to fathom that it was Simon West's first feature film as director. As assured a job as West gives the film, it would be nothing without the talents of one of Hollywood's best ever assembled thug-life casts, and the pyrotechnic team behind the camera. Con Air is a bona fide classic action film, and among the many 90's films worthy of a sequel, perhaps this one is chief on that list. With its immediately iconic roster of characters, essayed by some of Hollywood's best screen villains and henchmen (let's face it, Danny Trejo was still a bit-layer at this point, before he became the cult figure he is today), Con Air remains as popular now as it was the first time you saw that plane slam into the Las Vegas Strip. Among its eminently quotable lines are "Put the bawnny back in the bawx", "Define irony. Bunch of idiots dancing on a plane to a song made famous by a band that died in a plane crash," and the vision of Steve Buscemi's serial killer psycho character singing "He's Got the Whole World In His Hands" as the plane plummets to what appears certain destruction. There's a gleeful sense of insanity at work in Con Air, driven by a testosterone-laden plot from Scott Rosenberg's screenplay, which offers scant regard for human life when cool explosions, dramatically over-acted one-liners and creepy, malevolent John Malkovich are at work.
Although it's definitively an action film, the movie coasts on the ease with which the cast all work together on screen. Cage, obviously the star, works his magic in a sweaty white singlet and godawful hair extensions (I mean, seriously?) but he's bouncing off the likes of Malkovich and Ving Rhames, Steve Buscemi and bloody John Cusack as co-stars; that's no B-grade stuff right there. The film's script moves from comedic (Dave Chappelle offers early black humour, while Nick Chinlund and Cage go mano e mano in the fuselage of the film's plane with one of the great action dialogues of all time), to the thoroughly evil – Malkovich's character is an utter asshole, and he doesn't pretend anything else – to the sublime, in the form of Buscemi's crazy Garland Greene (his arrival in the film is heralded with a throwback to that of Anthony Hopkins' hideous straight-jacket imprisonment in Silence Of The Lambs), who once wore children's heads as hats. Yep, this film goes to all manner of dark places in the name of popcorn entertainment, and with the sheer quality of the cast we lap it up.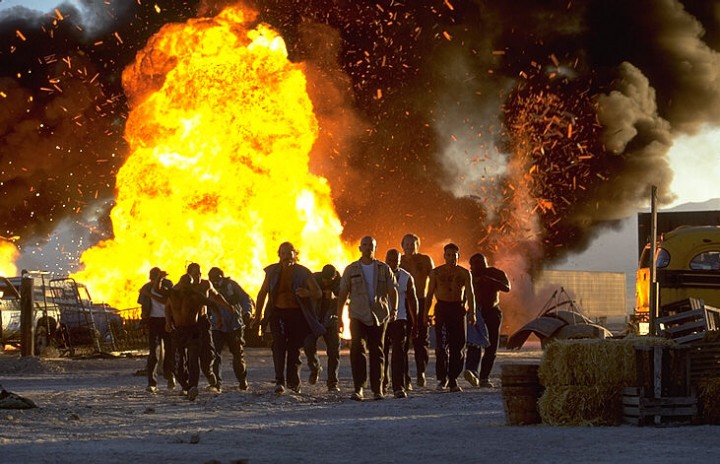 Given the cumbersome cast requirements and the scale of the film, you'd be forgiven for thinking Con Air might be a tad lightweight in its emotional heft; you'd be wrong. West wisely concedes some time to developing Cage as an unfortunate victim of circumstance, a family man, a peaceful man who only wants to reunite with his wife and child, and it's this thread throughout the film which allows us to accept the things Poe does to ensure that happens. The eventual meeting between Poe and his never-before-seen-in-the-flesh daughter Casey (Landry Allbright) is both euphoric and moving in the time Poe has lost in prison, and it will make even the hardest of hearts wilt with its sense of drama and pathos. So yeah, Con Air isn't just about Big Dumb Fun (although it certainly has plenty of that), but rather it's a character driven film with explosions.
The cast, even the smallest role, have an absolute blast. Malkovich chews the scenery ferociously, John Cusack looks lost and bewildered as to what he's even doing in this film, while Ving Rhames, Nick Chinlund, Danny Trejo and Steve Buscemi gild the edges of this thing with the style and class they've become famous for. Good to see Rachel Ticotin, who nearly had her eyes sucked out on Mars alongside Arnie in Total Recall, as a prison guard, while Colm Meaney's furiously arrogant DEA official character provided a change of pace from his more reserved performance on Star Trek: Deep Space Nine. Hearing Meaney curse so vehemently brings a smile to my face every time.
When you think hard about it, having the audience actively hoping the convicts aboard the plane survive and succeed is problematic to a point, and egregiously wrong in every sense. But through sheer force of will, the film makes us care about these douchebags; not all of them are bad bad, just misunderstood (I guess), and as cinematic anti-heroes go you'll have to travel a long way to find so many all in one film again. Accompanied by a metal-guitar twang threaded within the score (Mark Mancina and Trevor Rabin's work is suitably thunderous here) and David Tattersall's sweaty, brow-beaten cinematography, the film is pure adrenaline and testosterone – the woman in this film is treated appallingly, albeit in service to the story, but this is a man's beer-n-pizza fantasy film writ large.
Con Air has the slick, Jerry Bruckheimer orange-explosion feel to it, a visual kineticism which defined the man's films during this period, and a heartening fantasy style that ensured the film was never confused with reality. Simon West's command of the action staging, his use of CG, models and rear-projection (so obvious in post-millennial high definition) is competent and occasionally endearing, and he infuses the film with a playfulness and sense of adventurous largesse that many modern action films can't achieve today. Hugely silly, endlessly entertaining and almost entirely without redemption, Con Air is an outright classic that plays to the cheap seats and wins every single time.
Related articles
Who wrote this?