Director :  John Woo
Year Of Release :  1997
Principal Cast :  Nicolas Cage, John Travolta, Joan Allen, Alessandro Nivola, Gina Gershon, Dominique Swain, Nick Cassavettes, Harve Presnell, Colm Feore, John Carol Lynch, CCH Pounder, Robert Wisdon.
Approx Running Time :   139 Minutes
Synopsis:   In order to foil an extortion plot, an FBI agent undergoes a face-transplant surgery and assumes the identity and physical appearance of a ruthless terrorist, but the plan turns from bad to worse when the same criminal impersonates the cop.
*********
Woo's Hollywood Highlight.
Did you know that Face/Off is an Academy Award nominated film? True story. John Woo's third American film, following the commercially unsuccessful Hard Target, and the overblown Broken Arrow, saw him re-team with Travolta for Face/Off, in one of the most preposterous action movie concepts ever conceived. Audiences ate up Woo's spectacular action motif, doves and all, as Nic Cage and Travolta ran riot at each other in an absolute 90's classic. Although Woo would not find continued success in Hollywood following this – Mission Impossible II (still considered the worst of the franchise to-date), Windtalkers, and Paycheck were critical bombs, the latter two also being considerable financial losses for their respective studios – it's fair to say that film fans' love-affair with the cult Hong Kong director hasn't waned to this day, even though he's less productive now than he was back then.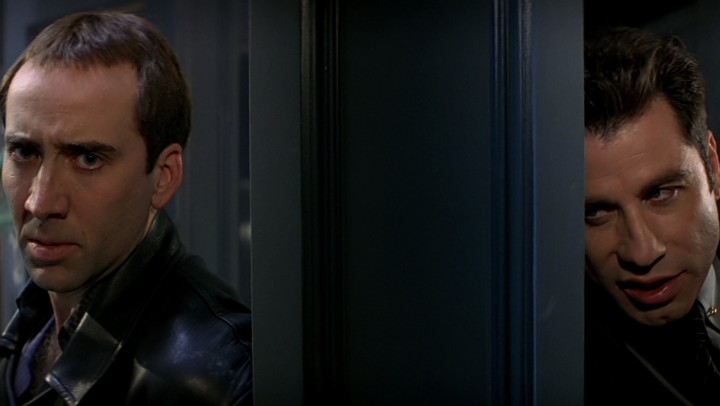 Travolta plays FBI Agent Sean Archer, who has been trailing wanted uber-criminal Castor Troy (Nic Cage) since the death of Archer's young son at the hands of Troy six years prior. Driven by revenge, Archer will stop at nothing to put Troy into a prison forever; after capturing the homicidal maniac at an airport, the FBI soon learn that Troy's brother, Pollux (Alessando Nivola) has planted a bomb somewhere in Los Angeles. In order to get the intel he needs to locate the bomb and disarm it, Archer agrees to undergo extensive plastic surgery to make him look like Castor Troy, so as to fool Pollux, who is currently in prison on other matters, to give up the whereabouts of the device. However, while in the maximum security prison where Pollux is being held captive, Archer, disguised as Castor, is involved in a prison riot, which sees him on the run as the real Castor Troy. The real Castor Troy, meanwhile, has killed the only people who knew about Archer's highly secret mission, and undergone the same procedure to look like Archer, assuming his life and inserting himself into the officer's family. As both men engage in a game of cat-and-mouse, avoiding law enforcement and members of Castor's gang, Archer realizes he might have to make some choices that take him further away from his already disenfranchised family.
Basically, Nic Cage and John Travolta spend two hours impersonating each other, for realises, with guns.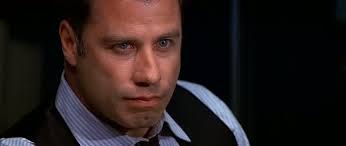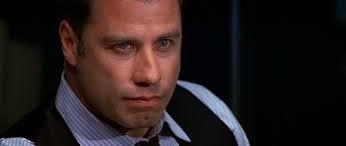 As stupefyingly confusing and silly as the premise sounds – imagine the pitch meeting for this screenplay – Face/Off works. On all fronts, the film clicks into gear, throttles up, and absolutely engages the audience in its preposterous ideas. The trailer alone warrants consideration to the American Film Registry, for the iconic line "I want to take his face… off!" that sums up this film in its entirety. Although ostensibly an action thriller, Woo's sense of subtext, prevalent in many of his films both American and Asian, is hugely present here. The idea of identity, of duality, of somehow becoming another person or at least being able to see through that person's eyes (a motif also used in Woo's classic Hong Kong actioner The Killer) is one in which not many action films would even bother trying to accommodate, but Woo's sense of visual depth and the script's subliminal nuance bring this element to the fore.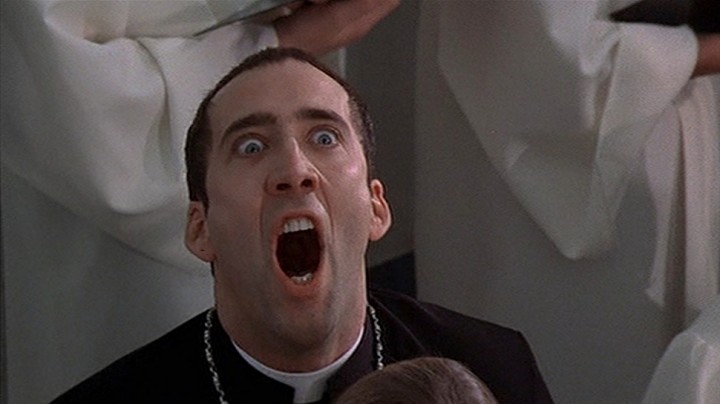 No, it's not a clever film by any stretch, and the film's weapon-porn aesthetic is full-blown Woo to the max, but you get the beating heart beneath the bullets and iffy science and that's what makes Face/Off so empathetic. Woo, together with the script by Mike Werb and Michael Colleary, make Travolta's Archer somebody we ache for – the tragedy involving his young son is something which humanises the character, makes him relatable, and this is accentuated by a terrific performance from Travolta. Nic Cage's tics and mannerisms are perfect for Woo's audacious style of film-making; often, Woo's villains are cartoonish to a fault, and while you'd hardly think anybody like Castor Troy would ever exist in real life without being locked in a mental ward, Cage gives him at least a cursory sense of depth to his braggart devil-may-care hubris. The moment the stars must take on the style of their opposite number, however, the film becomes a candy-covered sweet of acting licence to thrill.
Face/Off is hardly a film you'd ever call restrained, and Woo's trademark extravagance is on full display again. Similarly to his work on The Killer, and to a lesser extent Broken Arrow (which a lot of people didn't like but I have a soft spot for it), Face/Off is all slo-mo and doves, Mexican stand-offs, with high octane stuntwork and setpieces, all set to a pulsating John Powell score and Oliver Wood's magnificent 90's cinematography. It's a pure John Woo film, as pure as America would get during his time in that country, and re-watching it again I'm continually reminded of just how prestigious the film really was.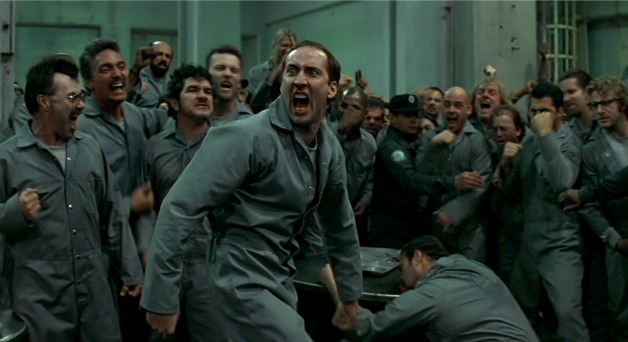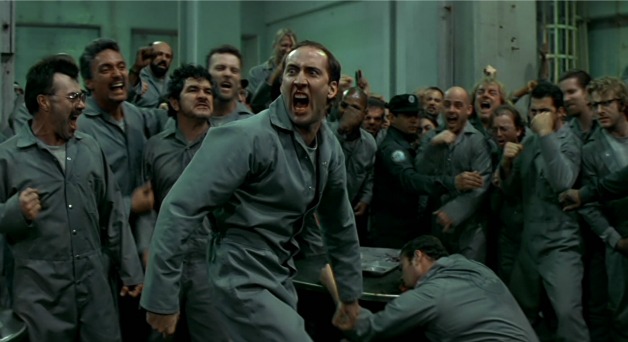 Consider the two stars – Travolta, on the rise again following a career resurgence in Pulp Fiction a few years prior, and Cage, still riding Oscar glory in 1995 for Leaving Las Vegas, and appearing in a trio of mega-action blockbusters (including this one) beginning with The Rock and double-downing with Con Air. The mid-90's were peak-Cage, and pretty much peak-Travolta as well, and the supporting cast, which features no less than Joan Allen (as Archer's middle-age-sexy wife), Nick Cassavettes, a sultry Gina Gershon, Colm Feore, and CCH Pounder (who doesn't make a habit of appearing in shitty films, it must be said) is equally strong. One wonders if the side-eye was given as the cast all filmed their scenes, thinking how on earth they got mixed up in this movie, but with a total buy-in from Woo and the leads, no doubt those concerns kinda got brushed aside.
Face/Off has become a classic 90's action movie, a gem of a film standing proudly in the pantheon of great Nic Cage films from the era and a genius-level trolling effort by Woo and the writers. I'd have great belief suggesting that Face/Off would never be made today – any writer would be laughed out of the room were they to suggest it – and the simple fact it does exist is testament to the quality of the drugs they obviously had back in the day. Mention this movie to anybody and you can see the glint of fun in their eyes when they think about it; perhaps more than any financial or critical success the project enjoyed, I'd say that that is the mark of a truly great film.
Related articles
Who wrote this?