Director :   Lenny Abrahamson
Year Of Release :  2015
Principal Cast :  Brie Larson, Jacob Tremblay, Joan Allen, Sean Bridgers, William H Macy, Tom McCamus, Amanda Brugel, Wendy Crewson, Joe Pingue, Megan Park, Can Anvar.
Approx Running Time :   117 Minutes
Synopsis: After five-year-old Jack and his mother escape from the enclosed surroundings that Jack has known his entire life, the boy makes a thrilling discovery.
*******
I watched Room with a knot in the pit of my stomach, much the same way I first saw Saving Private Ryan. Although they're vastly different films, Room affected my in a way that's hard to describe; as a parent of two young children, watching Room is like being subjected to waterboarding (at least, how I imagine it to be) in that it's compelling, riveting, and utterly heartbreaking. That anybody could live or exist in such conditions is abhorrent, and to know that actual cases similar to this have occurred in our world is even moreso. I can tell you, if I ever met somebody who had held people hostage in a similar manner to that depicted here, they wouldn't need a lawyer or a jail cell.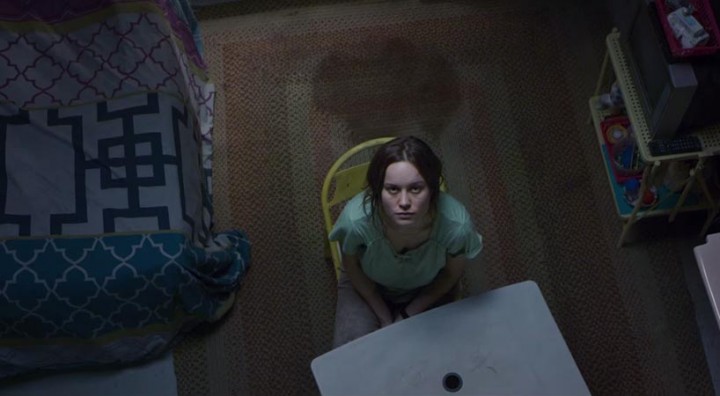 As repugnant as Room's premise is in light of reality, there's a beauty and a magnificence to Lenny Abrahamson's film that transcends its awful truth. Brie Larson and Jacob Tremblay play Joy and Jack Newsome, a mother and son held hostage inside a soundproof room by a man known only as Nick (Sean Bridgers), who uses Joy as a sex slave, while her son exists as a non-entity in the closet. After numerous ruses to escape, eventually Jack is rescued following an ill-fated trip to the hospital. After spending his entire life inside the room, Jack struggles to comprehend the "outside world", and the family members of Joy and Jack – mother Nancy (Joan Allen) and Robert (William H Macy) also find it difficult to reacquaint themselves with their thought-list relatives.
Aside from its more overt ideas, Room is a love story between mother and son, and the power of love to rise above such evil. Joy understands the loss she's suffering – she had a life before being kidnapped and held in the room – but Jack does not, which is the most heartbreaking aspect of Room's early going. Jack thinks that through the window high above the sealed room is "outer space", while beyond the walls is… well, nothing. Social experiments of similar philosophy have delivered results parallel to the kind of psychological trauma Jack endures, and I can only imagine the agony for Joy as she realizes the constant pressure-cooker is never going to stop until she does something. The moment of Jack's removal from the room – he plays "dead" to make Old Nick remove his "corpse" – is not only a shattering moment of loss for Joy (suddenly she can't help Jack is he needs it) but a moment of exultation, as Jack himself suddenly sees the outside world for the first time. I cried. A lot.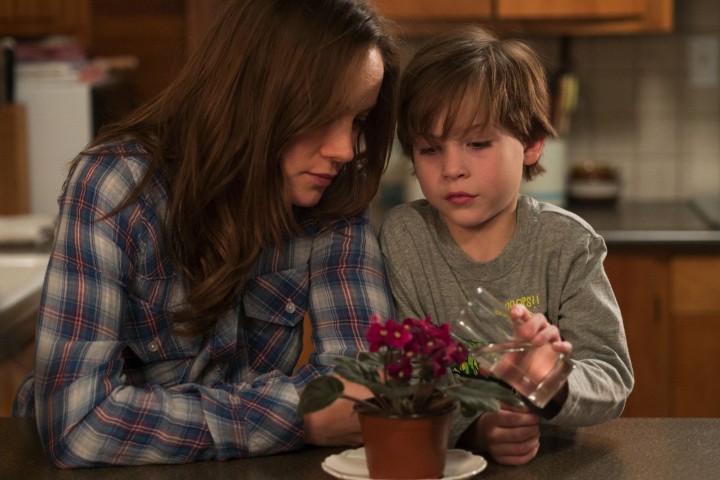 Room doesn't dwell too long on the life inside the room (thankfully), instead it deals with the issues raised once Jack and Joy are freed from their imprisonment. From learning all about a world he's only ever seen through the poorly-tuned television in the room, to coming to terms with the fact his childhood has been all-but robbed from him, Jack leans on his mother even more as he is effectively birthed into a new life.
The performances by both Larson and Tremblay are… well, astounding. Tremblay in particular is tremendous, a revelation for one so young, as he convincingly essays both a 5-year old kid (which he is) and a kid who is fearful of everything outside the room. Larson delivers a performance that will define her career – easily among the best of the year – as Joy, particularly during the film's room-set sequences, in which her frustration with being imprisoned, and keeping her son from understanding the horror of their situation, is searing. Props to William H Macy, as Joy's father, struggling to accept Jack, and Joan Allen, as Joy's mother, is solid as well.
I watched Room with a knot in the pit of my stomach; I also watched it through tears of both anger and delight, a parent's tears as I used Jack as an analogous story for my own children. The bond between mother and son is a powerful one (well, the bond between father and child is pretty strong too, but that's not for this film) and Room uses that to a degree that moves you at a cellular level. Room will destroy your soul, it will become a memory you won't soon forget. Powerfully directed, acted with ferocity and grace, and delivering one of the most astonishing stories of 2015, Room is essential viewing.
Related articles
Who wrote this?