Director :  Todd Haynes
Year Of Release :   2015
Principal Cast : Cate Blanchett, Rooney Mara, Sarah Paulson, Kyle Chandler, Jake Lacy, Cory Michael Smith, John Magaro, Carrie Brownstein, Kevin Crowley.
Approx Running Time :   118 Minutes
Synopsis:   In 1950s New York, a department-store clerk who dreams of a better life falls for an older, married woman.
*******
It seems 2015 became a benchmark year for cinema exploring human sexuality; not only did we get a pair of highly acclaimed transgender productions in The Danish Girl and the Amazon produced series Transparent, while Carol explores the attraction between two women in 1950's America. A far cry from the other end of the spectrum, the masochistic (and abhorrent) Fifty Shades Of Grey, from which Carol is so far removed in emotional heft, it's brilliant. Every time I think about Carol I'm reminded of similarly charged films such as Far From Heaven – another Todd Haynes film – and the fact that the undercurrent of sexual orientation during a period when society expected conformity is such a hotbed of dramatic interpolation, makes this film such a wonder.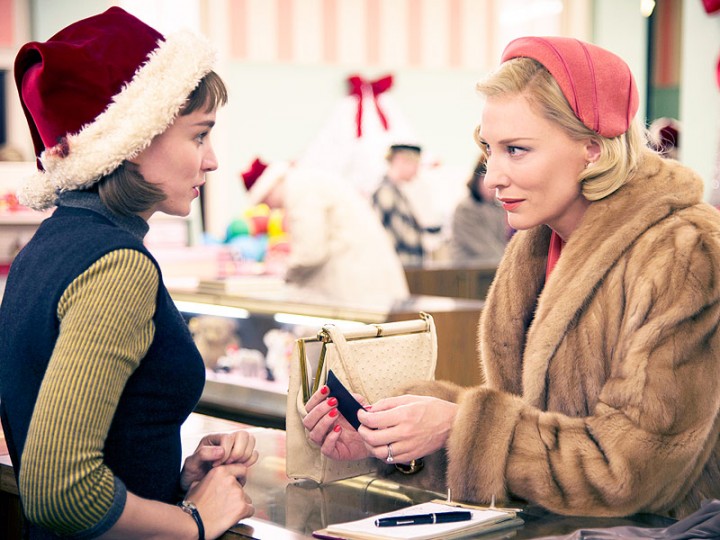 Rooney Mara stars as Therese Belivet, a department store clerk lamenting her boring, suffocating lifestyle in New York, who meets wealthy housewife Carol Aird (Blancgett), who is estranged from her husband Harge (Kyle Chandler) and openly seeks relationships with other women – Carol is still friends with a former lover, Abby Gerhard (Sarah Paulson), which frustrates Harge considerably. Carol and Therese form a bond, meeting up at Carol's New Jersey residence. When Harge threatens legal action to remove custody of Carol's daughter Rindy, Carol must make a choice between her love for another woman and the pressure of her lifestyle on retaining her daughter in her life.
Carol is the kind of film that aches with subdued passion. Never overt, restricting the obvious attraction between Carol and Therese to a kind of neck-t0-knee frisson, Carol is manifestly brilliant thanks to the performance of Mara and Blanchett. Both actresses deliver career-defining roles – Mara made her mark in the Girl With The Dragon Tattoo remake, but this role is the one she'll be remembered for until the end of her career – and there's no surprise they've both been nominated for acting awards at the Oscars. Physical attraction to another is usually represented in today's cinema by people tearing their clothes off and going all beast-with-two-backs in some thrusting, skin-sliding display of lust, but Carol only goes there when it counts, and even then it's a scene of intense longing and beauty, rather than something hedonistic; typically, both Carol and Therese engage in looks, closeness, the occasional touch, the barest of glances, and the sexual tension between the pair is riveting.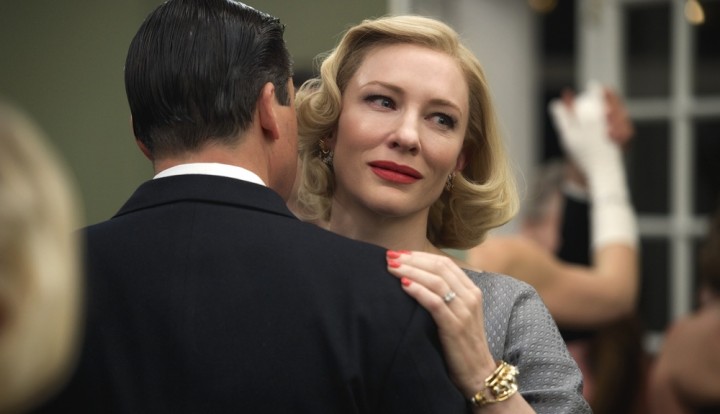 You get the sense that both Carol and Therese are drawn to each other because they're inherently lonely. Therese is in a relationship with Dannie (John Magaro), who wants Therese to go to France with him and marry, but she's cold to the idea, while her job at the department store is soul-sucking and bland. Carol's past dalliance with Abby has led to her marriage breaking down, resulting in a distance between her and Harge, even if Harge isn't receptive to the idea of his wife being attracted to the same sex. Phyllis Nagy's screenplay deals with the stretching liberation of sexuality amid the stifling puritanism of 50's America, both a love-letter and indictment to the period that weaves the lead character's relationship into a believable, on-point narrative that works so beautifully.
Todd Haynes' direction is effortlessly classy. His framing, his editing and the conducting of each scene, is given a sense of stable foundation- much like the rigidity of 1950's America, I guess – and Carol never feels overexposed or gimmicky. Haynes' ability to create a soulful melancholy of regretfulness, a pure world of hopeless, against-the-tide angst, is top-tier, and much like Far From Heaven (the only other film of his I've seen) the film compounds misery beneath emotional complexity with an enterprise most film-makers can only aspire to. Carol is radiant, an actorly film of resolve and punctuation, the kind of story which explores human relationships in a manner that redefines the intimacy of cinematic humanism.
Related articles
Who wrote this?