Director :  John Crowley
Year Of Release :   2015
Principal Cast : Soarsie Ronan, Emory Cohen, Domhnall Gleeson, Jim Broadbent, Julie Walters, Brid Brennan, Jane Brennan, Fiona Glascott, Jessica Pare, Eileen O'Higgins, Jenn Murray, Emily Bett Rickards, Eve Macklin, Mary O'Driscoll, Nora-Jane Noone.
Approx Running Time :   111 Minutes
Synopsis:   An Irish immigrant lands in 1950s Brooklyn, where she quickly falls into a romance with a local. When her past catches up with her, however, she must choose between two countries and the lives that exist within.
********
Half an hour into Brooklyn, I kept having to ask myself if the film had reached a point where it actually had a point. Although beautifully mounted and rich in period detail, and most assuredly performed by the excellent cast, Brooklyn has a terribly guarded melancholy about it that I just couldn't get past. That's not to say it's a bad film, far from it, and I recognise the quality with which it has risen in esteem to be worthy of an Oscar-nominated film, but I struggled with Brooklyn.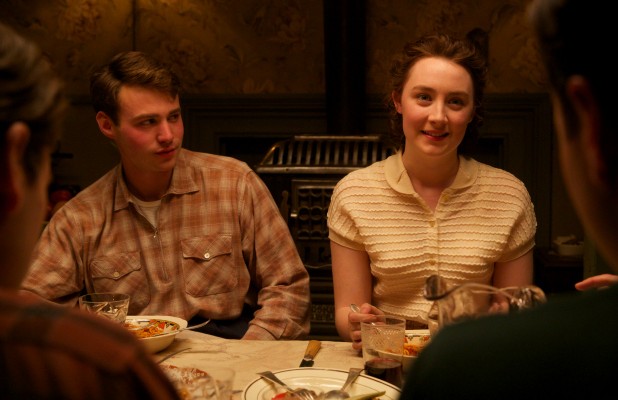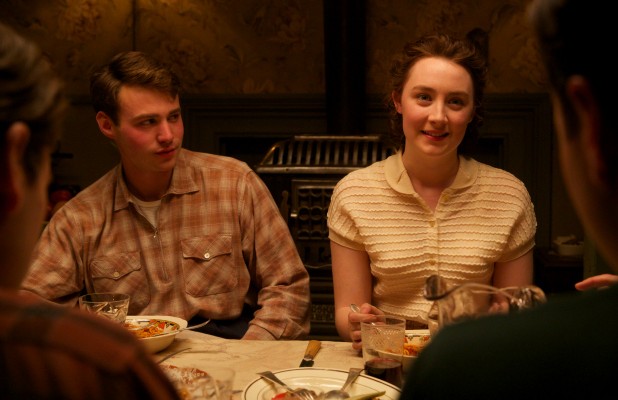 Brooklyn can best be described in a single word: genteel. Irish actress Saoirse Ronan (Hanna, The Lovely Bones, The Host) plays Eilis Lacey (pron. AY-lish), a young woman destined to travel from her homeland to New York, where a job has been arranged for her by Irish priest Father Flood (Jim Broadbent). Although wracked by homesickness, and living in a boarding house run by Madge Kehoe (Julie Walters), Eilis makes a go of an education in bookkeeping, before meeting young Italian American Tony Fiorello (Emory Cohen); the pair begin a romance, before Eilis's sister passes away leaving her ageing mother to look after herself back in Ireland. Travelling back, Eilis soon discovers that her past life has long since passed her by – and her heart now belongs to America.
Brooklyn is essentially a love story – a love between two people, and the love of country and the establishment of home, regardless of where that might be. Brooklyn's simplistic narrative strengthens the moment Cohen arrives in the frame, as it's he who gives Ronan's Eilish a reason to break free of her Irish heritage and assume a life of her own. Much of the film makes a point of people being seen as where they're from instead of who they are, which I guess was a problem for people back in the 50's following the war, and in this aspect I think Brooklyn's meandering, often lyrical screenplay does work quite well. Trouble is, it's not enough to support characters to whom thing happen to, rather than for whom anything happens because of.
The film boasts a fine cast, led by Ronan in her Oscar-nominated role; I hardly think her performance is among the best of the year, but it's perfectly acceptable for the demands of the story. Cohen is also quite good (not to sound condescending) and gives Tony a real sense of earthy realism, accommodating a similar aesthetic to the majority of the cast. The major supporting roles, especially Domhnall Gleeson as Jim Farrell, Julie Walters as the hilarious house mistress with which Eilis stays while in America, and Brid Brennan, as the spiteful Miss Kelly, are well rounded and glibly believable. The girls living in the boarding house are a roster of prissy, ditzy, giggly girls out for a good time in New York (basically, chasing men) and this contrasts with Eilis' rather reserved personality.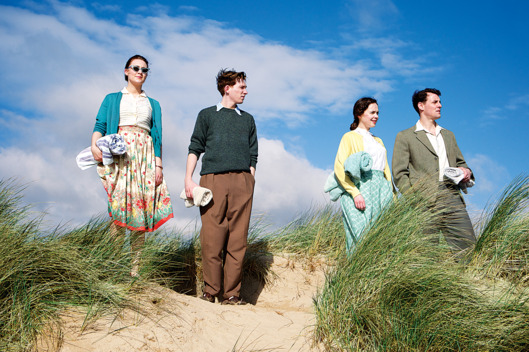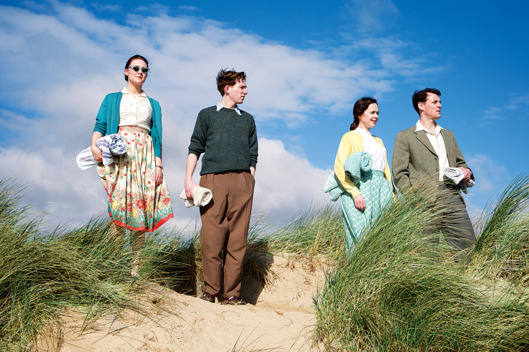 Directed by John Crowley (Intermission), Brooklyn is a sumptuous film to watch from a production standpoint. You get the sense early on that every rivet, every seam and crease has been expertly placed by a keen-eyed production designer and the film is all the richer for it. The dusky hued tones of Ireland (specifically, County Wexford, which serves as the backdrop to Eilis' point of origin) to the warmer hued New York; this transcontinental venture certainly looks appropriately saturated for the story it's trying to tell. There's also a distinct soft-focus flavour to it all, as if we're watching the film through the lens of aching reminiscence, and mixed with Ronan's lilting Irish accent, it's a thick soup of love and attention to which Brooklyn so rigidly adheres.
In spite of all that's so wonderfully right about it, Brooklyn staggers and lurches towards a satisfying conclusion that barely manages to be that. The film's plodding pace and lackadaisical approach to whatever its point is make this more a mild, perfectly acceptable midday movie rather than an Oscar-calibre film to remember. There's little wonder nobody else outside the Academy even had this on their radar – Brooklyn points to being the definition of an "acting" movie, inasmuch as the performances here have driven critical acclaim rather than the film as a whole. I was as surprised as anybody to see it nominated for Best Picture; sure, it's well made, well acted and looks fantastic, but for once the sum of the parts don't equal an entirely satisfying whole. I doubt you'll be disappointed in what Brooklyn has to offer, but you won't be raving about it to your friends afterwards either.
Related articles
Who wrote this?