Movie Review – Hallow, The

– Summary –
Director :  Corin Hardy
Year Of Release :   2015
Principal Cast :  Joseph Mawle, Bojana Navakovic, Michael McElhatton, Michael Smiley.
Approx Running Time :   97 Minutes
Synopsis:  When he ignores the warnings of locals, a British conservationist and his family encounter demonic creatures in an Irish forest.
*******
There's faeries at the bottom of the garden!
Irish horror delivered a pretty significant one-two punch in 2015; first, The Canal delivered chills and terror galore, and now it's the turn of spooks-in-the-forest film The Hallow, a solidly mounted, deftly directed genre effort that goes a long way to making the hackles rise and the skin creep. Containing one of the key elements to a good horror film – putting an infant in mortal danger – The Hallow delves into the hitherto unmined Irish folk-tales and banshee lore, the bunyips of the Emerald Isle that reside in myth and legend but become all too real for one young British couple living abroad.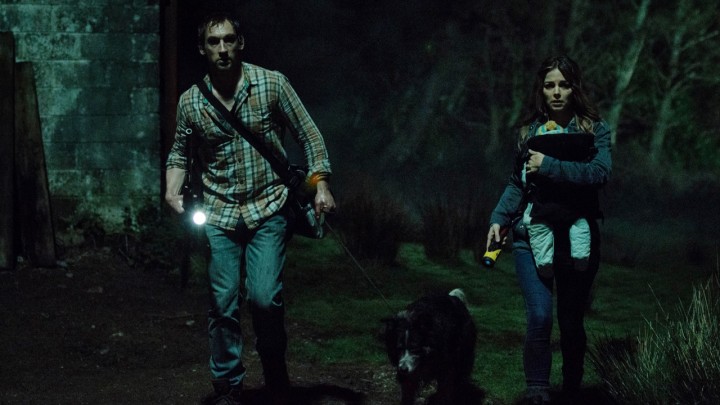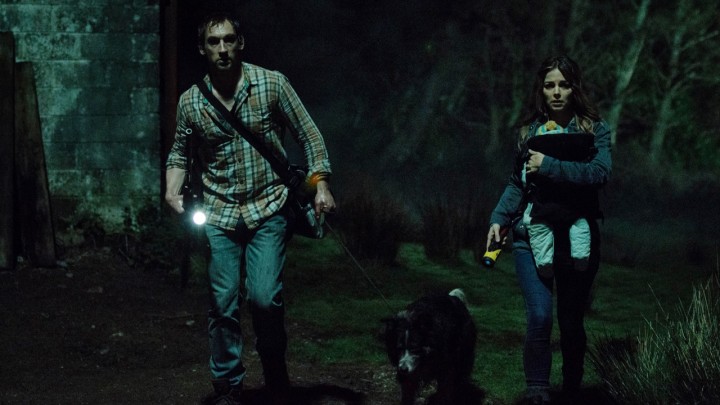 British conservationist Adam Hitchens (Joseph Mawle) and his wife Claire (Bojana Navakovic) and child Finn have taken up residence in an Irish rural area, where his presence is resented by the locals who see his work in the woods of the region as stepping into the world of mythical faeries and creatures. He is exhorted by his neighbour, Colm (Michael McElhatton) to leave or tread very carefully. Initially scoffing at this, things begin to happen to Adam that he cannot explain, and eventually he comes to realise that the spirits lurking around the woods may not be entirely benign.
The Hallow starts off as a fairly standard isolationist horror, evoking the wilderness of Irish woodlands and a creepy, stickly, prickle-pinned desperation as the unexplained begins to manifest. As the film continues, though, it becomes more and more obvious that the occurrences within aren't of human origin, and the terror really amps up. The film doesn't waste much time getting to the thrills, either – almost from the get-go, The Hallow serves up its melancholy, abridged-fantasy horror tropes with rapidity and acuity by director Corin Hardy. With such a small cast, the film doesn't really need to dwell on a lot of character development; atypically for a horror film, the couple involved aren't about to separate or be bad to each other, they're a stock-standard family working to raise their infant son away from the hustle of London's bustle.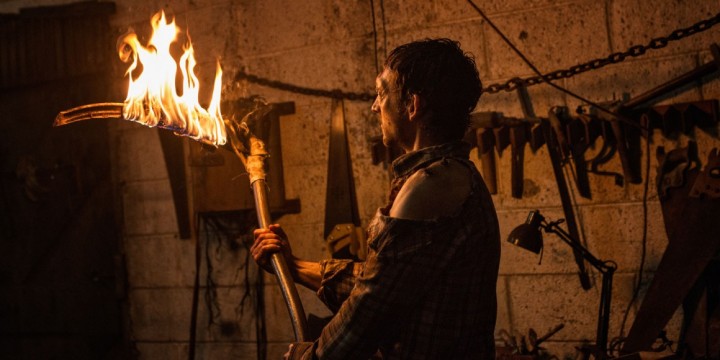 Every great horror film works off an equally great leading performance, and The Hallow leans heavily on Joseph Mawle's Everyman performance as Adam Hitchens. He's unassuming, quiet and dedicated to his work, but loves his family and would never do anything to risk their safety. Mawle's on-screen wife is Bojana Navakovic, an Aussie actress who appeared in Devil, Drag me To Hell, and Mel Gibson's Edge Of Darkness, and as Claire she's solid support. While never asked to emote heavily in terms of her relationship with Mawle's paternal role, Navakovic demonstrates an innate ability to inhabit a character regardless of the quality of the writing or direction.
The writing on The Hallow isn't particularly verbose, nor is it especially excellent, but it delivers the goods to make the film as tense and nail-biting as it inevitably becomes. Hardy's direction wavers early on between languid and precise, a wavering stillness about the style that gives way to a manic, off-kilter frenetic Dutch-angle-style that captures the film's palpable dread with ease. But when things take off – and man, do they take off – the film really comes into its own. A mix of Aliens, Jeepers Creepers, Gremlins, whatever Guillermo del Toro has nightmares about, and a Grimm's fairy story, The Hallow's creature-feature final half is both intensely gripping and decidedly bizarre. It blends biblical overtones and horror archetypes, including body horror, into a cauldron of bubbling cliché that, unlike many post-modern Hollywood horror entries, works more often than not.
The Hallow would never be the most original film ever made, but as an exercise in atmosphere and readily handy iconographic moments of tension, it works a treat. Corin Hardy marks himself as a director to watch, appropriating the kind of aesthetic that launched Neil Marshall onto the scene. And that's as high a compliment as I can offer. Stick around during the closing credits too, for a nice little sting in the tail. Definitely worth a look.
Related articles
Who wrote this?