Movie Review – Master & Commander: The Far Side Of The World

Principal Cast :  Russell Crowe, Paul Bettany, James D'Arcy, Edward Woodall, Chris Larkin, Max Pirkis, Jack Randall, Max Benitz, Lee Ingleby, Richard Pates, Robert Pugh, Richard McCabe, Ian Mercer, Tony Dolan, David Threlfall, Billy Boyd, Bryan Dick, Joseph Morgan, George Innes.
Synopsis:   During the Napoleonic Wars, a brash British captain pushes his ship and crew to their limits in pursuit of a formidable French war vessel around South America.
**********
Really, really far.
If it hadn't slammed up against the Oscar-destroying Lord Of The Rings threequel, The Return of The King, there's every likelihood that Master & Commander might have walked away with more than just the two technical gongs it ended up receiving at the 2004 Academy Awards. A member of the Best Picture Nominee club that deserved to win, Master & Commander was seen by Fox as a failed franchise starter – based on the Patrick O'Brien series of novels, had Master & Commander been more successful commercially, we'd probably have seen a few more of these blood-n-thunder sailing adventures, but alas. Epic in scope, this Russell Crowe adventure film remains a mystifying misfire in the commercial sense, although given the cast and the story, and Peter Weir's brilliant direction, it's hard to countenance how audiences could have not gone out in droves to lap this one up.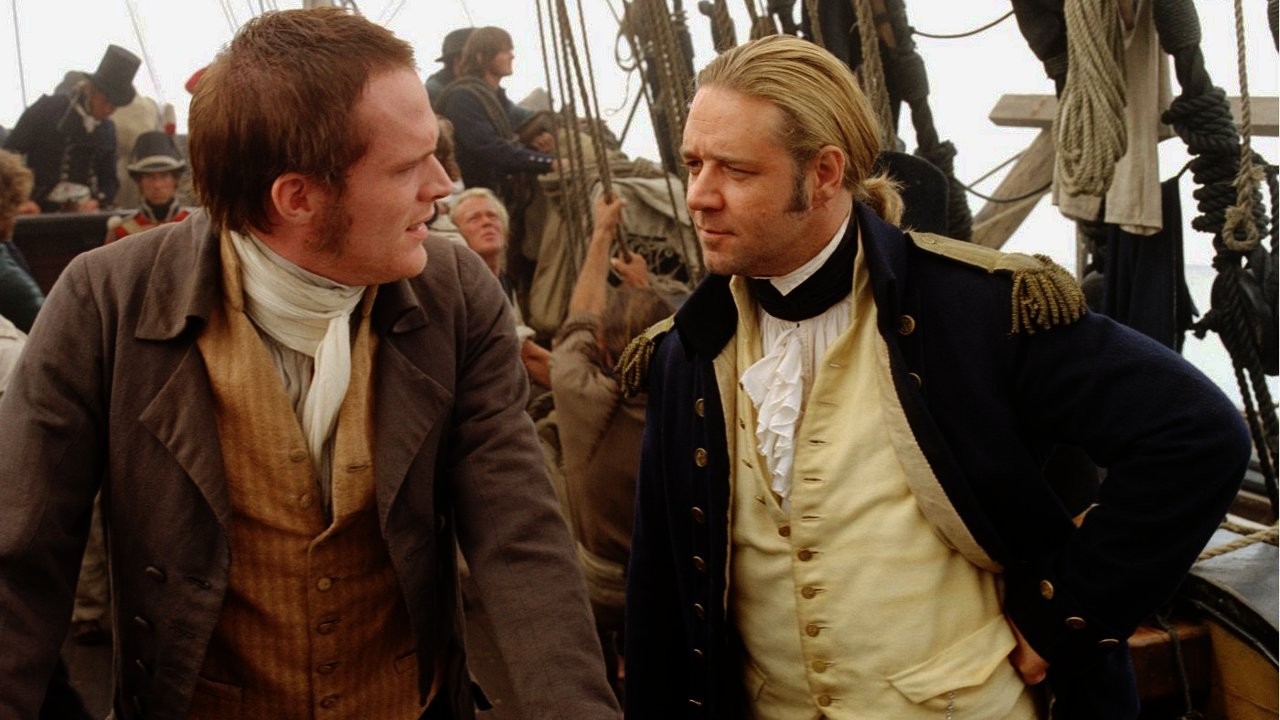 Crowe plays Captain Jack Aubrey, commander of the HMS Surprise, on mission to hunt down the French warship Acheron, who is sailing the coast of South America sinking British naval vessels during the Napoleonic Wars. The ship's doctor, Dr Stephen Maturin, is also a naturalist, and has hopes of landing at the Galapagos Islands for some exploration, however this is short lived when the Acheron strays into the Surprise's sights. Encountering treacherous storms and flat-calms, and being out-gunned by the Acheron's superior firepower, Aubrey and his crew must take the battle to the French in order to "sink her, or take her a prize."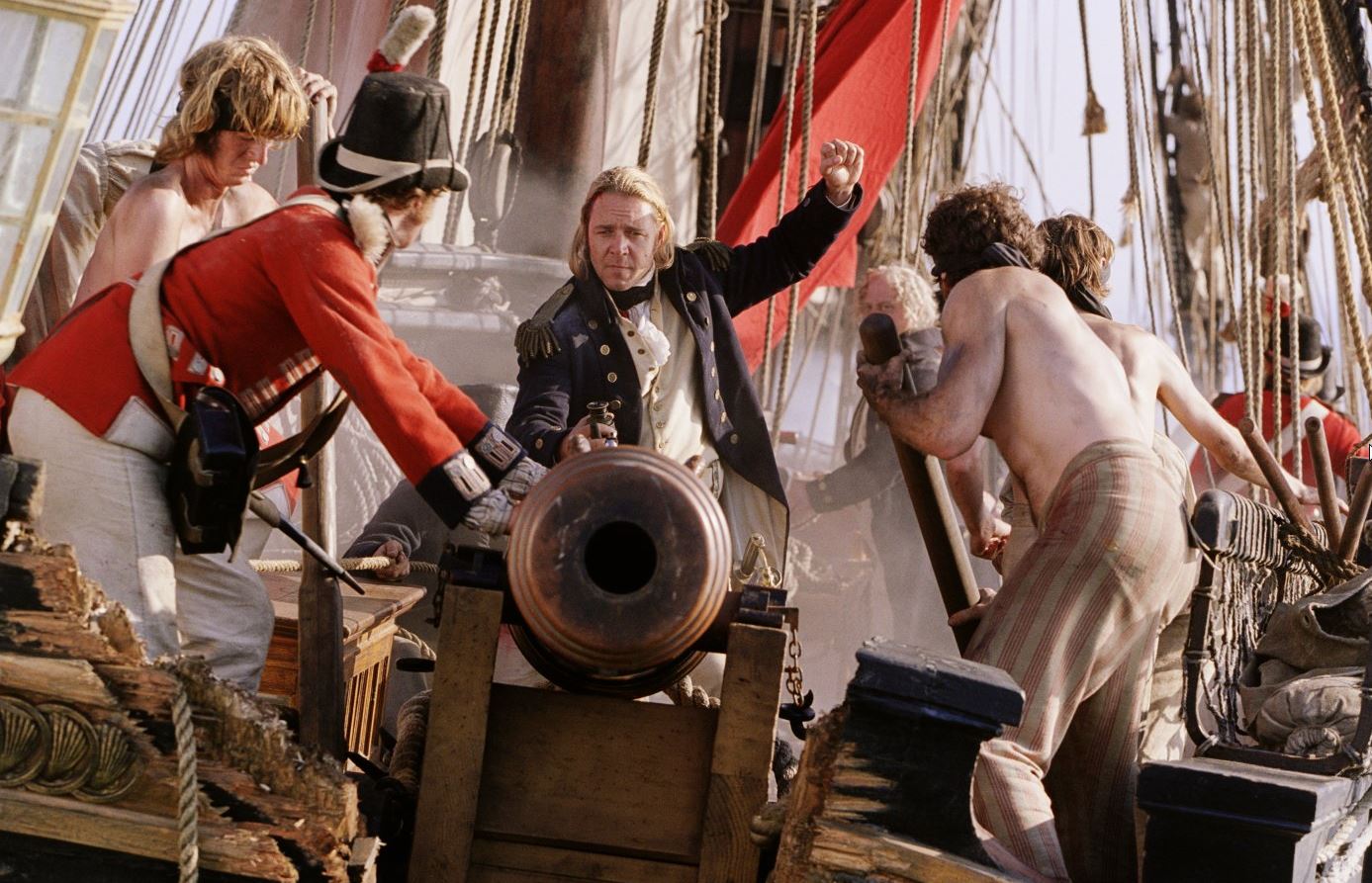 Master & Commander had all the hallmarks of a blockbuster success. A top line cast, led by Oscar winner Russell Crowe (cresting on his Gladiator fame by this stage) and Paul Bettany (who, in hindsight, is probably more famous now that he's part of Marvel than he was at this point in his career, where he was mostly remembered for his work as Chaucer in A Knight's Tale), as well as a dynamite setting and blue ribbon production values (I mean, they seriously built a boat for this!); plus, it's as historically authentic as is possible for a work of pure fiction. What's not to love?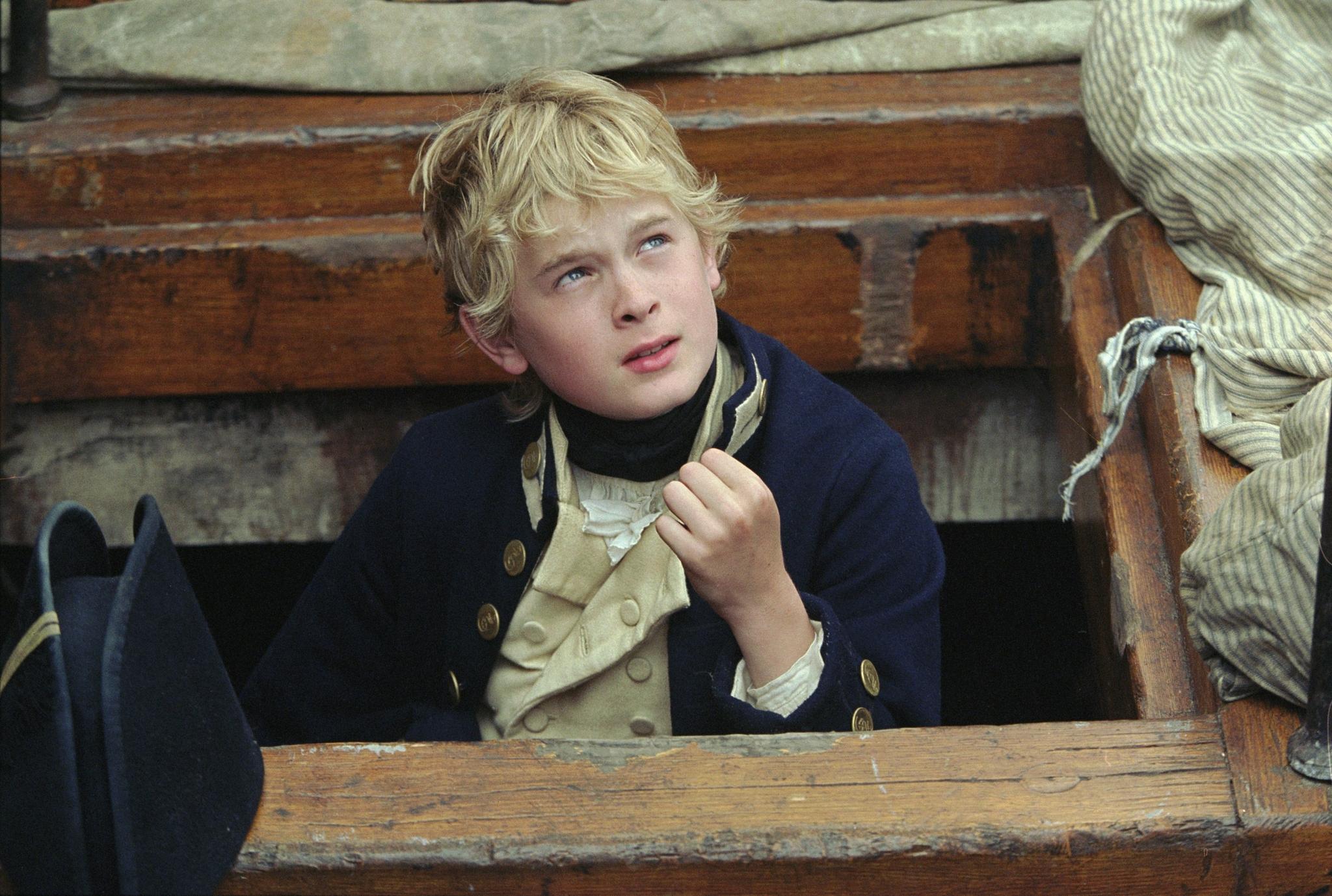 Okay, so there's not the audience out there for nautical action films that one might have expected, leastways no thanks to Fox's disastrous marketing campaign, which saw the film bomb spectacularly, scrounging barely $90m domestically on a budget of $150m. The film made headway overseas (it did well here in Australia, naturally, considering Crowe's claim to residency here), and ended up raking in a little over $200m worldwide. Still, it wasn't the hit Fox were looking for (this was back in the day when international box office wasn't the indicator it is today), and so we've never had a sequel – no matter how loud fans clamour for one.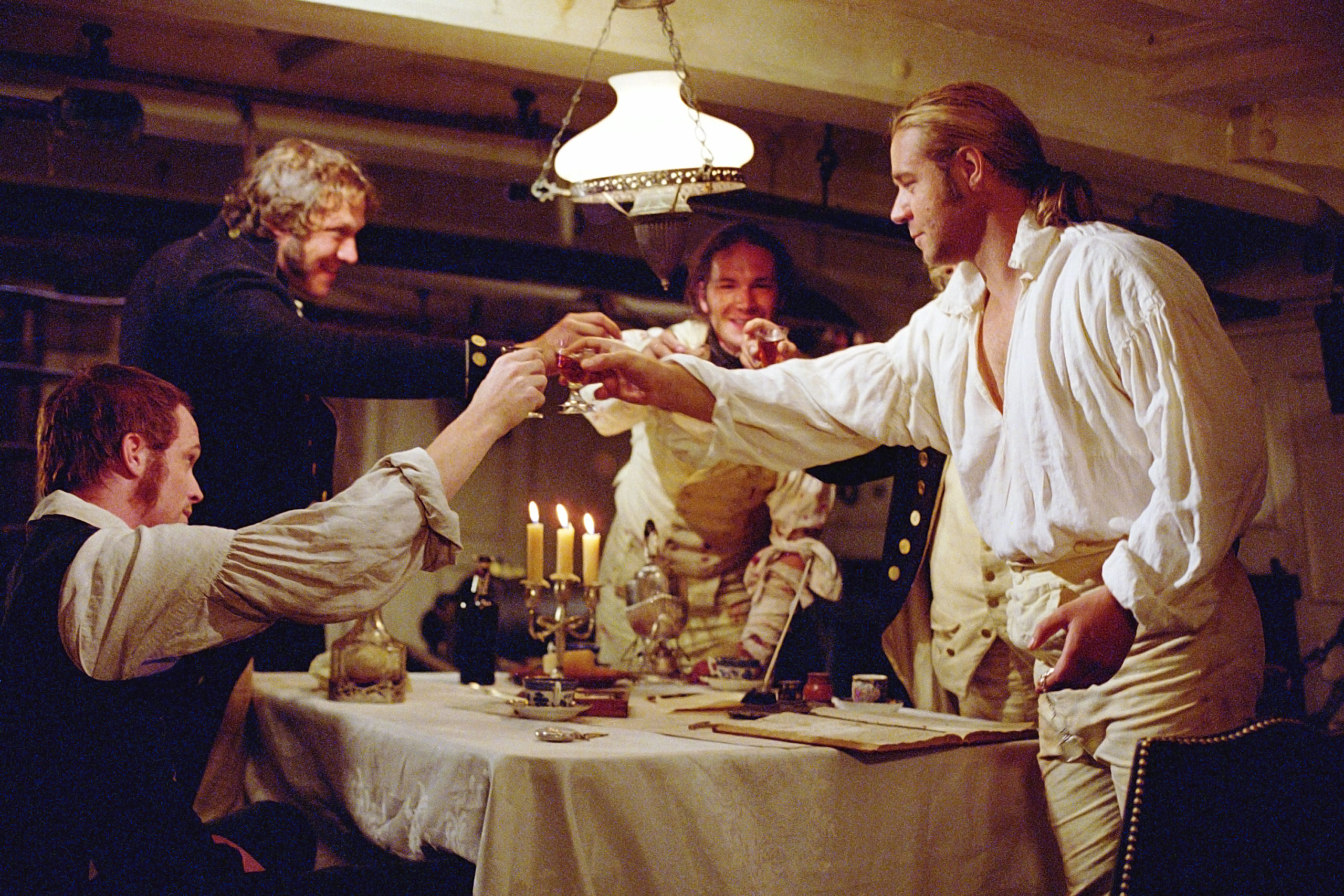 Master & Commander's pedigree is unchallenged by time. Peter Weir's film, which saw the group of men spend considerable time at sea, shuttered in on the actual boat they filmed on, is a masterclass (ha!) of film-making prowess and technical excellence. From its script, which spends a great deal of time involved in building audience familiarity with ship-bound investiture, to the thunderous sound mix (more on this later) and lilting score by Icehouse frontman Iva Davies, Christopher Gordon and Richard Tognetti, there's nary a weak moment or element to be found in this film. Weir makes the HMS Surprise our home for two hours, an emotional investment that services the film well in that we become attuned to the frailty of life aboard a vessel such as this, at this time in history.
Set in 1805, men found themselves setting sail while barely in their teens, a way of assuring their family back home a steady income at the expense of His Majesty George III. People might wonder exactly why they had kids aboard a warship, but it was a matter of either family honour or desperation for income. The young boys aboard the ships were treated exactly the same as any adult male, irrespective of maturity, which meant some young boy officers often had command over a group of (often) much older men. Weir doesn't dwell on it in the film, as such, but he makes us keenly aware that everyone is expected to fight, everyone is expected to pull their weight, no matter how old or young they may be. The harsh conditions aboard the vessel, which may not sight land for many months, is one of communal survival and monotonous solitude; watching this film always reminds me of Wolfgang Peterson's Das Boot, which echoes into more recent history as it depicts the crew of a Nazi submarine trying to survive against increasing bombardment from Allied boats. The same tension, the same stretching of emotional and physical limits, the same structural procedure of control: there's something about naval wartime that really clutches at the heart, and I suspect it's got to do with the isolation we feel surrounded by so much water.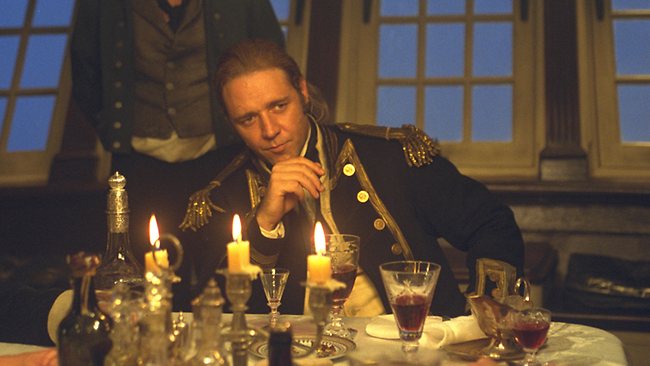 Master & Commander presents an ensemble cast that deliver on every front. Russell Crowe and Paul Bettany engender the gravitas of authoritarian burden – Crowe's Aubrey is strong, thoughtful, resolute and honourable to a fault, and dedicated to his ship and crew almost equally so, while Bettany's Maturin is the more liberal of the two, disliking their mission but resigned to accepting it, and all that comes with it. Maturin and Aubrey are friends, although not to the exclusion that they can't bicker like a married couple, and Weir's use of Maturin to bounce Aubrey's often one-eyed mission focus off of enables a dialogue between the two that showcases their ability to truly morph into these characters. The supporting cast, including a solid James D'Arcy, a terrific Robert Pugh, an underused Billy Boyd (fresh off filming Lord Of The Rings), and a terrific Max Pirkis (as one of the young boys aboard), give the film heft whenever Crowe or Bettany aren't in sight, and the interpersonal relationships between the ships officer class and seamen are handled with believability.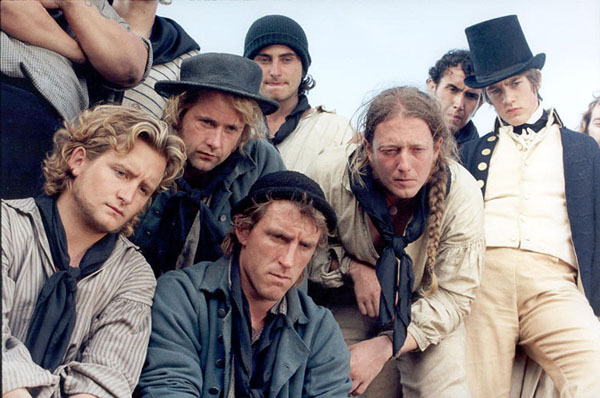 The film is essentially a giant seaborne game of cat-and-mouse, although it's fair to say the Surprise is the mouse and is chasing the cat, the Acheron. Weir crafts suspense into his film by providing some truly spectacular ship battles, as the Achron's powerful guns rattle the Surprise and her speed create headaches for Aubrey and his crew. Russell Boyd, the long-time associate of Peter Weir and his cinematographer here, would go on to win the Oscar for his lensing, and it's one of the film's true standouts in the technical areas. The film's darkness, its widescreen scope and truly epic visual splendour remain as compelling now as they did then – as I said, this film has aged superbly.
Another aspect of the film that bears mentioning is the sound design and editing here. Master & Commander's HD releases have provided the film's Oscar-winning sound work with plenty of breathing space, and it needs to, because this film is a real subwoofer tester. As far as surround mixes go, it's doubtful you'll find even a modern mix to sidle up and knock this one off its perch. Thunderous surround sound and chasm-plummeting subwoofer effects, together with obnoxiously loud undertones of ship-noise and pinpoint sonic placement of every boom, crack and creak, Master & Commander delivers what can only be described as an all-out sonic assault on the listener – you haven't lived until you've cranked the shit out of this on BluRay in a decent home cinema. The cinematic experience was absolutely amazing, but if anything, the home-theatre mix is even better. Deserved its Sound Editing Oscar.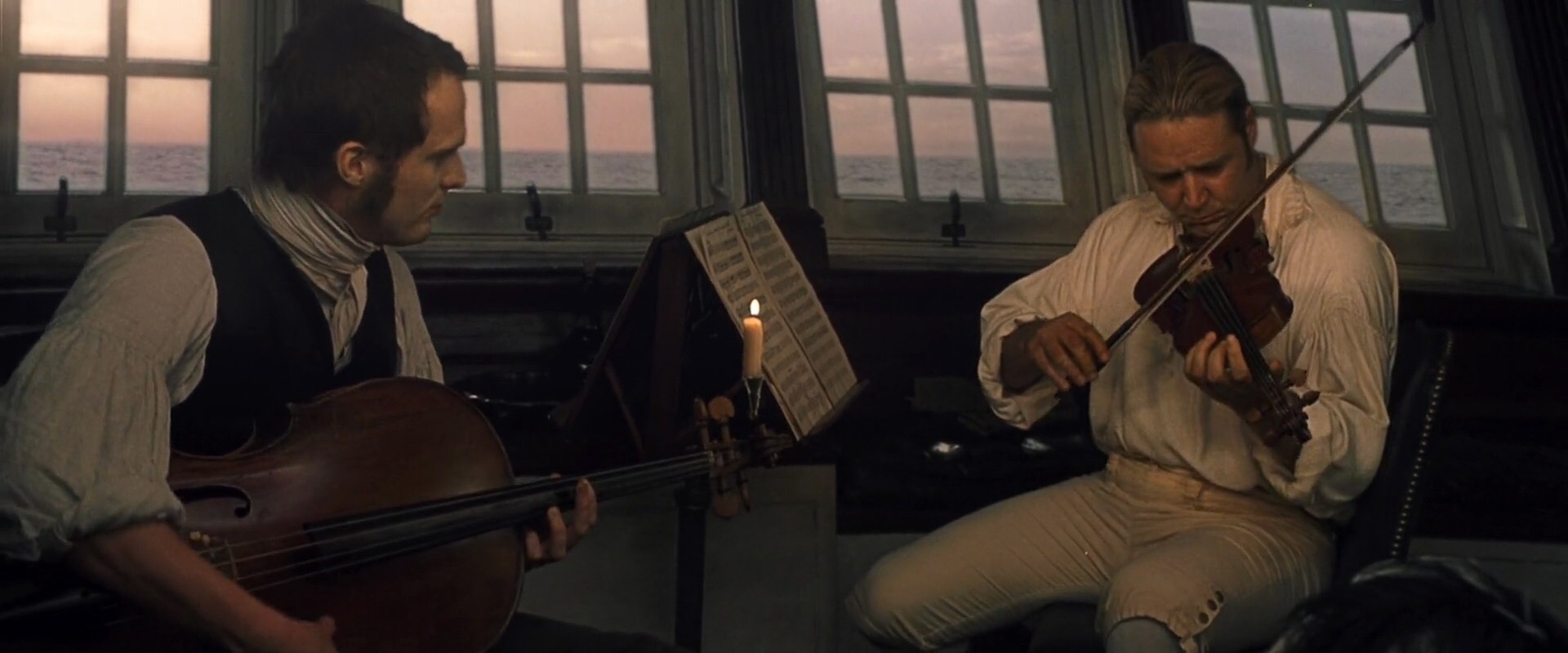 Master & Commander is, at least in my opinion, a perfect film. A modern masterpiece of casting, production and technical prowess, there's no discernible element of this film that weakens the overall product in any way: Weir was criminally robbed of much kudos thanks to Return of The King's awards season plunder, but I'm inclined to think that had Fox released this film in any other year the outcome might have been different. It's a shame we never got any sequels, but for this film being in existence I'm utterly grateful. A superb entertainment that stands alongside the great cinematic adventures of history – Lawrence Of Arabia, Bridge On The River Kwai, Ben Hur, I'm including it among them. Consider that.
Who wrote this?