– Summary –
Director :  Peyton Reed
Year Of Release : 2015
Principal Cast :  Paul Rudd, Evangeline Lily, Michael Douglas, Corey Stoll, Bobby Cannavale, Michael Pena, Tip "TI" Harris, Anthony Mackie, Wood Harris, Judy Greer, David Dastmalchian, Abby Ryder Forston.
Approx Running Time :  117 Minutes
Synopsis:   Armed with a super-suit with the astonishing ability to shrink in scale but increase in strength, cat burglar Scott Lang must embrace his inner hero and help his mentor, Dr. Hank Pym, plan and pull off a heist that will save the world.
*********
Size doesn't matter.
The Marvel steam-train just keeps on rolling along, delivering hit after hit for the comic enterprise, and although not having the rights to their successful X-Men saga (those belong to 20th Century Fox), the studio keeps throwing up oddball characters and the audiences keep on buying them. Ant-Man, a third-tier Marvel character, is given a solo film to deliver more Marvel fun, and although initially beset with problems during production (which famously saw original director Edgar Wright – who snags a producer's credit on this film – leave the project before the camera rolled, citing creative differences) the end result of Peyton Reed's efforts is one of sly fun, crazy effects and some cool adventure film-making that keeps isn't the question mark everyone expected.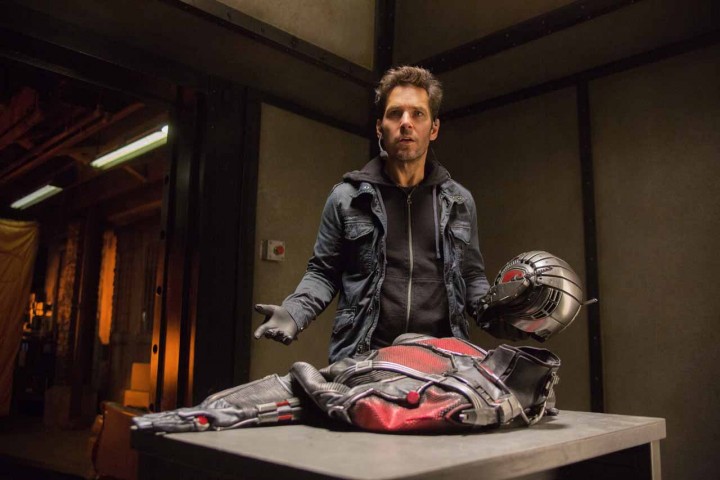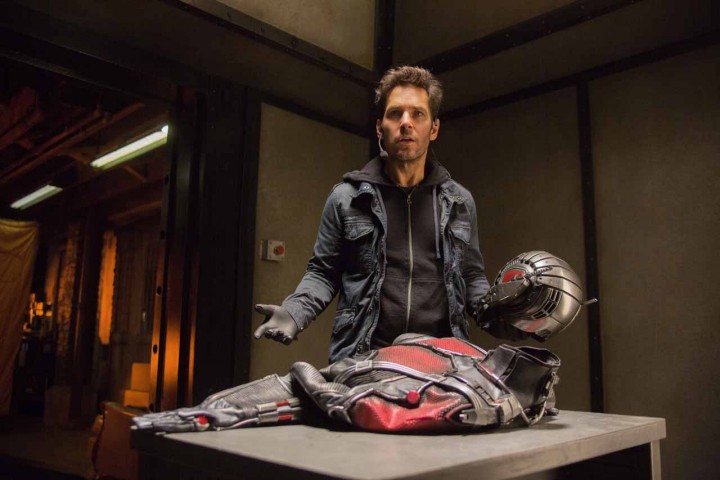 Hank Pym (Michael Douglas) works for SHIELD, who he discovers is trying to replicate his "Pym Particle" formula, a way of shrinking matter down to an atomic level. Resigning in disgust, Pym takes his technology with him. His protege, Darren Cross (Corey Stoll) continues to work on weaponizing the technology, leaving Pym with no choice but to recruit a cat-burglar, Scott Lang (Paul Rudd) to steal it from his former employers. Pym's daughter, Hope (Evangeline Lily), works alongside Cross, spying on him for her father. Pym trains Lang to use the Ant-Man technology to infiltrate the lab and gather the intel, before Cross can use it to develop his Yellowjacket suit.
I admit, the casting of Paul Rudd filled me with doubt when Ant-Man was in pre-production; he's a constant thorn in my comedic side in his regular roles for Judd Apatow's films, as I find his "shtick" annoying. His casting, perhaps more than any other in the MCU, was one I disagreed with. More troubling was the departure of Edgar Wright from the project, a director I've long admired since his work on Shaun Of The Dead, and in truth I was – hell, still am – disappointed we don't get to see his version of Marvel's shrinking man. Yet, as much as we can wallow in wondering "what if" about a second-string Marvel character, Peyton Reed's version is nothing to be scoffed at, or tossed aside lightly.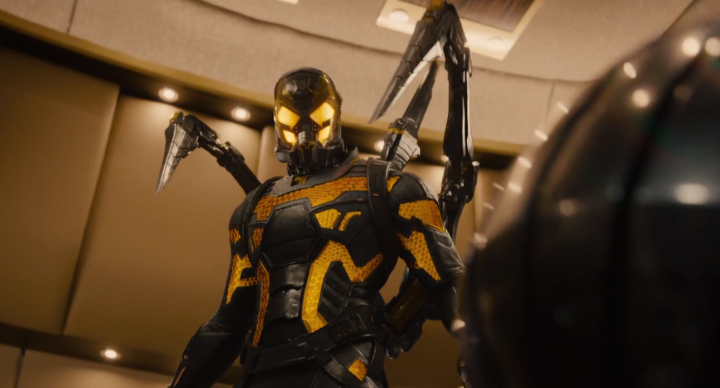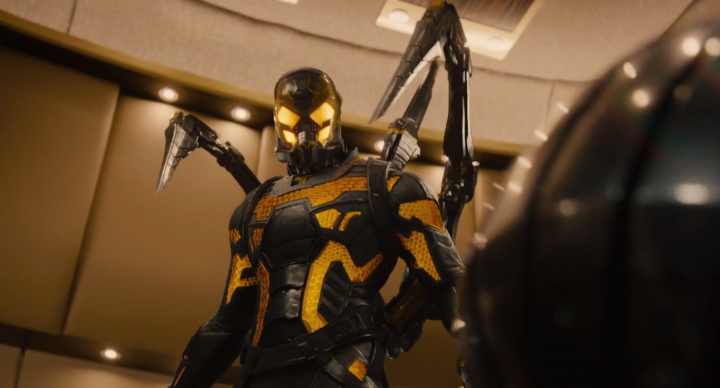 Led by Rudd, who makes the role his own and allays any fears I might have had about him, Ant-Man's cast are up for the challenge. Michael Douglas looks to have recaptured the patriarchal form he seemed to have lost among films like And So It Goes and Last Vegas, and his portrayal of Hank Pym is one of the stronger elements of a film filled with them. Evangeline Lily, who was wasted in Peter Jackson's Hobbit films, serves as a nice contrast to Scott Lang's off-balance humor and self-referential deprecation, providing a toughness and steely reserve usually given to Marvel's other two female stars, Black Widow and Agent Carter. Speaking of, Agent Carter's Hayley Atwell has a nice cameo to open the film, as does Tony Stark's father, Howard (John Slattery), while Avengers cast-mate The Falcon, Anthony Mackie, makes an amusing appearance midway through the film.
Supporting Rudd, Lily and Douglas are Scott Lang's larcenous buddies, Luis (Michael Pena, in a role that's just fabulously fun), Dave (Tip Harris) and Kurt (David Dastmalchian), all of whom add mild flippancy to what might have been a fairly desperate roster were they not to be involved. The film's key villain is Darren Cross, played with Lex Luthorian baldness by Corey Stoll. Cross's motives are less evolved than Pym or Lang's, his motivator being money and a sense of revenge; it's not exactly a stretch to chew the scenery for Stoll, and he does a great job making a largely disposable, mediocre villain work as well as it does.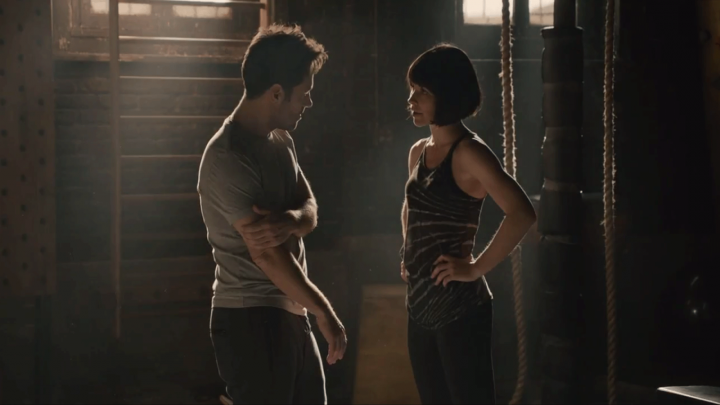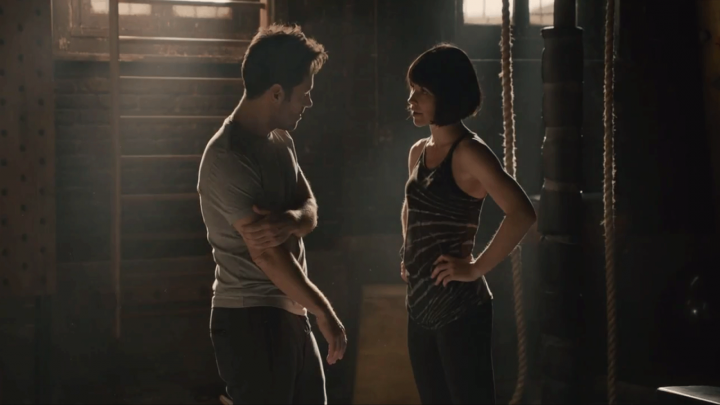 Ant-Man works on multiple levels (pun intended), big and small. The MacGuffin-centric premise, using Scott to shrink down and steal technology from two highly secure facilities (one of which, you'll never believe), is old-school cinema, but Reed makes it work with great visual effects, slick direction, and a momentum-filled energy that smooths over pitfalls in the franchise's legacy. Inherent silliness in a shrinking man concept (particularly the ability to make a weapon out of that ability, which is a tough sell but Reed gives it legitimate heft) aside, Ant-Man delivers some dynamite character byplay, inserts itself into the Avengers universe (with ease!) and delivers some nice humor amid the angst and familial subtext of two men trying to win back their respective daughters.
Pym's relationship with Hope, strained as it is throughout the opening half of the film, shifts gears with the revelation of the circumstances surrounding his wife's – in the comics, the Wasp – death, while Scott's daughter Cassie (Abby Ryder Forston) sees him as a hero, in spite of her mother (Judy Greer in a minor role) and policeman fiancee (Bobby Cannavale) trying their damnedest to make him out to be a villain. The impetus of a daughter's love is key to Ant-Man, although the "heist" plotline serves as a method for this emotional core to work itself out through trials and tribulations. Scott's "training", a montage that's utterly hilarious, is key to the film's selling point of making the very premise work as well as it does. Reed, who isn't known for his "blockbuster" helming talents, latches onto the humor and dramatic pathos, keeping both aspects of the film working well within Marvel's enthusiastic template.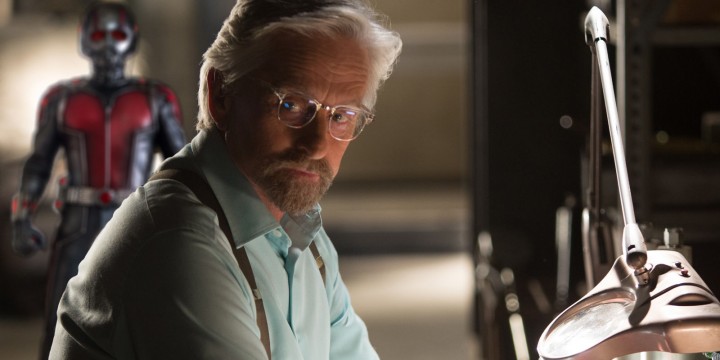 The "shrinking" effects employed by Ant-Man are brilliant. Watching Rudd interact with enormous ants, bugs and gigantic real-world sets is the kind of thing comic book movies are made for, and Reed employs judicious use of this visual motif within the film's action-packed plotting. The film's "minuscule" fight sequences provide plenty of juxtapositional laughs, as Rudd and the Yellowjacket spar throughout enormous environments; the trailer's use of Thomas The Tank Engine as a battleground of death is rendered with complexity and wit by Reed's use of referencing how small Lang and Yellowjacket really are, yet the stakes remain enormous.
Whatever doubts I had about Marvel before this, are gone. I'm totally sold. They could make a film about anything, and I'll be ass in seat, guaranteed. Ant-Man is liteweight comic book movie, the kind of stop-gap between Avengers films that taps into the larger MCU (two closing stings ensure that); purists might suggest it's too "comical" for its own good, but it's a hearty, well made, fun film with warm performances and strong technical merits that do just nicely. Ant-Man ain't no small fry.
Who wrote this?