Movie Review – Pitch Perfect 2

– Summary –
Director :  Elizabeth Banks
Year Of Release :  2015
Principal Cast :  Anna Kendrick, Rebel Wilson, Hailee Steinfeld, Brittany Snow, Alexis Knapp, Hana Mae Lee, Ester Dean, Chrissie Fit, Keegan-Michael Key, Skylar Astin, Adam DeVine, Katey Segal, Anna Camp, Ben Platt, Birgitte Hort Sorensen, John Michael Higgins, Elizabeth Banks, David Cross.
Approx Running Time :  115 Minutes
Synopsis: After a humiliating command performance at Lincoln Center, the Barden Bellas enter an international competition that no American group has ever won in order to regain their status and right to perform.
********
Back for B-sharp.
The original Pitch Perfect somehow managed to be a surprise hit of 2012, so it was only natural for a sequel to flow down the tube and out into the jetsam of Hollywood's excruciating expectations. Pitch Perfect's lightning-in-a-bottle magic seemed to me to be a sideswipe of good luck, some zeitgeist-hitting flow on from Glee, and a dash of rising-star power of Anna Kendrick's charming leading performance, not to mention some genuinely catchy a capella motifs to lift the roof. Naturally, Hollywood's bean counters have decided to milk the teat of a capella once again, this time dropping director Jason Moore in favor of executive producer Elizabeth Banks, who also reprises her role as a capella competition announcer Gail Abernathy-McKadden. Banks, better known as one of the ensemble from those asinine Hunger Games movies, has a good handle on characters she's helped develop, and this sequel goes one better than most by actually moving the returning characters in new and (surprising) different directions. However, all is not roses, as the film drifts into some flat spots here and there, ultimately delivering requisite singing superlatives at the expense of dramatic trajectory.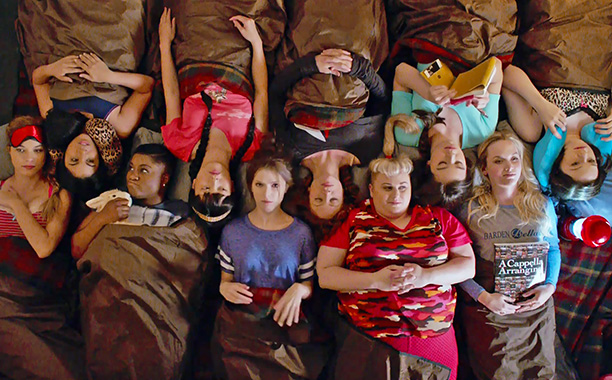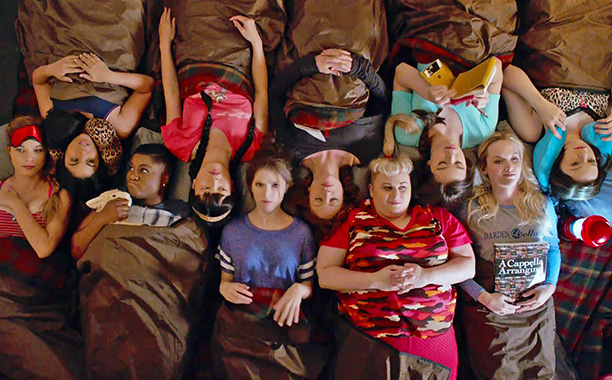 Plot Synopsis courtesy Wikipedia: After the Barden Bellas' performance on President Obama's birthday disastrously ends with Fat Amy's (Rebel Wilson) awry airlifting solo, they are suspended from performing in any a cappella showcase. The Bellas' leader, Beca Mitchell (Anna Kendrick), makes a deal to allow the Bellas be reinstated if they win the Worlds a cappella tournament. Meanwhile, Beca secretly starts a recording studio internship that only her boyfriend, Jesse Swanson (Skylar Astin), knows about. Beca impresses her boss with her mashup skills for Snoop Dogg's Christmas album and is given a chance to become a producer. Fat Amy soon finds out and advises Beca to tell the other Bellas. Freshman Emily Junk (Hailee Steinfeld) stops by the Bellas' house for an audition and succeeds when the Bellas learn that Emily's mother, Katherine Junk, was once a Bella. That night, the Bellas have a party with the Treblemakers, where Benji (Ben Platt) awkwardly develops a crush towards Emily. The Bellas later attend a car show which they could have performed at, to meet their replacements, "Das Sound Machine" (DSM) – led by intimidating duo Pieter Krämer (Flula Borg) and Kommissar (Birgitte Hjort Sørensen). They then attend an exclusive riff off, where they lose against DSM in the final round when Emily tries to sing her own song.
Okay, there's a couple things about Pitch Perfect 2 that don't quite work, at least not like they did in the original film. First, Rebel Wilson's "Fat Amy" character; I doubt a role has ever been so teeth-clenchingly embarrassing to watch, an actress so out of tune to the comedy of the rest of the movie, and although I know Wilson's career isn't going to suffer from this one, at a creative level she's easily the worst part of the film.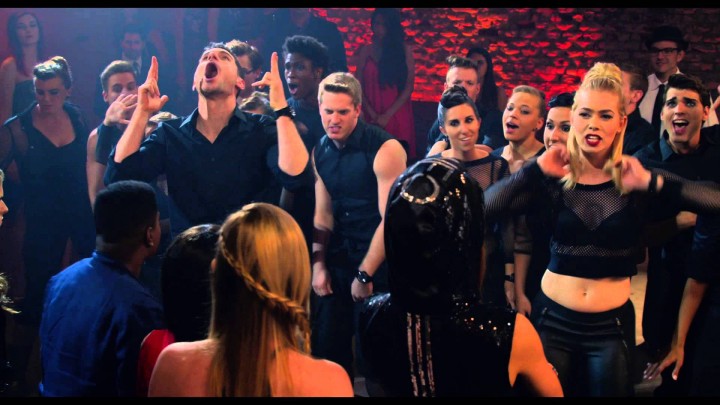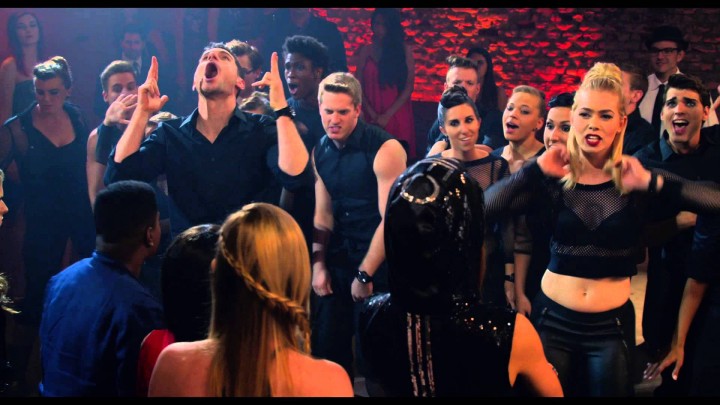 Secondly, the dynamic duo of Elizabeth Banks and John Michael Higgins, the latter also reprising his role as Bank's on-screen commentary offsider, can't bring the same kooky humor they nailed in the first film. Banks' character is reduced to snarky asides, while Higgins' role seems to be as offensive as possible – how nobody takes a crowbar to his forehead is indeed one of the film's genuine puzzles.
Blessedly, most of the above problems don't derail the film completely, and Pitch Perfect 2,'s rambunctious singalong narrative dwells in pure escapist entertainment. The story – Becca's attempts to further her career away from the Bellas – is suitably thin, a superficial crust on a generally delicious musical pie. The plot does just enough to add minor heft to Becca's journey with the Bellas, although Kendrick's apparently been afflicted with Tourettes at some point between the previous film and this one: Becca's journey to music producer outside the Bellas comes with the typical speed-hump of self doubt, something these kinds of films dole out like it's High Drama, but really it's just narrative wrangling between musical numbers.
The ensemble cast do solid work with their respective roles (even Wilson, who, when she's not outright sarcasm incarnate has a nice rapport with on-screen lover Bumper, played by a returning Adam DeVine) and the film handles the demands of such a broad spectrum of idiosyncratic personalities. Returning from the previous film are Brittany Snow, as Chloe, Hana Mae Lee (as the Asian girl who whispers weird shit at inappropriate moments), and Ester Dean, while newcomers to the Bellas include Hailee Steinfeld, as Emily, who's mother was once a legendary member, and Chrissie Fit, a Guatemalan import who constantly compares the ease of American life to the one she left.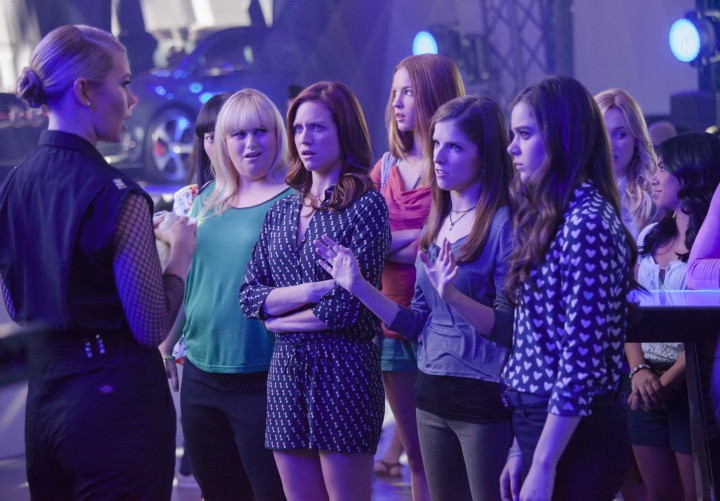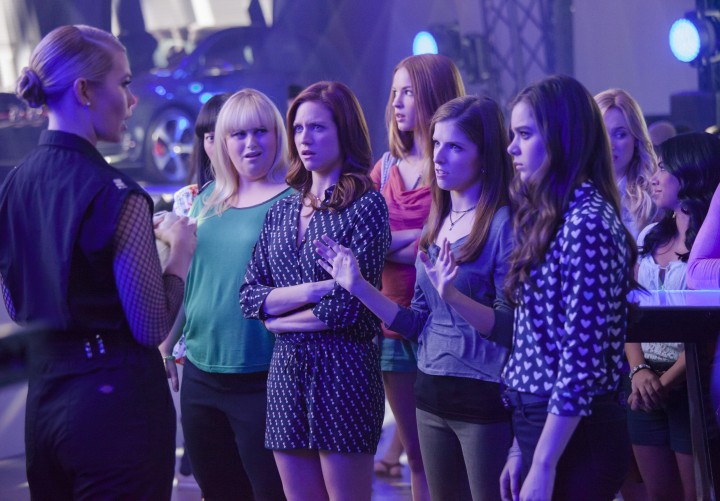 Katey Segal, who plays Emily's mother (living vicariously through her daughter) has a cameo to remember, while David Cross's work as an underground a capella competition master is one-note hilarious. Sidebar: Emily's burgeoning romance with Treblemakers member Benji (Ben Platt) is one of the warmer subplots of the film, although it is cringeworthy at times.
The film builds nicely to the expected concert-finale conclusion – an a capella-off in Copenhagen where the Bellas face off against the DSM group in an orgy of light, sound and cheering hilarity: of course, the Bellas go in as underdogs – underdone, under-prepared, and typically lacking self-belief, but given this is a Hollywood movie, there's little doubt as to the outcome being one that will make the audience warm-n-fuzzy. Although not quite as show-stopping at the competitive conclusion to the original film, Banks handles the large-scale setting with visual strength and gives each player in the game a moment to shine.
Pitch Perfect 2's comedic tenure is as frail as a house of straw, and just as easily blown over. Some of the laughs are decent (Fat Amy's unfortunate camel-toe reveal to the President to open the film made me chuckle) but more than a few fall flat, or seem to be too strained with that awkward humor the franchise did so well the first time, but the sheer energy of the ensemble keeps things ticking along just enough to overcome most of its weaknesses. Musically, the film is on-point, a nice mix of a capella medleys and mash-ups that always fill the soundstage with harmony and melody to die for. It's a foot-tapping good time that is as frilly and silly as it is harmonious. It doesn't ask much, nor does it deliver heady or deep thrills, but for an in-the-moment burst of musical entertainment, it's a decent enough effort.
Related articles
Who wrote this?