Movie Review – Still Alice

– Summary –
Director :  Richard Glatzer + Wash Westmoreland
Year Of Release :  2014
Principal Cast :  Julianne Moore, Alec Baldwin, Kristen Stewart, Kate Bosworth, Hunter Parrish, Shane McRae, Stephen Kunken, Victoria Cartagena, Seth Gilliam.
Approx Running Time :   101 Minutes
Synopsis:   A linguistics professor and her family find their bonds tested when she is diagnosed with Alzheimer's Disease.
What we think :  Solid leading performance from Julianne Moore and competent supporting roles from Alec Baldwin and (yeah, I'm saying it) Kristen Stewart make Still Alice a pretty heartbreaking, affecting look into Alzheimer's. Not a subject people find "entertaining", the film's realistic depiction of the disease, and the effect is has on the family involved, will touch all but the harshest viewer.
**********************
Julianne Moore Forgets Things.
It's taken me a while (and much pestering from the wife) to get around to seeing Julianne Moore's Oscar-winning role in Still Alice. Let's just say that I'm not big on watching people deteriorate with a disease afflicting them – pretty much the reason I've only seen Philadelphia once – but sitting down to watch Still Alice, I was utterly impressed by the naturalism, lack of ostentation or overt sentimentality in the way this film depicts the onset of Alzheimer's. I doubt there's a person alive who hasn't been touched by Alzheimer's at some point: my grandfather had it, and watching him have the same conversation multiple times over the course of just ten minutes was something I struggled to understand and empathize with. Mind you, that was a few years ago, and I'm more understanding now. That said, it's still hard to watch somebody slide downhill with no hope of cure, and Still Alice, while fairly circumspect, evolves the disease through Moore's rock-solid performance into a sorrowful, meaningful examination of the impact it has on people.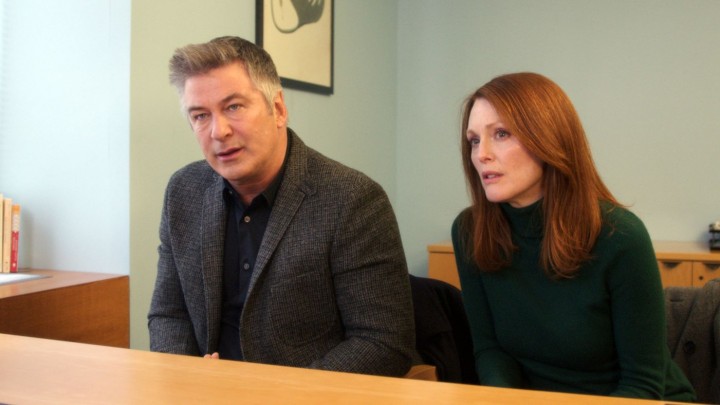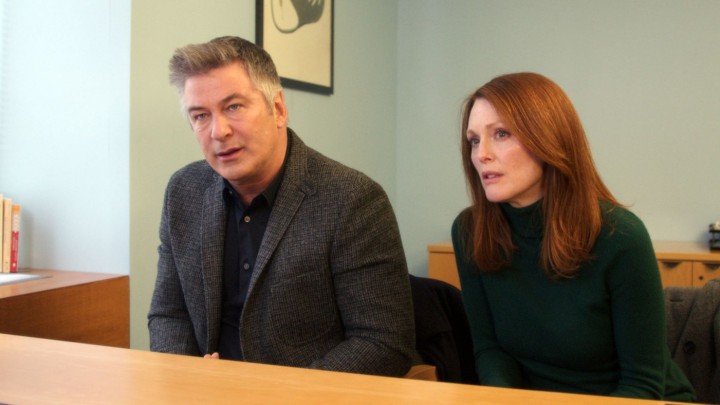 Moore plays Alice Howland, a professor of linguistics at Colombia University, who is diagnosed with a rare case of familiar Alzheimer's disease; she is only fifty, making her quite young to be diagnosed. Her husband, John (Alec Baldwin), and children, Anna (Kate Bosworth), Tom (Hunter Parrish) and Lydia (Kristen Stewart), all have different reactions to the diagnosis; the disease is genetic, meaning Alice's children have a 50/50 chance of inheriting it as well. As Alice's memory starts to slip, and she struggles to remember people, places, words, and things, she realizes that she only has one chance to remain in control before her ability to think is diminished to the point where she becomes a burden to her family.
Still Alice doesn't take any shortcuts. With its family oriented setting, many aspects of this horrendous disease are tackled head-on, albeit with subtlety. Although the film is led by Moore's superb performance – yes, she deserved to win the Oscar, as well as the gamut of other awards this film garnered her – the emotional heft of the scenario if borne by the supporting cast. Baldwin, as Moore's on-screen husband, has the conflicted feelings of life-going-on and heartbreak at his wife's condition, while Kate Bosworth's snippy, in-her-mothers-image air of superiority is at odds with Kristen Stewart's starving-artist Bohemian attitudes towards life. The family dynamic of the film is one that allows all aspects of Alzheimer's impact to be felt, and while Still Alice's contracted narrative timeline prevents really delving into the relational dissipation on display, there's enough here to allow viewers momentary melancholy as they watch Alice slide into dementia.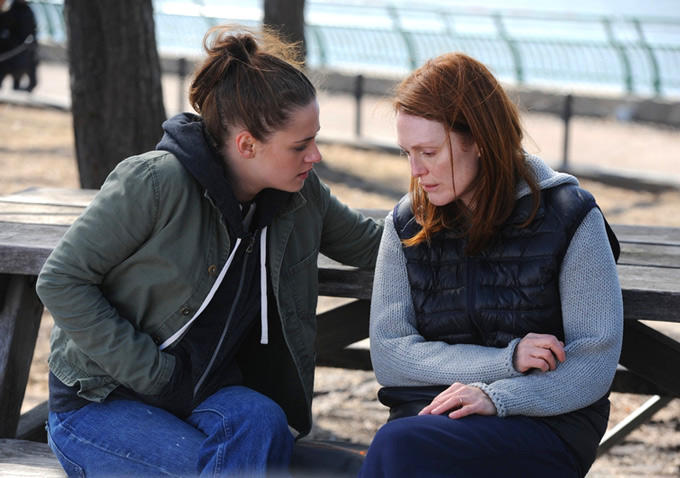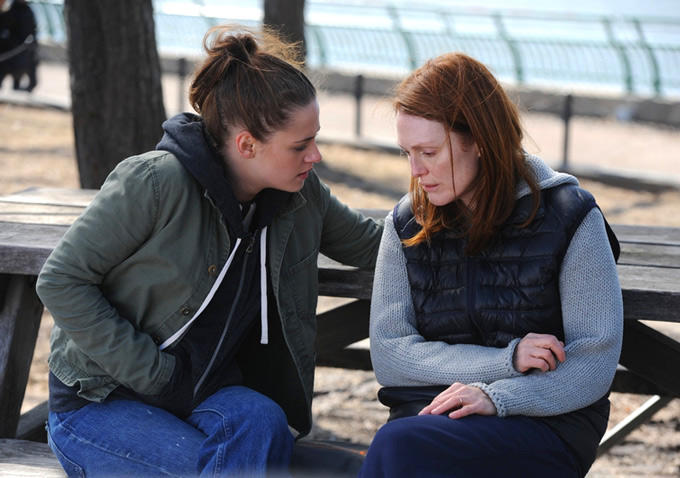 Moore is terrific, showcasing the fear, the frustration, the resignation and eventually, the succumbing to Alzheimer's that people with it must invariably go through. Her character is inherently an intellectual, but in an utterly human manner tries to thwart (or at least rebel) against her diagnosis for as long as possible – Alzheimer's Disease has no known cure, only treatment and compassion, which makes Still Alice's foregone conclusion an acknowledgement of this fact while ensuring we still feel that things "might" get better in the end. It doesn't. Alice's eventual deterioration is heartbreaking, although not unexpected, and so approaching Still Alice with a sense of inevitability is apropos to the disease's implacable, unstoppable method.
Supporting Moore, the rest of the cast are excellent. Alec Baldwin's supportive husband has an air of concerned frustration – his life is going to change now that he's on the cusp of a career breakthrough, and Alice's diagnosis makes moving, changing things, potentially catastrophic for her. Bosworth's Anna is expecting twins, and the congenital nature of the disease threatens not only her, but her unborn children, a frightening fact indeed. And Stewart, an actress I consider to be a charisma abyss, actually supplies the film (and Moore's character) with a degree of fatalism and unswerving support, even though Alice's support of her own acting career is limited to motherly disapproval, even of the most tacit kind. Moore and Stewart have a nice on-screen chemistry, and their scenes together (especially some of the later ones, where Alice's mind has all but gone completely) are among the best of the film.
Still Alice is directed with passion by Wash Westmoreland and his partner Richard Glazter. Glatzer passed away shortly after the film was completed; the pair's eye for detail and subtle interpersonal relationships is excellent – the film's refusal to commit to Hollywood stylizing of both the characters or the premise make for refreshingly engaging viewing. Still Alice may be thoroughly discouraging for what it shows us of Alzheimer's Disease, but it's rewarding for the natural, breezy, entirely un-sentimental manner in which we witness these characters endure it.
Related articles
Who wrote this?