Movie Review – Far From The Madding Crowd (2015)

– Summary –
Director :   Thomas Vinterberg
Year Of Release :   2015
Principal Cast :  Carey Mulligan, Matthias Schoenaerts, Michael Sheen, Tom Sturridge, Juno Temple, Jessica Barden, Sam Phillips, Tilly Vosburgh, Rowan Hedley.
Approx Running Time :
Synopsis: In Victorian England, the independent and headstrong farm owner Bathsheba Everdene attracts three very different suitors: Gabriel Oak, a sheep farmer; Frank Troy, a reckless Sergeant; and William Boldwood, a prosperous and mature bachelor.
What we think :  Just a lovely, enthralling romantic drama; Far From The Madding Crowd is hardly the stuffy, headache-inducing period piece I was expecting, and is, in fact, one of the better films of the genre to come out this year. Don't make the mistake of skipping or avoiding this one – see it, and enjoy.

**********************
Madding? Not maddening?
The fourth direct adaptation of the famous Thomas Hardy novel, Far From The Madding Crowd's 2015 version is a delightful, wry, taciturn entry into the period drama genre that belies its literary origins and fleshes out into a terrific opus worthy of attention. It's not often a genre film such as this actually works for me – I usually find this kind of movie pandering and/or irritating – but Madding's rural pleasantness, it's genteel stateliness, is really rather charming. Plus, Carey Mulligan makes a terrific lead. I admit to being unfamiliar with Hardy's novel, other than that which I've gleaned in passing from past adaptations (which isn't much), but with such a lovely story at hand it's little wonder there have been numerous productions of it.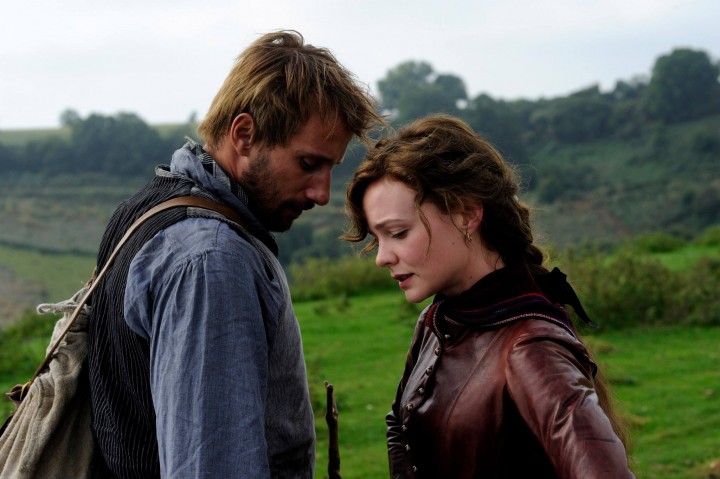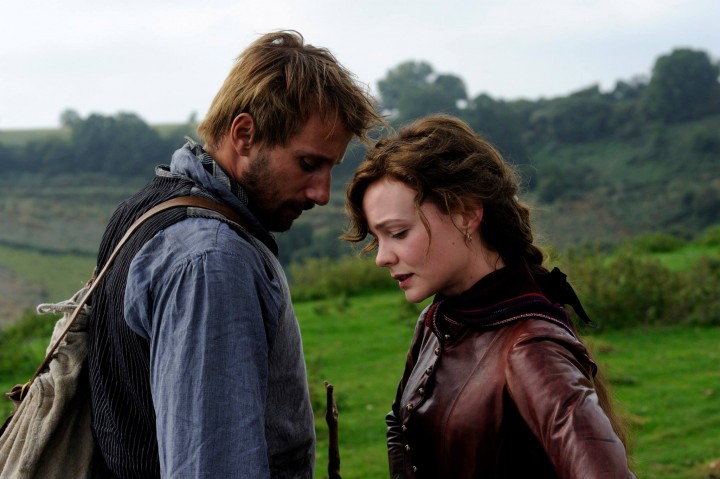 Plot synopsis courtesy Wikipedia:  In Victorian England, the independent and headstrong farm owner Bathsheba Everdene (Carey Mulligan) attracts three very different suitors: Gabriel Oak (Matthias Schoenaerts), a sheep farmer; Frank Troy (Tom Sturridge), a reckless Sergeant; and William Boldwood (Michael Sheen), a prosperous and mature bachelor.
I really enjoyed this movie. That takes a lot for me to say; I've seen more than a few ponderous period films, most of which end up as stuffy, irritatingly shallow affairs (most, not all) that do little to make me feel much beyond borderline contempt for high-class British aristocracy. Far From The Madding Crowd made me smile broadly, more than a few times, and the rounded, effortless chemistry between the cast is effective, sweet, and at times moving. David Nicholls' screenplay contains an earthy, often taciturn nature about it; the film's tones are soaked in period romanticism, rebounding from the shock of loss (an early moment in which Mr Oak loses his farm to a wayward sheepdog) to pleasantly ingratiating overtures of affection.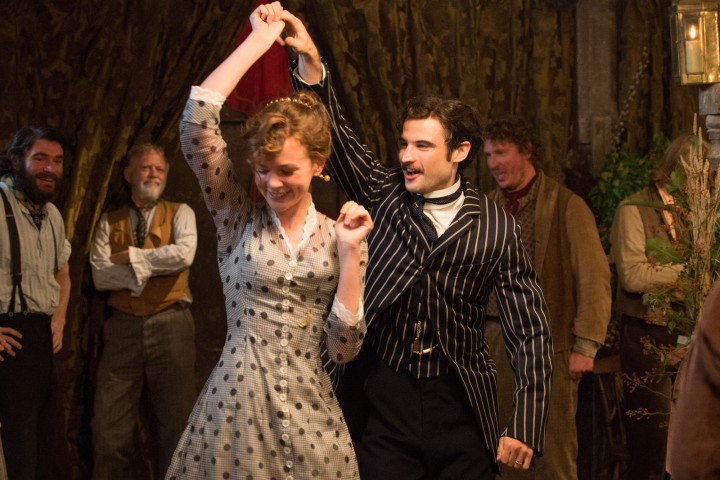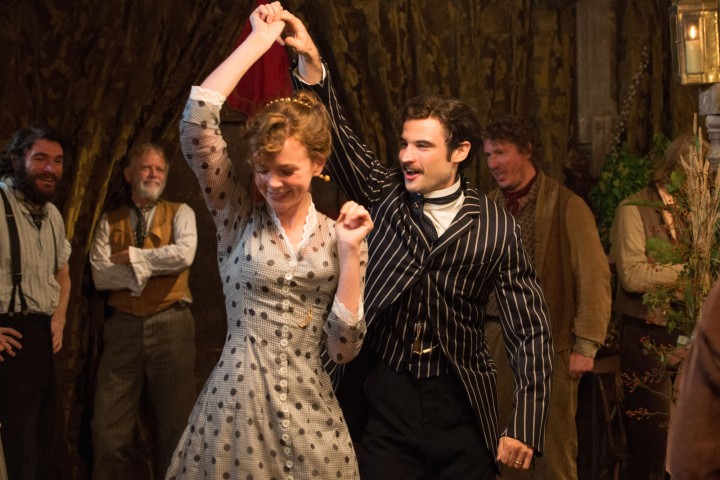 The film's beauty wouldn't be so much without the luminous performance of Carey Mulligan, who, as Bathsheba Everdene (a cumbersome name, if there ever was) shines as she holds the film on her talented shoulders. Mulligan has an inscrutable presence about her, a steely exterior riveted by life experience and a societal expectation, although the veneer more than amply shattered by the affections of three vastly different men. Matthias Schoenaerts, who also starred in Suite Francaise, plays Gabriel Oak with reserved masculinity; he doesn't take Everdene's crap, and he's quick to give her his opinions, whether she wants them or not. Both Mulligan and Schoenaerts have terrific chemistry (I'm on Team Gabriel!) and although their on-screen relationship is fractious, it's their repartee I most enjoyed.
Not to be outdone, Michael Sheen, the consummate actor, delivers an unswerving, solid portrayal of the more "mature" Mr Boldwood, a neighboring farmer who efforts to woo Everdene. Sheen's the more genteel of the trio of potential suitors, and although Boldwood is certainly more circumspect than either Oak or Frank Troy, he's a worthy entrant into the race for the young woman's affections. Then there's Frank Troy, a man with a good game who woos Everdene as a conquest rather than for any meaningful relations; he's cavalier, handsome, roguish, and above all makes the hearts of women flutter, but as somebody who would suit Bathsheba's strong-willed personality, it's a match made in hell. Of course, both Troy and Bethsheba end up getting hitched (spoiler!) but, in true romantic film tradition, it doesn't last long. The guy's a knob.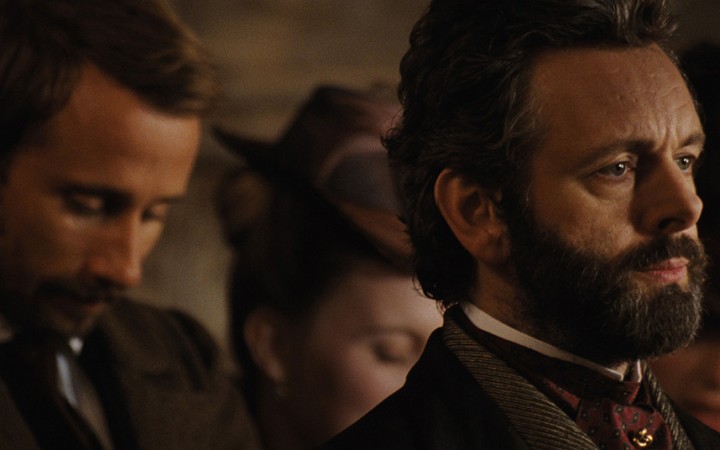 Directed with stately atmosphere by Danish helmer Thomas Vinterberg (better known for making the Oscar Nominated The Hunt) Far From The Madding Crowd isn't ostentatious or frivolous, nor is it plain or boring – exactly the opposite – for its engrossing love story unravels in smooth, manicured strokes of narrative delight, manifesting emotional resonance through sheer power of the story. The regional affectations of the film's production design, with its rural settings and soft-hued period detail, make this a story bathed in hardship-riven survival; the stations of life and people's clamoring to attain higher stations for their own benefit is a way of life I don't understand, and this scratfalling is the kind of thing that irritates me most in these kind of movies. Yet, Madding's depiction of the hardships of this period aren't irritating as much as they are melancholy, a ubiquitous necessity driven by circumstance perpetuated by a few.
Shot in Dorset, in the South of England, Far From The Madding Crowd looks beautiful. Wonderful landscapes, the kind you really only get in romance films these days, embraced with cool, intemperate climate and dusky saturated colors, Madding's occasional narrative lugubriousness is contrasted by the shadowy, dim English landscapes on which the story is set. If I had to describe the film in one word, it would be lush. At it's core, Far From The Madding Crowd's heartbeat is strong with passion, even in the face of staid propriety, and a more lovely of the period you're unlikely to find. Filled with wit, sadness, hope, hopelessness, romance, love and tragedy, Far From The Madding Crowd is arguably the best period film of the year, and easily a favorite I will not mind returning to more than once. Engaging and approachable, the cumbersome title and familiar settings should not put one off seeing this magnificent movie.
Related articles
Who wrote this?