Vale – Sir Christopher Lee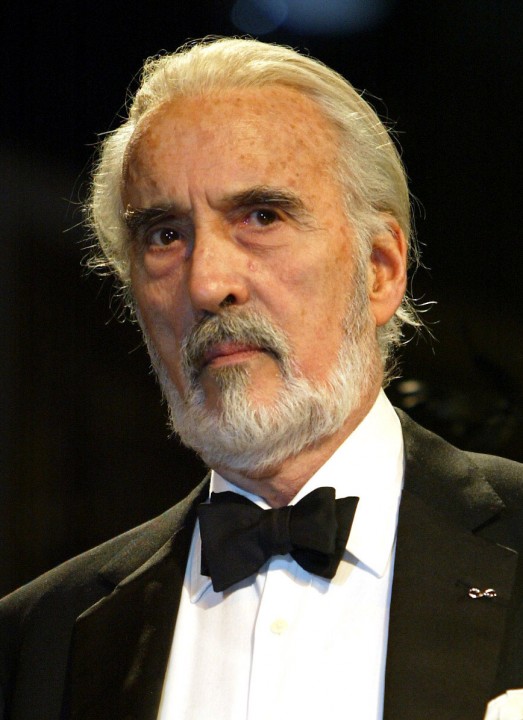 Acclaimed horror actor, and face of Tolkien's Saruman, Christopher Lee, has passed away.
Christopher Lee had the kind of career most actors could only dream of. One of the most recognizable faces in both classic and modern film, with a career spanning some 70 years, Lee's body of work is unlikely to ever be equaled – and certainly not bettered – in our lifetime.
Famously, Lee's career prior to the end of World War II was as an SAS operative, a highly secret group of soldiers tasked with operative actions far above those of the common soldier. His famous yarn on Peter Jackson's Lord Of The Rings DVD set, where he related exactly how a person might sound if they're stabbed to death, indicated that his life before films was both dangerous and formative.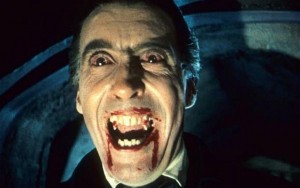 Yet, it was his work with the UK horror stable, Hammer Films, where Lee made his mark; his distinctive voice and cadaverous features made him a perfect look for the kind of pulp-inspired horror movies he'd go on to make. Beginning with The Curse Of Frankenstein in 1957, and concluding with 1976's To The Devil A Daughter, Lee made some of his most iconic roles, including as Dracula and as Frankenstein's monster, often opposite fellow British screen legend Peter Cushing. Although the films made by Hammer were often rushed or production-line quality, his popularity in them ensured him icon status within the horror fraternity.
Following the end of his time with Hammer Films, Lee worked his way into a series of oriental themed movies in which he played the villain, as well as a turn as Jekyll and Hyde in I Monster, and 1973's Wicker Man, a cult favorite and one of Lee's most fondly remembered roles. During the 70's Lee also played the villainous role of Scaramanga in his only James Bond film, The Man With The Golden Gun. Lee would later reprise the role as a voice in one of the Bond computer games released in the new millennium.
Moving to America, Lee first appeared in a Hollywood production in Airport '77, followed by a turn in the disastrous Spielberg bomb, 1941. During the 90's, Lee appeared in Police Academy: Mission To Moscow.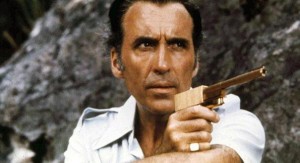 Lee's most famous modern role was as Saruman, the traitorous white wizard in Peter Jackson's film trilogy version of The Lord Of The Rings, and reprised the role in the followup trilogy version of The Hobbit. He would also appear in the George Lucas directed Star Wars prequel trilogy, as treacherous Count Dooku, and became something of a muse for Tim Burton, who cast him in no less than five of his films during his latter career, including Sleepy Hollow and Sweeney Todd: The Demon Barber Of Fleet Street.
Throughout his career, Mr Lee was also renowned for his mellifluous voice, on par with vocal greats like James Earl Jones for its distinctive timbre and resonance. Lee provided voices for a large volume of projects – he was fluent, or moderately proficient in no less than 8 languages, including English – and they include an off-camera role in the film version of Agatha Christie's Ten Little Indians, as Mr U N Owen, as the voice of Death in a number of Terry Pratchett animated projects, the narrator of Tim Burton's A Nightmare Before Christmas, as well as a number of video game franchises including Kingdom Hearts and the Lord Of The Rings installments.

There's little denying the impact Christopher Lee's lengthy career has had on the industry, and on viewers of his movies. Mr Lee's commanding presence and irascible sense of humor made him a favorite figure in his Tolkien work, and his body of work across the decades touches all manner of genres and levels of quality.
It is truly a sad day today. When words like "legend" and "icon" of an industry built on self-congratulation are bandied about, when they talk of Mr Lee, it's the simple truth.
Christopher Lee passed away on Sunday, June 7th, aged 93. He will certainly be missed, but never forgotten as long as cinema continues.
Who wrote this?