– Summary –
Director :  Peggy Holmes
Year Of Release :  2014
Principal Cast :  Voices of Mae Whitman, Anna Kendricks, Tom Hiddleston, Lucy Liu, Raven-Symone, Megan Hilty, Pamela Adlon, Angela Bartys, Jim Cummings, Jeff Bennett, Rob Paulsen, Jane Horrocks, Jesse McCartney, Angelica Huston.
Approx Running Time :    78 Minutes
Synopsis:  When one of the Dust Keeper fairies nearly destroys Pixie Hollow, she banishes herself and befriends a pirate crew – led by one James Hook – and gives them the secret of the pixie dust.
What we think :   Diverting entertainment doesn't come more polished, pleasant or glowing than this, the latest entry into the Tinker Bell film franchise. It's Disney through-and-through, a shining kiddie film that personifies all the moral, ethical and social Good Stuff you've come to expect from the Mouse House. The Pirate Fairy will entertain the young tots, bore the social-media obsessed teen, and provide welcome relief to any parent hoping to catch up on their cleaning. Unremarkable yet competent.
**********************
What's in the dust?
The fairies of Pixie Hollow only know of two colors of pixie dust – yellow and blue (with blue pixie dust being established in previous installment The Lost Treasure) – until one curious Dust Keeper fairy, Zarina (voiced by Anna Kendricks) decides to "mix" various dust to see what happens; this, naturally, is against the orders of resident Chief of Dust Keeper Fairies, Fairy Gary (Jeff Bennett). After one of her experiments goes wrong, Zarina is removed from Dust Keeper duty, and so runs away in anguish – taking with her all her new-found dust secrets. Zarina leaves in anguish – a year later, we learn that she has teamed up with a band of human pirates, one of whom, James (Tom Hiddleston) has become Zarina's "close friend". With the power of Pixie Dust in their control, the pirates are intent on leaving the fairy world and traveling to the human world, where they will plunder all the treasure they can – naturally, Tinker Bell (Mae Whitman) and her fairy friends – Silvermist (Lucy Liu), Iridessa (Raven-Symone), Rosetta (Megan Hilty), Vidia (Pamela Adlon) and Fawn (Angela Bartys), all take up the quest to not only stop the pirates from achieving their goal, but to return Zarina to Pixie Hollow and back into the fairy fold.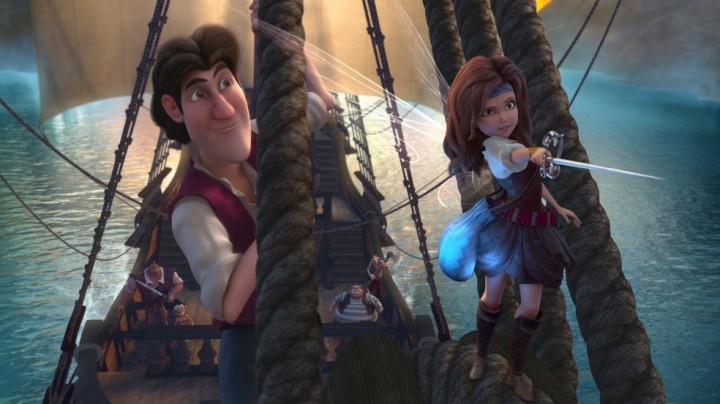 The introduction of Hook.
The best part of The Pirate Fairy's rather innocently mundane story is the fact that it gives us an introduction to the formation of one Captain Hook, the central villain of the original Peter Pan. The Pirate Fairy continues the tradition of Tinker Bell's kiddie-friendly PC storytelling, ambling through "friends stick together" and "believe in yourself" and "don't f@ck with pixie dust" morals with the tenacity Disney's best screenwriters can accomplish. The Pirate Fairy is harmless, middling storytelling, a risk-averse foray once more into the mythology of the Peter Pan universe – here, expanding on that considerably by introducing one of Disney's best villains. The voice cast, led largely by Anna Kendricks and Tom Hiddleston (currently Marvel's Loki, God Of Mischief) – Tink herself plays second fiddle to the story proper much of the time – are all solid, with Hiddleston in particular having a whale of a time voicing James (James Hook, don't you know!), while Kendricks is commendably impish as Zarina. The rest of the franchise's backup cast are all present in roles of wavering standard – watch closely for a quick cameo by Jesse McCartney reprising his role of Tink's Dust Keeper friend Terence, while Angelica Huston once more provides the vocals for my daughters favorite character, Queen Clarion. Franchise alum Lord Milori and Periwinkle, who were introduced in The Secret Of The Wings, appear in voiceless cameos, which in some ways is disappointing but I guess I'm glad they at least put the characters in here just to keep the world building going.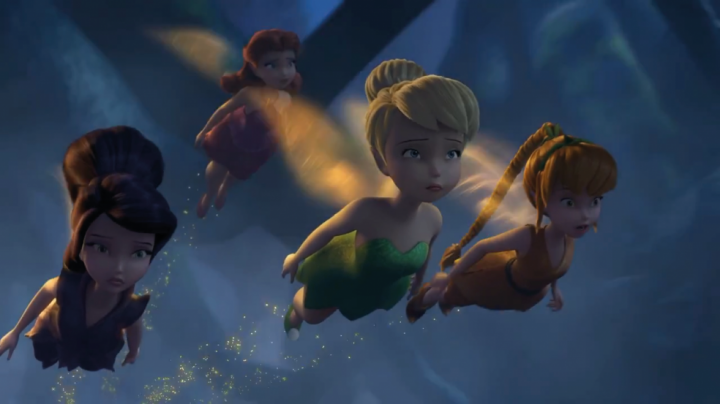 The Pirate Fairy will never challenge you intellectually, nor will it really ask much of you from an entertainment perspective; as an adult, I fully realize that I am not this film's core audience (yes, my young daughter loved it) and I can appreciate the level of story this film goes to to keep the younger ones entertained. While it's great to see the foundations being laid for Peter Pan, what with Hook, Smee and the hand-loving crocodile all introduced here, the rest of the film ambles along nicely without being exceptional. Five films in, I guess you can't keep a good fairy down, really. At least the animation is as jaw-dropping as only a modern film can deliver. All that damn pixie dust – I haven't been able to stop sneezing since!!
Related articles