Movie Review – Dom Hemingway
Vulgar, crude and violent, Dom Hemingway's central character is as abrasive as can be, although he's thoroughly likeable thanks to Jude Law's vein-popping performance. While the film's second half languishes through periods of self-indulgent pretension, the majority of Dom Hemingway is savagely entertaining.

– Summary –
Director :   Richard Shepard
Year Of Release :  2013
Principal Cast :  Jude Law, Richard E Grant, Demian Bichir, Emilia Clarke, Jumayn Hunter, Madalina Diana Ghenea, Kerry Condon, Nathan Stewart-Jarrett.
Approx Running Time :   100 Minutes
Synopsis:  Released from prison after 12 years, a London thief collects on the debt owed him, and tries to reconnect with his estranged daughter and her family.
What we think :  Vulgar, crude and violent, Dom Hemingway's central character is as abrasive as can be, although he's thoroughly likeable thanks to Jude Law's vein-popping performance. While the film's second half languishes through periods of self-indulgent pretension, the majority of Dom Hemingway is savagely entertaining.
**********************
The sequel to Sexy Beast?
Every so often, a film comes along that feels a lot like sucking a lemon. A palette cleanser, if you will; a veritable mind-rape designed to wedge out the sugar-n-spice-n-all-things-nice crud you've been watching previously, and replace it with something a lot more… unwholesome. Now, I'm as big a fan of vulgarity as the next person – I've been known to swear like a sailor in some instances throughout my life, but generally in film I find the overuse of crude language and thematic material somewhat boring – un-creative, if you will. Fine folks like Quentin Tarantino or Guy Ritchie (to whom I'd credit a lot of this film's visual style…) can deliver a film replete with F-bombs and C-bombs without batting an eyelid, and to a point I'd say that kind of Brit-crime aesthetic works for the story (it certainly makes the characters therein more distasteful), but let's be honest here: who hasn't ripped out some choice bad language and insults and felt damn good about it afterwards? *Raises hand* Dom Hemingway is a little like that bout of crude language, like banging your finger with a hammer and letting fly with some terrific obscenities. It might be wrong in all the right ways, but damn if it doesn't feel good at the time.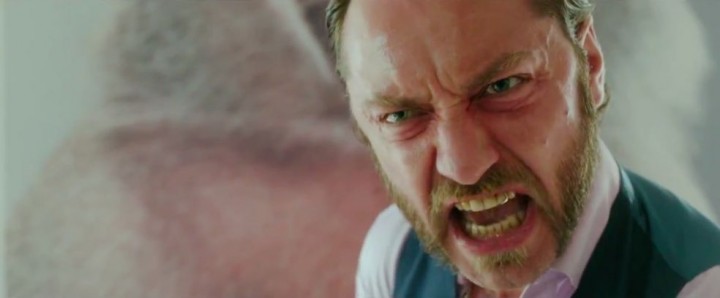 London safe-cracker Dom Hemingway (Jude Law) has just completed serving 12 years in prison; the crime isn't explained, but he's kept his head down, trap shut, and body in good order to serve his sentence without fuss. During his incarceration, Dom's wife passed away from cancer, and his daughter Evelyn (Emilia Clarke)is now estranged. Dom seeks out the man whose name he protected while in prison, Mr Fontaine (Demian Bichir), who owes him his cut from the crime which sent Dom down; along with his friend Dickie (Richard E Grant), Dom travels to Fontaine's French villa to collect his money, with interest. After crashing his car during a wild, drug-fueled evening, Dom and Dickie learn that Fontaine's gorgeous girlfriend, Paolina (Madaline Diana Ghenea) has taken off with Dom's cash, leaving Dom furious. As he surfaces from his boozy haze, Dom tries to get back into the safecracking business through the son of an old rival (Jumayn Hunter), before realizing that he needs to reconnect with Evelyn. With a mouth that won't stop, and an ego that won't quit, it will take Dom to reach his lowest ebb to finally realize what's most important in life.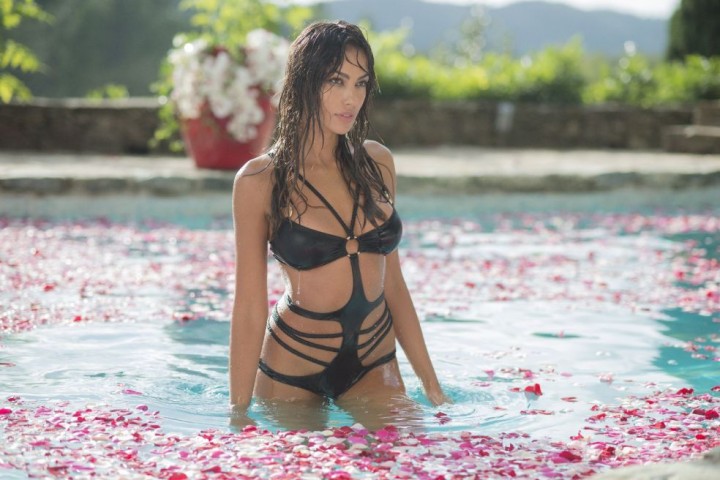 If you're of a nervous disposition, don't like gratuitous swearing, or the display of people snorting all manner of drugs (not to mention drinking and smoking), Dom Hemingway is probably not your movie. Filled with crudity of the most unimaginable kind, and yet strangely amusing in most ways, Dom Hemingway is an almost-throwback to the early films of Guy Ritchie, before he went all mainstream with Sherlock Holmes. This film is like a hammer to the brain, a mental enema of sex, drugs and exceptional rage – mostly from Dom himself – and in many places it really works. Unfortunately, it doesn't always work, with the second half lapsing into a more sluggish, unenthusiastic style that bogs down on the ripping opening.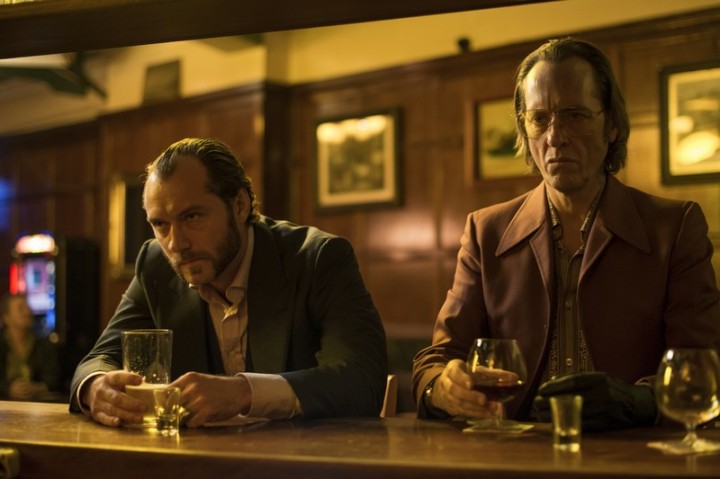 That said, Jude Law owns this film from start to finish – his opening scene sees him extolling the virtues of his genitalia via a prison-room blowjob, while the closing one sees him (metaphorically) regaining his manhood after suffering a significant loss. Law's spittle-spraying, blood-pumping, adrenaline-fueled Hemingway is a sight to behold, his bulging eyes and manic, almost apoplectic rages producing much of the film's humor and drive, as Dom lambasts all who he perceives have done him wrong. Backed up by a terrific Richard E Grant (who always produces hilarious stuff when he's given free range with a character like Dickie Black) and some minor work by Academy Award nominee Demian Bichir, and Emilia Clarke (from Game Of Thrones),  provide sounding boards for Dom's fury, most of which is misplaced yet utterly warranted.  But it truly is Law's film: Dom Hemingway is a man you'd describe as a "character" if you needed to complete a police report, and when he's not clenching his jaw and barraging his associates with profanity-laced tirades (most of which are amusing, although they really do save the best for last… LOL), he's generally a likeable kinda guy.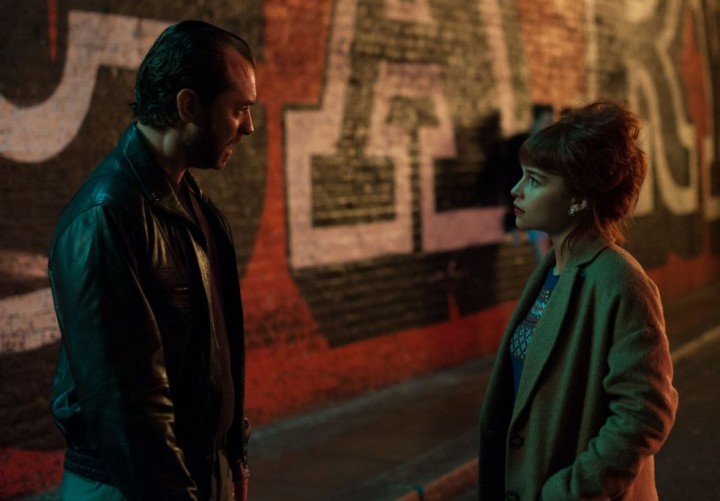 As a critical element, Dom Hemingway has a serious case of bipolar disorder when it comes to narrative focus. The first half of the film is a cavalcade of drugs, bitter explosive rages and luxurious France-based fun, before screeching to a halt for forty minutes for some weird, teaming-up-with-the-young-punk routine by way of Snatch that takes the film way off the rails. The quieter, more contemplative moments with Dom and Evelyn, as well as Dom's young grandson, come as a welcome respite to the gregarious Law's verbose rantings, although by the time Dom does get to figuring out he wants to reconnect with his daughter, the film's too far gone to make much sense – I mean, it's too late to start that plot device up when you're getting close to the end. Director Richard Shepard, who also wrote the screenplay, obviously wanted to make a Guy Ritchie-esque crime caper drama, and the tone of the film's first hour (including some snappy interstitials providing contextual humor along the way) certainly smacks of Snatch, Lock Stock and Rocknrolla, but it's when the mid-point turn occurs that Shepard's flamboyant… er, shepherding of the story comes a little unstuck.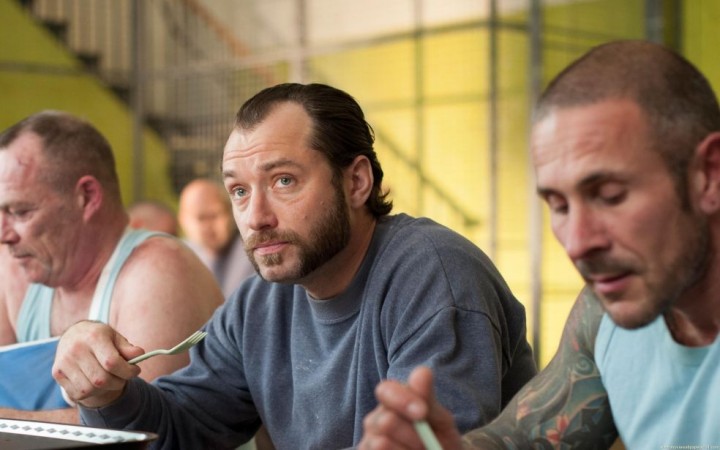 Your tolerance for crudity and vulgarity will be the measuring stick by which you enjoy, appreciate, or merely accept Dom Hemingway's ego-driven fury. Posing as a crime drama, with some nice moments of levity (and a fairly cool closing stinger), Dom Hemingway's savage opening half gives way to a stumbling mid-section and a half-baked closer that runs simply as a platform for Jude Law's scenery/co-star/audience-chewing performance. Whether this kind of film is warranted or not, Law makes it his own, and the film is the better for it. It's still too uneven and obnoxious to class this as a "great" film, or even really a "good" film, but it definitely has plenty of what you'd call "character".
Related articles
Who wrote this?