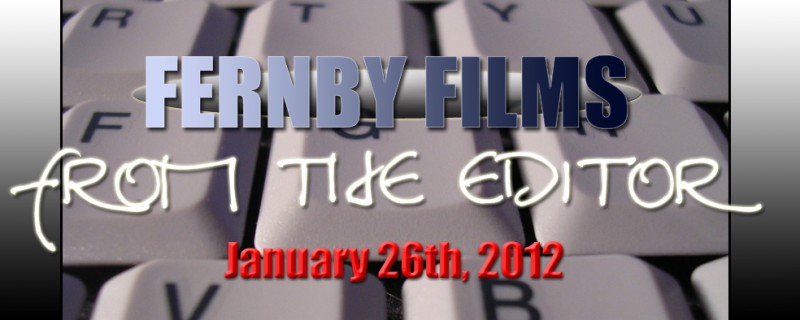 Good morning folks! Just a little update for you all today: here in Australia, it's a public holiday, so there will be no review up – instead, our warts-and-all look at Caligula will be online tomorrow. Stay tuned for that.
Some of you have noticed a significant slowdown in the load time for the fernbyfilms.com site over the last six to twelve months, and rest assured, we're working on it behind the scenes to nullify any problems we are having. We believe it's got to do with our cache system, and we're investigating possible solutions as you read this. For this reason, you may see some slight aesthetic changes to the site. Some might alternatively label it as "streamlining". Do not be alarmed. We're working to make fernbyfilms.com as fast as possible in the online world.
We'd like to remind you all that our second Top 10 Greatest Of The Modern Age list comes online on Monday week (the 6th of February), and if it's as popular as the previous one was, then we're in for some great comments. We will be publishing out Top 10 GOTMA lists on the first Monday of each month, right up to December. Lock that in your diary!
Finally, as we're expanding our readership across the Blogoverse, with fellow film lovers reading and commenting on our stuff, we want to throw something out to the casual reader right now – if you happen to stumble upon a great site (like this one! LOL!) then leave a comment somewhere! It doesn't take much to throw a couple of kind words (or, not so kind, if you disagree with something you've read) the way of the author, and as bloggers, we all appreciate anybody spending even a few seconds to acknowledge our work – good or bad. If you look to the right you'll notice a list of recent comments over in our sidebar, as well as a leaderboard of regular commentors; it's called building a community, and since we all love films, it's pretty obvious what that community likes to talk about, and we want your opinion. So for the lurkers and casual visitors, those landing here to capture some images or those who've followed a link in from iMDB or something, please leave a comment somewhere to let us know you've seen our stuff. You might never come back; that's okay, you know, but we'd at least like to know you've been here! Of course, if you want to really show how much you've enjoyed our stuff, you can always click the "like" button on our facebook widget. That way you're always up to date with our reviews!! Go on…. press it!
And of course, a big thanks to our regulars for always coming back to see what's what! You guys are gems.
Rodney T – EIC, fernbyfilms.com