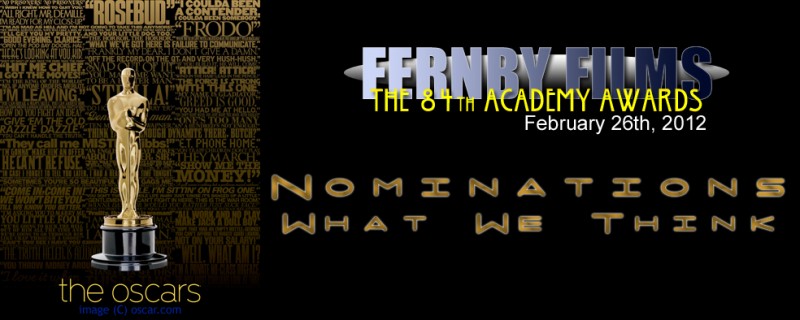 Frankly, the Academy has no idea. Drive, a film I consider to be easily the best film of 2011, missed out on virtually any Oscar nominations at all, save a filler spot for Best Sound Editing (I mean, c'mon, when you're up against a Transformers movie, what hope to you have?) – not even Albert Brooks' nasty turn as a gangster in that film was given so much as a nod. Instead, Melissa McCarthy now becomes an Oscar nominee for her work in the female slanted comedy Bridesmaids. Really?
And so the frustrating spectacle of seeing truly great films miss out on the Oscar glow comes around again.
I guess the question could be asked: why exactly do we hinge our film  fanaticism on the black-slappers in the Academy as being the pinnacle of truly awesome cinema? I mean, these are the people who allow films like Jack & Jill and Big Momma's: Like Father, Like Son to be made in the first place. How can we trust these clowns?
The Oscar nominations for films of 2011 have raised a number of interesting points:
1 – A silent film, in the modern age of digital cinema, surround sound and color film, is in the running for – and frankly odds-on to win – Best Picture. If you'd told me 12 months ago that I'd be staring at a silent film for a Best Picture award, I'd have happily signed the form to have you locked up in the madhouse. The Artist, by all accounts, should take the top prize this year. Its only real competition looks to be The Descendants, with an outsiders chance for The Help.
2 – If Rooney Mara scores an Oscar for her work in David Fincher's Girl With The Dragon Tattoo remake, then the Academy needs to award one to Noomi Rapace (retrospectively) as well. How Rapace never scored a gong for her work in the original Swedish version is beyond me, so to see Mara snag a look-in for a remake, a reprisal, that sticks in my craw.
3 – It's weird not seeing a Pixar film in the Best Animated Feature category. I'd be happy for either Puss In Boots or Rango to take home the gong.
4 – Only two songs are nominated for the Best Original Song category this year. I ask the Academy: is it really worth it? Isn't this the kind of thing the Grammys are supposed to look at?
5 – From what I've seen, either Hugo or Tree Of Life should win Best Cinematography.
6 – Meryl Streep is once more nominated for an Oscar. Some folks (including several of our readers!) have indicated that perhaps she should sit a few years out and let others have a shot, but I still gaze in amazement at the woman's ability to transform so effortlessly into each character she plays. Streep for the win (again) as Margaret Thatcher.
7 – Visual effects will go to either Transformers or Rise Of The Planet of The Apes, and in my mind, each would be a worthy winner. My hot tip is for Transformers, though.
8 – This year is Gary Oldman's Oscar year. As I write this, I have Tinker, Tailor, Soldier, Spy on my list of films to watch next week, and from what I've heard about the blogoverse, he's better in that film than Clooney is in The Descendents. So I'm gonna stick my arm up for Oldman.
9 – Is it just me, or is the sight of Jonah Hill's name alongside the likes of Christopher Plummer, Kenneth Branagh, Nick Nolte and Max von Sydow, for Best Supporting Actor, just a little jarring?
10 – My official tips for the big four – The Artist, director Michel Hazanavicius, Gary Oldman and Meryl Streep.
The Oscars will be broadcast on Sunday February 26th (US time), or around lunchtime next day (Monday 27th) here in Australia – we will have a live update post on the day, for those of you stuck at work and unable to watch live!!
What Others Are Saying About The Oscars:
Sam over at Duke & The Movies got up early to watch the nominations come through…