Principal Cast : Matt Damon, Ben Affleck, Jason Bateman, Viola Davis, Marlon Wayans, Chris Messina, Chris Tucker, Matthew Maher, Julius Tennon, Tom Papa, Joel Gretsch, Gustaf Skarsgard, Barbara Sukowa, Jessica Green, Dan Bucantinsky. 
Synopsis: Follows the history of shoe salesman Sonny Vaccaro, and how he led Nike in its pursuit of the greatest athlete in the history of basketball, Michael Jordan.
********
Although tinged with an undeniable whiff of "capitalism is great!" subtext, there's no denying that Ben Affleck's rags-to-riches take on Nike's creation of one of the world's most famous – and popular – shoes, the Air Jordans, is a masterclass in solid storytelling. Affleck continues to prove himself a bankable director, delivering rousing entertainment derived from one of the most euphoric take-a-chance true stories ever told with panache, a small amount of tension, and of course a full banquet of A-grade acting talent in front of the camera. Air isn't a revelation to anyone familiar with Michael Jordan's storied legacy as a sportsman, but it's great to see the behind-the-scenes machinations of one of pop-culture's most iconic footwear brands given the period drama biopic treatment.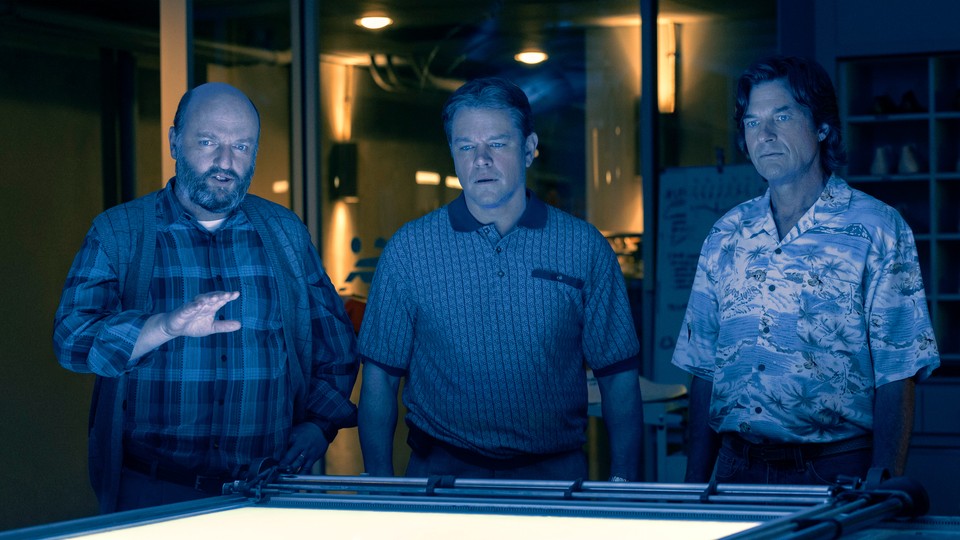 In the mid 1980's, struggling sports shoe company Nike is on the verge of shutting down their basketball division. They remain well behind in market share to both Converse and Adidas, finding it difficult to sign any major names to promote their brand. Basketball scout Sonny Vaccaro (Matt Damon) lacks the financial backing from company CEO Phil Knight (Affleck) to go after the big names, so decides to put his career on the line to entice a young up-and-coming star, Michael Jordan, to sign with Nike. Jordan, who has publicly voiced a preference for Adidas, is managed by both agent David Falk (Chris Messina) and his parents, James (Julius Tennon) and Deloris (Viola David), and is courted heavily by the other big names in the industry. However, Nike shoe designer Peter Moore (Matthew Maher) crafts a new type of sport shoe – named Air Jordan – with which to sell to the young basketball prodigy as his own brand, something never before done in the athletic clothing industry. It's up to the cash-poor basketball division of Nike to make sure Jordan signs with them, or the whole division will be scrapped.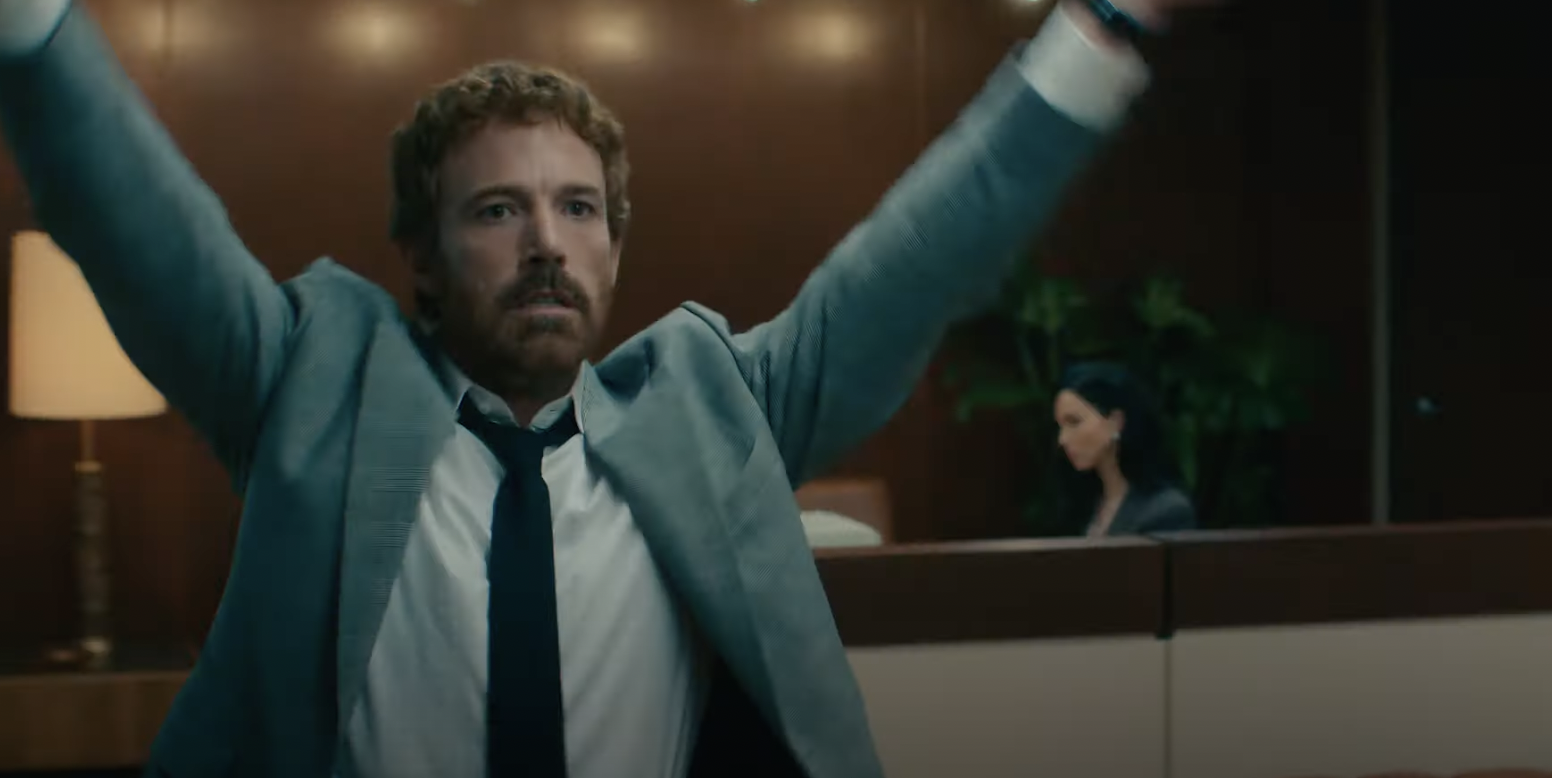 There's a point in Air's third act, as the Nike executives are meeting with the Jordan family, that the film's most meta line is delivered. The line is dropped almost invisibly into a Matt Damon monologue that ranks as one of the sport film genre's best in modern times, but (and I'm paraphrasing) it's a phrase about everyone in the room being forgotten as soon as their time is up, but Jordan never will be, because some things are eternal. If Air represents a catharsis on memory, this is one hell of a powerful moment of dialogue about legacy, for the men  involved in bringing the Air Jordans to spectacular (and financially successful) life should never be forgotten, such is their influence on basketball. Hell, several of the people depicted in this film went on to revolutionise how basketballers are paid and marketed, and how shoe companies would forever be changed. Air is ground zero for modern athlete marketing, for better or worse, and Ben Affleck's direction is dependably solid throughout. This is a remarkable film, not just for the story it tells but the manner in which Affleck and his cast craft such believable, human characters of worth, note and empathy.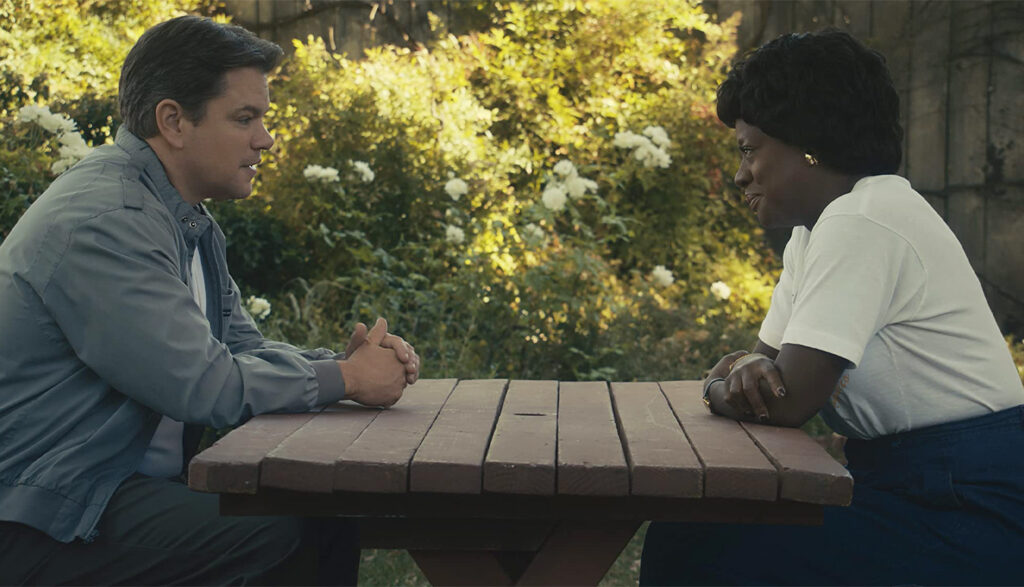 The great thing about Air is that it makes the Nike guys – from Matt Damon's apparent "wizard" scout character, to Jason Bateman's struggling marketing guy in Rob Strasser, to Affleck's seat-of-the-pants CEO Phil Knight – all feel like lived in, real-world characters. The script's strength is giving them all unique and individualistic traits and personalities, personalities that don't always "come out on top" in the realm of these kinds of sporting feel-good films. Bateman's Strasser is going through a divorce. Affleck's Knight is finding his control of his company is a lot more stressful than he expected now that it's a public entity, and Chris Tucker's account manager role, Howard White, is one of forlorn hopefulness. Watching them struggle and knowing how it all turn out is part of the vicarious fun of this movie. Viola Davis' strong-willed Deloris Jordan is the kind of character she can play in her sleep, and absolutely knocks it out of the park every second she's on the screen. Even Marlon Wayans pops in as a former US Olympic coach, George Raveling, and delivers a realistic performance, which was something of a surprise to me. The dialogue always serves the propulsion of the story – it's very Sorkin-esque at times – and Affleck's direction, from cinematography down to editing and pacing, is on-point. There are very few issues with Air as a movie – the story is well told, the story is a true one (embellished a little, no doubt) and the story is king. The actors and below-the-line talent bringing it to the screen are all secondary, and yet theirs is a masterful effort indeed.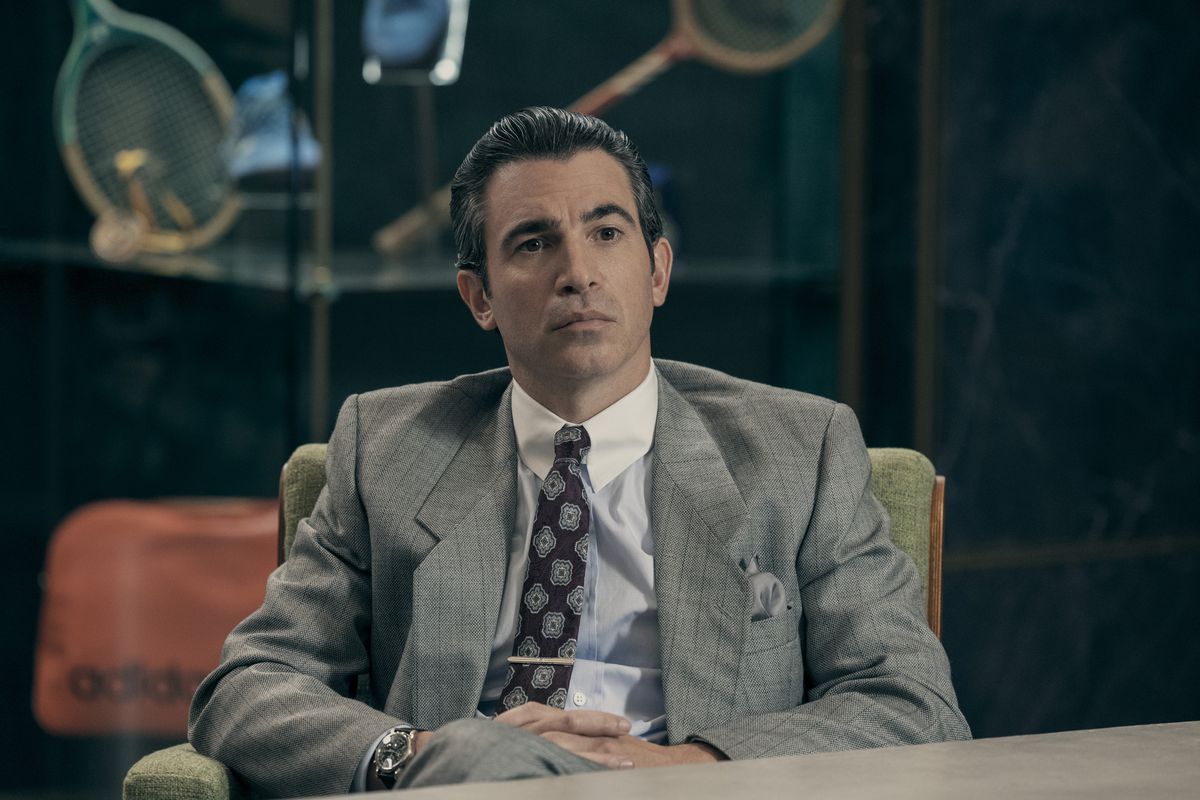 Robert Richardson's tan-brown cinematography and use of grain throughout really gives the film a noteworthy visual style, specific to the 1980's in that almost cheap-VHS way I remember. The Nike offices feel cluttered and "new money", to use a phrase from the olden times, and the film's set decoration, prop acquisition and costume design are all top tier in every aspect. I'm not sure what kind of wig Ben Affleck wears in this movie but I want one just like it when I start to go bald, it's fantastic. The attention to specific period detail is quite eye-catching, from the newfangled portable telephones to the boxes of cereal lining the shelves of the local 7-ELEVEn Damon's character ventures out to at night. If there's one facet of the film I did find kind of annoying, it's Affleck's choice to rely so heavily on 80's musical needle-drops – all the classics, from Dire Straits, The Clash, Cyndi Lauper to Bruce Springsteen, all of the Big Hitters make for a very ubiquitously unambitious soundscape for the movie. It's not as if the first three, four or five major pop hits of the era didn't place us well into the mindset for an 80's movie, we had to be reminded over, over, over and over again that yes, this was taking place in the 1980's. Frankly, by the time Springsteen's "Born In The USA" came on right at the end I was about ready to throw my Mike & The Mechanics album collection into a bonfire; we get it, it's the 80's. This, out of everything else in this quite wonderful film, kinda felt heavy-handed.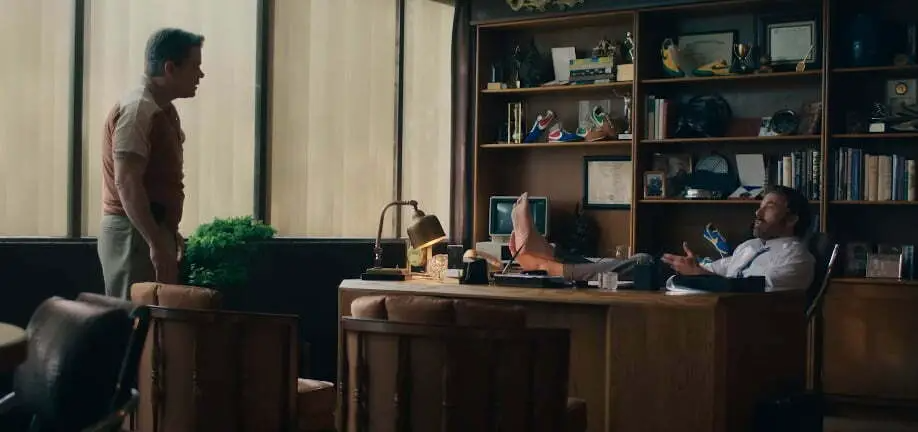 I'm sure hardcore basketball fans will take more out of this film than I, a middle-aged dude who knows of Michael Jordan but isn't even the faintest bit interested in basketball, but even if you aren't knowledgable about one of America's great pastime sports you'll still get a kick out of Air. Everyone knows Nike, and there's very few people on Earth who haven't heard of the Air Jordans – hell, even I wanted a pair as a kid even though my parents couldn't afford them… I think my brother got some though…. Air will resonate with most people over a certain age and endear itself to anyone familiar with Michael Jordan's continued popularity in the cultural zeitgeist. Ben Affleck is yet to put a foot wrong with me in terms of his directorial career; Air is another winner and a full-court press that satisfies in every enthusiastic way.
Who wrote this?