Movie Review – School of Rock (Mini Review)

Principal Cast : Jack Black, Joan Cusack, Mike White, Sarah Silverman, Miranda Cosgrove, Joey Gaydos, Kevin Clark, Rivkah Reyes, Robert Tsai, Maryam Hassan, Aleisha Allen, Caitlin Hale, Brian Falduto, Z Infante, James Josey, Angelo Massagli, Cole Hawkins, Jordan-Claire Green, Veronia Afflerbach, Adam Pascal, Lucas Babin, Lucas Papaelias, Frank Whaley.
Synopsis: After being kicked out of his rock band, Dewey Finn becomes a substitute teacher of an uptight elementary private school, only to try and turn his class into a rock band.
********
As somebody who only likes Jack Black in small doses and typically finds his brand of humour hit and miss at the best, School of Rock remains one of the star's more accessible and best written works. Like an off-brand John Hughes film, School of Rock sees Black play enthusiastic but overbearing rock musician Dewey Finn, who, upon being kicked out of his garage band ends up as a substitute teacher at a toffy private school, whereupon he sets about turning the pretentious students in his class into his own personal rock band. The film's premise and script play right into Jack Black's rock-n-roll wheelhouse, as one half of the legendary band Tenacious D he's been a longtime exponent of the hard-living lifestyle of the industry and had built something of an alternative career around it. Going all Kindergarten Cop on a bunch of private school students whose focus is on good grades instead of good glissando is like throwing a piranha into a pool of goldfish, and the film hangs almost entirely on Black's chemistry with the young actors he's cast with (to their credit, they're almost all excellent), so School of Rock's 80's flavour and both ways fish-out-of-water scenario is immediately gratifying in the most affirmative manner.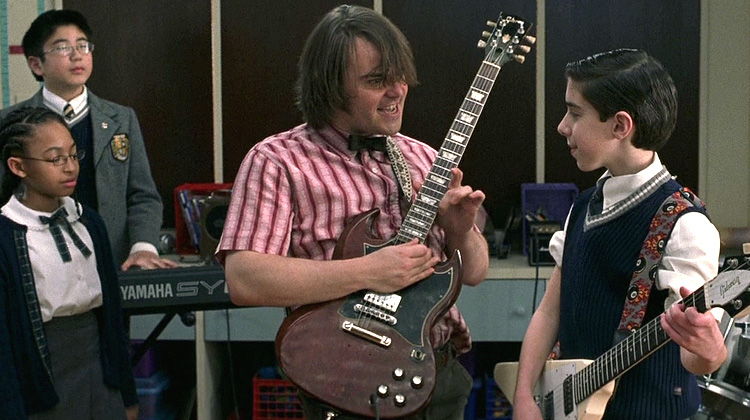 Black stars alongside Joan Cusack as the school's uppity principal, Mike White and Sarah Silverman as Dewey's ex-bandmates and girlfriend respectively, a young Miranda Cosgrove as the "Lead" student turned band manager, and even an uncredited Frank Whaley as a Battle of the Bands organiser – because you just know a film about school kids becoming a rock band they have to have a battle of the bands. A great group of kids do solid work as various school students who form the crux of Dewey's insane plan – Joey Gaydis Jr as the class lead guitar player, the late Kevin Clark as class drummer, Robert Tsai as Lawrence, the bands keyboardist, and Rivkah Reyes (credited as Rebecca Brown) as the band's bass player, among others – and their relationship to Jack Black's wild-eyed insanity (the film was made soon after his breakout turn in High Fidelity, so characterisation proximity to the role of Barry from that film translates across here surprisingly well) is key to the film's enthusiastic success. Okay so the plot and roster of characters are fairly generic, and Black's character doesn't really grow as a person throughout the film, and you kinda know how it's all going to turn out in the end, but the journey is fun and the vehicle is comfy, so have fun with it.
Who wrote this?