Principal Cast : Annabelle Wallis, Maddie Hasson, George Young, Michole Briana White, Mariana Mazepa, Jean Louisa Kelly, Susanna Thomson, Jake Abel, Jacqueline McKenzie, Christian Clemenson, Mckenna Grace, Ray Chase, Madison Wolfe, Amie AboulEla, Ingrid Bisu, Dan Ramos, Paula Marshall, Andy Bean, Patricia Velasquez, Zoe Bell.
Synopsis: Madison is paralyzed by shocking visions of grisly murders, and her torment worsens as she discovers that these waking dreams are in fact terrifying realities.
********
Saw and Conjuring director James Wan, an Aussie kid made good, crafts an absolutely batshit insane, instant classic for his "smaller film" between Aquaman blockbusters. A master of the horror genre, Wan has parlayed his Saw success into something of a wunderkind franchise workhorse, having gone on to develop both the Conjuring and Insidious series, all of which have gone on to conspicuously decent box office and generally positive acclaim. He stepped out of the the horror genre to work on the seventh Fast & Furious movie, dealing with the untimely passing of that franchise's lead actor in Paul Walker mid-production, and shook the scruff of silliness from DC Comics' waterlogged Atlantean king with Aquaman, starring Jason Momoa, dragging in over a billion dollars at the box-office for each film. Despite Hollywood's constant courting of the young director for further blockbuster success – he's tapped to direct the Aquaman sequel, due out in December 2022 (at the time of this review) – Wan's heart has obviously remained rooted firmly in the horror genre, and he returns to smaller-scale features with Malignant, an off-the-wall gem that crawls under the skin and will have your jaw on the floor for the entirety of its bananas third act.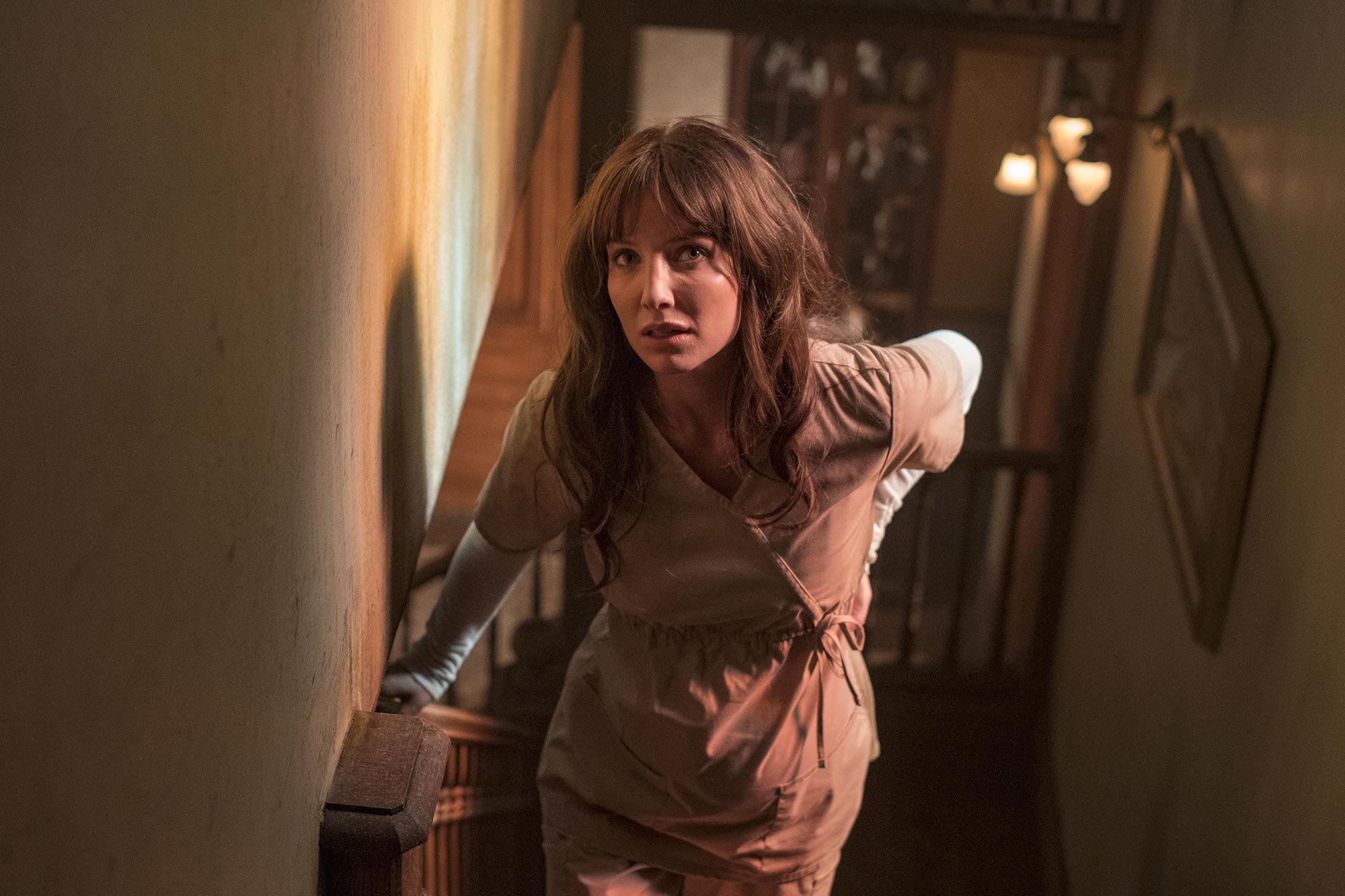 In the mid-90's a team of psychiatrists at a research hospital are treating the violent and deadly patient named Gabriel, who harbours powers to control electricity and broadcast his voice through speakers. When the film opens, an obscured Gabriel goes on a murderous rampage that kills a cluster of orderlies at the hospital before he is eventually subdued. Nearly thirty years later, Madison Lake (Annabelle Wallis – The Brothers Grimsby, Annabelle) is living in an abusive relationship with husband Derek (Jake Abel – Good Kill, The Lovely Bones) before she has a vision of a ghastly apparition killing him. She waked to find that Derek has indeed been killed, and has no memory of it. Police detectives Kekoa Shaw (George Young – Containment) and Regina Moss (Michole Briana White – Volcano, Faster) investigate the homicide and place Madison as the prime suspect, but when other deaths begin to occur, such as several of the doctors associated with the research facility mentioned earlier, their scope starts to discover that Gabriel, who appears only to Madison and is a disjointed, hideously disfigured black-garbed spectre, may be hunting down those who he perceives as having done him wrong in the past, and must race to unlock the secret to Madison's childhood past. Madison, meanwhile, is supported by her adoptive sister Sydney (Maddie Hasson – Underdogs, We Summon The Darkness) and their mother Jeanne (Susanna Thompson), who aide her in discovering the link between Gabriel and this tormented, possibly possessed woman.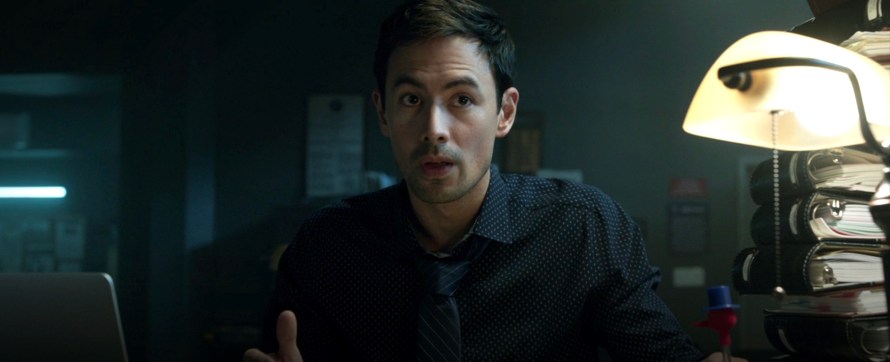 There's something devilishly joyous about Wan's Malignant. You can see the director having fun not just with his cast but also the audience, offering some quite chilling moments of pure jump-scare horror but also one of the most full-chested bodying of viewers in decades, as Malignant's third-act reveal will quite literally take your breath away – either for how stupid you think it is, or for how brilliant you think it is. Divisive to the extreme, Malignant is Wan at his most unfettered, Warner Bros capitalising on the cache of Aquaman success by allowing the upstart young director leeway to go as bonkers crazy as he does here; and Malignant is crazy. The themes of cancer, of possession, of a central character seemingly going nuts before our eyes, all play into the subgenre tropes sublimely, but just when you think you've got a handle on what's happening Wan, who developed the story alongside Ingrid Bisu and Akela Cooper, the latter getting a credit for the screenplay, pulls the rug, the floor, the very foundations out from under your feet. It's a vastly clever film in that Wan plays up the genre clichés and monstrous body-horror few filmmakers dare to tackle with such ferocity or zeal. You could accuse Wan of plagiarising or ripping off several other great directors in his ploy to subvert your expectations with familiarity, but such is the bravura expertise with which he wields his storytelling prowess you forgive him lapses in originality.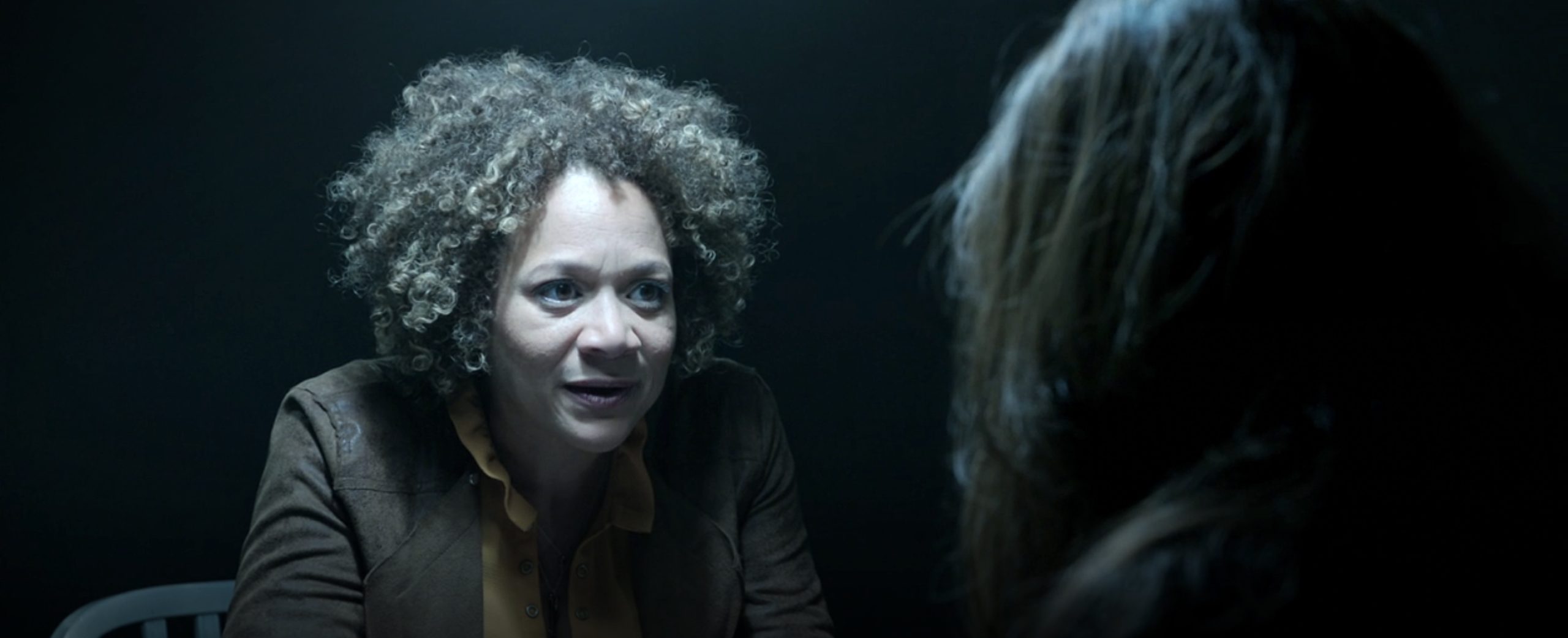 The plot and character brief isn't particularly special from the outset – the crazy hospital of death, where research is conducted that may or may not be entirely illicit in nature, the competent but disbelieving police detectives hot on the case, the desperately terrified leading lady with horrifying visions of ghastly murderous acts and an inability to prevent them occurring, the naïve but loyal sister who only wants to help, and of course a terrifyingly powerful, brutal Bad Guy who may or may not be entirely supernatural in nature. We've seen horror films boast many of these familiar archetypes, and we've seen them done well. Wan treats the viewer like putty in his hands: Malignant's solid production values and superb cinematography, not to mention Kirk Morri's terrific editing, give the film a feeling of Wan unshackled, released from studio notes and told simply to "go nuts". It helps that the film's coup de grâce, one of the most astonishingly brilliant moments of horror genius committed to the screen in the last fifteen years, resolves the film in one of the most brutal explosions of visual insanity ever. Whether you liked it, loved it, or loathed it, there's no denying its sheer brilliance as a narrative upper-cut to audiences likely numb to most things the genre has thrown our way lately.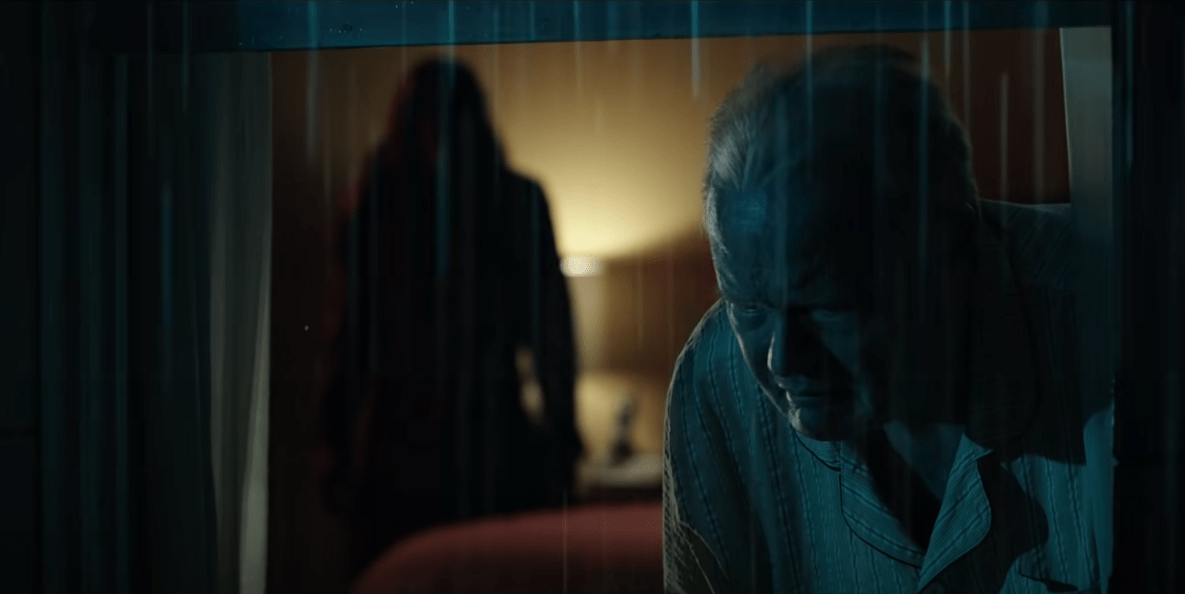 Prior to the final batshit twenty minutes of the story, Malignant isn't a particularly scary film. I've certainly seen scarier, not the least from Wan himself, but Malignant's chief asset is its ability to confound the viewer with a distinct "is this a ghost story or a slasher movie" vibe, the result being something of a mix between the two. There's moments of jump-scare skin tingles, and Wan pummels the audience with fingernail-shredding tension at key moments for sure, but at no point in the opening 90 minutes does the film really get under your skin. What it does do is seed uncertainty in the viewer, a sense of dreadful anticipation, something Hitchcock often alluded to as being far more powerful a filmmaking weapon than the bang at the end. Annabelle Wallis plays the tormenter Maddie well, her gaunt face and haunted features lending themselves very well to the insane plot mechanisms at work here. George Young, as the handsome young detective hoping to break the case, and the sardonic Michole Briana White as his partner, maintain the "real world" status quo of the film in that their disbelief, and eventual realisation of the events told within actually being real, serve as the viewer's "in" to the story. They're us in this movie, although it could also be said that Maddie Hasson's Sydney Lake, sister to Wallis' Madison, is arguably the MVP here, serving as a conduit for some specific and truly frightening revelations late in the piece.
Every great horror film needs an iconic villain, and Malignant delivers one of the best. Gabriel, the haunting vision in black and a manifestation of ugly like no other, is a creepy, Slenderman-esque silhouette of absolute horror, his body flexing in all manner of creepy directions as he springs, flips and slices his way into horror film folklore; early scenes seem to manifest him as a CG-augmented effect which dilutes the realism somewhat, but a breathless chase between the character and Detective Shaw through the dank underbelly of the city's cavernous labyrinth looks to have been accomplished almost entirely practically and it's an astonishing feat of editing and athleticism. Without spoiling the film, a sequence inside a police precinct holding cell would have to be one of the most shocking things I've seen on film in the longest times, and a shootout inside the detective headquarters, despite some significant logic issues, is insanely intense. Wan absolutely goes for broke with Malignant, and absolutely triumphs.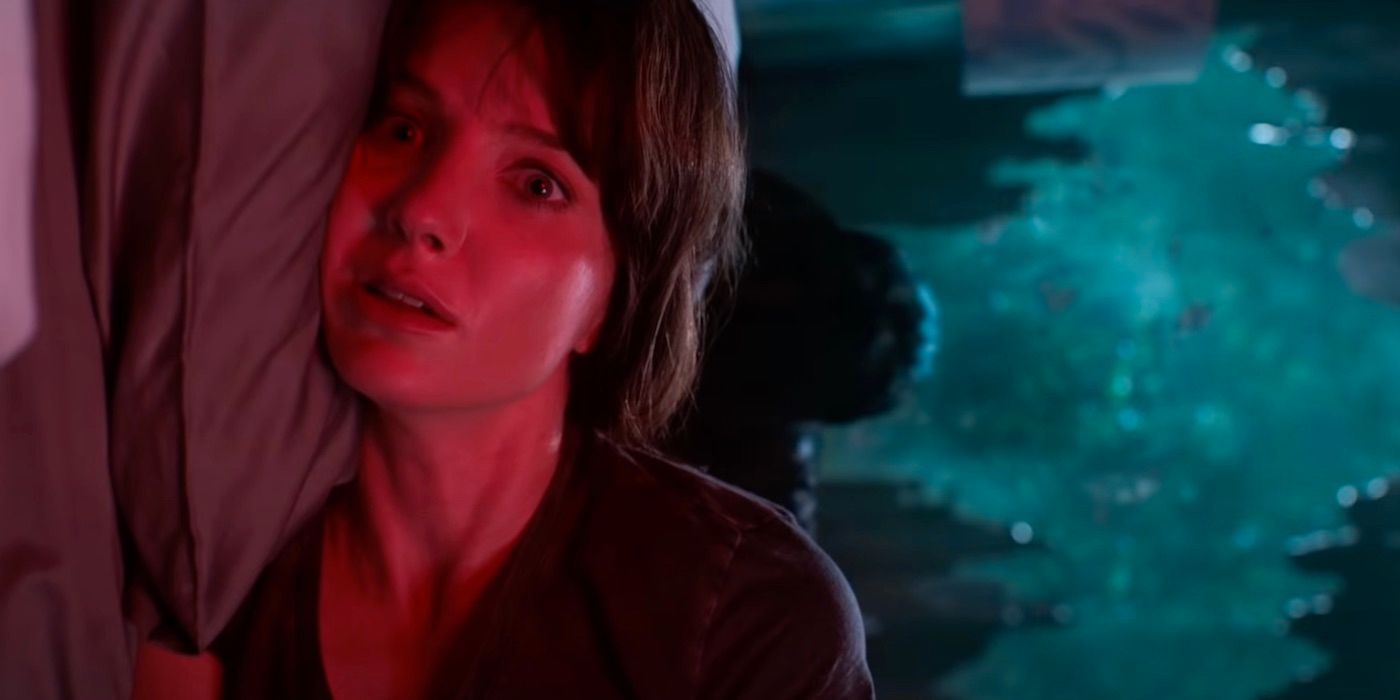 Malignant is going to become one of those films that endures as a cult classic. Most of it is objectively silly and cliched, but Wan's throw-away-the-chains modus operandi here ratchets up the bloody gore and horrifying Jeepers Creepers vibe to enable such an off-the-wall climax. I rarely use the phrase "you have to see it to believe it" but for Malignant it's the most apropos descriptor I can avail you of. Satisfyingly brutal, effortlessly fun and capped by a manic, eyeball-withering revelation and climax, Malignant is a film you'll be watching other people watch to see their reactions well into the future. A guaranteed underage rental Saturday night popcorn savagery, Malignant comes hugely recommended and thoroughly vetted as an instant classic.
Who wrote this?