Movie Review – Luca
On the Italian Riviera, an unlikely but strong friendship grows between a human being and a sea monster disguised as a human.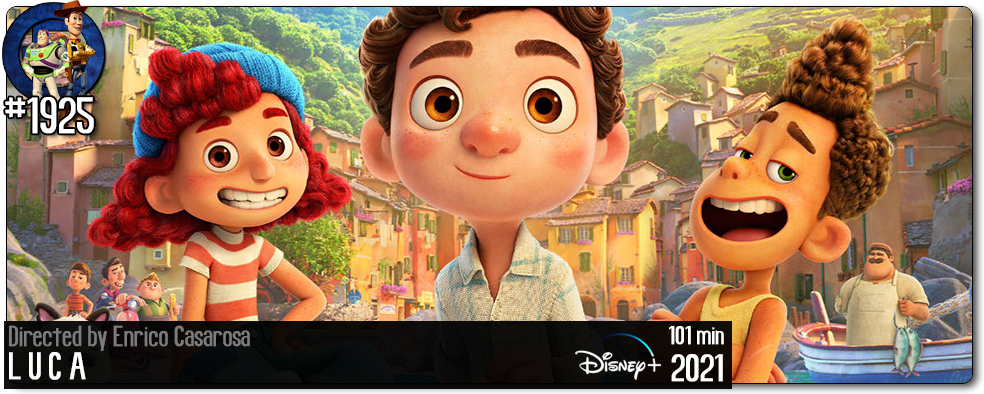 Principal Cast : Jacob Tremblay, Jack Dylan Grazer, Emma Berman, Saverio Raimondo, Maya Rudolph, Jim Gaffigan, Peter Sohn, Marina Massironi, Sandy Martin, Sacha Baron Cohen.
Synopsis: On the Italian Riviera, an unlikely but strong friendship grows between a human being and a sea monster disguised as a human.
********
Infante la forma dell'acqua
As of the time of writing, Pixar's Luca is now the third film from the studio to find a home primarily on Disney's streaming platform Disney+, following 2020's Soul and the box-office debacle of Onward, the latter of which was hindered by the outbreak of the global Covid-19 pandemic practically the same week it premiered in cinemas. Similar to the studio's recent output, Luca is of a high quality with solid storytelling, yet sits firmly inside the middle-tier of the blue-ribbon quality Pixar is known for; Luca ain't no Ratatouille or Toy Story 2, but it's still quite a charming, wonderfully uplifting and beautifully animated affair nonetheless.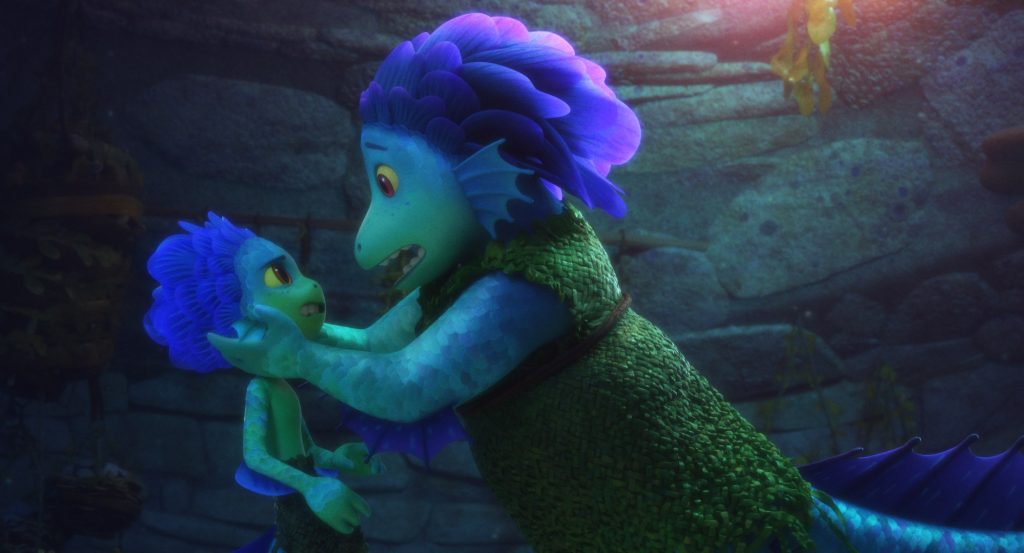 Set against the backdrop of the picturesque Italian Riviera town of Portrorosso, Luca tells the story of a young underwater sea monster, Luca (voice of Wonder's Jacob Tremblay), who lives with his overprotective mother (Maya Rudolph) and indifferent father (Jim Gaffigan), and longs to explore the world above, much to his mother's chagrin. One day, Luca meets another young sea monster, Alberto (Jack Dylan Grazer – Shazam!)  and the pair form a bond of all things human. Upon exiting the sea to a nearby rocky island, Luca learns that they magically change into human form, allowing them to walk among the villagers of Portorosso and learn the ways of the people in the town. Luca and Alberto, dreaming of travelling the world on the magical "Vespa" scooters famous in Italian culture, meet Giulia (Emma Berman), a young girl who despises the local bully, Ercole (Saverio Raimondo), an older man who continually wins the local triathlon known as the Portorosso Cup and belittles all around him. So when Luca and Alberto decide to help Giulia participate and hopefully win the Cup, and with Luca's parents venturing surface-side to search for their absent son, the meaning of friendship and acceptance comes to bear fully on the young sea-monster as he is forced to choose between the two worlds of his existence.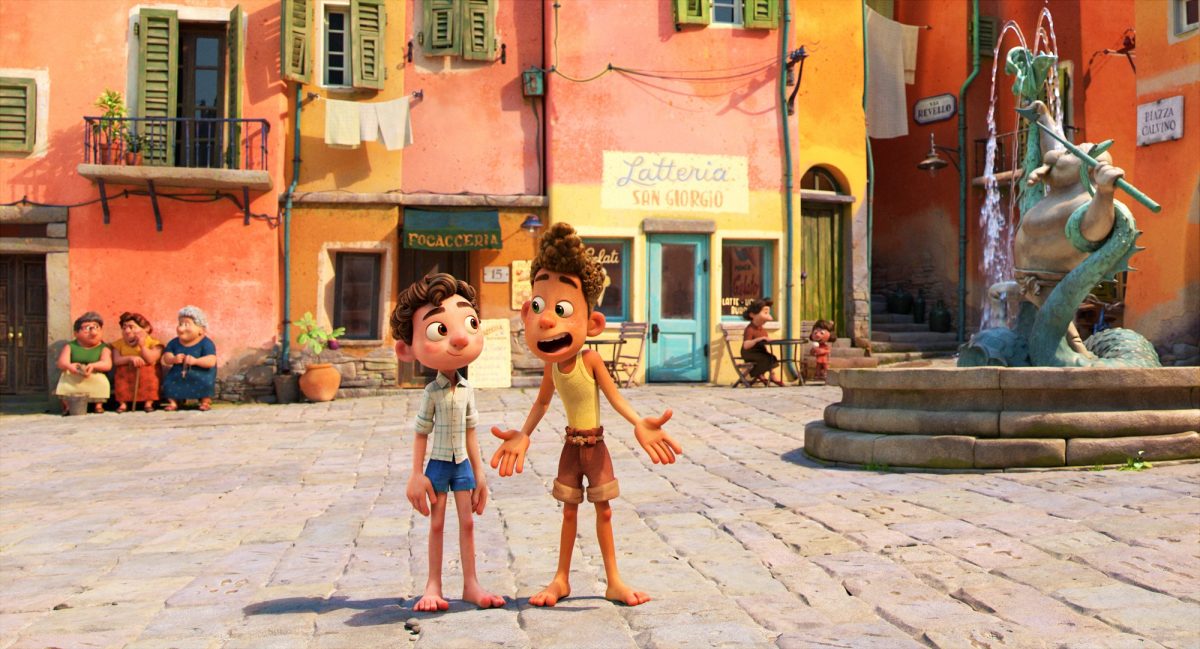 Longtime animation stalwart and Oscar-nominated short film director Enrico Casarosa (who was nominated for his work on Pixar's 2011 effort La Luna) brings his deep Italian heritage to Luca, which is set in a labyrinthine cliffside sea village populated by fishermen who all tell tall tales of mermaids and sea monsters, the mythology of which forms the basis of one of Luca's central plot points. If you thought Ratatouille was a breathtaking representation of Paris then this film's depiction of the lush Genoan landscapes and simple Italian village living is truly sublime. As with everything Pixar touches, character and story are crucial, and for the most part Luca indeed exhibits a lot of the traditional quality of care all Pixar films enjoy. The story feels a touch too familiar however, as traditional a coming-of-age film as we've seen from the studio, and while things never really surprise within Luca's finding-yourself narrative there's enough recognisable tropes told with such craftsmanship you forgive the film a little been-there-done-than mawkishness.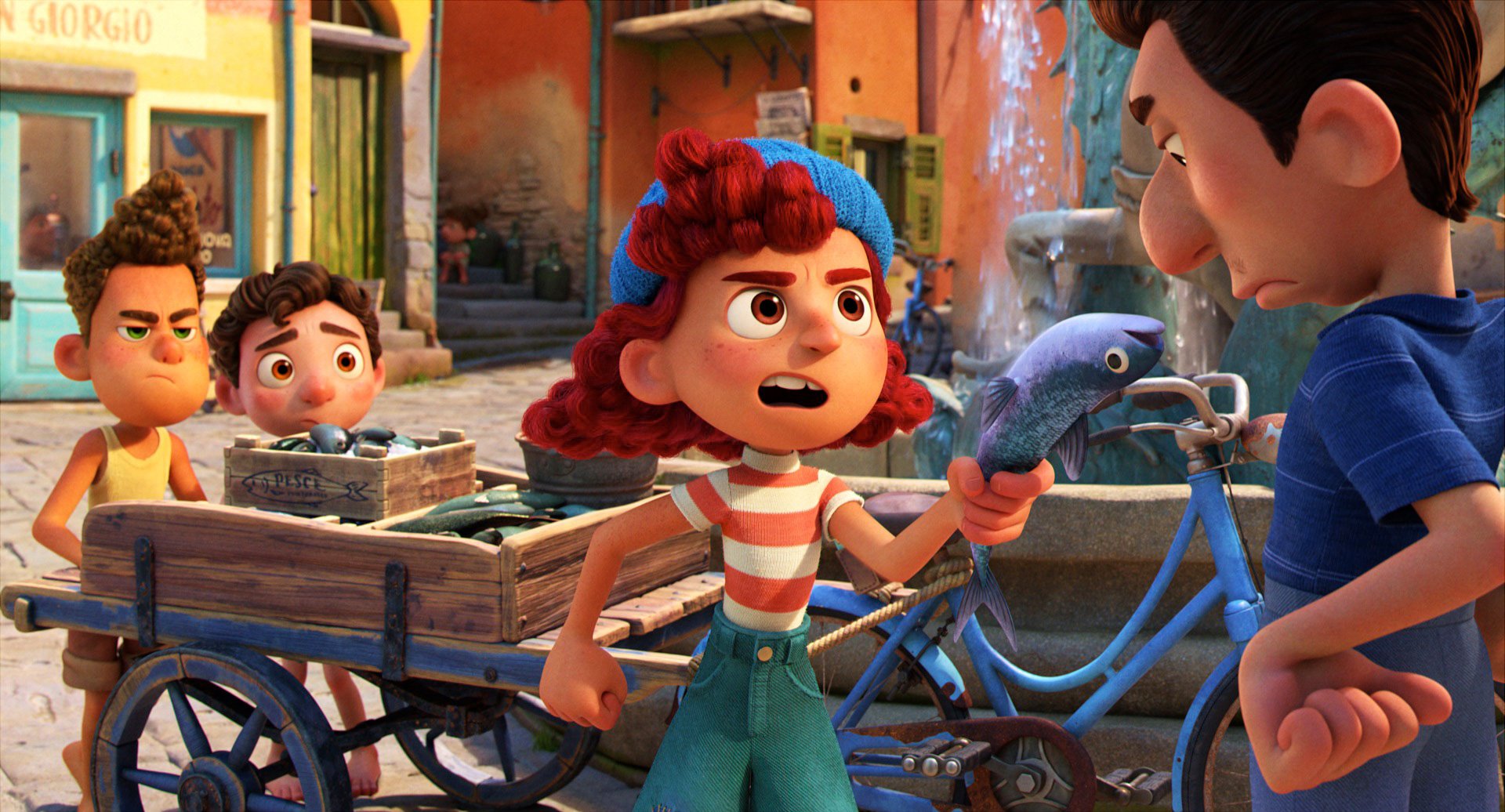 Luca himself is a typical precocious pre-teen kid working his parent's fish farm to earn pocketmoney, and as with most films marketed towards children the central message begins with him looking over the proverbial fence to want to explore the hidden world above – a story of rebellion against his mother's protective nature, Luca dabbles with his own fear and trepidation of heading into the wide world, which isn't a bad message to send to kids watching. At least Luca has the comfort of knowing he has parents. Poor Alberto, he is basically an orphan; his father left prior to the film's opening and there's no mention of the kid's mother, which means Alberto is as isolated emotionally as the island in which he resides when Luca meets him. Alberto represents braggadocio emotional withdrawal, boasting a façade of confidence that eventually leads the pair of fast friends into trouble. And the third part of this puzzle is Giulia, voiced by Emma Berman, the strong-willed Portorosso girl with a fierceness and strength of character you know ain't no shrinking violet. Giulia isn't as well developed as either Luca or Alberto, and her persona suffers the indignity of being resolutely impenetrable to most viewers from an emotional standpoint, but her winning persona and streetsmart attitude hold her in good stead for the raucous climax to come.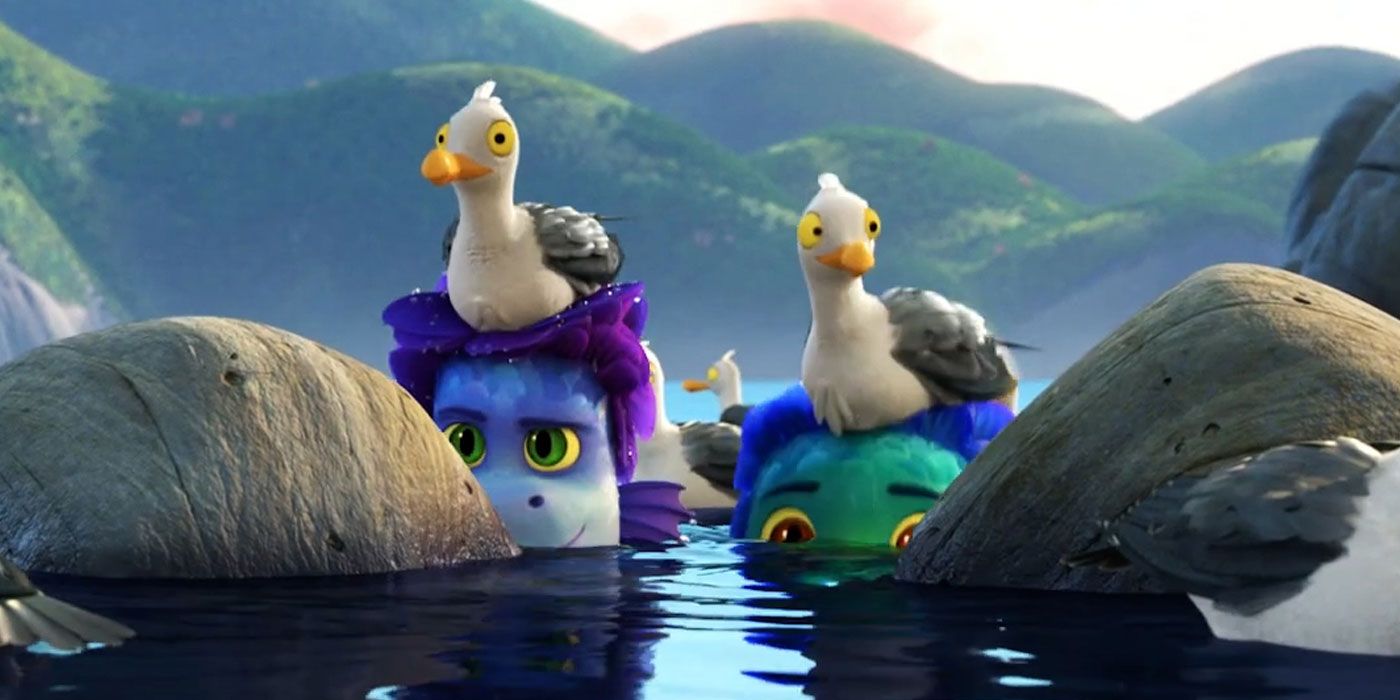 The story elicits sweet emotion through its sense of family and friendship and coming together to whoop a bully's ass, but Luca's screenplay (credited to "Me, Earl And The Dying Girl" author Jesse Andrews, and Soul's Mike Jones) riffs off sentimentality and stock plot points and character beats. You know at some point Luca and Alberto will have some kind of clash of ideologies – the idea of sea monsters living a hidden life among the humans is ripe for dissection – and the Portorosso Cup, a distinct feature of the film's early conversations, is always going to feature prominently to give character growth and/or story resolution (spoiler, it's the latter), so beat for beat there's not a lot of surprises with Luca's standardised storyline. Even the characters, with Luca evoking a literal "fish out of water" routine as he leaves the sea to venture into the human world, feel borderline formulaic; thankfully, the care of Pixar's storytelling machine elevates even the most pedestrian material to make it at least moderately enjoyable. The film's villain, the vile Ercole, is a pastiche of Italian spoofery, a buffoonish and caddish occupant of screentime that deserves the comeuppance he received by the end of the movie, and it should be noted that he's one of the few Pixar villains who doesn't seem to recant his odious behaviour to turn to the side of good; instead, he's taught a painful lesson and beyond that we never really see him grow or change emotionally.
Where character and story are among the film's weaker elements, by far the strongest is the animation and attention to detail. The visual effects of Luca's underwater landscapes are yet another leap forward from even more recent attempts in Finding Dory, and the level of detail and depth of field to the Portorosso alleyways and pathways is absolutely stunning, reaching a level of technical prowess I didn't think would be bettered since Brave. The character exhibit traditional Pixar-ised designs, from the larger eyes and cartoonish facial features, but the world they live in feels astonishingly realistic. Effects such as water splashes, rain and light oscillating in reflections and prisms, not to mention the luxurious feel of light and shade to textures and both organic and inorganic materials is beautifully realised, making Luca one of the more visually stunning of Pixar's recent output – Soul being perhaps the best of the last five years in this regard. Cementing the film within its suggested location is, lastly, composer Dan Romer's score. With trilling Italian motifs and accentuated subtlety to his music, Romer's work orchestrating Luca's adventures on the screen are both sweet, layered and gorgeous, and alongside the aforementioned Soul will become oft-repeated listening on Spotify for music fans.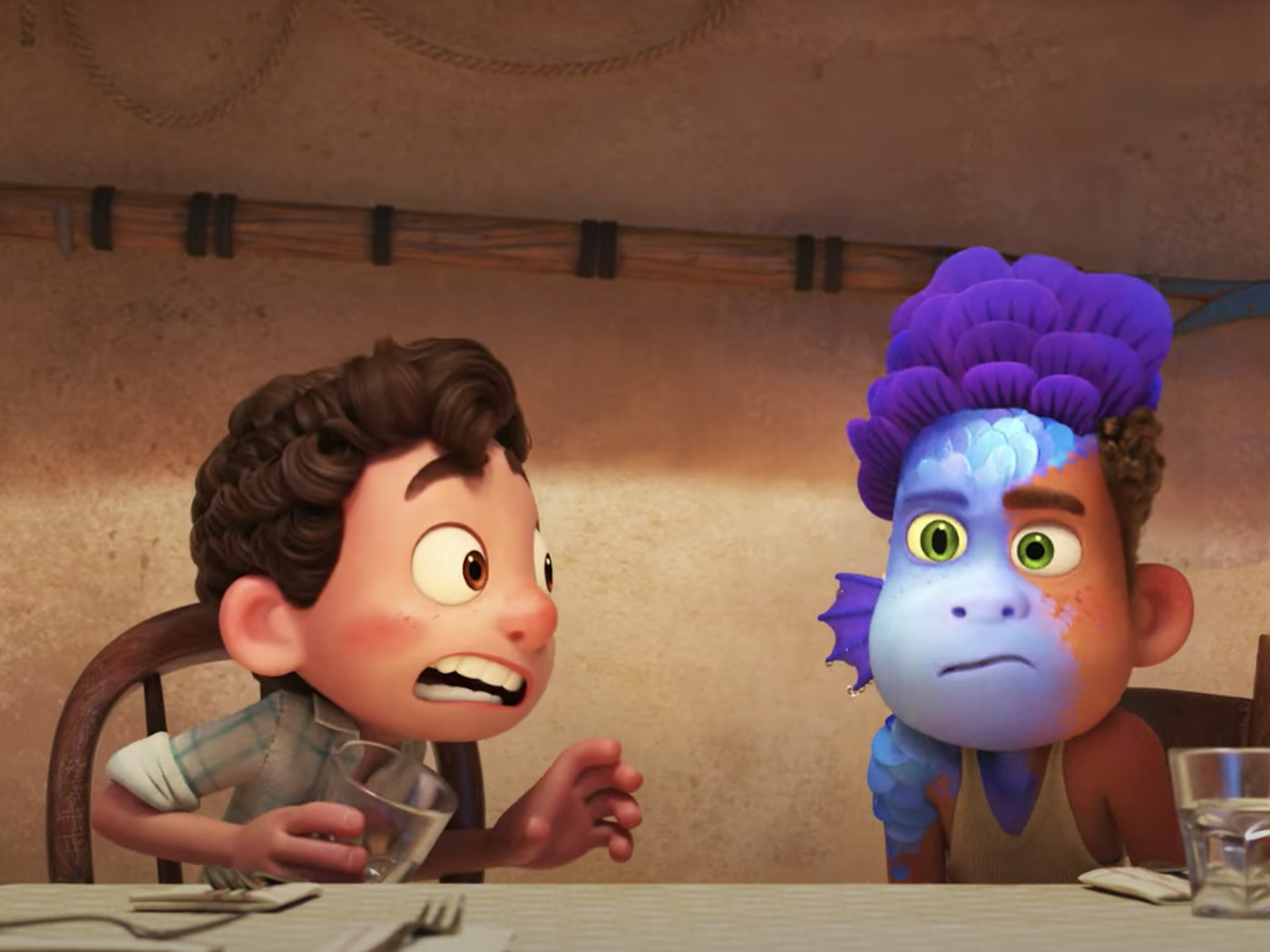 Despite a well-trod story and equally well-trod characters, Luca is a sweetly timed, gently relaxing Pixar studio outing that neither challenges nor falls short. In the umbrella of its formula comes a comfort with the familiar, knowing how the story ends or which part these characters will all play less important than the beauty of watching it all play out. The film's messages are excellent for kids (if a touch on-the-nose for adults, a departure from Pixar's typically more subtle writing) and the story ambles along with enough energy to catapult past the slower dramatic moments, leaving the delightfully debonair Luca refreshingly appealing. I'm not sure where Luca will sit among Pixar's pantheon of all-time classics but as an earnest, willing film you'll certainly come away with your heart adequately warmed.
Who wrote this?